Underlining with Fusible Interfacing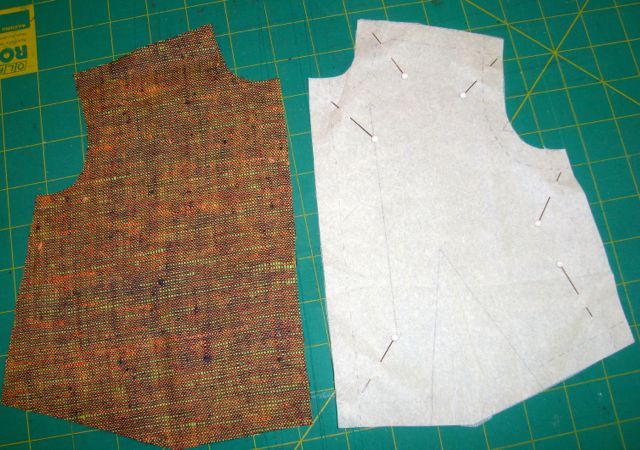 I think of underlining as the secret ingredient of sewing. It adds body, support, and durability to a garment; makes most fabrics easier to sew; and it can often transform a fabric making it suitable for a silhouette or type of garment that otherwise would not have worked. Traditionally, underlining is another layer of fabric that's cut from the same pattern pieces, basted to the wrong side of the fashion fabric, and sewn as one layer. Underlining is not a special category of fabric. Many types of fabric (e.g. organza, batiste, flannel) can be used, depending on what is used in the garment and the desired results. I have found that, often, the best results are achieved using fusible interfacing. There are things to consider, however, before you choose one. Let me give you a few tips I've learned by trial and error and introduce you to some products you might want to try.
Three types of fusible interfacing: nonwoven, woven, and knitted
I only consider woven and knitted as suitable. For this post, I sampled five different products—two are knitted and three are woven. I've provided a list below. All are light, smooth, easy to apply, require no preshrinking, and are available in white, black, and natural. I don't think you can go wrong using any of these. But, there are many more products on the market, as well, and it's always important to make a test sample, similar to what I've done, using your fabric and the fusible you're considering. I like to keep a library of samples, on a variety of fabrics, so I can check them to narrow my choices before I start a project.  My photos, of course, don't allow you to feel the changes in the hand of the fabrics and interfacings I've used, but I've tried to at least show how underlining affects the shape.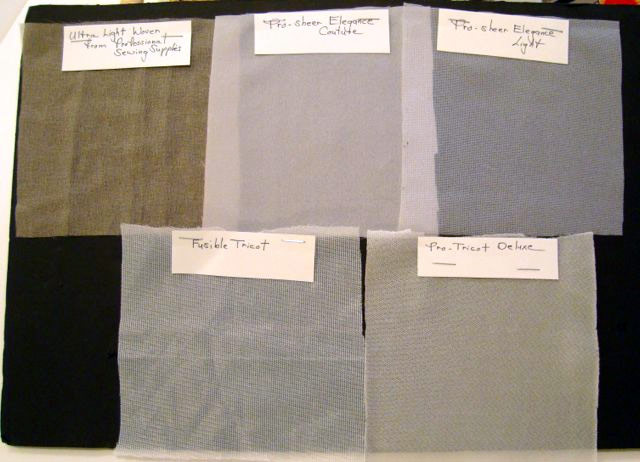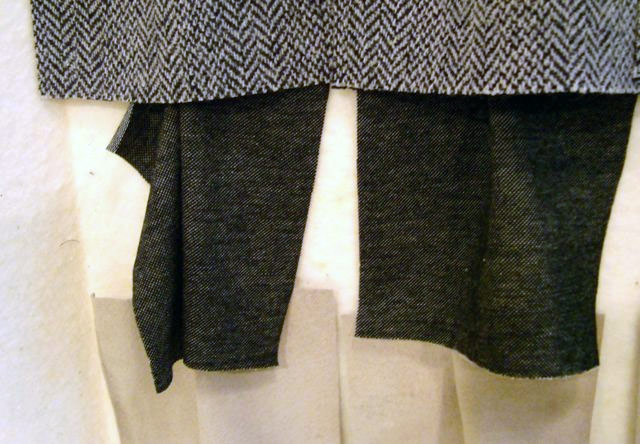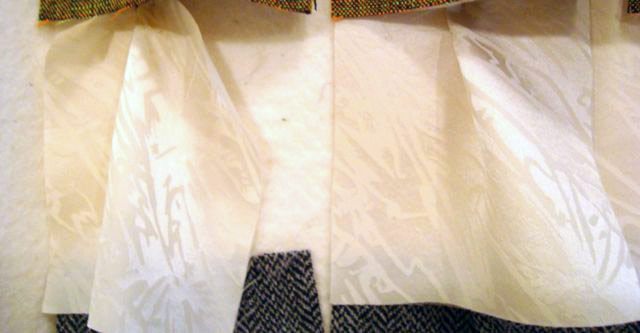 1.  Sheer woven, 36 inches wide, with a crepe-like texture and some crosswise stretch. It's available from Professional Sewing Supplies, 2623 Boylston E, Seattle, WA 98102 (206-324-8823). They don't have a website, unfortunately. This is a great product that adds subtle shaping and stability to almost any fabric.
2.  Pro-sheer Elegance Couture, woven; Pro-sheer Elegance Light, woven; Pro-tricot Deluxe, knitted. Couture is the lightest; Elegance light has some crosswise stretch; and the Pro-tricot stretches in all directions. All three are 60 inches wide and available from Fashion Sewing Supply in Alden, New York.
3.  Fusible tricot (Pellon Easy Knit, HTCW FusiKnit) is slightly heavier than the others, 20 inches wide, and has good crosswise stretch with stability in the lengthwise direction. It's the most readily available in larger fabric stores.
For this tutorial, I selected six different fabrics
1. Smooth, tightly woven cotton that's stable and perfect for a dress, skirt, or pants. It could also make a fun jacket and for that a layer of fusible interfacing would give additional body and shape.
2. Midweight linen, which is multifunctional as well, but with underlining can be tailored more successfully.
3. Silk crepe de Chine/charmeuse jacquard that's beautiful for a soft dress or blouse. It would also make a lovely jacket, sheath dress, or dress with a strapless top and styles those would require an underlining for added body. An extra layer also helps cover the lines and ridges created by undergarments.
4. Wool flannel, a good choice for a skirt or jacket, but with added underlining can make a great coat as well.
5. Two-way stretch knit. Applying underlining might take away some of it's stretch—even if the fusible is knitted—but, that may be exactly what you want. Fusible underlining is a great way to stabilize a knit when it's just too stretchy for the garment you want to make.
6. Real suede. I've learned that underlining suede and light, thin leather makes it easier to sew and helps maintain garment shape.
Underline the garment's main sections with fusible interfacing
Most garments that I underline with a fusible are lined as well to hide the underlining and cover all of the seams.
1. Cut out the underlining using the pattern for each garment section. Be careful to place the pattern on grain if using a woven and directionally (stretch going across the body) if using a knit. Keep in mind that fusibles definitely have a right and wrong side and it's often tricky to tell which is which. You can't always see the glue side, but you can usually feel that it's rougher than the right side. Because all of the products are so lightweight, I rarely trim away the seam allowances on the underlining. However, if you feel the seams are going to be too bulky, trim away the seam allowances before you begin fusing.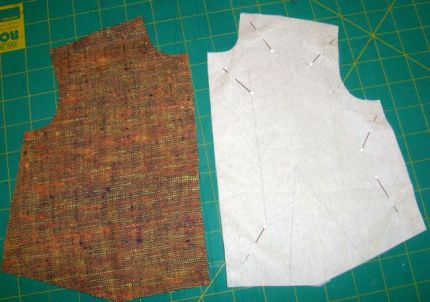 2. Carefully place the wrong (glue) side of the fusible to the wrong side of the fabric. Before you begin to press, place the tip of the iron on an edge of the fusible – if you have placed it wrong side up, you'll only mess up a tiny spot on your iron! Most fusibles need to be applied using both heat and steam, but always refer to the product's directions for correct temperature settings.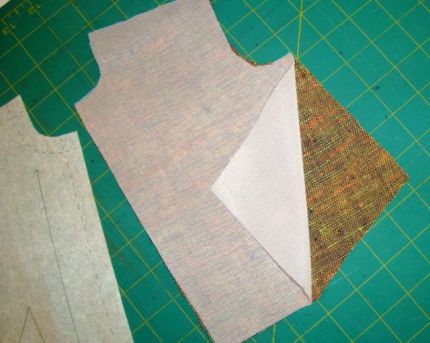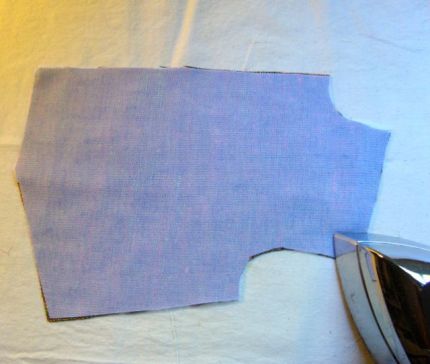 3. Before you apply the underlining, cover with a press cloth. I lay a piece of muslin on my pressing surface first, in case the fusible section extends beyond the fabric edges, it won't stick to the ironing board.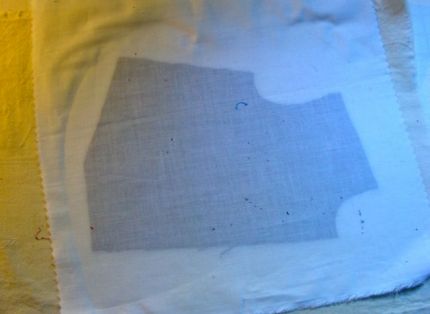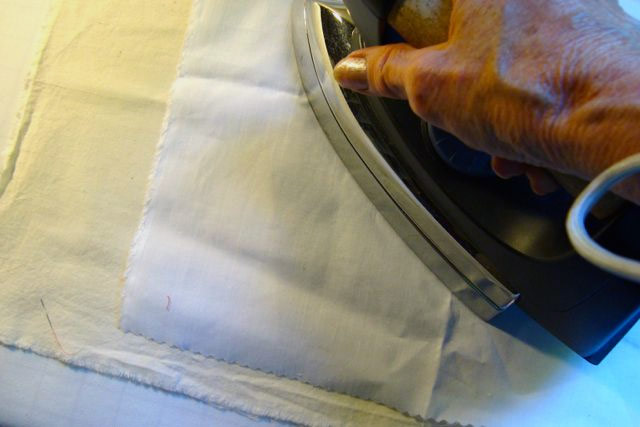 4. After I fuse to the wrong side, I flip the section over, cover with the press cloth, and press from the right side.
Underlining with a twist
I used a lightweight fusible interfacing, the sheer from Professional Sewing Supplies, to be a little creative and make a top with pressed in random pleats.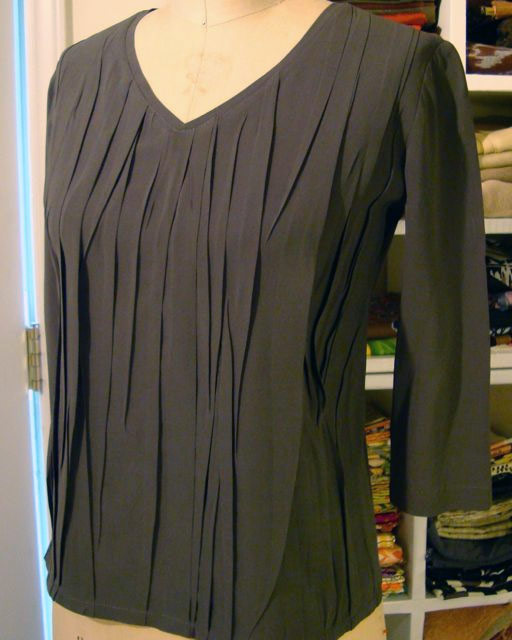 Here's how to make the textured top that I've worn and washed several times—and the pleats stay firmly in place.
1. Cut out the front section of the top, according to the pattern, from fusible interfacing placed wrong side up.
2. Cut the back and sleeve sections from the silk according to the pattern. For the front, cut a piece of the silk fabric about 1-1/2 to 2 times as wide and 3 inches longer than the pattern.
3. Center the silk over the fusible and fold in random pleats beginning at the center and working out to the sides, pinning in place. When the arrangement is satisfactory, lightly fuse in place from the right. Press carefully just enough to "baste" the silk to the fusible. Remove the pins.
4. Flip the piece over and fuse properly from the wrong side.
5. Trim away the excess silk surrounding the fusible.
6. Construct according to the pattern.
How do you underline your garments? Do you plan on underlining with fusible interfacing? Be sure to share your experiences in the comments section.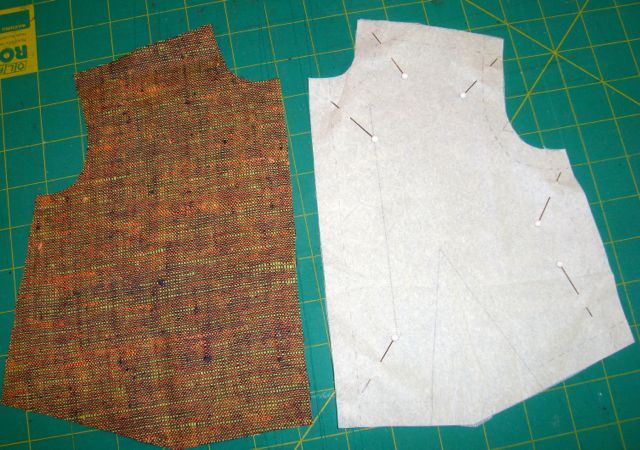 Cut out the fabric and underlining from the same pattern.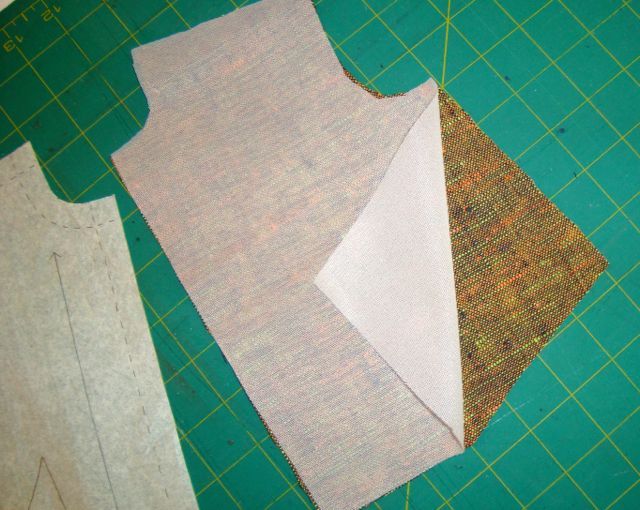 Place the wrong (glue) side of the fusible to the wrong side of the fabric.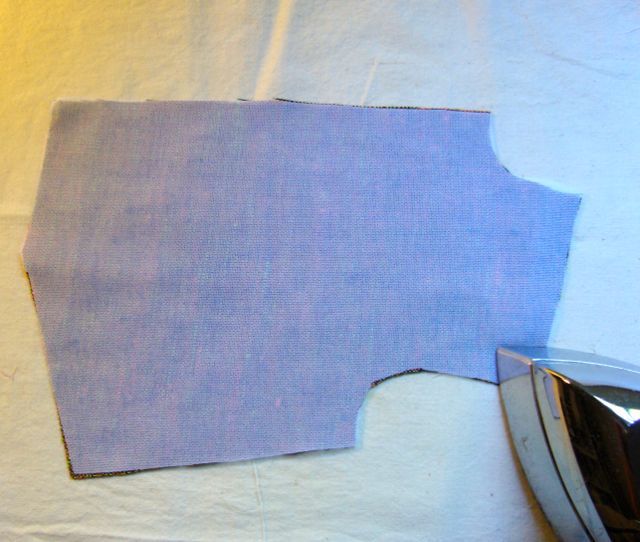 Be sure you've placed the underlining correctly on the fabric. Test a corner first.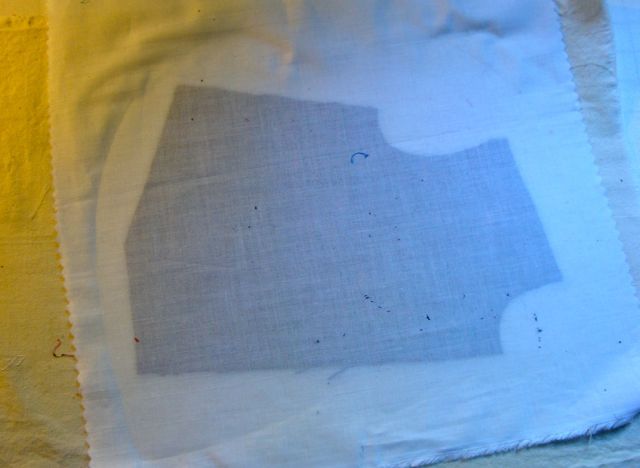 Use a press cloth when applying fusibles to avoid messing up the iron plate.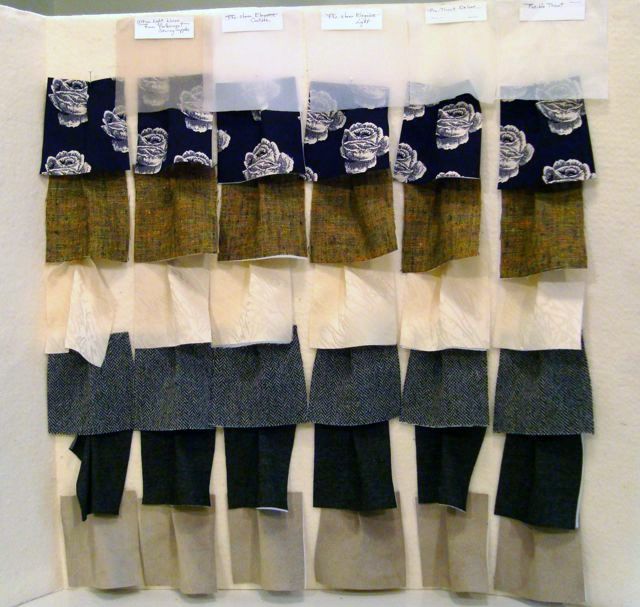 Make small samples of the fusibles to fabric to be sure you're using a suitable product.