How to Finish Seams on Chantilly Lace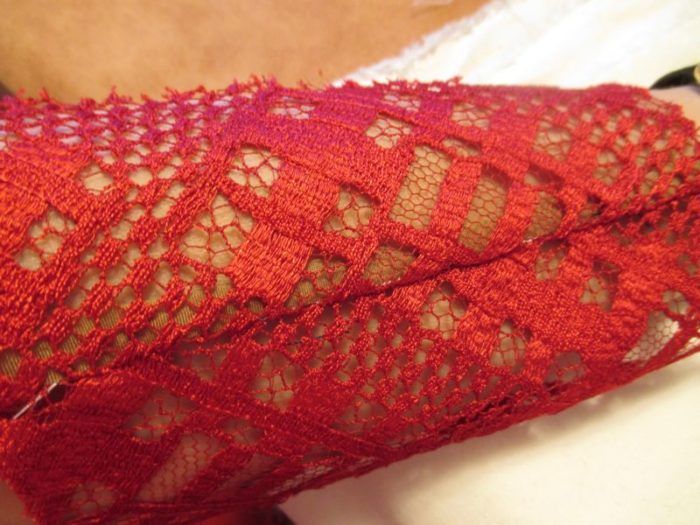 Chantilly lace is arguably the most beautiful of the laces we commonly use, but its delicacy can make it tricky to deal with. It can't be manipulated the way alençon and guipure laces can because it's not strong enough.
Placing it carefully is usually the best you can do. There are times, however, when seam allowances are visible and must be dealt with.
For more inspiration be sure to pick up the latest issue of Threads, and don't miss other techniques like this one by ordering a print subscription which comes with FREE access to our tablet editions.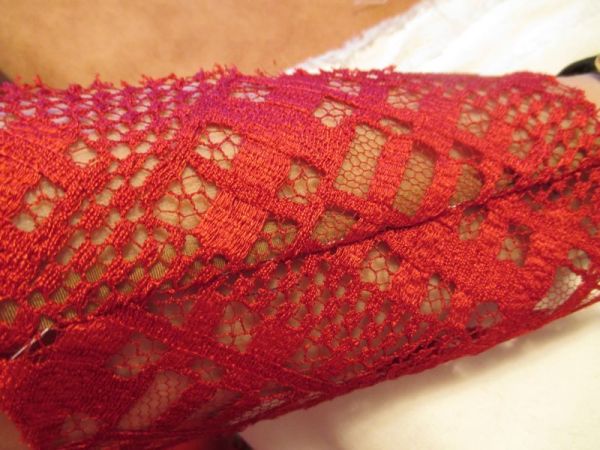 Regular seams are difficult to use on lace, mostly because the seam allowances are so visible through the openings in the fabric.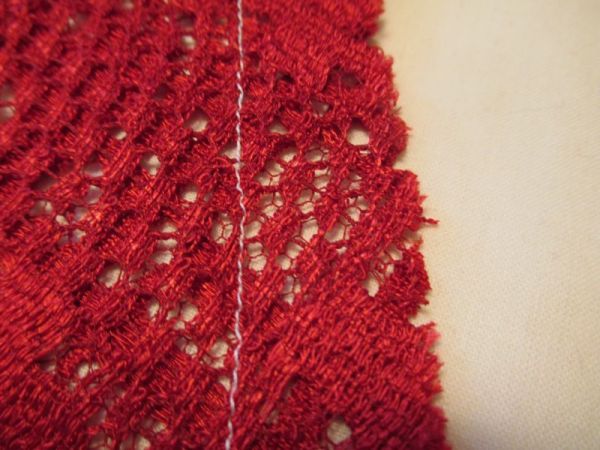 Here's a regular seam with two layers of Chantilly lace.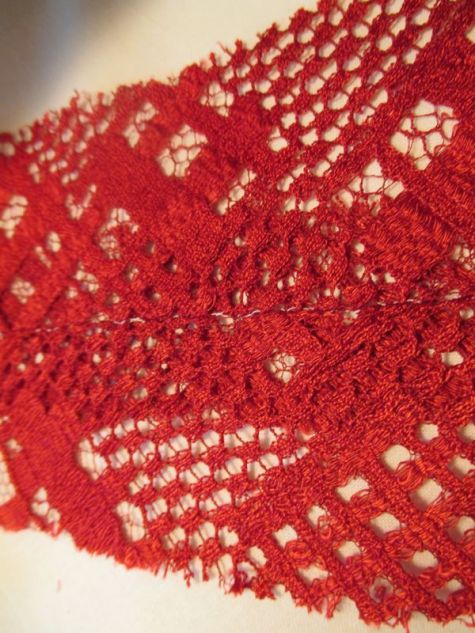 The seam has been pressed open in this example. While it's workable, it's not really very pretty, nor very clean.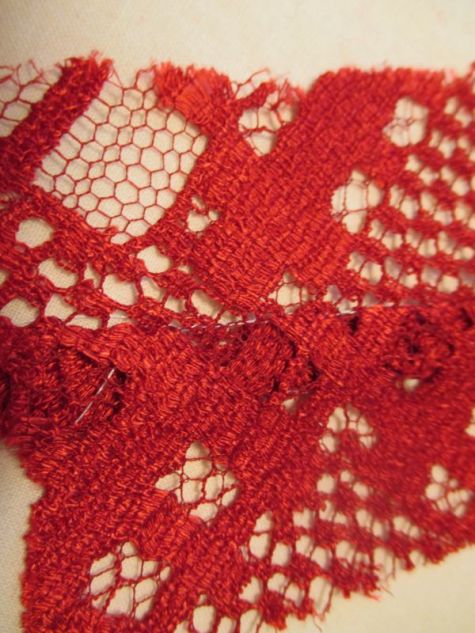 While French seams are an option, given the lighter weights of Chantilly lace, color can be a factor.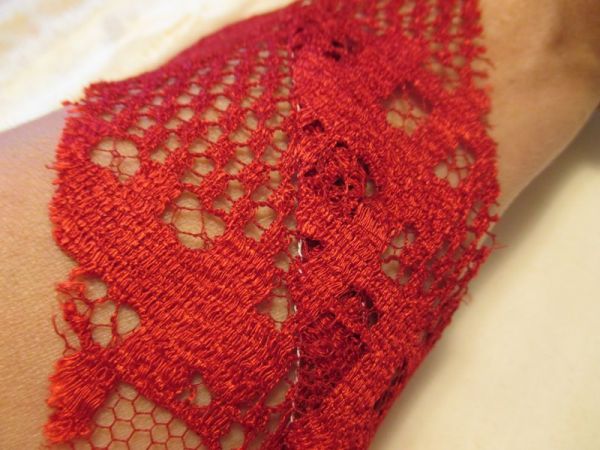 Here is another look at a French seam. It's not bad, but a dark stripe of colored lace might not be the best look.
Happily, there's a solution to dealing with this issue.
My student Sylvia recently worked on a lovely dress with modern red Chantilly lace yoke and sleeves and a four-ply red silk crepe body. The sleeves were cut in one with the yoke, which meant there were seams in the lace from the shoulder down the top of the arm. This is normally not a problem, but any regular seam would have left visible seam allowances, and French seams wouldn't have worked well, as the holes in the lace make the construction look messy.
I suggested we bind the seam allowances with strips of bias-cut silk organza dyed to match Sylvia's skin tone.
Here's the lace Sylvia chose. I love its modern look. While it's somewhat firm, certainly firm enough to be used on the bodice without an underlayer, it's not firm enough to overlap seams and create invisible seams the way we do with alençon and guipure laces.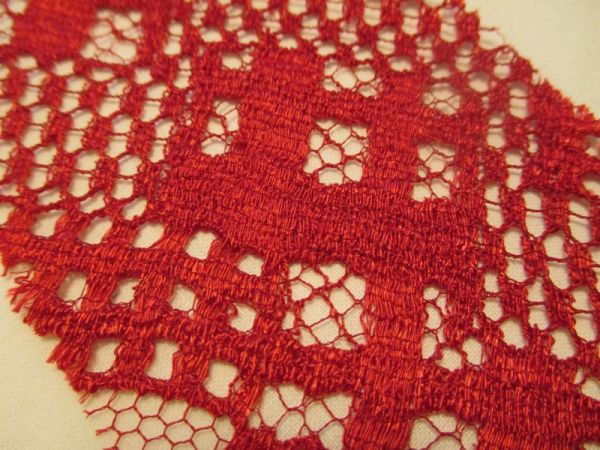 A few samples show what we did. Seams were sewn as usual, but the lace was stitched slowly. The reason is that there's so much air in lace that the machine threads can easily get snarled; there's less chance of that happening if it is sewn slowly.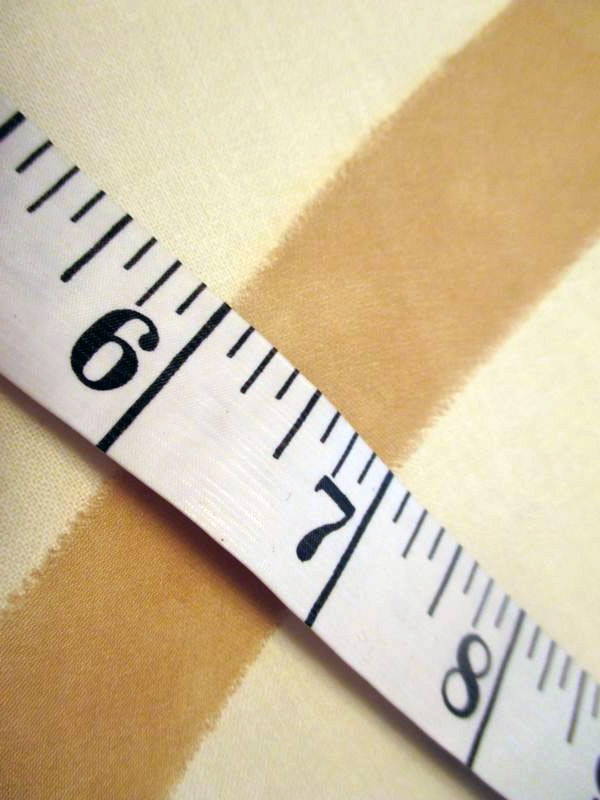 We dyed silk organza with tea to match Sylvia's skin and then cut it into 1-inch strips.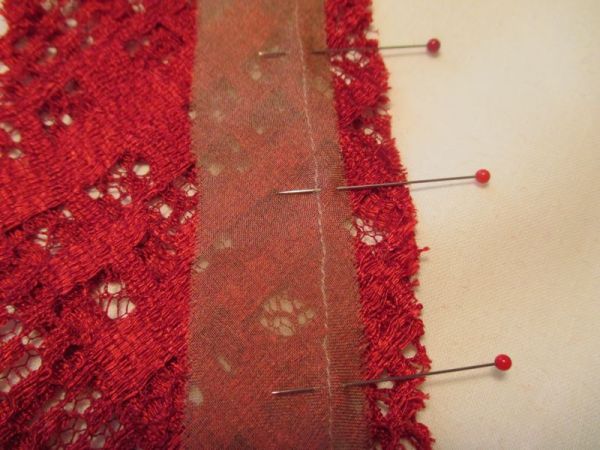 The silk organza strip was carefully pinned into place.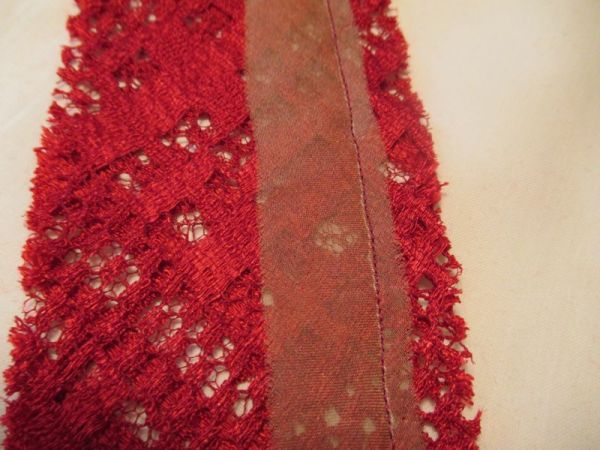 We then stitched.
The silk organza could have been stitched when the two layers of Chantilly lace were first joined, but I think things are a little firmer with that wide seam allowance. I find it makes it easier to place the organza accurately on the lace.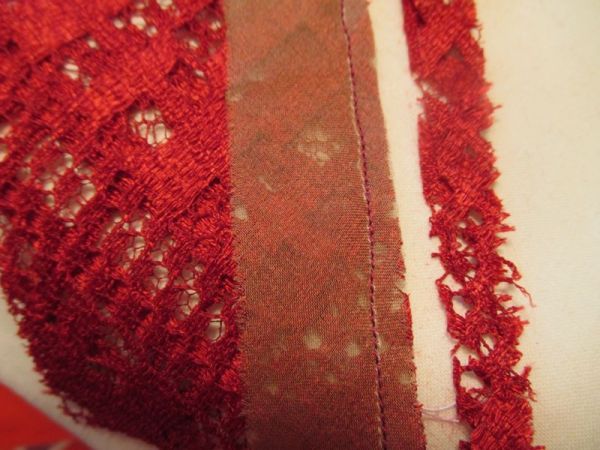 The three seam allowances–two Chantilly lace, one organza–were trimmed to about 1/4 inch (though seam allowances could be narrower or wider.)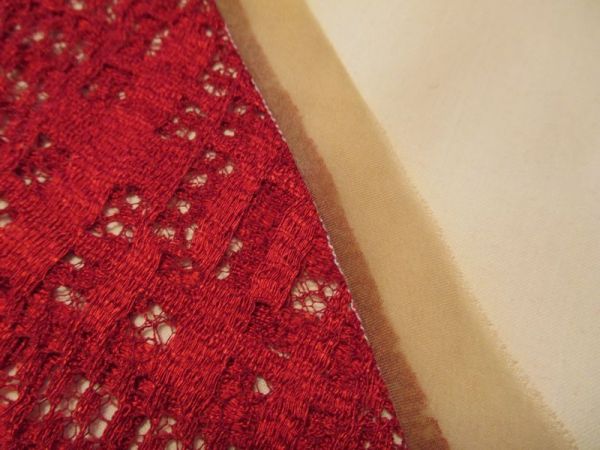 The silk organza is carefully pressed toward the seam allowances.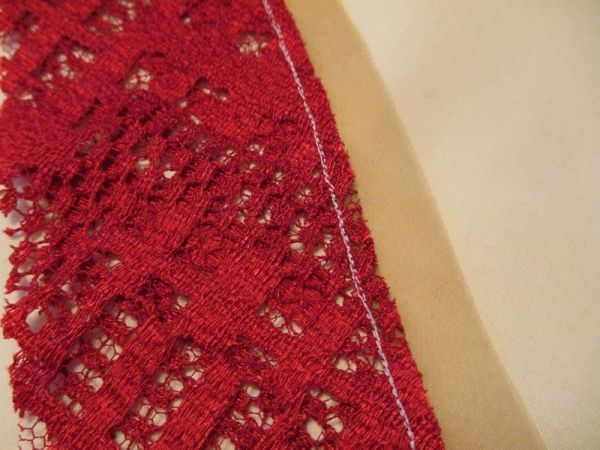 The raw edge of the silk organza lines up with what will be the outer fold of the organza. In this case, seam allowances are about 1/4 inch. You'll have to experiment to determine the width that works best.
The bias organza strip is pinned carefully into place; the silk organza shifts so easily, especially when cut on the bias, that you want to keep its grain under control.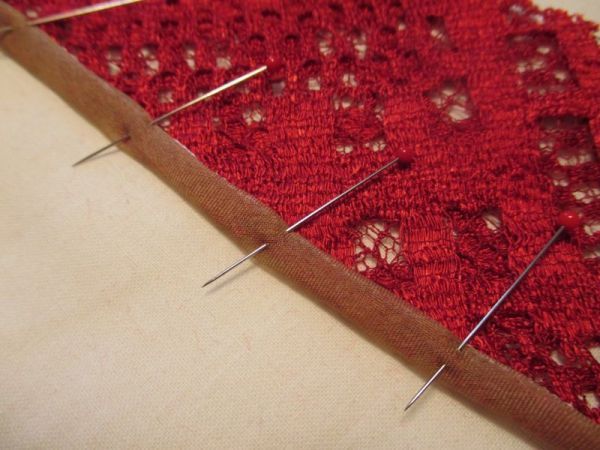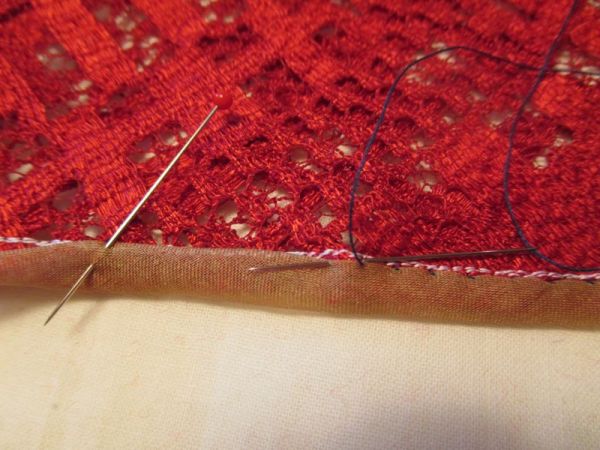 Small fell stitches hold the organza in place; they go through the seam allowances of the lace, but not all the way through to the other side.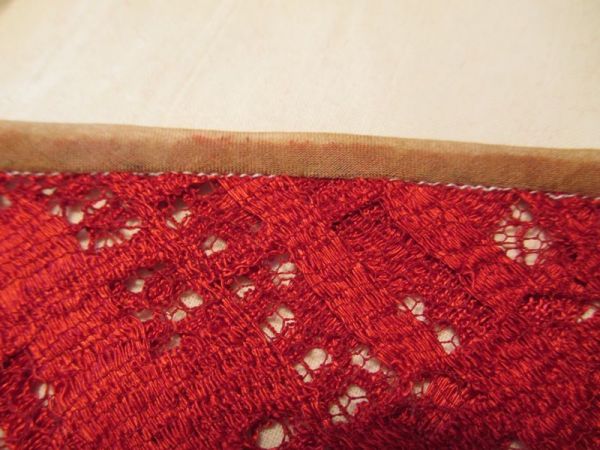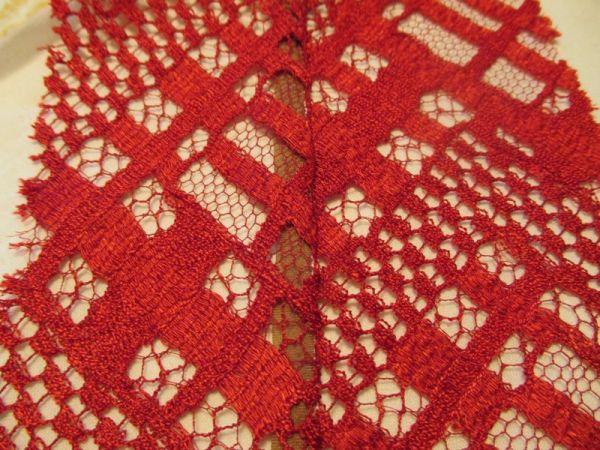 The somewhat invisible seam allowance against a white cloth . . .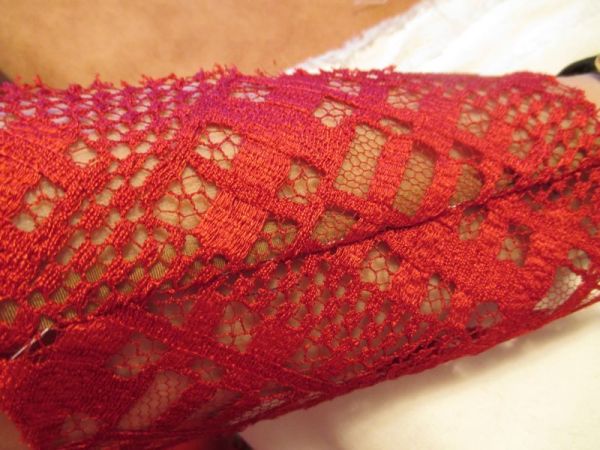 Against my arm, the seam allowances disappear, just as they did in Sylvia's dress.
And there you have it! What other methods have you used to seam Chantilily lace or other delicate lace fabrics?