Create a Folding Design Board to Organize and Plan Sewing Projects
Watch this video on how folding screens make great design boards for sewing projects.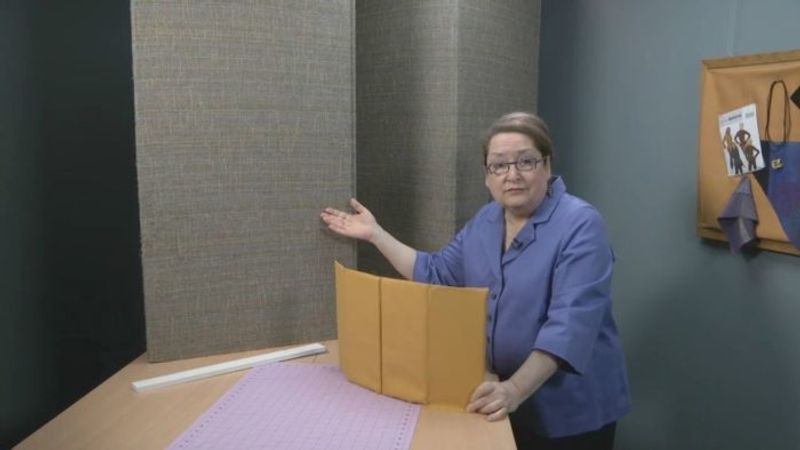 Evamarie Gomez and Judith Neukam; Shot by Gary Junken
Many sewers like to use design boards when planning projects. These are large bulletin boards to which they attach fabrics, patterns, and buttons to see how the items work together. You may not have room in your house for one of these boards, but there's a better way.
Folding screens make great design boards for sewing projects. They come in really handy, and you can make them any size that you want. They can go on your cutting table or stand on your floor, and when you're not using them, you can fold them up and store them under the bed.
You'll start with a sheet of foam core divided into four equally sized panels. Then, cut two layers of fabric 5 inches longer than the screen and 2 inches wider. With the fabric's right sides together, sew 1/2-inch-wide seam allowances around three sides, press the seams open, and turn it right side out.
Then, determine the center and sew a line perpendicular to the long edge. Sew a line down the center of each of the two remaining sections. Cut the foam core panels, and slide each one into one of the four pockets. The pocket stitching forms the hinges and allows the panels to swing in both directions. Just hand-stitch the bottom closed, and it's ready.
---
Submit your tip
At Threads magazine, we're always in search of smart tips, tricks, and solutions to help you sew smarter, better, and faster. Send us your great ideas for a chance to be featured in the magazine's Tips department or in a future episode of There's a Better Way.
Tips can be emailed directly to Threads or mailed to Threads Tips, P.O. Box 5506, Newtown, CT 06470.
We pay for any tips published in our magazine.