Vogue Patterns Summer 2014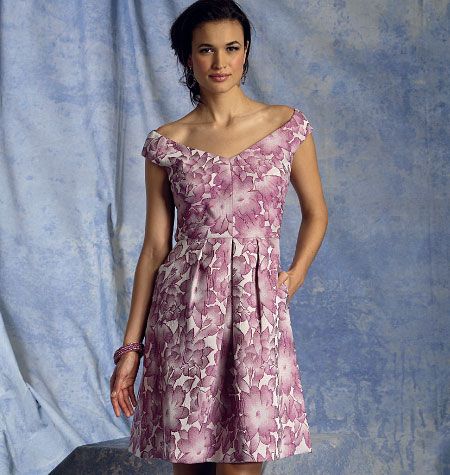 Vogue Patterns Summer Book Is Available
This book is filled with trends and styles for the upcoming summer season that can be best accessorized with your favorite pair of sunglasses and sandals!
Vogue Pattern V1392

This is a lined dress that has a close-fitting, boned, bias-front bodice extending into a back band. There are no shoulder seams in order to create the unique neckline. This dress also features concealed, elasticized shoulder straps and ribbon hangers. The front has a pleated skirt with side pockets and an attached petticoat. It has an invisible back zipper. This dress is classic and can be worn almost anywhere, making it essential for summer. Vogue Patterns suggests using fabrics such as brocade, jacquard, or shantung, and organza is recommended for the petticoat.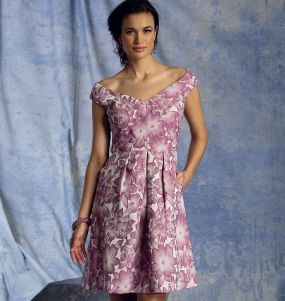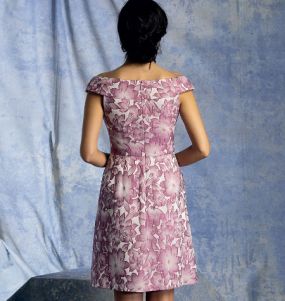 This pullover dress features a collar, shoulder pads, a semi-fitted bodice, a flared skirt with princess seams, and a front button with side zipper closing. It has all the old-time characteristics of a perfect vintage dress! View A includes cap sleeves with cuffs. While as view B includes a bias neck and armhole facings. Vogue Patterns suggests using fabrics such as broadcloth, linen, satin, or shantung, and for the contrast in view B they suggest lace. As for the belt interfacing and shoulder pads, they suggest hair canvas and cotton batting respectively.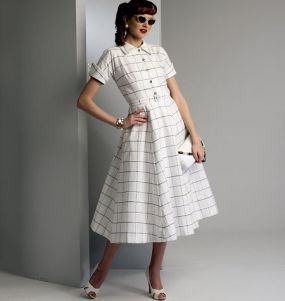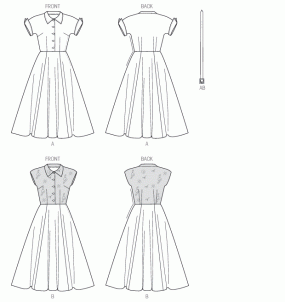 Vogue Pattern V9003

This pattern features a loose-fitting pullover top that is both versatile and trendy. It has an elasticized, seamed waist creating a peplum effect utilizing the bias in the lower front and back. View A contains sleeves with a stitched hem, while views B and C are lined and have collars, collar bands, a back neck slit, and a hook and eye. This top is great for all your summer occasions as it can be either dressed up or down. Vogue Patterns recommends using fabrics such as broadcloth, crepe-back satin, linen, or lightweight denim.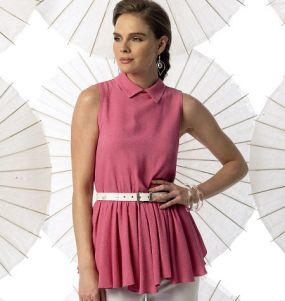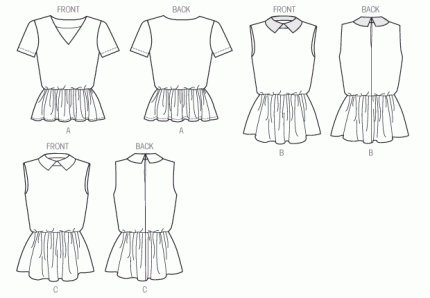 These classic shorts sit comfortably below the waist with a contour waistband, mock fly zipper and different pocket variations to choose from. Views A, B and C are semifitted through hips, featuring a button waistband and narrow hem. While as views D, E and F are very loose fitting through hips, including features such as carriers, front pleats, a back yoke, and stitched hems throughout. Vogue patterns recommends using fabrics such as silk dupioni, light weight denim, linen, or poplin.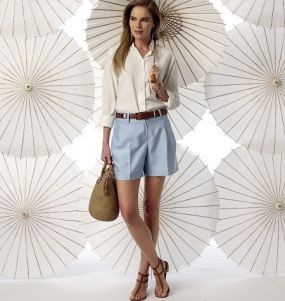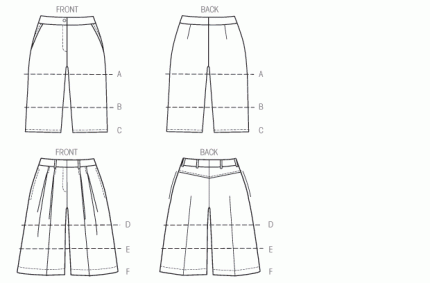 This beautiful dress is simple but yields a complicated looking, elegant result. It is lined and has continuous bias for the neckline, armholes and yoke back opening. This pattern features a fitted bodice, midriff, and tiers forming the skirt. It also has an invisible back zipper and hook & eye. Vogue Patterns recommends using fabrics such as lace, point d'esprit, or chiffon, and for the underlining crepe back satin.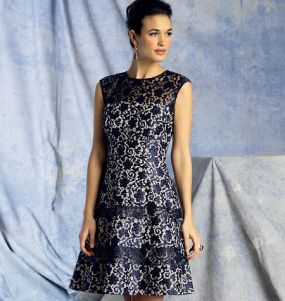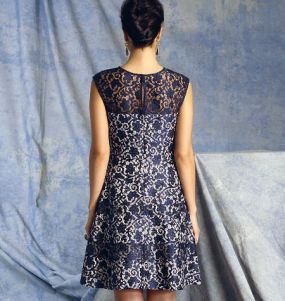 You'll be ready for sunny days!
These garments will have you prepared to take on any summer occasion in style.