Fall 2014 Color Trends Abandon Typical Palette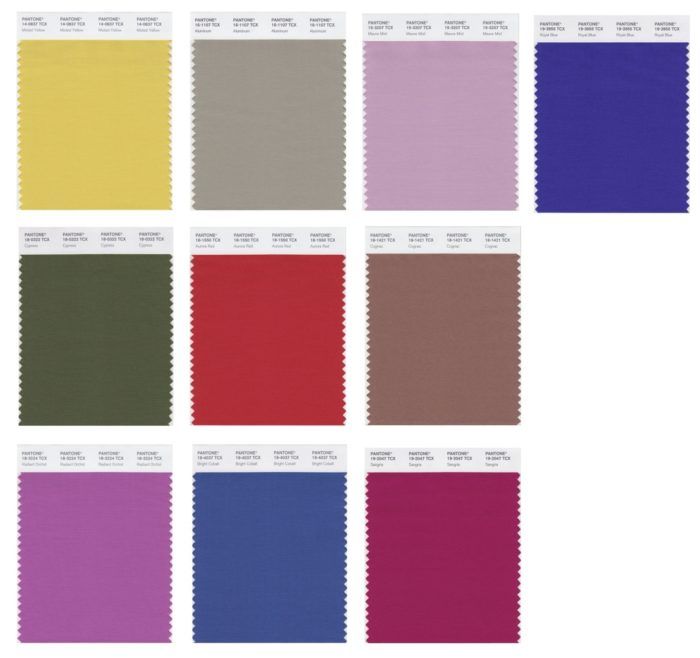 Autumn is almost here and I've been thinking about my fall and winter wardrobe for a few months already. How about you? I don't always pick up on color trends in fashion, preferring to dress in colors that flatter me regardless of what's popular. But I love discovering 'new' colors and incorporating them into my wardrobe and my sewing, integrating them into my wardrobe in interesting ways, or realizing that a color I strongly disliked for most of my life (I'm looking at you, Chartreuse) is suddenly the perfect accent to a color I've loved all my life. And really, when the fabric shops are flooded with the same hot color palettes that RTW shops and fashion runways are saturated with, what's the point of resisting?
This fall, we're in for a bit of a change, according to the Pantone Color Institute. Pantone tracks global color trends and surveys fashion designers about their use of color each fall and spring and from this market research, the company develops a seasonal Fashion Color Report on the season's most prevalent and important color trends. These are the colors you'll see in clothing and fabric stores throughout the season.
According to Pantone, atypical hues mark fall 2014's color trends. Fashion designers eschewed the standard autumnal palette in favor of a more diverse selection of colors with broad influences, infused with "visions of the past and a sense of adventure in the present." That means that the designs and colors shown on runways were visibly inspired by the aesthetic of antique books, artisan crafts, retro architecture, and photography, as well as exotic landscapes.
The top 10 colors for women this fall are: berry-infused Sangria; sophisticated, orange-tinged Aurora Red; romantic, diaphanous Mauve Mist; energetic, feminine Radiant Orchid (the color of the year); quietly majestic grey-green Cypress; green-tinted Bright Cobalt; complex and dignified Royal Blue; futuristic and neutral Aluminum; sunlight-golden Misted Yellow; and rich, muted Cognac.
The men's fall palette draws on nearly all the same colors, only replacing the feminine Mauve Mist with lavender-infused Sea Fog.
While each person should choose the colors they prefer for their own wardrobes and sewing projects, exploring the season's color trends can open up new avenues for self-expression. The fact that certain colors are hot this season certainly doesn't mean you have to try them. But their popularity and widespread availability in fabric stores means you have a great opportunity to experiment with unfamiliar colors and combinations that could help further develop your personal style.
Do you like any of the colors that are trending for fall 2014? Do you think you'll incorporate them into your sewing?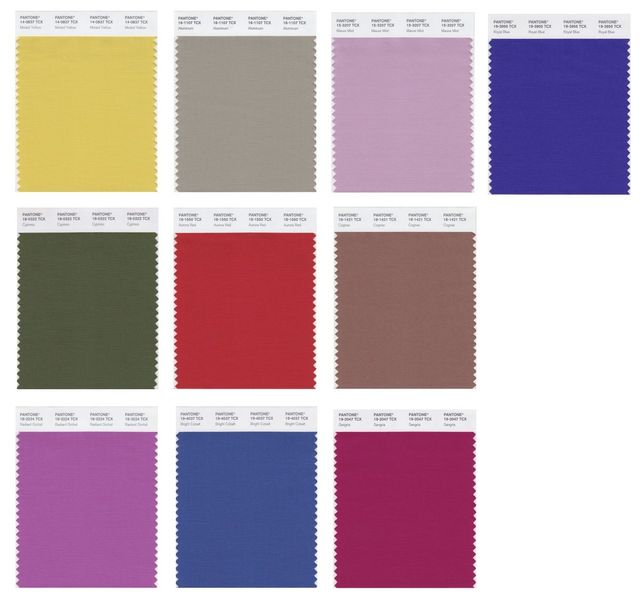 The Fall 2014 Women's Fashion Color Palette: Misted Yellow, Aluminum, Mauve Mist, Royal Blue, Cypress, Aurora Red, Cognac, Radiant Orchid, Bright Cobalt, and Sangria.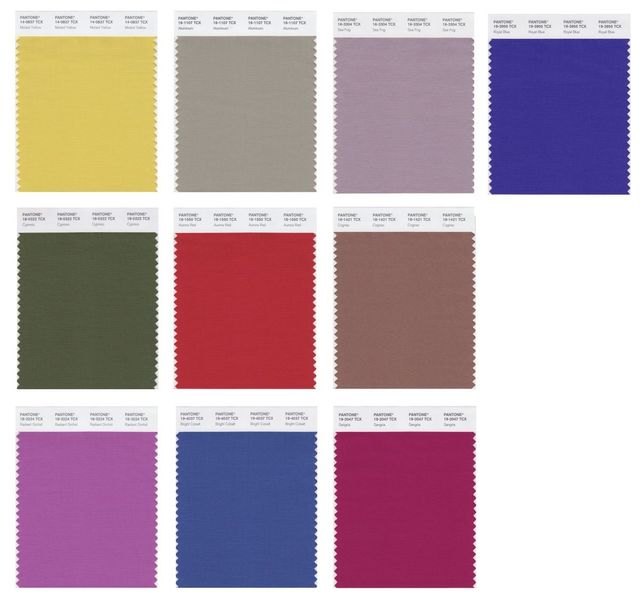 Misted Yellow, Aluminum, Sea Fog, Royal Blue, Cypress, Aurora Red, Cognac, Radiant Orchid, Bright Cobalt, and Sangria.