Introducing "Quick Stuff to Quilt"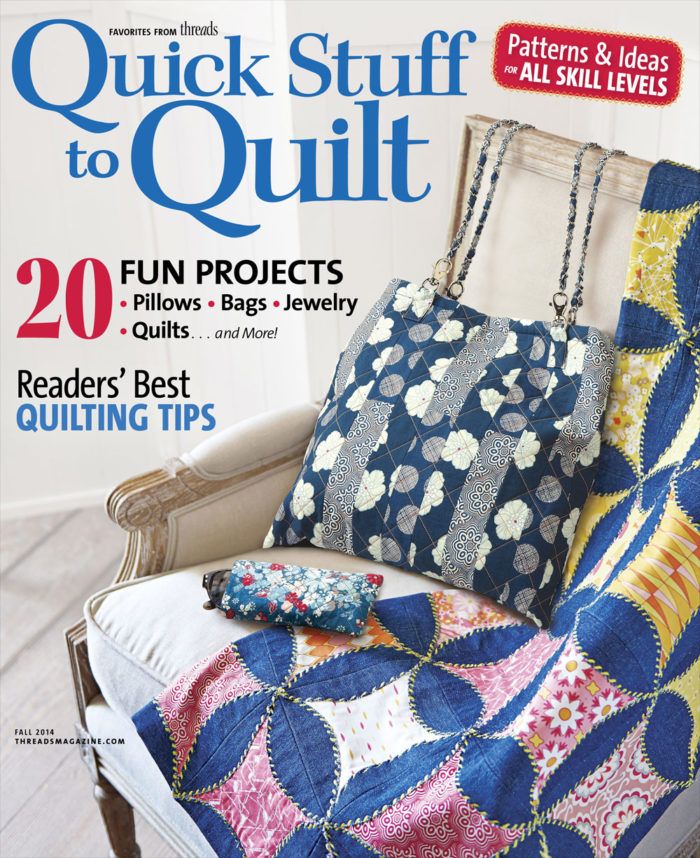 Quick Stuff to Quilt from Threads is now available. This incredible special issue features 20 creative quilting projects, tips and more. It is a must-have for those who love quilting and those who would like to give it a try.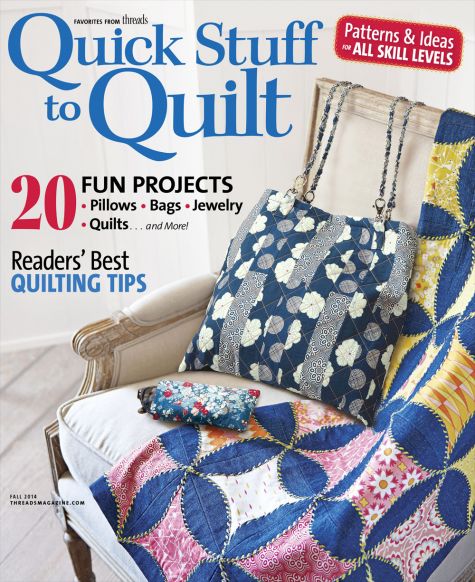 Preview Quick Stuff to Quilt and order a copy, or get the tablet edition today, and start quilting.

Here are the great articles, projects, and tips featured in this edition of Quick Stuff to Quilt:
At Home
Dream in Denim. Combine jeans fabric and cotton prints in a colorful quilt.
Web Extra:

Plan an Ombré Effect in a Denim Quilt

Hot Pot Holders. Reach for these when the kitchen heats up.
Web Extra:

How to Enlarge a Pattern

Cotton Shirt Quilt. Give old shirts new life in a cozy bedcover.
Convertible Bag. Make a quilted tote that folds into a purse.
Lava Lamp Pillow. Create a paper-pieced homage to '60s style.
Terrific Tiebacks. These patchwork curtain holders have a flip side.
Keep Your Tea Cozy. Lovely covers add cheer and warmth to teatime.
On the Go
Pieced Carryall. Upgrade a plain tote pattern into a quilted design.
Padded Case. Protect your laptop with a gorgeous patchwork pouch.
Gauze Vest. Stitch and shrink cotton layers for texture.
Micro Quilts. Easy minipiecing creates artistic jewelry.
Beaded Pouches. Embellish these adorable bags with stitches and seed beads.
Got It Covered. Sew cushioned sleeves for hi-tech toys.
Quilted Book Cover. A vintage-inspired caddy for a favorite book.
Just for Fun
Lovely Lingerie Bag. Create a charming keeper for delicate underthings.
Surprise Quilt. Mindful cutting reveals the potential in a single fabric.
Modern Fusion. Create a stunning art quilt with a simple fuse-and-layer technique.
Easy On the Eyes. Relax with a lavender-scented eye pillow.
8-Pocket Organizer. Whip up a wall hanging to hold cards and more.
Button-Up Coverlet. Quilted panels connect for endless options.
Do you plan to order your copy of Quick Stuff to Quilt? What projects are you looking forward to creating from this special issue? How many quilting projects have you recently completed?