Book Giveaway and Free Pattern Downloads: "The Magic Pattern Book"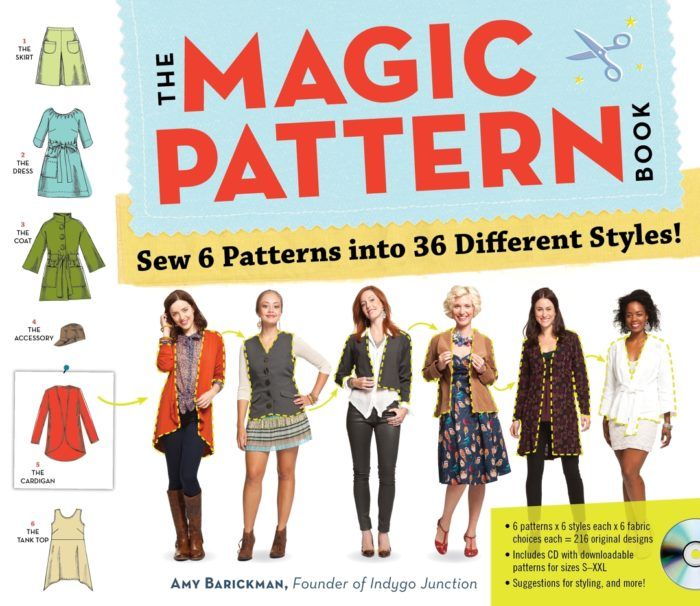 THE MAGIC PATTERN BOOK
Founder of Indygo Junction, Amy Barickman, has recently published a new book: The Magic Pattern Book (Workman, 2014). This fabulous book contains an exciting twist on patterns that will show you how six basic patterns can be transformed into 36 different styles. The Magic Pattern Book includes a CD-ROM with six downloadable patterns for sizes S-XXL.
To help celebrate the release of The Magic Pattern Book, we sat down with the Barickman for an exclusive interview. As a bonus, we're giving you the chance to win a copy of The Magic Pattern Book. Amy was also kind enough to share not one, but two of the patterns featured in the book.
Read on to learn more about Amy Barickman, how to download the free patterns, and to enter for a chance to win a copy of The Magic Pattern Book.
GET TO KNOW AMY BARICKMAN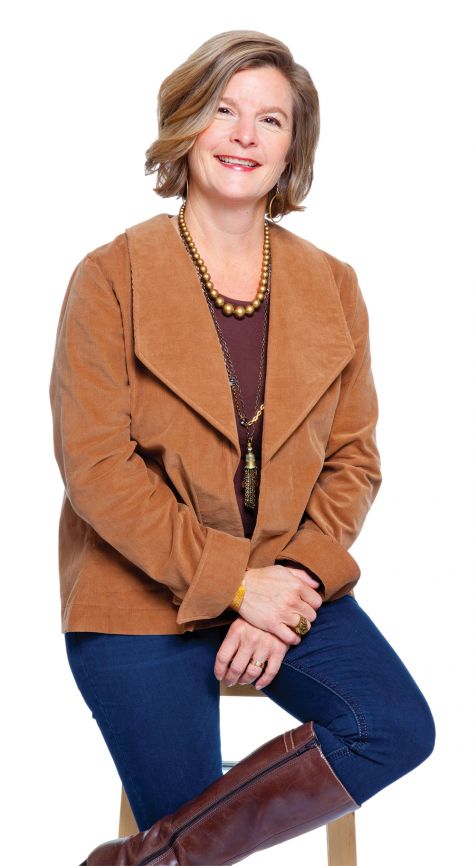 Threads Magazine (TM):  What level of sewer would most benefit from your book?
Amy Barickman (AB): The instructions in The Magic Pattern Book were written with the beginner sewer in mind. We tried to be as detailed and explanatory as possible to make the sewing experience enjoyable. We also included a lot of information on sewing techniques, fabric types and sewing tools, to help educate the reader. Each chapter in The Magic Pattern Book offers readers a project using upcycled material, which can conserve fabric and expense for the beginner sewer. However, we didn't want to bore intermediate or advanced sewers and strived to create sophisticated styles and interesting details that would peak their interest as well.
(TM): What inspired you to create a pattern book in the first place?
(AB): I have been collecting vintage sewing and dressmaking content for years. During my quest, I discovered Mary Brooks Picken who founded The Woman's Institute of Domestic Arts and Sciences in the early 20th century. I started collecting the schools sewing courses and Inspiration and Fashion Service newsletters, and as I learned more about Mary I felt like her story and publications had a timeless quality that I wanted to share with modern DIY audience. This led to the creation of my book Vintage Notions Needlework, Cooking, Sewing, Fashion & Fun. Read more about Mary Brooks Picken here.
One of Mary's popular columns' in the Institute newsletters was The Magic Page, which were instructions for creating patterns from diagrams for garments and accessories. Mary also encouraged the home sewers to express their individual style by adding distinctive details to the projects. I expanded this idea into the concept of using a single simple pattern design to create multiple unique projects, thus The Magic Pattern Book!
(TM): What is unique about your book, what sets it apart from others?
(AB):I think that the shear volume of projects offered is what sets The Magic Pattern Book apart – you can make an entire wardrobe out of these projects! The Magic Pattern Book gives readers 36 unique fashion and accessory patterns, as well as offering advice for further design options and fabric recommendations. When you look at the price, $22.95, and consider how much you would spend if the patterns were individual, you see what a valuable resource The Magic Pattern Book really is.
(TM): Where and/or how did you learn the techniques you demonstrate in your book?
(AB)::I worked with designer Mary Ann Donze on the designs for this book, who is an amazing seamstress and she suggested many of the techniques and unique details used in the patterns.
(TM): How was the writing process different with The Magic Pattern Book compared to the other books you've written?
(AB): At the beginning of each project, I strategize the best way to distribute the book. Most of the time I self-publish my titles and release them through Indygo Junction. I realized that The Magic Pattern Book concept would benefit from the working with an outside publisher and so I drew up a proposal and started collaborating with Workman Publishing. It was nice to have a team of people to discuss design, content and marketing ideas.
(TM): What is one tip or piece of advice you think is most important for your readers to know?
(AB):: The Magic Pattern Book is a little different in that the pattern pieces come on a disc. You print the pieces out at home and follow the guide to cut them out. One time and ink saver that I have found is to take the disc to your local print store. You can print black and white pages for next to nothing, and the printing goes a lot faster!
(TM): What pattern is your personal favorite?
(AB): I have always loved upcycling and throughout the years have created many patterns through Indygo Junction that are made with upcycled materials from denim to men's suiting. So, it was important to me to make sure The Magic Pattern Book incorporated upcycling. Each chapter has one upcycled project, and I especially like the Charlotte top, which is made with upcycled men's dress shirts.
(TM): What was the most difficult obstacle you faced when creating this book?
(AM): Time was the biggest obstacle on this project. Garment patterns take a lot of work and time to get just right, and often, we would have the pattern pieces drawn and instructions written, but realize that we needed to tweak a detail. For instance, we started developing some of the skirts with a full gathered waistband, but realized it would be better to have flat panel in front, gather in back. We had to go back and change directions and pattern pieces, all on a deadline! Our designer, Mary Ann Donze was an enormous help to this process, I couldn't have done it without her.
(TM): What was the most rewarding experience you had when creating this book?
(AB): I loved collaborating with the folks at Workman Publishing. My editor Megan was a huge help through the whole writing process. When it came time to photograph the projects for the book I got to go to New York and work with the stylists and designers, which was really fun. I usually self-publish my Indygo Junction books, so this experience was a wonderful window into a much larger publisher's process.
(TM): When did you realize sewing was going to be a part of your life and that you had a passion for it?
(AB): When I graduated from college, I launched Indygo Junction as a sewing book and pattern publishing company. When I saw immediate positive response I realized that this could be my long-term career. I have loved working in the sewing arts industry, and have been fortunate to work with a diverse array of crafts. Sewing, needlework, felting, there are so many opportunities for creativity. The challenge to keep our products fresh is what keeps me going day to day.
FREE PATTERN DOWNLOADS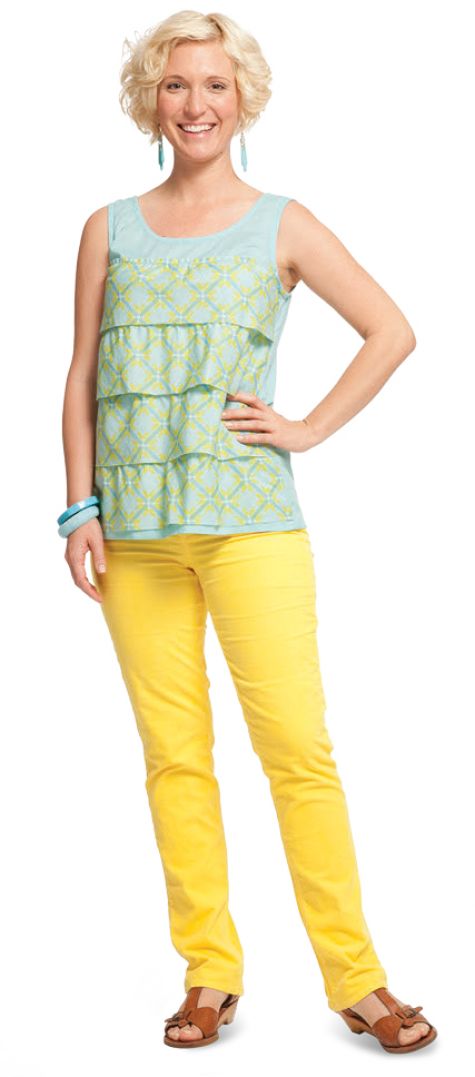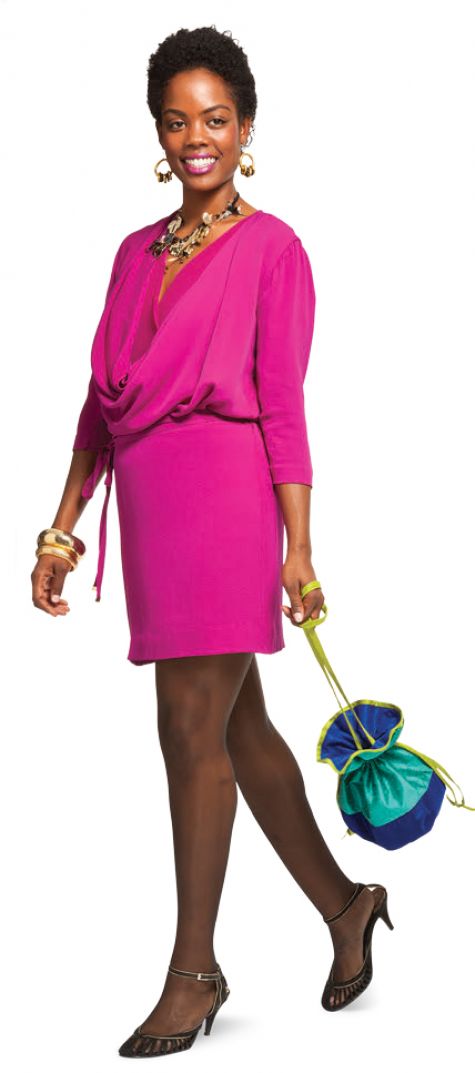 The Magic Pattern Book
Adeliade Pattern
Click here to download the pattern The Magic Pattern Book
Francesca Pattern
Click here to download the pattern
YOUR CHANCE TO WIN
For a chance to win one (1) copy of The Magic Pattern Book you must leave a comment explaining why you would like to win. Comments must be made by 11:59 p.m. EST, on October 31, 2014. The winner will be randomly selected, contacted via email, and announced during the week of November 3, 2014.
Head on over to Indygo Junction to continue The Magic Pattern Book Blog Tour.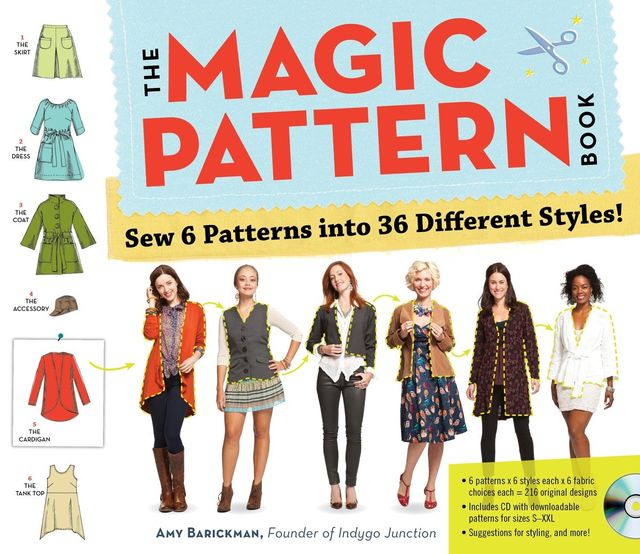 The Magic Pattern Book (Workman, 2014) can be purchased on Amazon.com or major booksellers.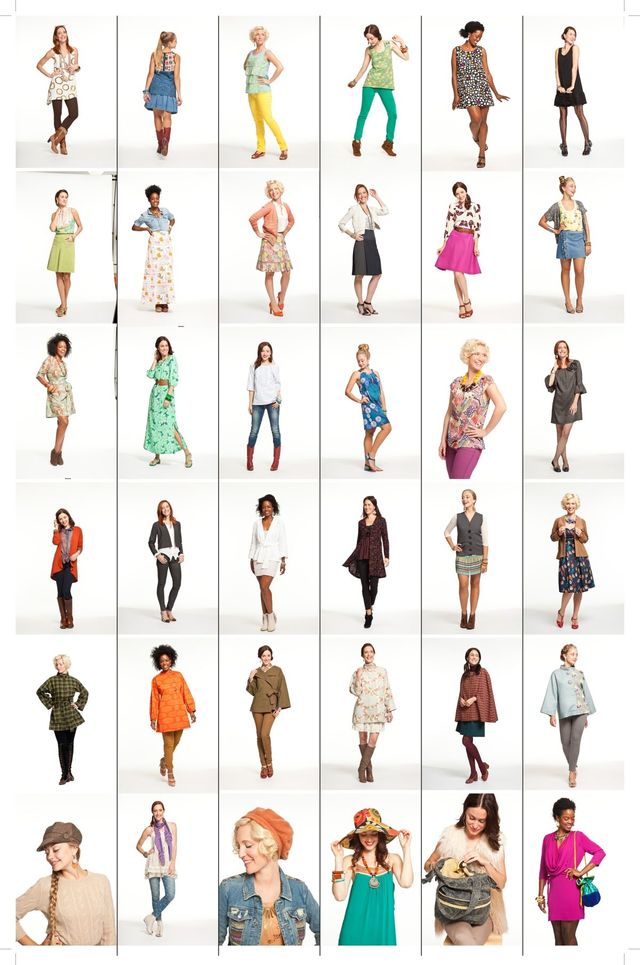 Here's a sneak peek at some of the styles you can create with The Magic Pattern Book.