Tip: Make a Beading Frame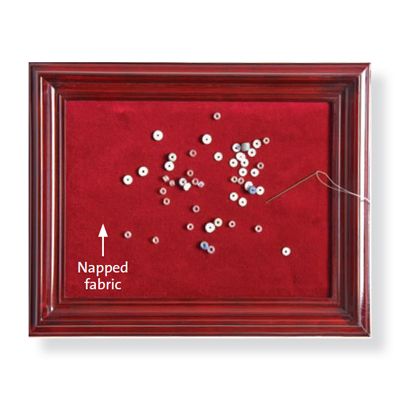 This reader-submitted tip was originally featured in Threads #176 (December 2014/January 2015).
When I took a beading class a few years ago, the teacher suggested we use a saucer to hold the beads because the curved edges stop the beads from rolling away. I loved the result, but placing the beads on the needle without them slipping on the saucer was difficult. As a result of my frustration, I made a beading frame. I gathered an old 5-inch by 7-inch picture frame and some napped fabric. I removed the glass and cardboard backing from the frame. I placed the fabric over the glass and put the three layers back into the frame. The napped fabric holds the beads steady as I place them on my needle, and the frame's raised edges keep the beads from rolling away. Compared to the large beading trays, this solution is inexpensive, lightweight, and portable.
-Gloria Fletcher, South Lake Tahoe, California

---
Submit your tip!
At Threads magazine, we're always on the hunt for smart tips, tricks, and solutions to help you sew smarter, better, and faster. Send us your great ideas for a chance to be featured in the magazine's Tips department.
Tips can be emailed directly to Threads or mailed to Threads Tips, P.O. Box 5506, Newtown, CT 06470.
We pay for any tips published in our magazine.