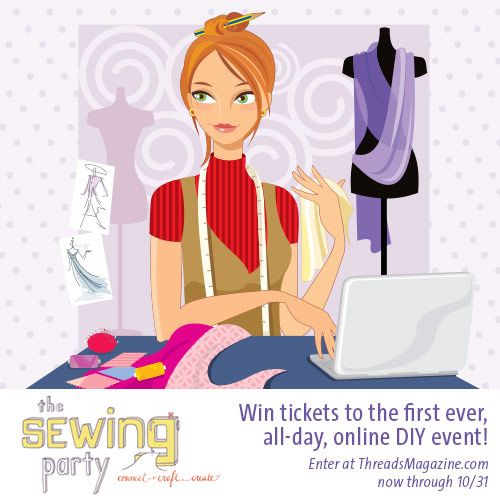 JOIN THE SEWING PARTY
We're thrilled to announce that Threads will participate in a new, one-of-a-kind event called The Sewing Party.
It is the first all-day, online DIY event where thousands of sewers and DIY-ers of all genres will gather for an exciting day of sewing and online crafting classes. The classes will be taught by top experts and leading bloggers in their respective fields.
A $40 registration fee grants participants access to more than 30 online classes, which will be available November 8 and for an additional 90 days thereafter. Class offerings include garment construction, fashion sewing, home décor, cosplay (costume play), quilting, and more.
The Sewing Party participants also will have the chance to chat with other attendees across the country*, interact with the experts and teachers, and explore the latest sewing and crafting tips, techniques, and products in their marketplace. 
VISIT THREADS' VIRTUAL BOOTH
Threads will have a virtual booth where you can find article and project downloads, instructional videos, and ways to learn more about our products. Threads Associate Editor Stephani Miller and Threads Executive Editor Judith Neukam also will be available for a chat November 8. You can interact with Stephani from 2 p.m. to 3 p.m. EST, and with Judith from 3 p.m to 4 p.m. EST.
ENTER TO WIN TICKETS – [UPDATE: GIVEAWAY IS NOW CLOSED. WINNERS WILL BE CHOSEN, CONTACTED, AND ANNOUNCED SHORTLY]
We're excited to be a part of this event, and we invite you to attend. To kick off The Sewing Party's inaugural year, we're giving away 10 tickets. To enter, leave a comment explaining why you would like to attend The Sewing Party before 11:59 p.m. EST on October 31, 2014. The 10 giveaway winners will be selected randomly, contacted via email, and announced the week of November 3.

If you can't wait to win, reserve your "seat" by clicking here. Hurry, spaces are filling up fast.
ALREADY REGISTERED?
Be sure to stop by the Threads booth for some great sewing tips and techniques anytime November 8, or to chat with our editors at the indicated times. If you're on social media, share your experiences by tagging us and The Sewing Party with the hashtags #threads and #thesewingparty.
*Please note that The Sewing Party and virtual ticket giveaway are only open to participants in the United States. The Sewing Party committee hopes to make this an international event in 2015.
Will any Threads readers attend this event? What classes are you looking forward to? What is your preferred method of learning sewing techniques–the traditional, sit-down courses or the online classes?