Project Runway All Stars Season 4, Episode 2: "The Art of Construction"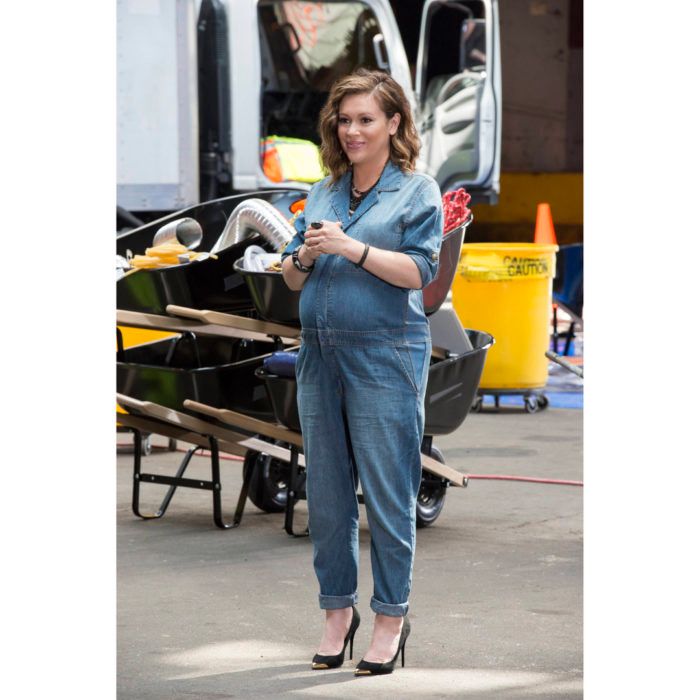 The designers meet outside Skylight at Moynihan Station, a popular Fashion Week venue, which is currently filled with construction materials. Naturally, Alyssa asks the designers to use the supplies for an unconventional challenge. In just one day, they must take these masculine objects and turn them into feminine outfits.
This week's show had three guest judges: Reality-TV stars Nicole Polizzi and Jennifer Lynn, more commonly known as "Snooki" and "JWoww" from The Jersey Shore, and fashion designer Elie Tahari. For the most part, the runway show was a roaring success. Justin used zip ties and white fencing to create his feminine dress, which the judges thought was gorgeous. Jay took a more industrial approach by using a tarp and nails to create his design. While it was a bit risky, the judges loved how he used his materials and thought he did a fantastic job manipulating the tarp. Kate's dress had mixed reviews, but Georgina and Nicole thought it was especially sweet and fun.
Then, there were the low scores. Chris made a two-piece outfit with cords, cable ties, and wire. In all honesty, the judges thought it looked rushed and incomplete. Yet, there was something about the skirt that caught Isaac's eye. Alexandria's attempt at manipulating a tarp wasn't so successful. Isaac couldn't find anything beautiful about her garment and the arachnophobic Snooki said the dress reminded her of a spider. Finally, Michelle didn't take her painted construction-worker vest design far enough. While the concept was nice, the judges thought she really needed to up her game. As a result, Justin won his first Project Runway challenge ever and Alexandria was sent home.
On to the designs…
The top:
Justin's winning look: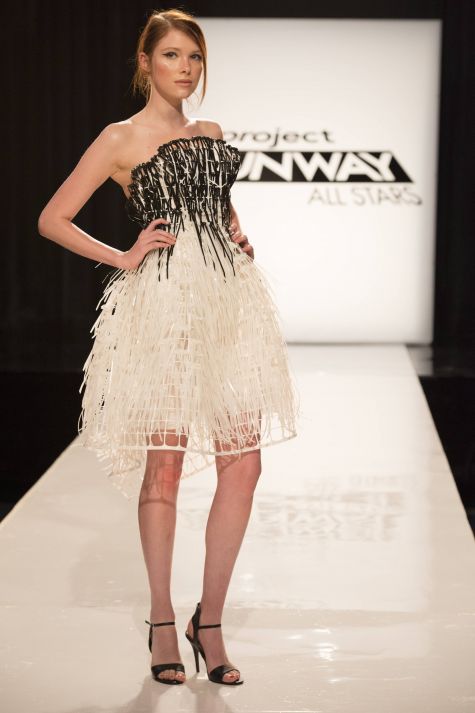 Jay's look: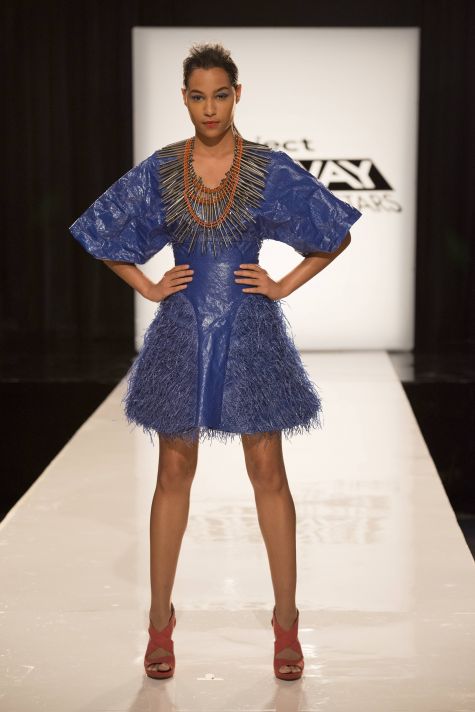 Kate's look: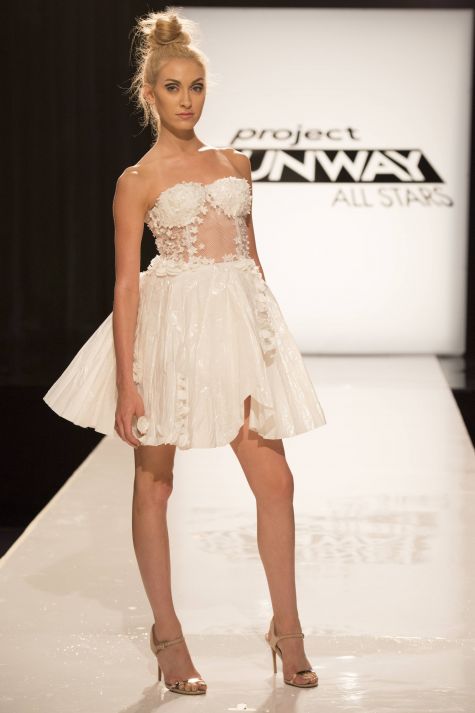 The bottom:
Alexandria's losing look: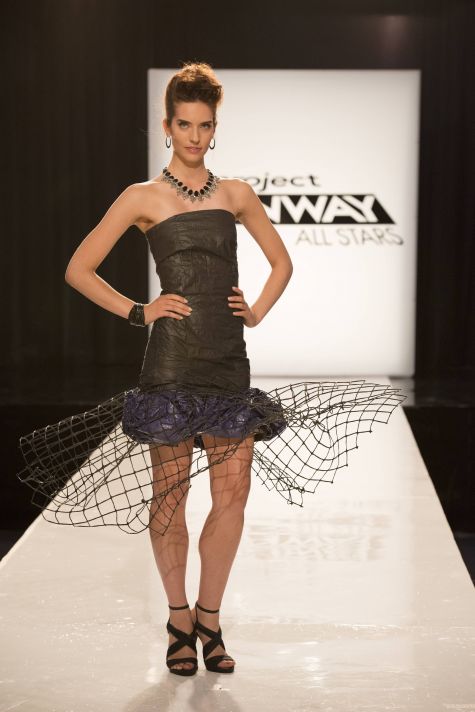 Michelle's look: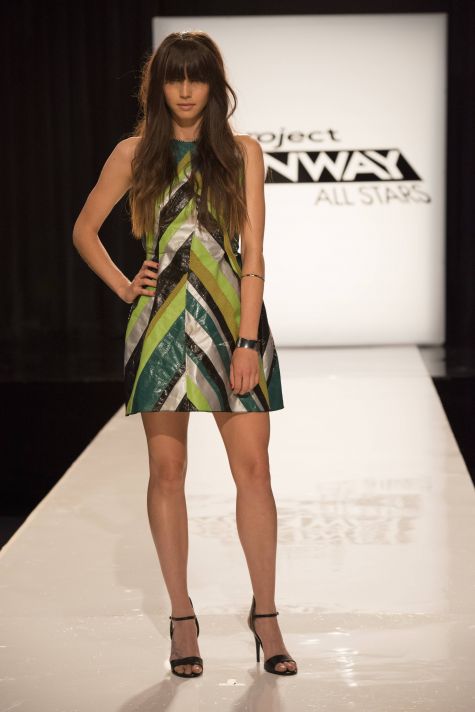 Chris' look: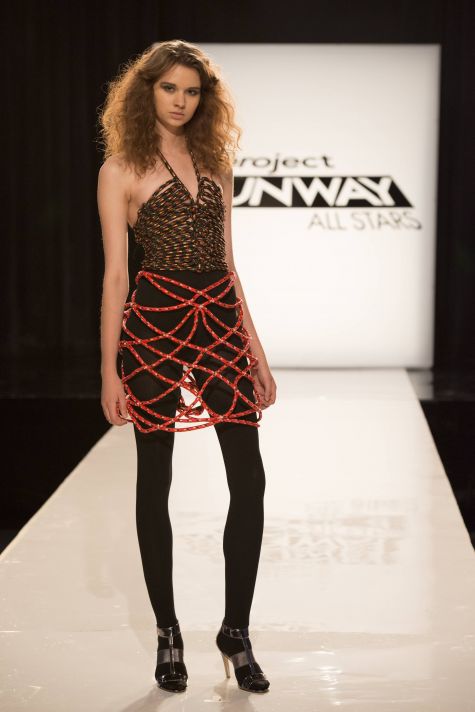 The rest of the designs:
Samantha's look: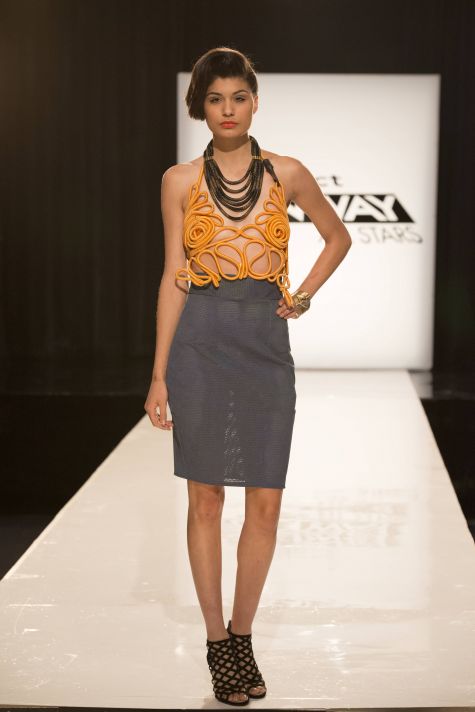 Helen's look: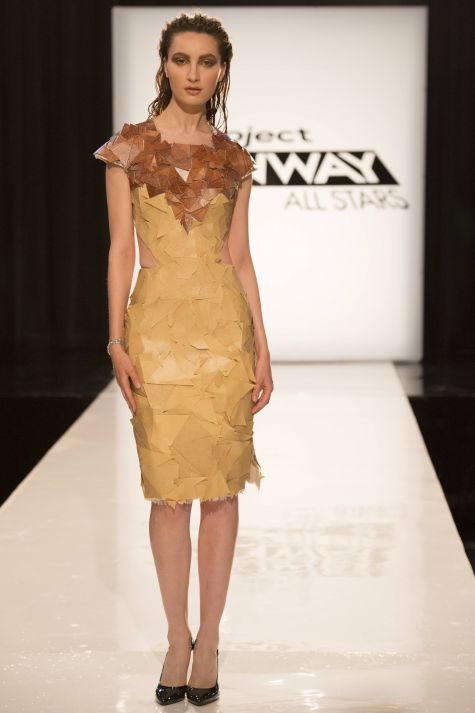 Dmitry's look: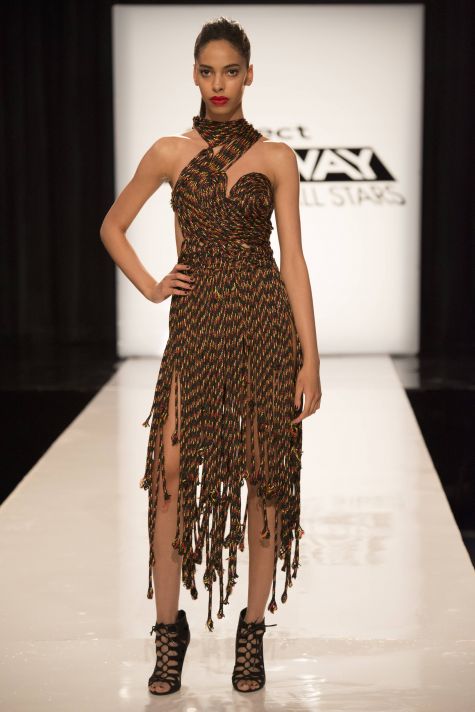 Benjamin's look: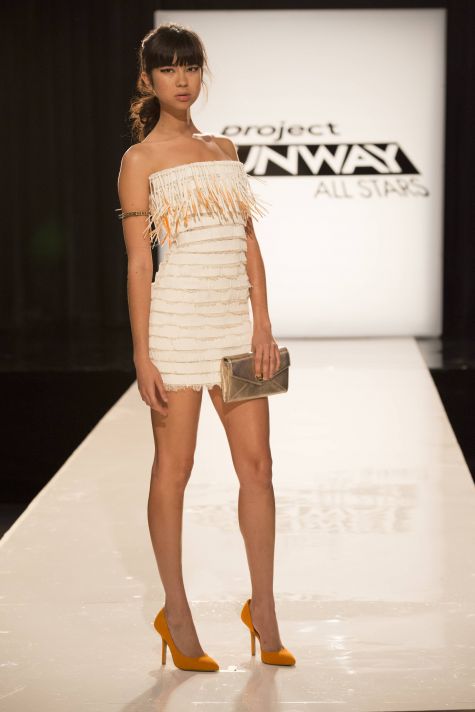 Gunnar's look: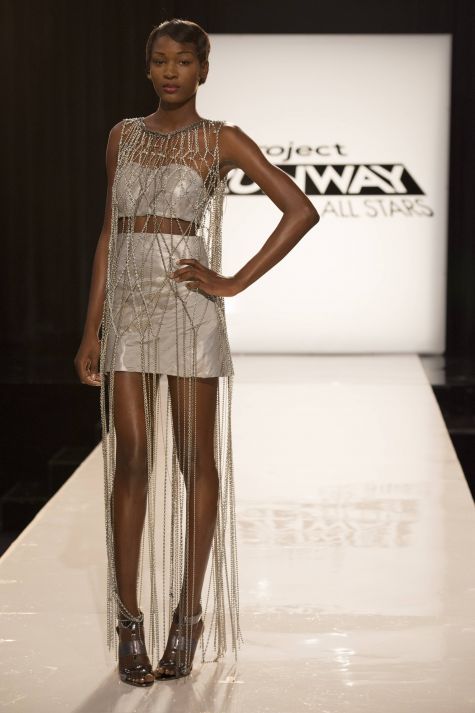 Fabio's look: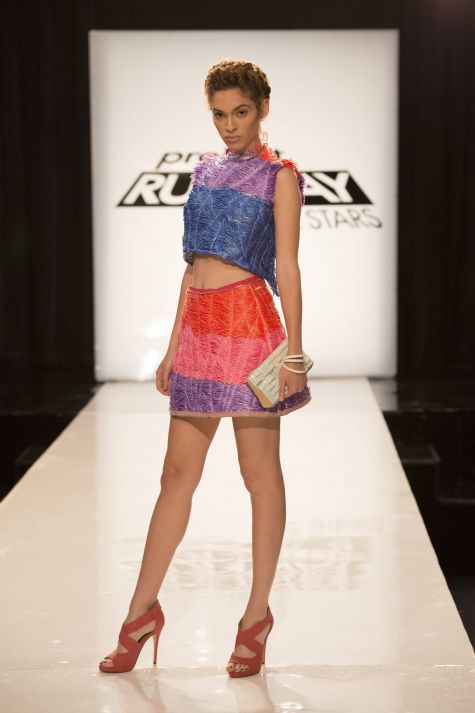 Sonjia's look: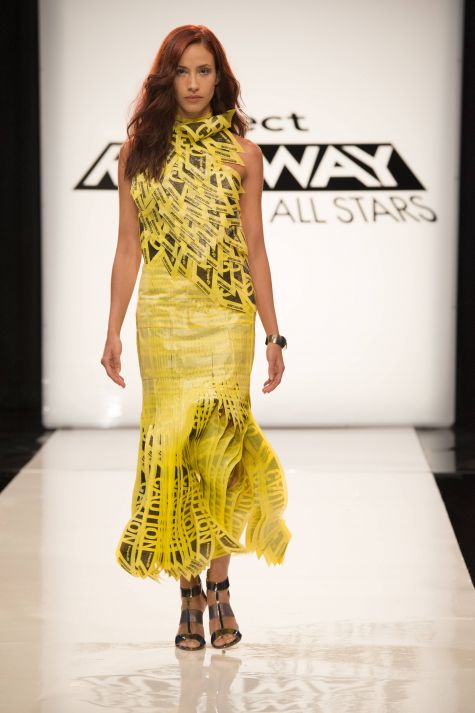 I rarely agree with both of the judges' decisions. But this time, I really think they got it right. I just didn't find Alexandria's dress flattering or inventive. Justin's, on the other hand, showed real thought and brilliant execution. I'm so glad he was finally able to win a challenge and can't wait to see what he has in store for the upcoming episodes.
Did you enjoy this week's challenge? Which outfit was your favorite? How do you feel about Dmitry supposedly stealing Chris' design? Please share your thoughts below!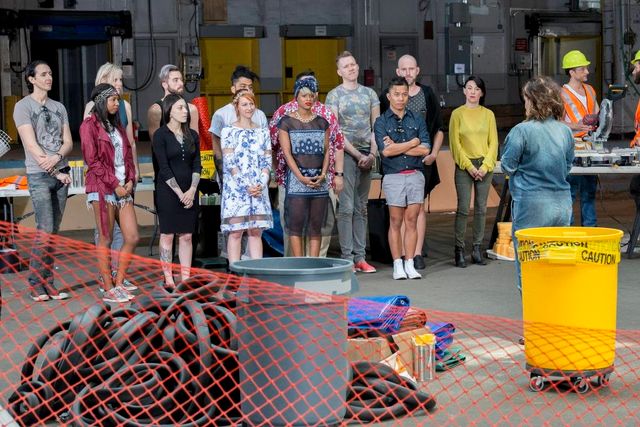 The designers gather at Skylight at Moynihan Station to collect as many unconventional materials as possible in just 15 minutes.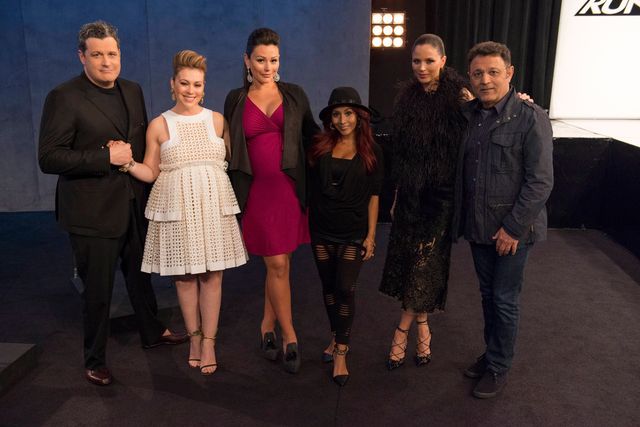 This week's judging panel (from left): Isaac Mizrahi, Alyssa Milano, Nicole "JWoww" Polizzi, Jennifer "Snooki" Lynn, Georgina Chapman, and Elie Tahari.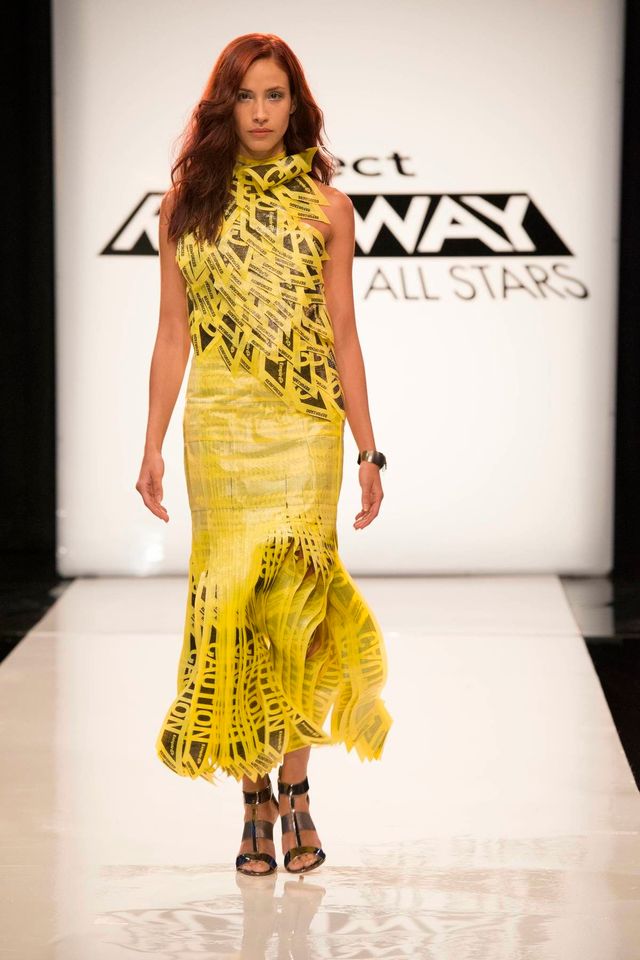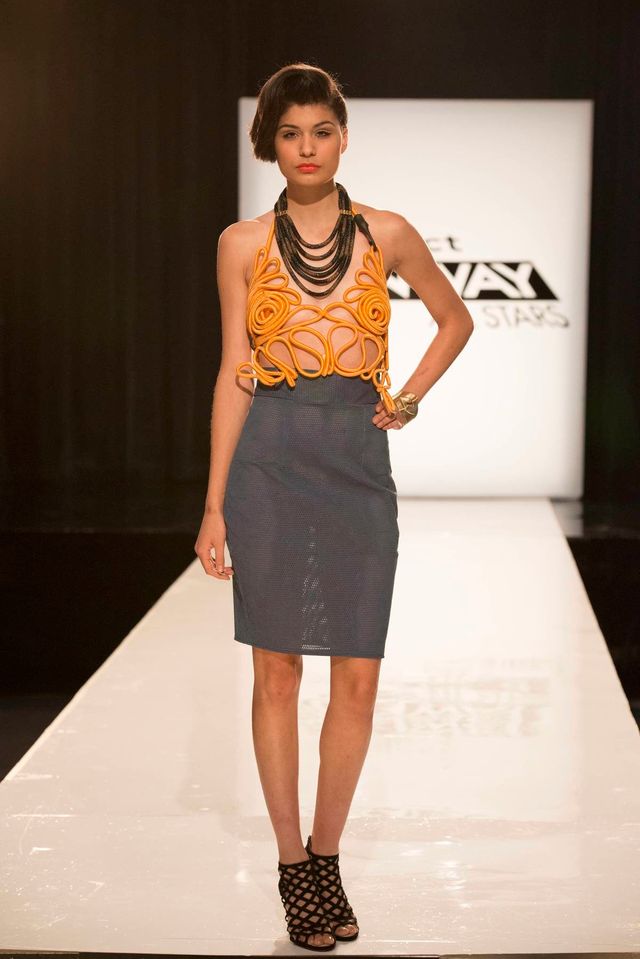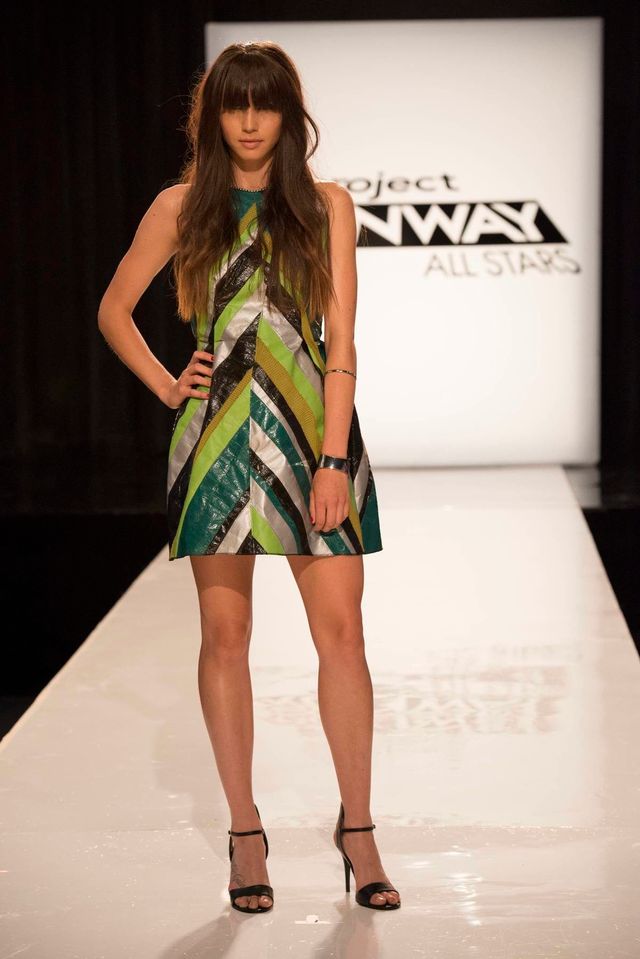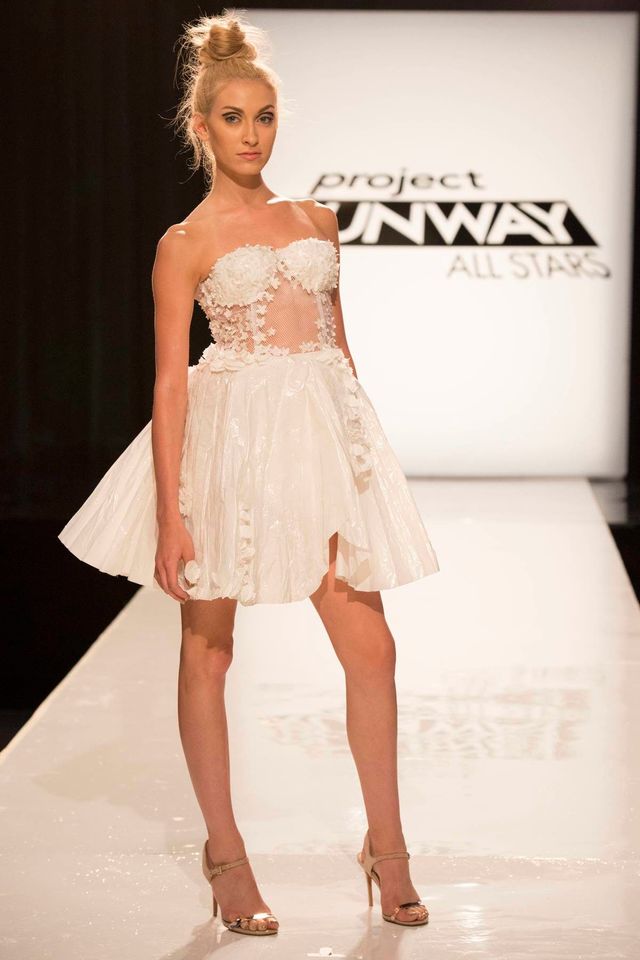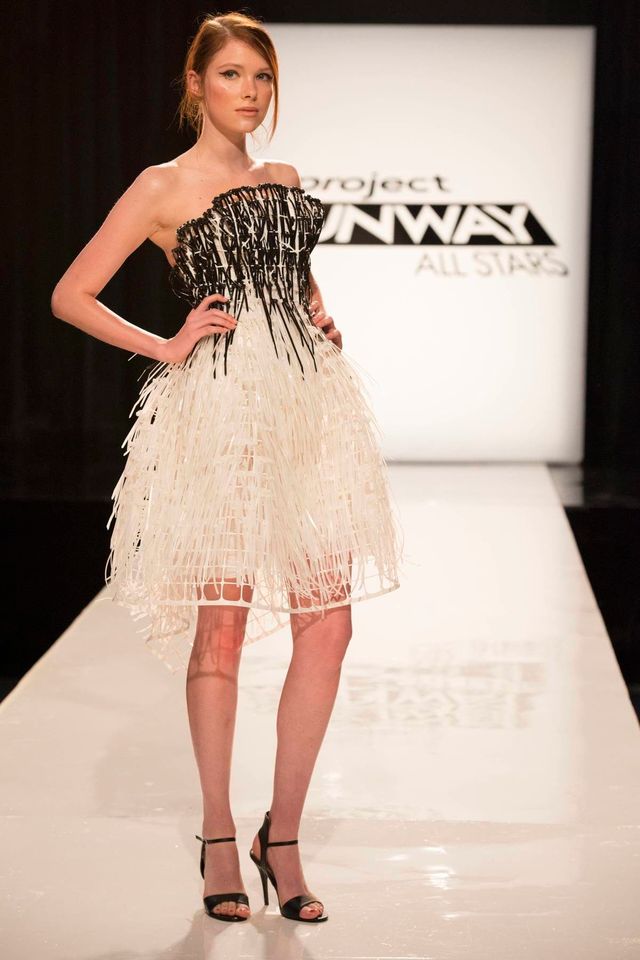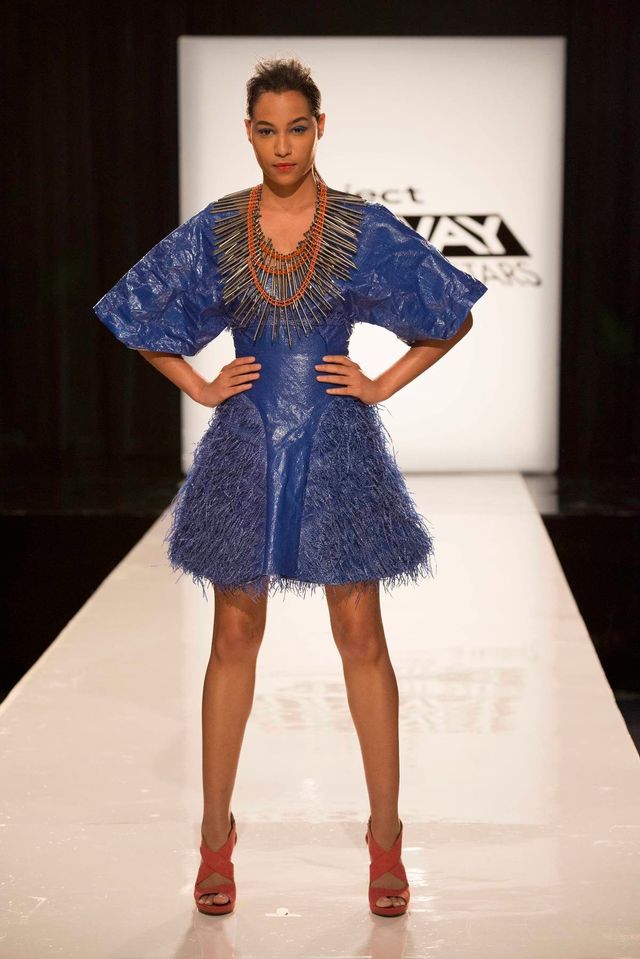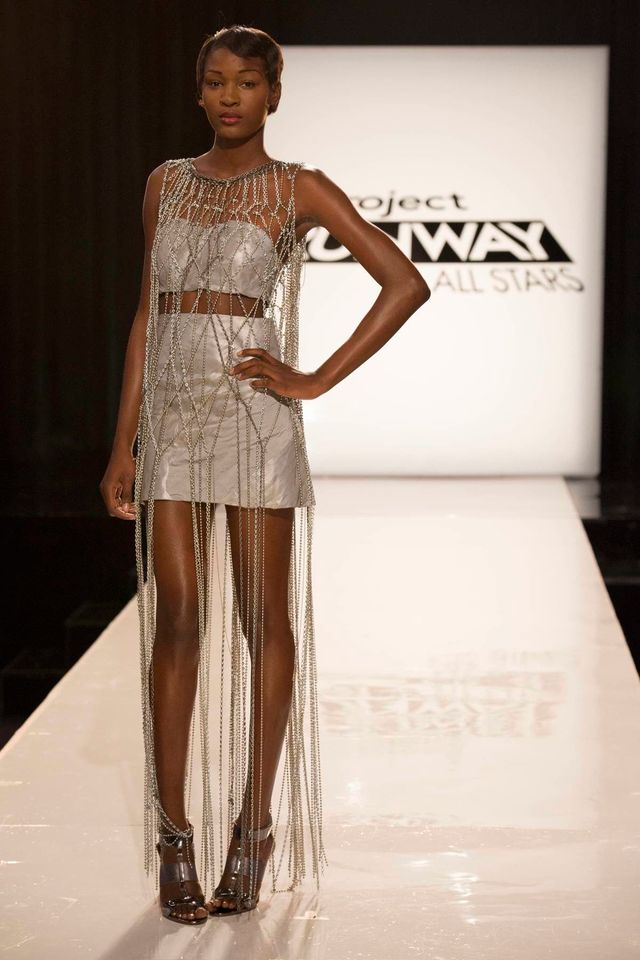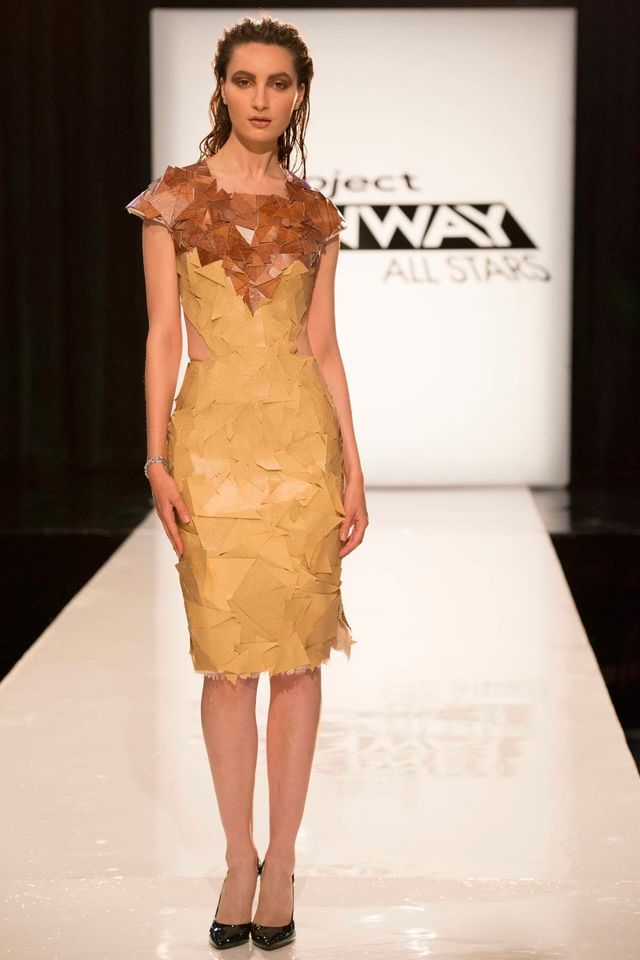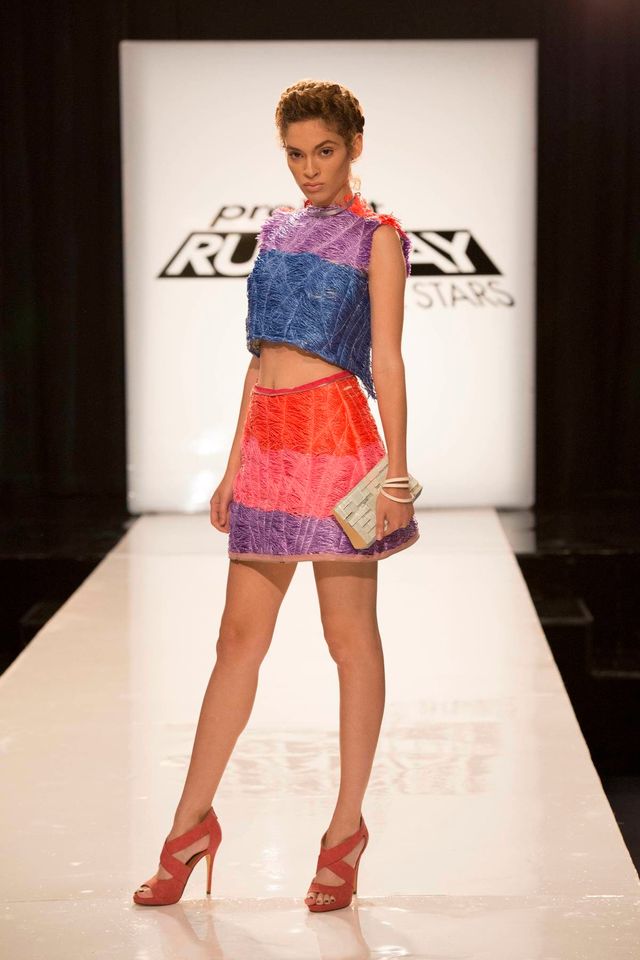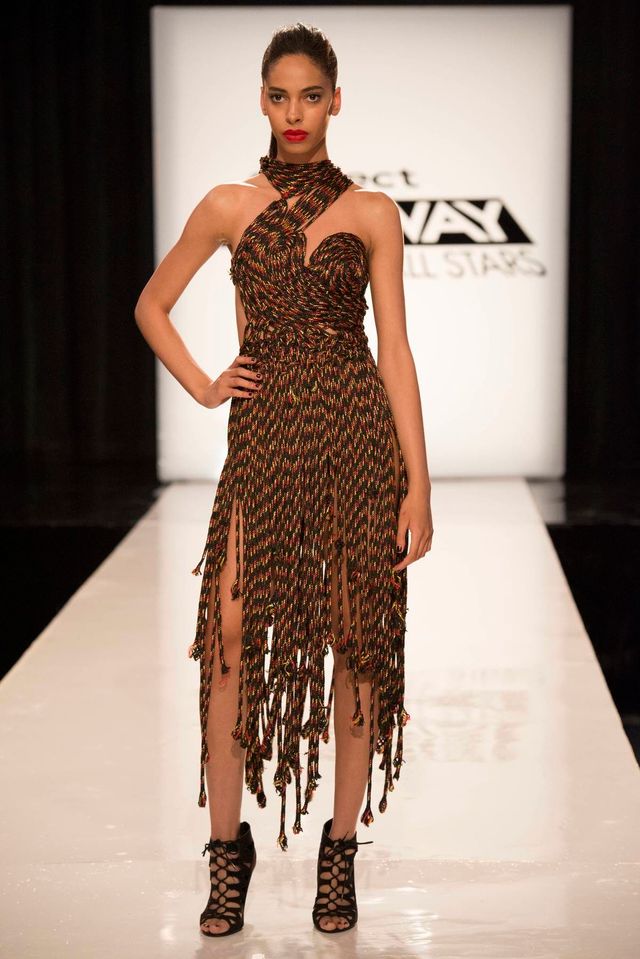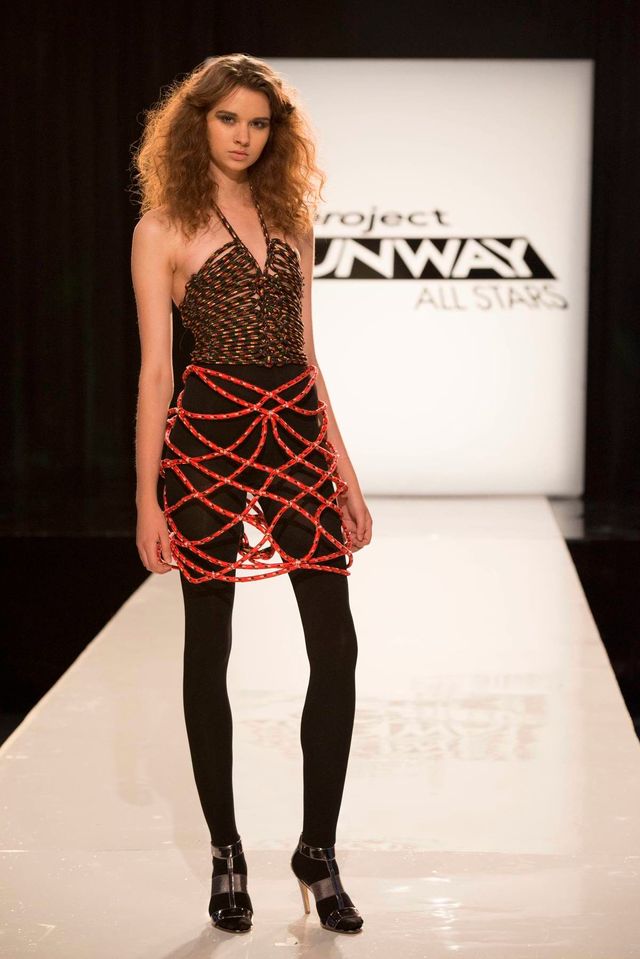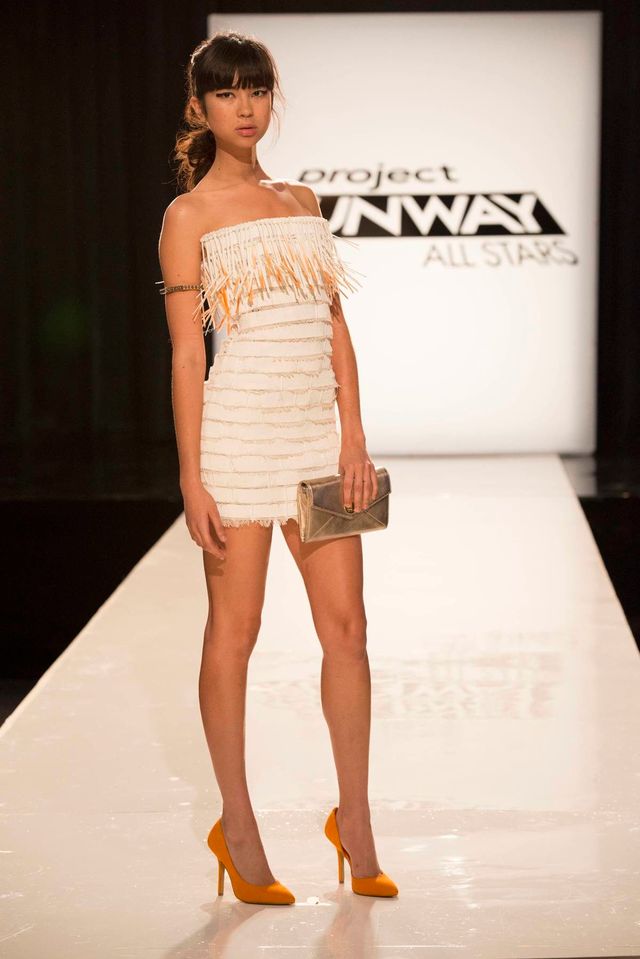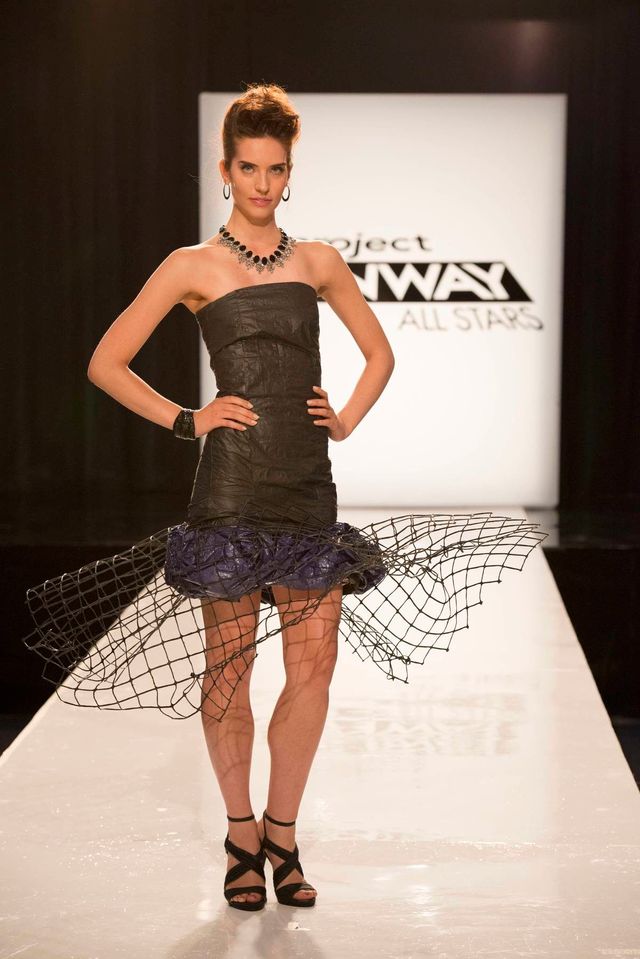 Alyssa gets all dressed up in her construction-worker gear to explain this week's challenge.