Project Runway All Stars Season 4, Episode 4: "Wear Your Heart On Your Sleeve"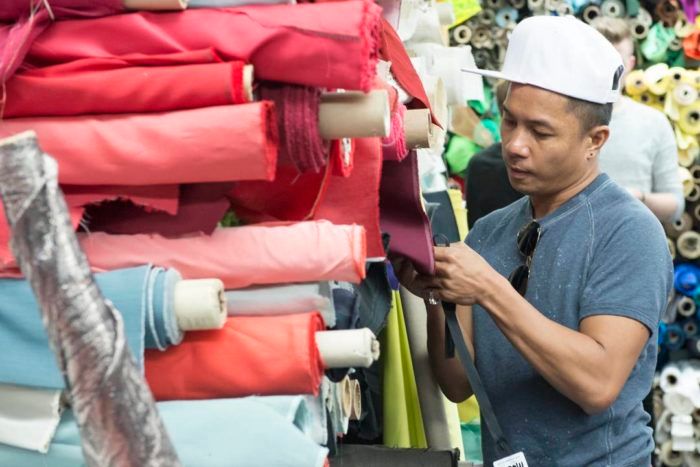 Alyssa Milano, Nina Garcia, and Scott Davies, the SVP of Marketing for Zales, present this week's challenge in the Hearst building, home of Marie Claire magazine. Scott begins by introducing the designers to a special jewelry collection that represents a couple's past, present, and future. In return, the designers are expected to create a colorful party dress that expresses their journey of love from past, present, and future relationships. Everyone is given a budget of $100 and one day to complete this challenge. Plus, the winner will receive a $10,000 gift card to Zales.
This week's judging panel consisted of Nina Garcia (standing in for Georgina Chapman), Project Runway and Project Runway All Stars winner, Seth Aaron Henderson, and fashion blogger Danielle Bernstein. Dmitry, Sonjia, and Helen were in the top, while Kate, Gunnar, and Benjamin had the lowest scores. The judges thought Dmitry's dress was cute, sophisticated, and impeccably made. Sonjia's dress had a nice pop of color, a lovely silhouette, and an elegant appeal. Last, but not least, Helen's design really captured her feelings of love. Nina and Alyssa, in particular, felt that it was the most emotional dress on the runway and seemed to portray a powerful romance.
As for the bottom, Kate's dress was considered unfinished and sad by Seth and Nina. Isaac thought Gunnar's dress had a very unflattering back and was an overall mess. Finally, Benjamin's dress was criticized for being too basic. While Nina and Alyssa thought it had great runway appeal, when the dress stood still, there really wasn't much to it. In the end, Helen won the challenge, and Kate was eliminated for the third time on Project Runway.
On to the designs…
The top:
Helen's winning design: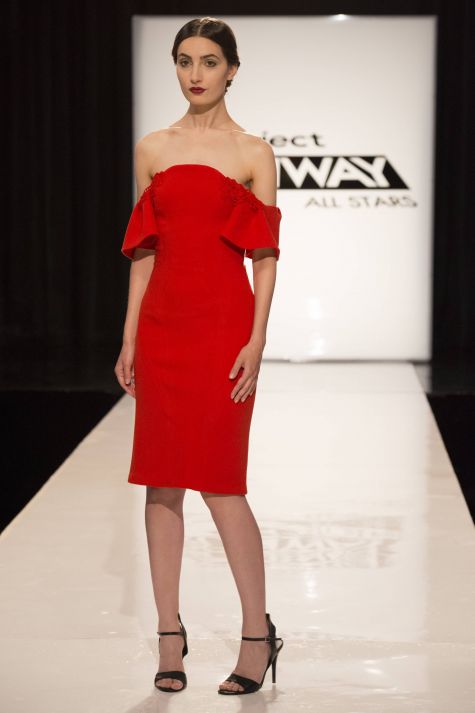 Sonjia's design: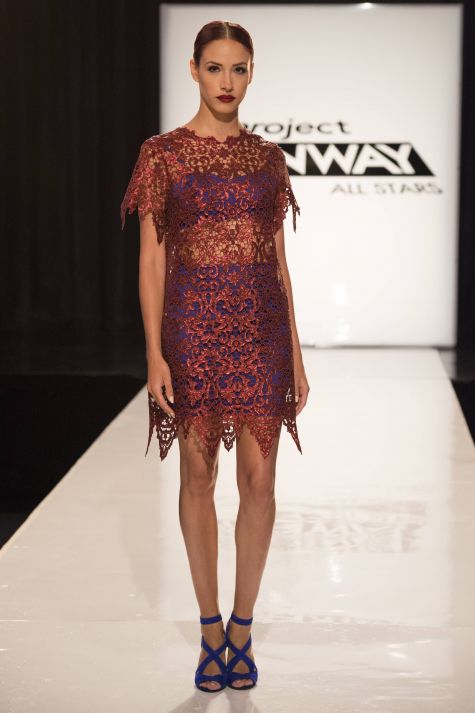 Dmitry's design: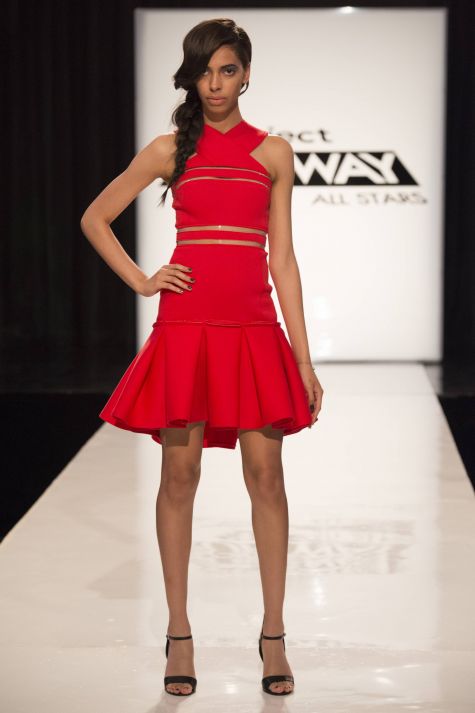 The bottom:
Kate's losing design: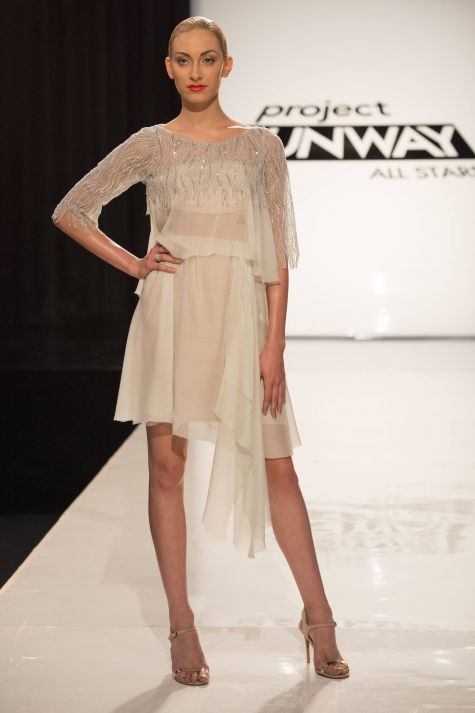 Gunnar's design: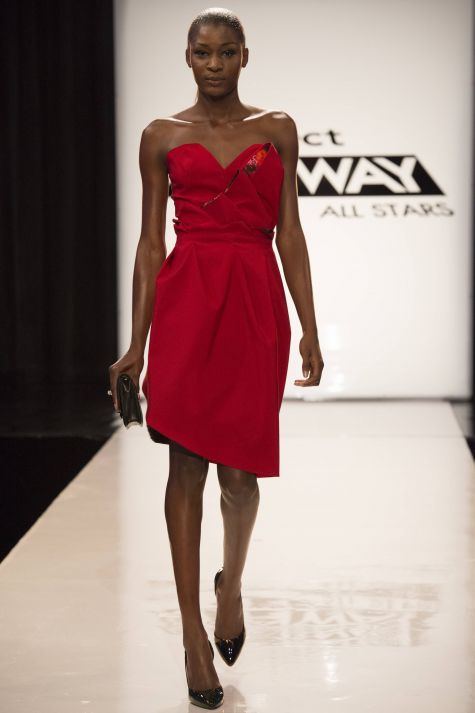 Benjamin's design: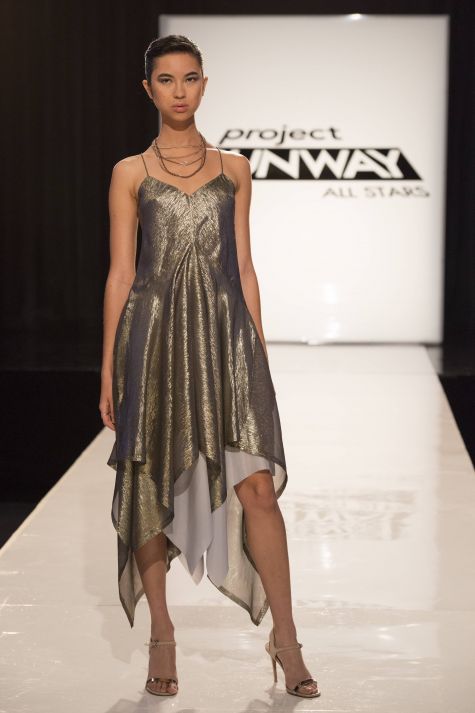 The rest of the looks:
Samantha's design: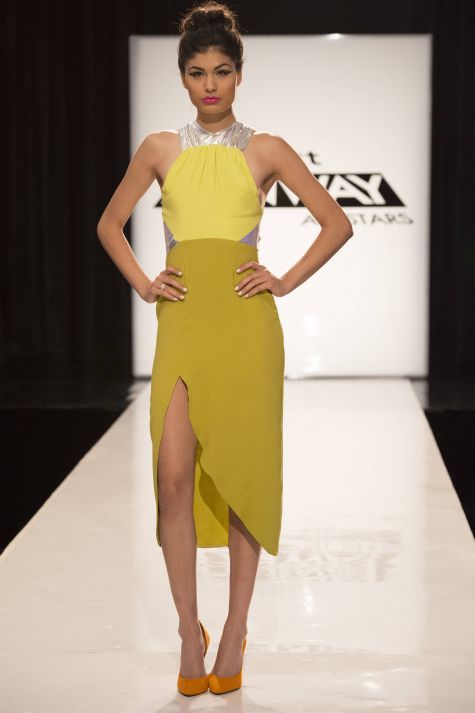 Michelle's design: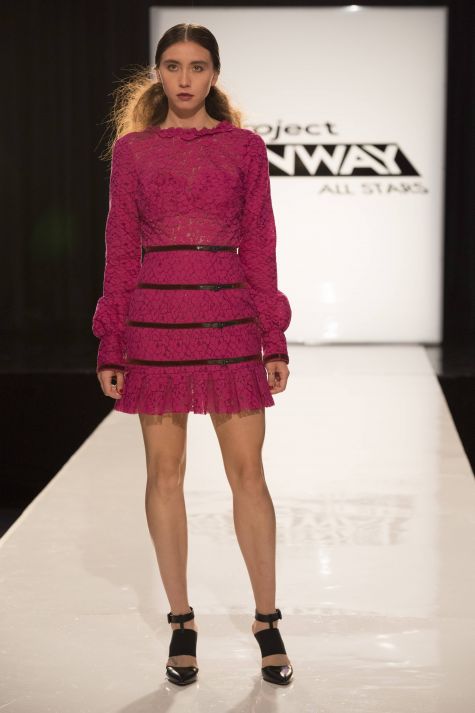 Justin's design: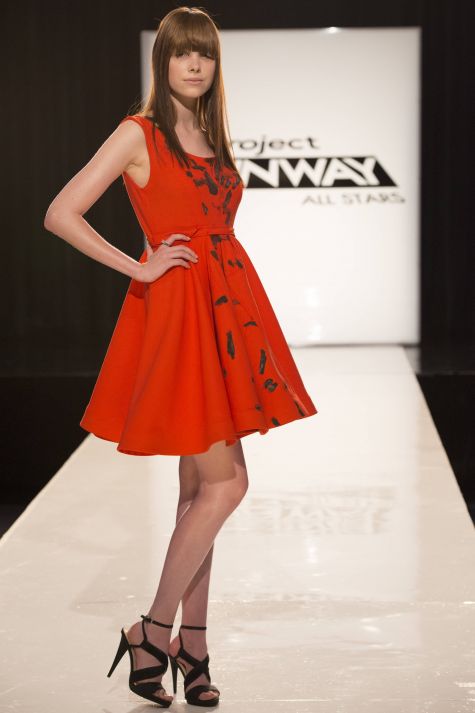 Fabio's design: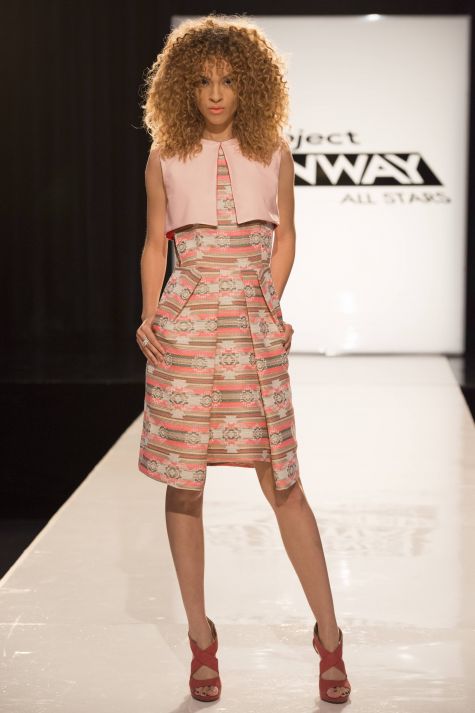 Jay's design: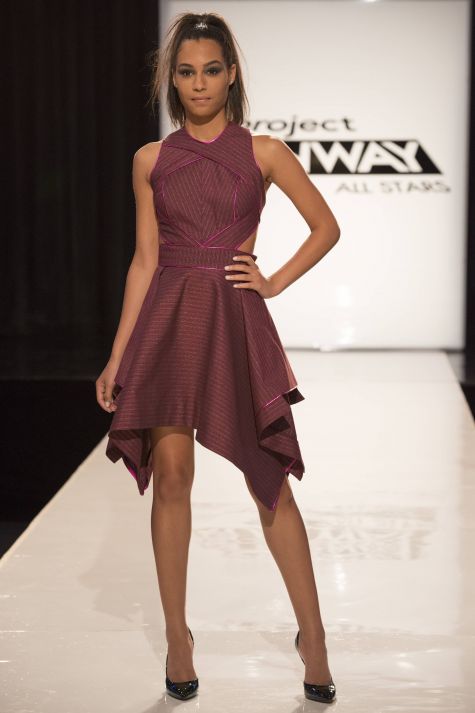 I thought this week's episode was very heartwarming. It was fun to learn about the designers' love lives and to see how they were able to incorporate their memories and dreams into their looks. I was also proud of Helen for making such a comeback this week after almost being eliminated for her exaggerated ruffle dress in last week's episode. While her red dress wasn't necessarily my favorite, it is pretty amazing how she was able to express her emotions through the design.
What did you think of this challenge? Do you think Helen deserved the win? Which design did you feel the most connected to? Please share your thoughts below!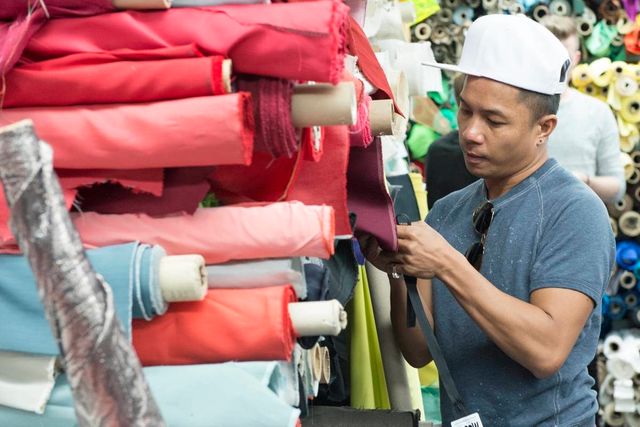 Most of the designers ran toward the red fabric upon entering Mood for this challenge.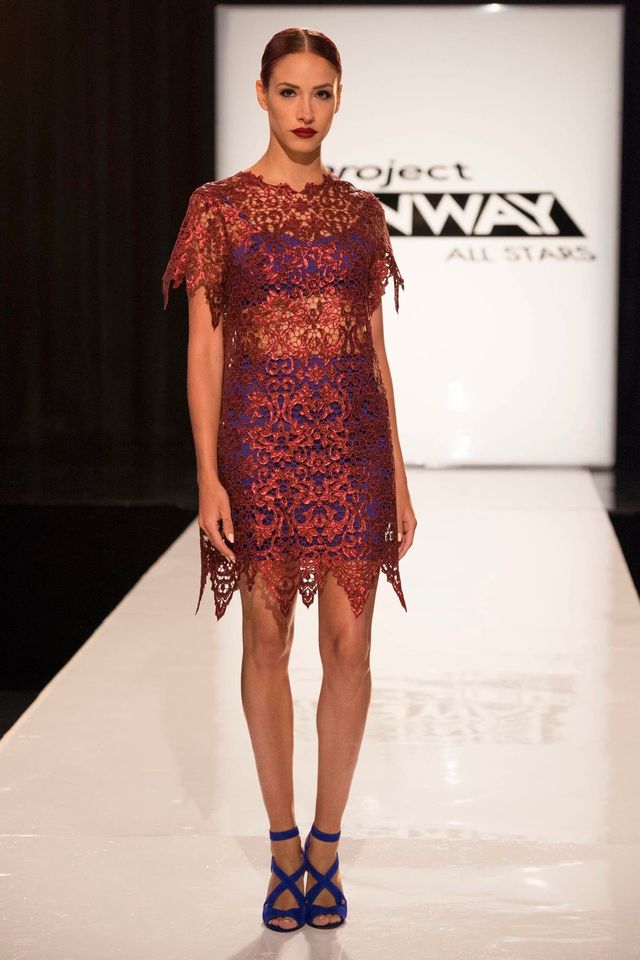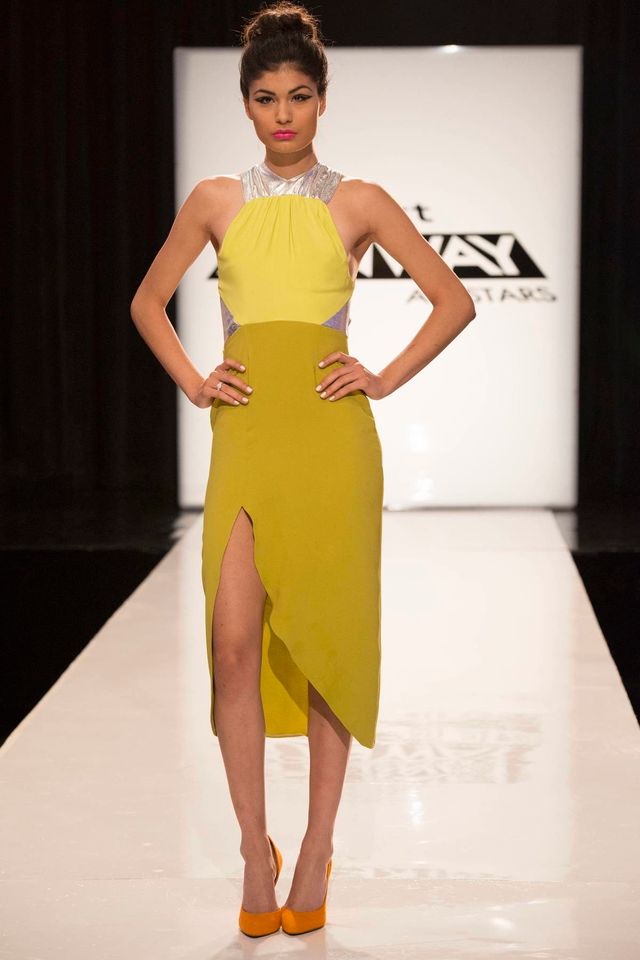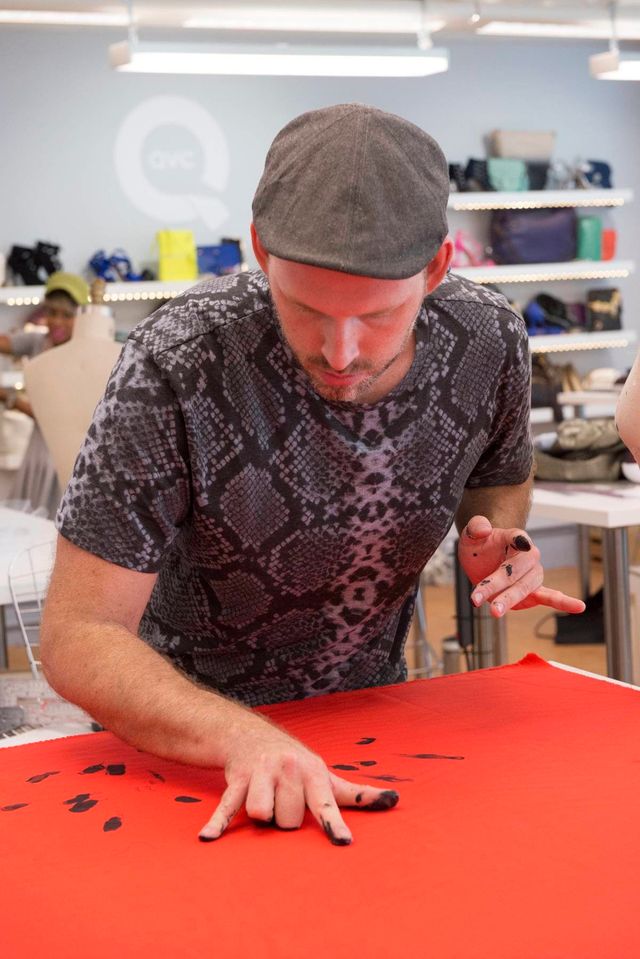 Justin uses sign language and paint to create a love-inspired fabric print.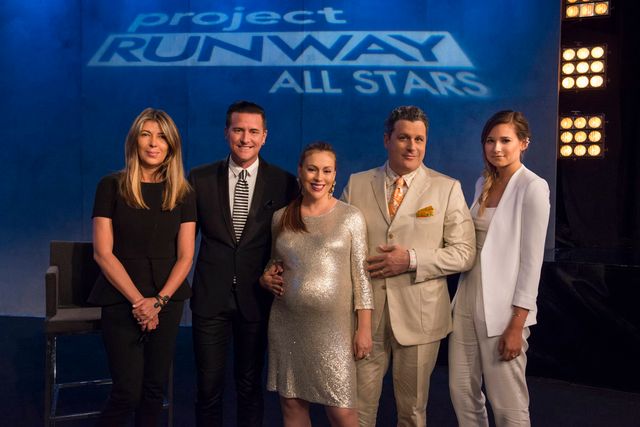 Judges (from left): Nina Garcia, Seth Aaron Henderson, Alyssa Milano, Isaac Mizrahi, and Danielle Bernstein.