Essentials for a Fashion Sketching Tool Kit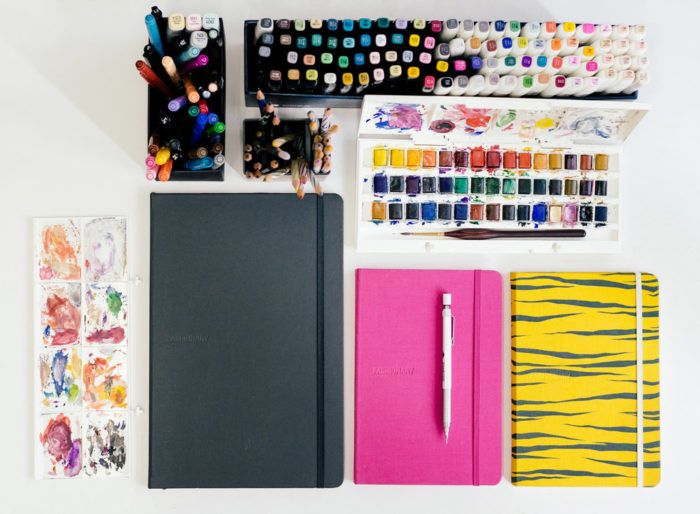 Illustrator, designer, and contributing editor for Fashionary, Vikki Yau, has kindly created the following post to highlight her favorite tools for fashion sketching.
Fashionary is most well-known for its fashion sketchbooks, tailor-made for fashion designers, as well as its foldout paper panels with men's, women's, and children's figure templates. In addition, Fashionary offers new tape measures marked with runway models' body measurements and an Essential Boxset, which bundles all of its fantastic products together. All of these are perfect tools to get you started.
Vikki Yau's Fashion Sketching Tool Kit
As a fashion illustrator and designer, I love to use different media to create my illustrations. Below, I'll share my favorite fashion-sketching tools and demonstrate how to create a fashion sketch.
Fashion-sketching tool list:
1. Fashionary sketchbooks
2. Drawing pencils
3. Pencil sharpeners and erasers
4. Fine black pens
5. Watercolor set
6. Markers
7. Colored pencils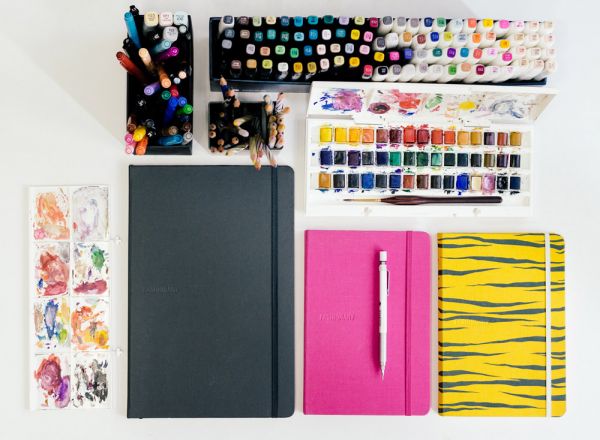 1. Fashionary sketchbooks
I've used Fashionary sketchbooks for five years, and they are my best friends. Fashionary sketchbooks are combined with extensive fashion information and figure templates. The templates are barely visible, which makes it easy to sketch my designs over them.
The Fashionary formula = 20% fashion dictionary + 80% figure templates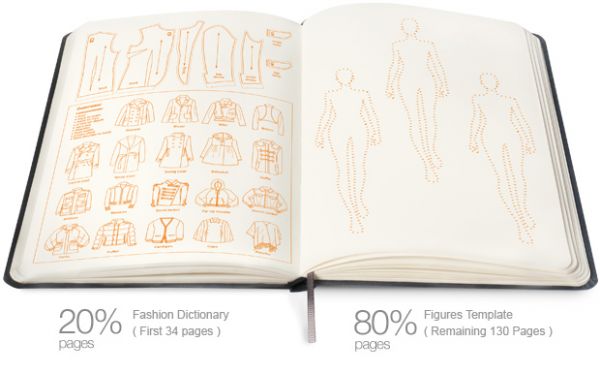 The classic Fashionary collection, with dark gray covers, comes in Women's and Men's editions in two sizes: A4 and A5. I use the smaller A5 size more frequently, since it's handy to bring outside and mark down ideas whenever they come to me. The A4 size, on the other hand, is perfect for drawing detailed sketches.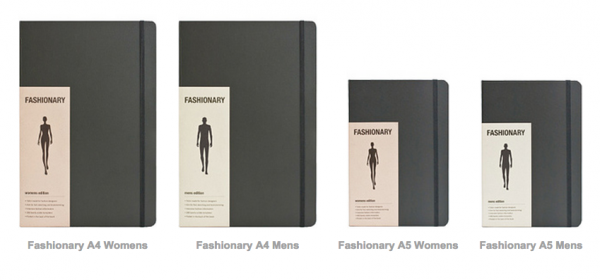 Do you see the figure templates in light orange-colored dots below? These nine-head standard model templates with elongated figures and long legs are perfect for drawing fashion designs.
To download the following FREE men's, women's, and children's figure templates, "like" the Fashionary Facebook page here.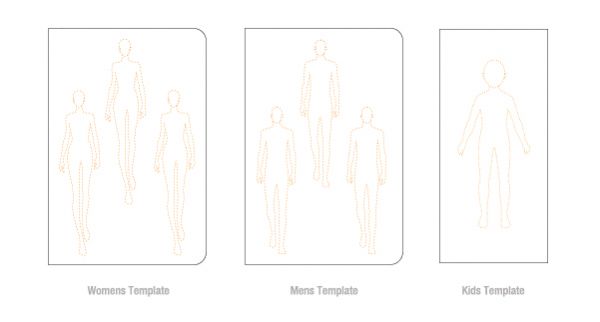 2. Drawing Pencils
I love to collect drawing pencils, and I buy them whenever I go on a trip. For me, H, HB, 2B, and 4B are great for sketching basic outlines. I also asked my Instagram followers which pencils they prefer, and they recommended the following reputable brands: Faber Castell, Tombow Mono, and Utrecht. Below is a photo of my favorites.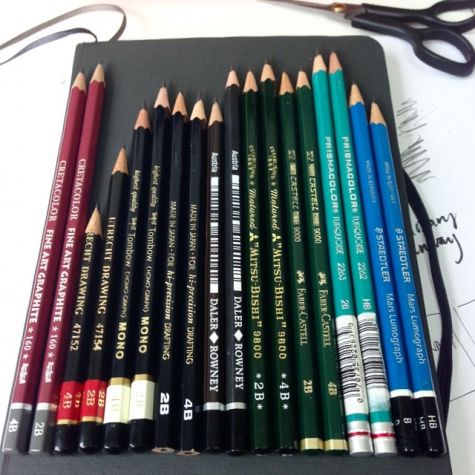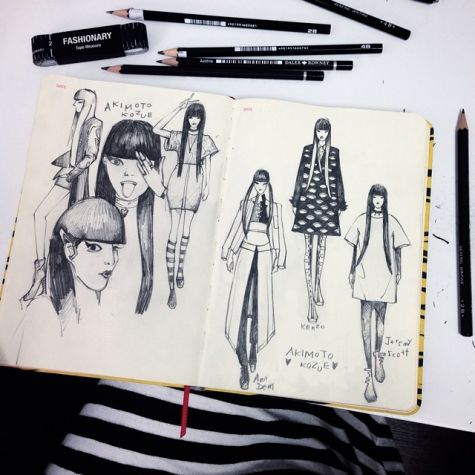 3. Pencil sharpeners and erasers
It's very important to draw with fine lines. To keep pencils sharp, I recommend using a metal sharpener rather than a plastic one. As for erasers, Radar, Staedtler, and Pink Pearl brands are good options.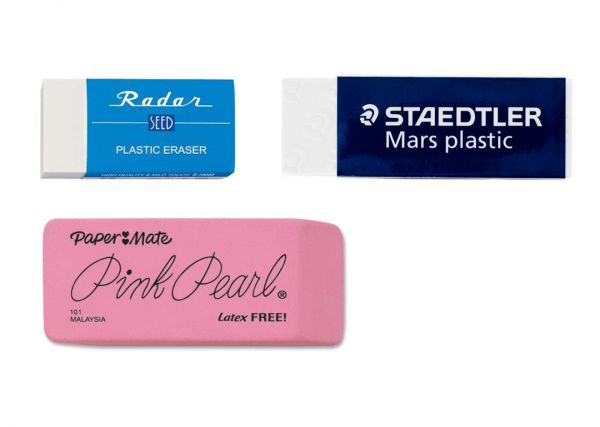 4. Fine black pens
For fine-tuning and adding detailed work to sketches, such as drawing prints and patterns, I use Faber Castell 8 PITT artist pens in black (shown below). Pilot drawing pens are a nice alternative.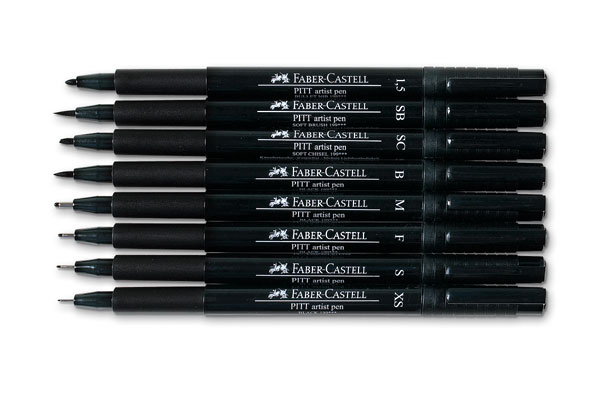 5. Watercolor set
I currently use the Winsor & Newton Cotman Water Colours 45 Half Pans Studio Set, which measures 26.8 cm by 11.6 cm by 2.5 cm. I highly recommend this set because it's handy and easy to use. Plus, I love the light white plastic box and the detachable lid, which is easy to clean.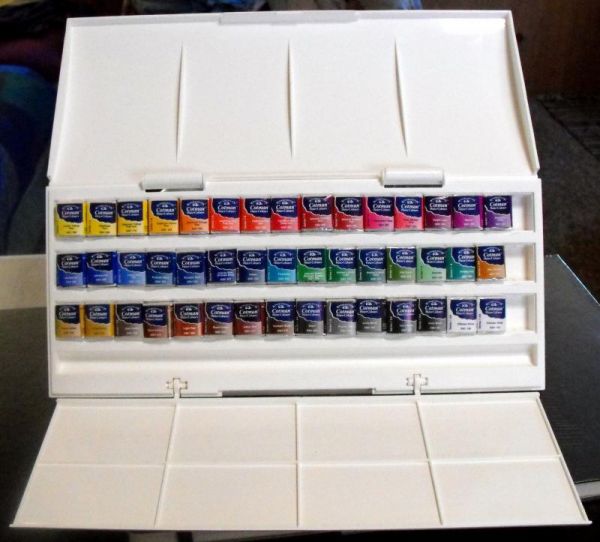 I prefer pans to tubes, since I do not need to color large areas. Pans also enable you to easily access the colors you want without having to put down your brush and open a tube of paint to squeeze out another color.
Below are my pencil drawings of some of Coco Rocha's stunning red-carpet gowns.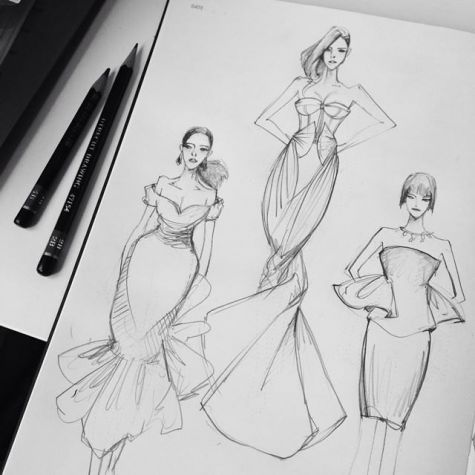 After sketching with pencils, you can apply watercolors to your designs. To get paint from a pan, use a brush to pick up a color. Then, put it on your palette and mix it with a variety of colors to get the ones you want. Just make sure to wash the brushes before selecting a new color, since a pan can easily be contaminated with other colors. Finally, add color to your sketches.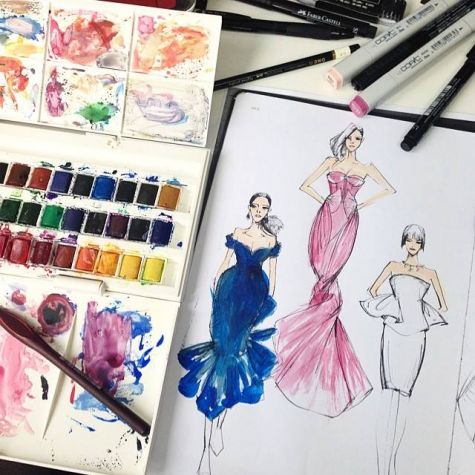 Watercolors can be added to your Fashionary panels, too. Below are some sketches I drew of blogger Gary Pepper in her colorful dresses.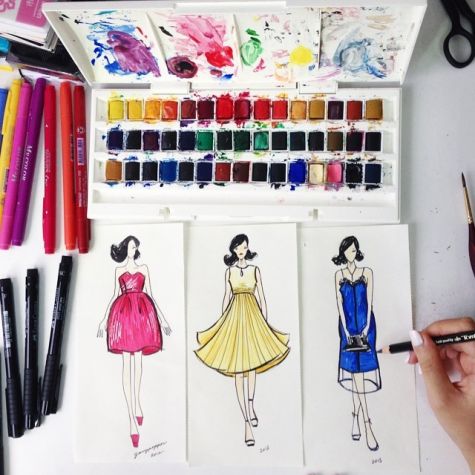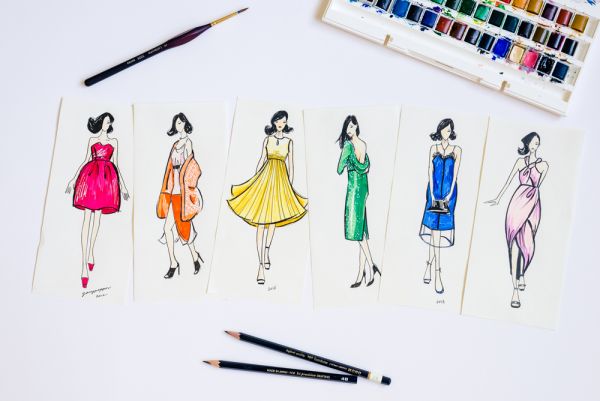 6. Markers
Fashion markers combine well with other media such as pencils, ink pens, and graphite. My recommendation for marker brands are Copic markers from Japan and Touch markers from Korea. Below is a Touch Brush Twin marker set. They have a broad tip at one end and a fine tip at the other. I personally love the effect made by these twin markers with brush tips.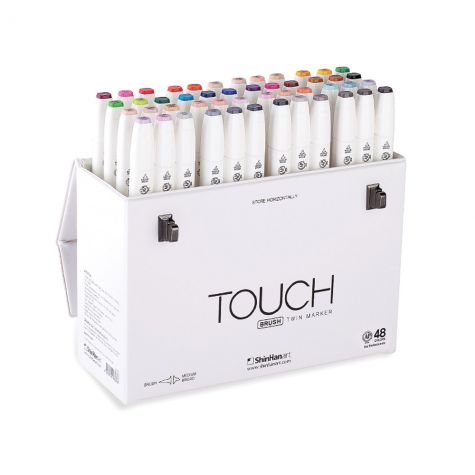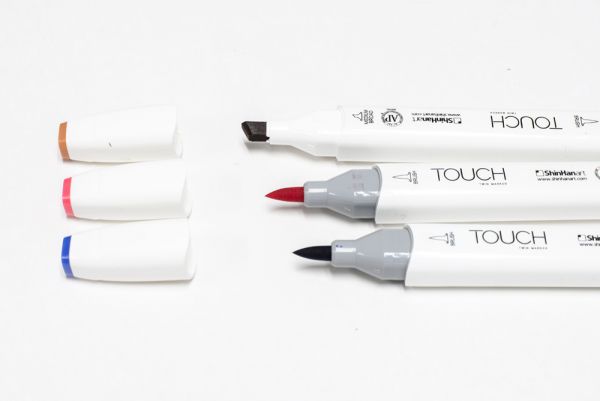 My good friend from Lamune made a color palette chart for me, which I find very useful. You can make one, too!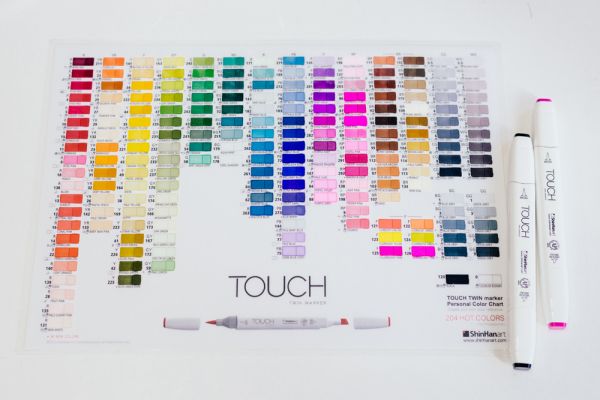 Here are sketches of 10 of Lupita Nyongo's stunning red-carpet looks that I made with Fashionary panels and Touch markers. The black outline is made with a 08 Pilot drawing pen. I then cut out the sketches and made Fashionary paper dolls.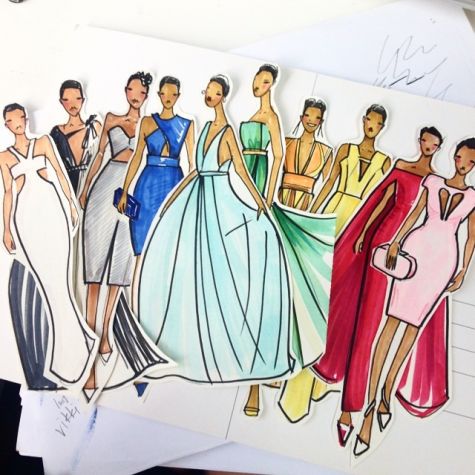 I also used markers and Fashionary panels to illustrate a series of Dior Autumn/Winter 2014 gowns that showcase front and side views. These templates enable you to see all of the Dior collection details including outfits, bags, and shoes.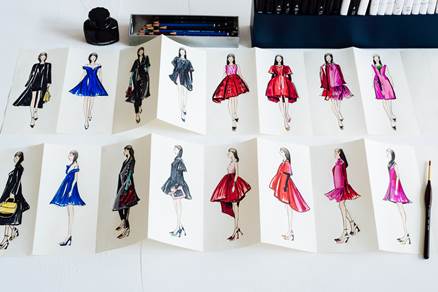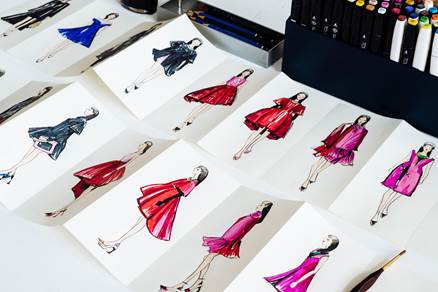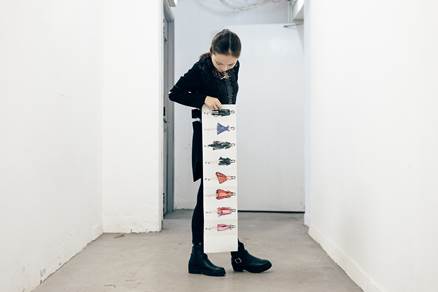 Now, take a look at how I use the markers in a video:
7. Colored pencils
Colored pencils are a dry medium that are easy to use and relatively cheap. While I seldom use colored pencils because it's difficult to color large areas with them quickly, I suggest using brands like Staedtler or Faber Castell.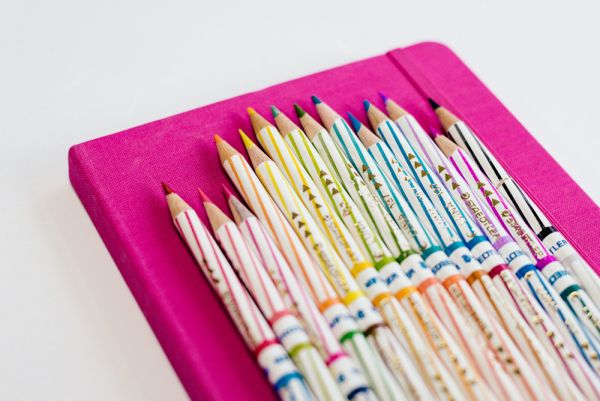 Below are some sketches I drew of Jason Wu's Spring/Summer 2015 collection using colored pencils.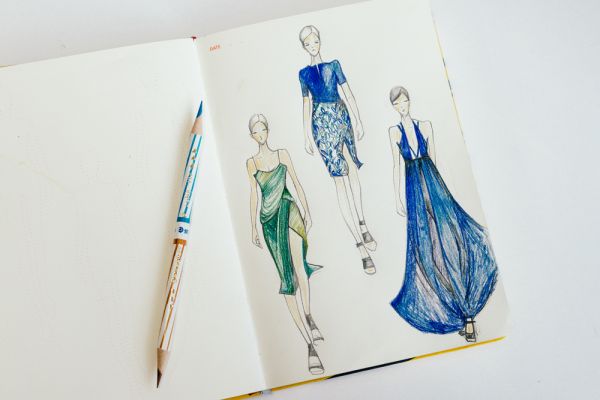 Check out this video for additional sketching techniques:
I hope you enjoyed my post and would love if you could share some of your favorite sketching tools in the comments box below!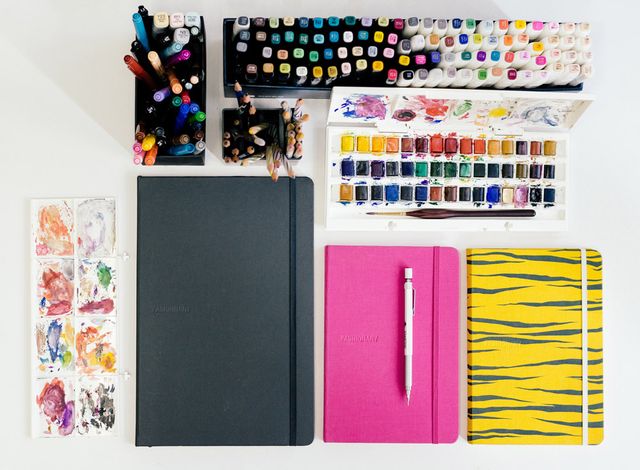 Picking the right tools is key to making a perfect fashion sketch.