SewStylish's Party Dresses Issue is Here!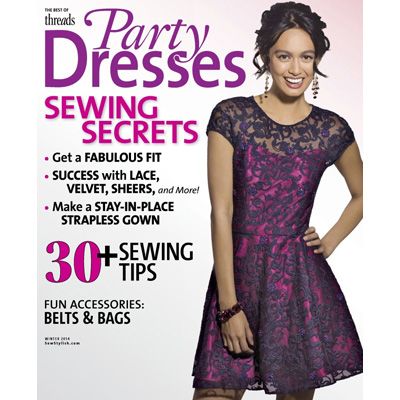 Festive, fun, colorful, trendy, classic – it's all here. From a timeless all-occasion dress to a chic designer-like number that's red-carpet ready, Party Dresses offers four sections to guide you to perfection. From fabrics to construction, embellishments to accessories, you'll have everything you need to make impressive creations with the utmost confidence. Here's a quick round up of what you can expect to find inside this issue.
Don't miss any of this issue's incredible tips and techniques by ordering a copy, downloading the digital issue, or purchasing the tablet edition.
FABRIC
Curtain Call. Get gorgeous fabrics in the home dec department.
Velvet Indulgence. It's worth it to master this temperamental cloth.
The Secret Strength of Silk Organza. This mighty fabric has many uses in the sewing room.
Sheer Variety. Layer see-through materials for brilliant combinations.
CONSTRUCTION
Lace Borders. Fabulous edge finishes for this exquisite textile.
Choose the Right Hem. Match the finish to the fabric and silhouette.
Fine Edges. Three classic techniques for sewing delicate hems.
Easy-to-Sew Boning. How to choose and apply lightweight structure.
Strapless Dresses that Stay Put. A boned inner foundation anchors and supports a dress bodice.
Invisible Support. Easy options for built-in bust control.
web extra: How to Turn Ready-Made Bras Into Strapless Dress Support
EMBELLISHMENT
Skinny Straps. Bias tubes make delicate and decorative support.
Beads on Lace. Enhance lace with hand-applied adornments.
web extra: 8 Top Lace Tips
Shadow Appliqué. Create a lovely design on sheer fabrics from the wrong side.
Fabric Roses. Adorn garments with machine-sewn flowers.
ACCESSORIES
Elegant Wide Belts. For instant style, try these Japanese-inspired wraps.
Barely There Bolero. A light layer creates a beautiful finishing touch.
Enchanted Evening Bags. Choose a shape to match your style.
Barrettes & Bobby Pins. Create coordinating hair ornaments.
DEPARTMENTS
Cool Tools. Enhanced sequin pins, thread conditioner, and more.
Fashion Outlook. Modern, vintage, and sporty styling trends are on the horizon.
Fabric Facts. The right material is the key to a fancy frock.
Sewing Smarts. Learn tried-and-true techniques from the pros.