Tip: Close an Opening Easily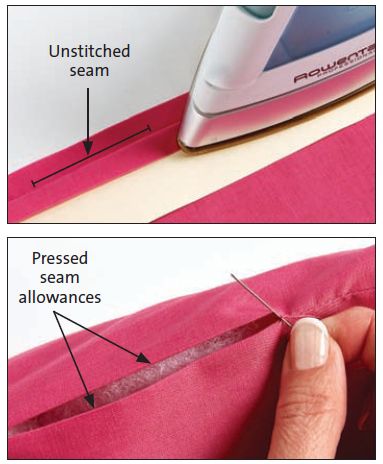 This reader-submitted tip was originally featured in Threads #177 (February/March 2015).
When making a pillow, lined tote, lined zippered pouch or any project that is ultimately turned right side out through an opening, stitching that opening closed can be a challenge. I've discovered a method that makes it easy to tuck in the seam allowances and sew the opening shut. Before you turn the item right side out, use a card stock piece slightly wider than the seam allowance and longer than the opening as a pressing guide. Align it with the stitched seam on both sides of the opening. Fold the unstitched seam allowance over the card stock with the fold on the stitching line. Press it in place, then move the card stock and repeat on the opposite seam allowance. Turn your project right side out. Your opening is already turned in, pressed, and ready to stitch closed on the foldlines.
-Ana Sullivan, Santa Barbara, California


---
Submit your tip!
At Threads magazine, we're always on the hunt for smart tips, tricks, and solutions to help you sew smarter, better, and faster. Send us your great ideas for a chance to be featured in the magazine's Tips department.
Tips can be emailed directly to Threads or mailed to Threads Tips, P.O. Box 5506, Newtown, CT 06470.
We pay for any tips published in our magazine.