Project Runway: Threads – Episode 8, "Show Stopper"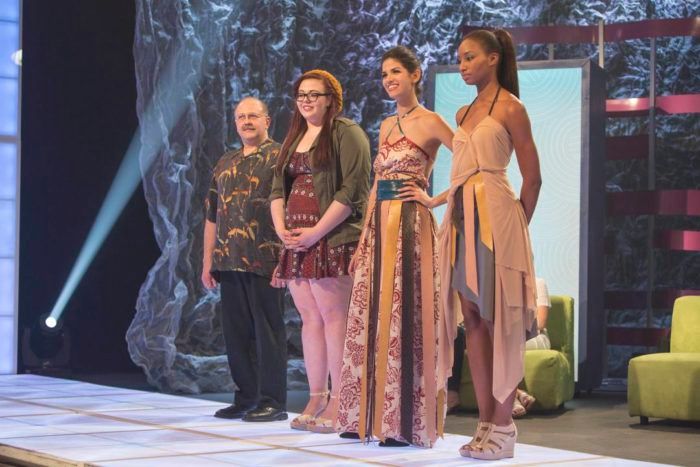 PROJECT RUNWAY: THREADS, "SHOW STOPPER"
On this episode of Project Runway: Threads, three new young designers were introduced: Mady, Zoe, and Christopher. The teens competed for a prize package worth over $25,000: 10,000 to be used at any Jo-Ann's Fabrics and Crafts store or Joann.com; a scholarship to FIDM; and a top-of-the-line sewing and embroidery studio courtesy of Brother International Corporation. The judges were: former winner of Project Runway and fashion designer, Christian Siriano; YouTube star and fashion guru, Ingrid Nilsen; host, Vanessa Simmons; and guest judge, actress Jaime King.
MADY
Mady is the youngest in this competition (13 years old) from Stover, Missouri. Every time she's sketching a new piece, it reflects the mood she's in and her personality at the time. Lately this has been nature. Her collection for the show was based on water, and her new collection is based on sunlight and its exuberance. Mady's favorite designer is Chanel, and she has chosen her mother Tracy to be her assistant.
CHRISTOPHER
Christopher is a natural designer. At 14 years old he says he most likes to create dresses because he loves to see the look on a girl's face when she puts on the perfect dress and feels great in it. Christopher is partial to unusual fabrics and unconventional silhouettes, similar to that of his favorite designer, Meskita. He has chosen his grandmother Zinda to be his assistant.
ZOE
Zoe's love for design stems from her love of stories. Her ever-evolving style comes from her life experiences, and she designs with the mantra that what people wear reflects their lives. Currently, this 15-year-old's favorite designer is Iris Van Herpen. Zoe has enlisted her enthusiastic father to be her assistant.
THE FIRST DAY
On the first day contestants were asked to show the judges the designs they made at home in preparation for the "Show Us Your Style" challenge. These designs were supposed to showcase their individual style and show judges an example of their technique and inspiration. The challenge winner would receive an unknown advantage in the competition. Each of the contestants selected a garment that showcased his/her skill and hopefully provided the judges with an better idea of who they are as a person and as a designer.
Zoe won the first challenge with her artistic garment–a dress that featured flower appliqué made from papers on which her poems were written. She received the advantage–a one-on-one consultation with judge Christian Soriano.
THE CHALLENGE
The challenge for this week's episode was, "If you were to have a fashion show, what would your 'final look' be?"
Zoe, with the advantage from winning the "Show Us Your Style" challenge, had her one-on-one consultation with Christian Siriano. She had the opportunity to give the other two contestants this advantage as well, but she chose to keep Christian to herself and play a competitive game.
An extra twist was added mid-day. The competitors had to make a second "look" to go along with their "final look." It had to be cohesive with their final look and the two had to represent a total collection. Each contestant was given a plain white dress to work from, and they could transform it any way they wanted to.
At the end of day the competitors were all exhausted and overwhelmed. Most of them were not as far along on their designs as they had wanted to be, but they were all making progress.
LAST DAY AND WINNER
On the second day the contestants finished their second and final looks, then used them in their own mini fashion show on the runway. The judges watched the contestants' designs walk the runway and evaluated each contestant's collection.
Christopher's collection included the plain white dress which he transformed by covering the skirt with the same red silky fabric as his final-look design. He also used the red fabric to create a crisscross design over the dress's white short sleeve top. His final look was a classic red silk dress with a tie in front. He chose to make it short, the same length as the second look, in order to provide cohesion for both pieces in his collection.
Zoe created a floral print full-length gown for her final look. It featured brown and yellow textured fabric strips hanging from the waistline belt. She also added additional interesting details. The back was laced up with beaded ribbon, and the straps were crossed back and forth across the chest and neck. For her second garment and the other half of her collection she created a draped tan dress with fabric pieces left from her final look peeking out from the underside. Both garment styles were unique, and as one of the judges described, "Not like anything we have ever seen on the show before."
Finally, Mady showcased her water and ocean theme through her vibrant blue two-piece collection. She took the plain white dress and cut it into two pieces to produce her "second look."  It was a cropped halter top covered in blue sequined fabric with a sheer back. Her skirt was also blue with a purple belt made from fabric that matched her final look. Her final garment was a long flowing gown that had many different blue fabric layers. It was gathered on one shoulder. Through the top sheer layer you could see a sparkling waistline belt which added to the dramatic dress.
THE JUDGES' DECISION
The judges loved all the designs. They ruled out Christopher since his final garment did not have the "wow" factor they were looking for. They felt the use of the same fabric for both designs was too much and unexciting. That left Mady and Zoe. The judges finally decided that Zoe would be named the winner! They felt that Mady's final look included too much fabric and was unflattering. The judges saw the passion that Zoe put into her designs, and the creations were so unique they could not help but really love her collection.
Do you watch Project Runway: Threads? What do you think about the format?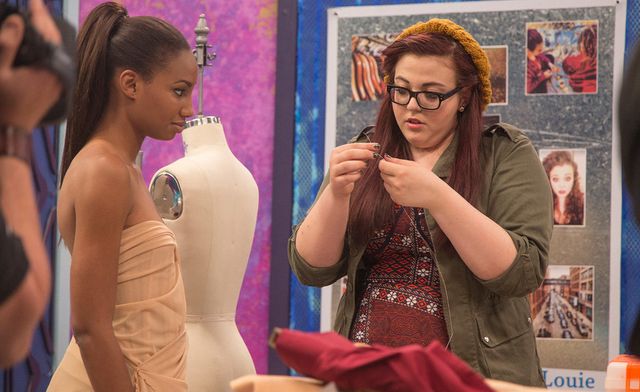 Zoe working on her second design.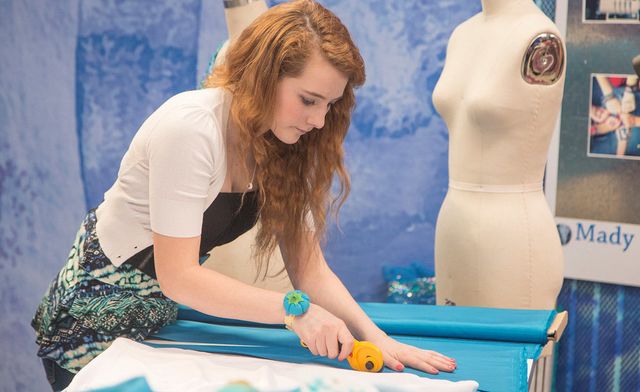 Mady cutting fabric for her final look.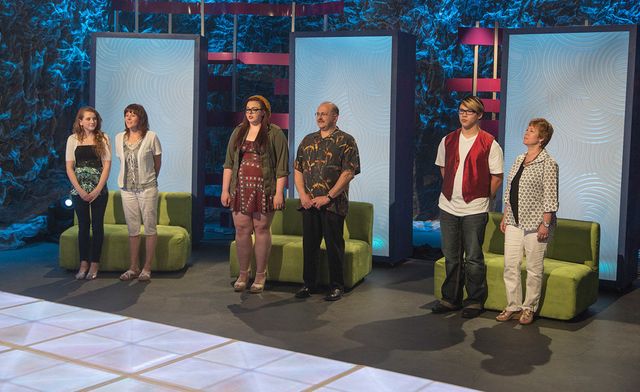 Each contestant standing with their family member.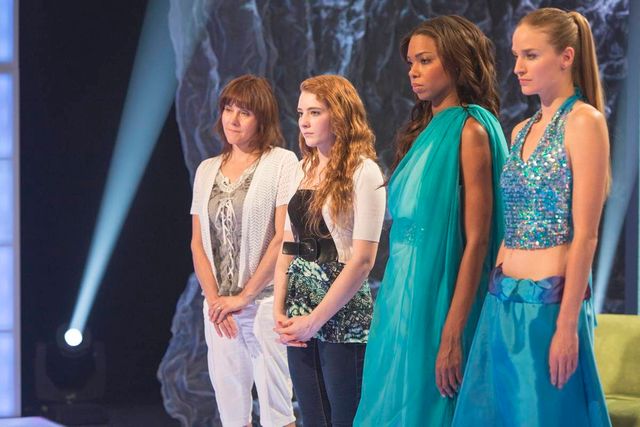 Contestant Mady with her mother and water-themed collection final look and extra second look.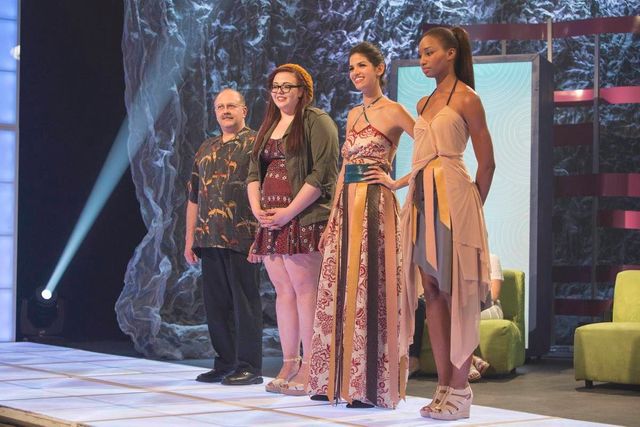 Contestant Zoe and her father standing alongside her final look and extra challenge second look.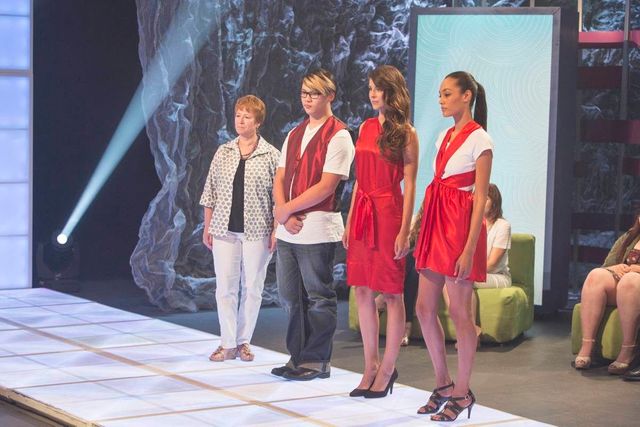 Christian and his grandmother alongside his final and second look.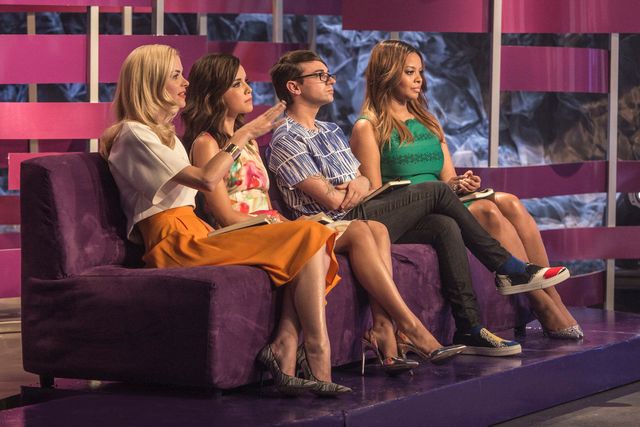 The judges. From left to right: Jaime King, Ingrid Nilsen, Christian Siriano, and Vanessa Simmons.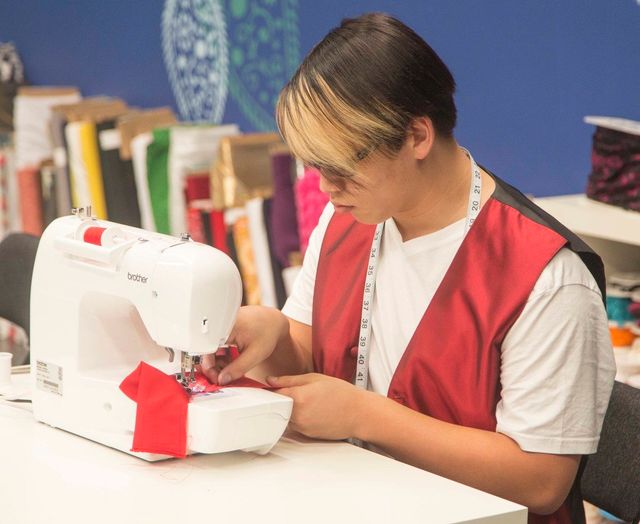 Christian sewing a piece for the final look challenge.