How to Reset Sleeves for a Better Fit
In "The Shoulder & Sleeve Cure," Joyce Simons Murphy shared her technique for correcting shoulder width and sleeve length in one smooth operation. Now, learn how to reset sleeves for a better fit in this web extra from Threads #176.
When it's time to sew the sleeves back into their armholes, after correcting the fit with the yoke, you'll begin by basting the top of the sleeve cap to the yoke, and then fit the sleeve under the arm.
1. Pin and baste the sleeve cap. With right sides together, pin the sleeve cap to the armhole by first matching the tailor tacks on the sleeve cap to the yoke seams.
Ease the sleeve cap over the shoulder, and baste the upper portion of the sleeve to the yoke.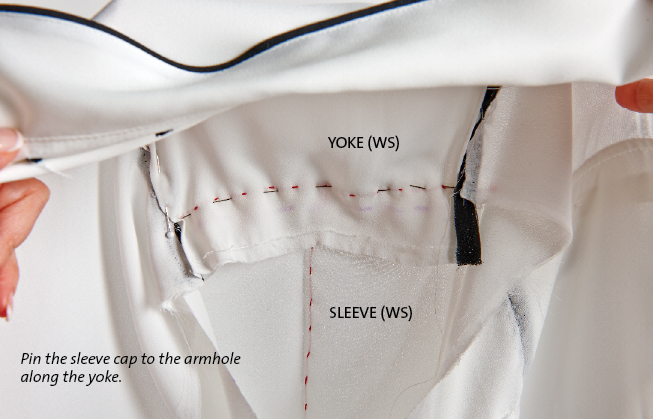 2. Fit the lower armhole.
Match the hang of the sleeve to the hang of the bodice. This makes certain that one does not restrict the flow of the other. If more sleeve circumference is needed it will show up now. You can correct by adjusting the seam allowance of the sleeve, the armhole, or both.
Support the sleeve. Place your hand(s), a sleeve board, or other supporting shape (we used a mannequin arm) inside the blouse under one shoulder to support the fabric as if this is your shoulder. The underarm seam should hang parallel to the sde seam; it's not essential that it align exactly with the side seam, as long as both are parallel.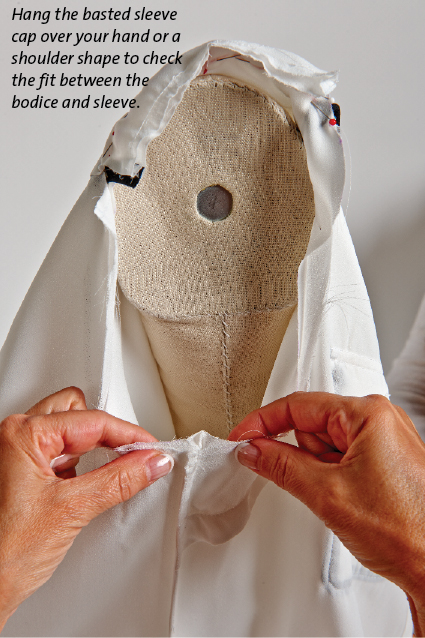 While supporting the shoulder, grasp the two layers at the underarm. Pin them in this position. Sew the lower portion of the armscye seam, trim the seam allownaces, and finish them as desired.
If sewing a blouse from a pattern, correct the pattern now. If the underarm and side seams don't align, you can easily adjust the pattern to correct this. You will have a well-fitting blouse pattern to use again in the future.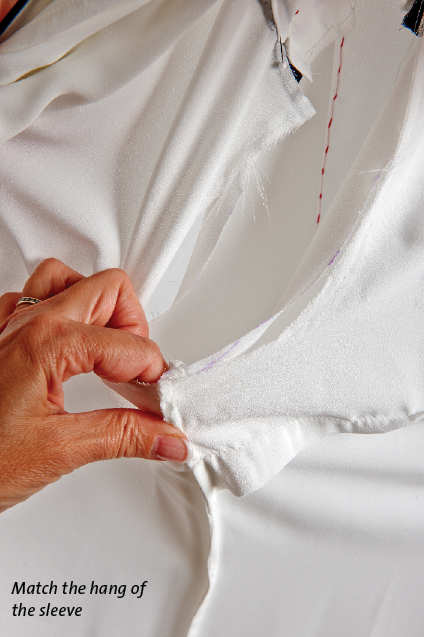 Will you try this technique?
Get the latest including tips, techniques and special offers straight to your inbox.