[CLOSED] Book Giveaway: "Suede to Rest"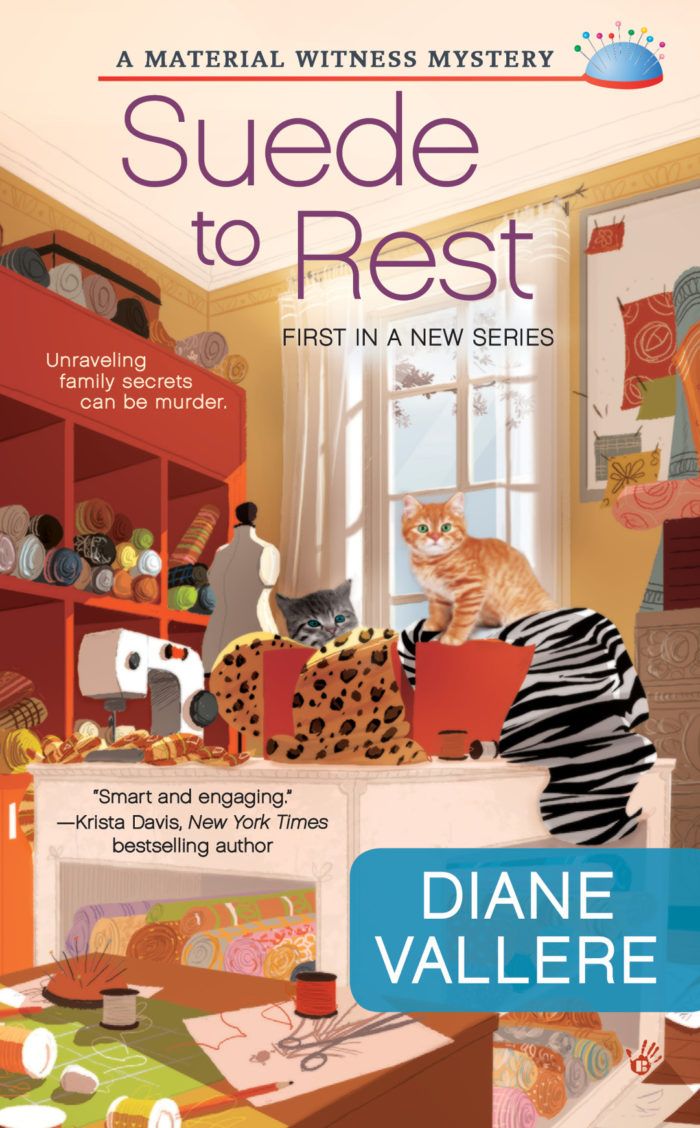 ABOUT THE AUTHOR
Dianne Vallere is the daughter of a seamstress and a scientist. From a young age, she loved fashion and had a curiosity for mysteries. After twenty years of working as a buyer in the fashion industry, Diane now devotes her time solely to her writing. Her novel Suede to Rest (Penguin Random House, 2014) is the first book in her new Material Witness series.
Q&A WITH DIANE VALLERE
Threads: What inspired you to write Suede to Rest, part of your new Material Witness series?
Diane Vallere: On my commute home from work, I passed an old fabric store called House of a Thousand Fabrics. I could tell from the font style on the building's front that it had been around for awhile, though it was no longer in business when I first discovered it. I wondered what it would be like to be inside a fabric store that had been closed for awhile, and from there I developed a character who would inherit a fabric store that had been closed for a decade. That character turned out to be Polyester Monroe, who inherits Land of a Thousand Fabrics in Suede to Rest.
TH: What caused you to make the switch from full-time fashion industry buyer to full-time author?
DV: I held a few different retail positions after my job as a full-time buyer, and that entire experience definitely influences the books I write. While juggling both writing and a full time job, it became clear that my passion was writing, so I took a leap of faith into full-time writing.
TH: Where did you get the idea to mix fashion with a mystery novel plot? Why a mystery and not a different genre?
DV: I grew up reading mysteries: Trixie Belden, Connie Blair, and Nancy Drew, and always thought I'd love to write a mystery series (but I had no ideas). Later, when I discovered a whole subgenre of grown-up amateur sleuths, everything clicked. My first book (a different series) features a former fashion buyer-turned amateur sleuth (Designer Dirty Laundry).
TH: What first got you interested in fashion?
DV: As long as I can remember, I liked clothes. I wanted to be a fashion designer. After I graduated from college (with a Fine Arts degree), I needed a job to tackle my student loans and found myself at the mall. What started as a sales job at Macy's, eventually turned into a buying career for Neiman Marcus.
TH: How many books are you planning in the Material Witness series?
DV: There will be at least three books in the Material Witness series. Crushed Velvet, book 2, comes out in August 2015.
TH: Are you planning another series after this one?
DV: I have a new series debuting in December 2015. The first book is still untitled, but it is the Costume Shop Mystery series. Interesting note: for years, the only sewing I did was for Halloween costumes!
GIVEAWAY DETAILS
FIVE lucky winners will receive Diane Vallere's Suede to Rest, the first in her brand-new series. The story follows a young woman in her twenties named Polyester Monroe. Poly has just inherited her murdered aunt and uncle's textile shop called Land of a Thousand Fabrics. After refusing to sell to a local land developer, she recieves numerous death threats. Poly does not let this scare her off: if anything it motivates her to study her family's past to discover potential reasons for the threats. She becomes determined to find answers to numerous questions and explanations for several peculiar events.
ENTER TO WIN
This is an ideal book for a lazy, cold winter's day. Five copies of Suede to Rest are up for grabs. All you have to do is leave a comment below. Tell us when you most enjoy reading books for pleasure, and you will instantly be entered to win. Entries must be received by 11:59 p.m. EST, February 6. The winners will be randomly chosen, notified via email, and announced soon thereafter. Good luck!