A Closer Look at Denyse Schmidt's Quilting Studio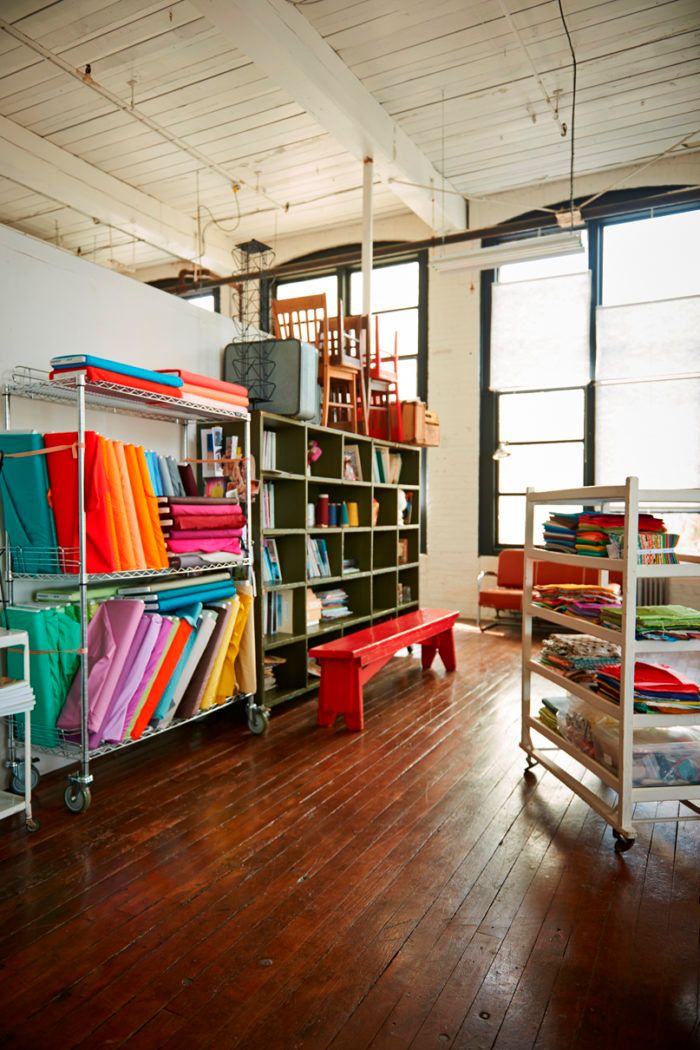 In Threads #178, modern quilter Denyse Schmidt guided us through her rustic, vintage furniture-filled studio in the American Fabrics Arts Building in Bridgeport, Connecticut. The brick building has the same pared-down qualities as Denyse's quilts. Denyse's studio is open, adaptable, and exudes her sense of the beauty to be found in utilitarian objects. Take a look at more photos from Denyse's industrial-chic studio. Learn more about Denyse at DSQuilts.com.
The first thing to strike the eye on entering Denyse's studio in the old textile factory building is a sense of light, color, and space. Vintage shelving units on wheels store fabric and other items and can be moved around as needed.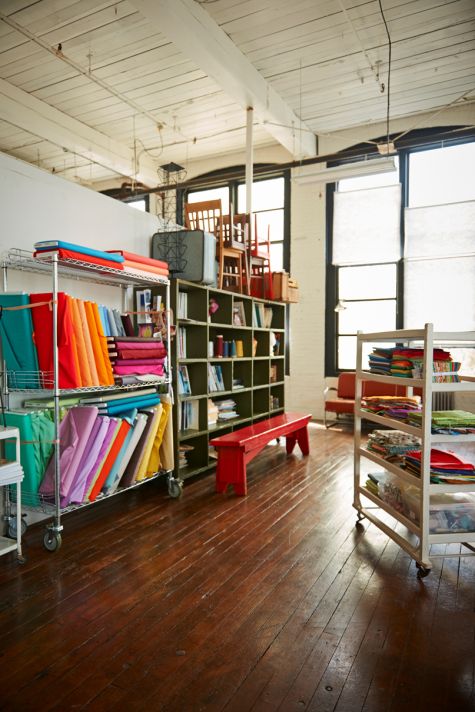 Take a look at more sewing studios and spaces:

• Ruth Ciemnoczolowski's Sewing Room
• An Inside Look at Mary Ray's Sewing Studio
• Inside Louise Cutting's Sewing Room
• Another Look at Kenneth D. King's Sewing Space
• Helen Haughey's Favorite Tools and Storage Solutions

This green-painted bookshelf stores reference materials, project binders, and vintage oddments that Denyse often uses for staging.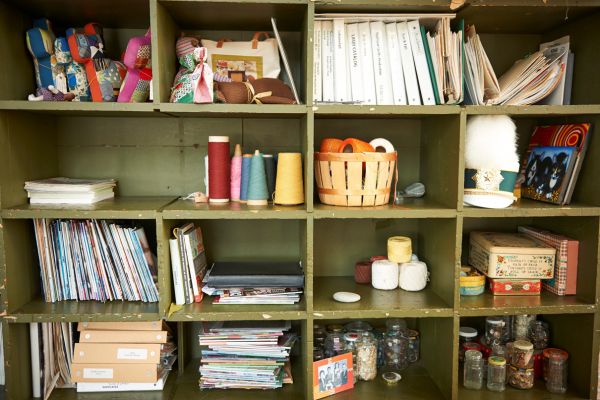 Denyse at one of the moveable cutting tables in her studio's front room. She can shift tables around as needed to accommodate a quilting class or her own work.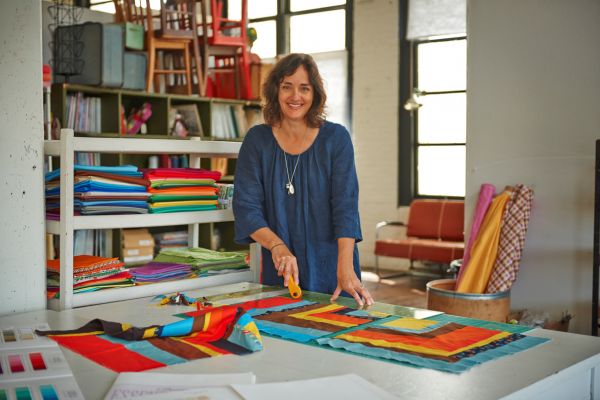 Another view of the front room shows how the single large room is divided by half-walls into smaller work areas. The knee-to-ceiling windows run along all the exterior walls, flooding the space with light.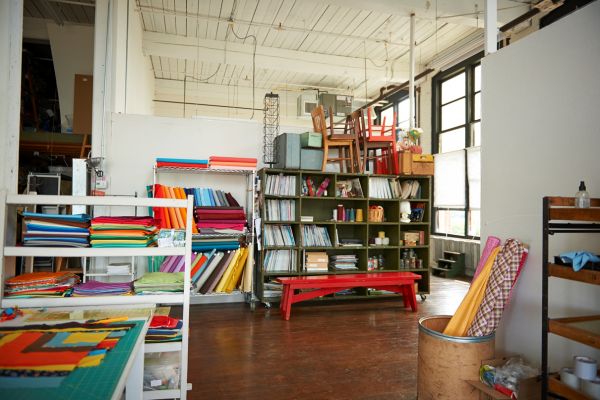 All the walls in Denyse's studio are covered in flannel fabric. Fabric squares easily cling to the flannel surfaces, making one huge design wall for planning quilts.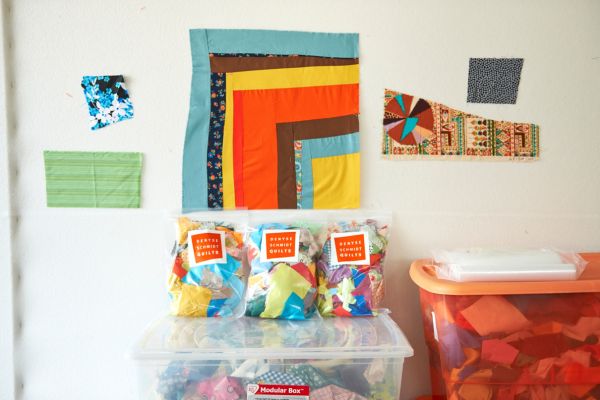 A lounge carved out of the larger room provides relaxation and eating space. Denyse often uses the chalkboard to sketch quilt squares.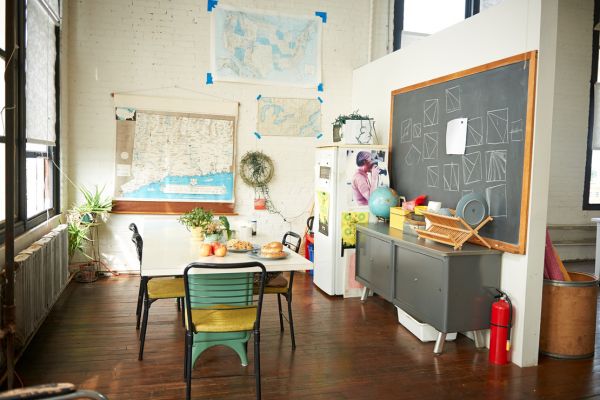 A close-up of the vintage map of Connecticut, showing Bridgeport's location along the coast.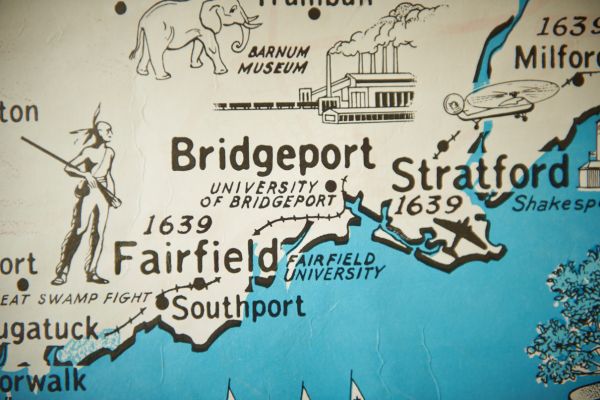 Behind the front room is Denyse's primary working space. Her vintage industrial Brother sewing machine sits in front of the windows to take advantage of the light. More large rolling tables provide space for laying out completed quilts.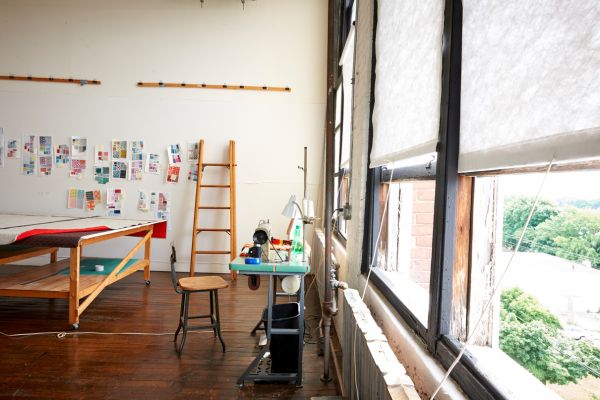 Denyse uses the flannel-covered walls to assemble color palettes and collect ideas for quilts.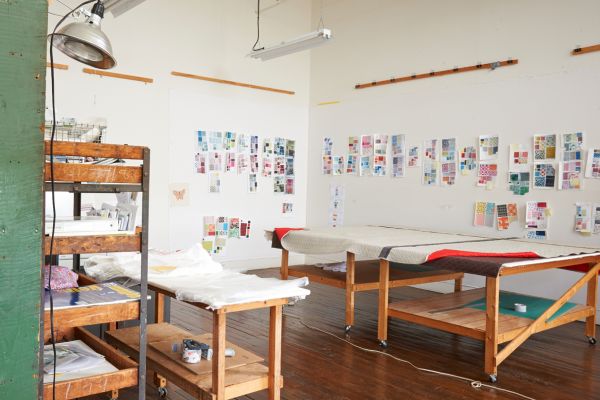 Nestled in the back room's far back corner is Denyse's desk, surrounded by a patchwork of inspirational images and quotes as well as business notes. One of her modern takes on traditional quilt patterns is shown on the tables.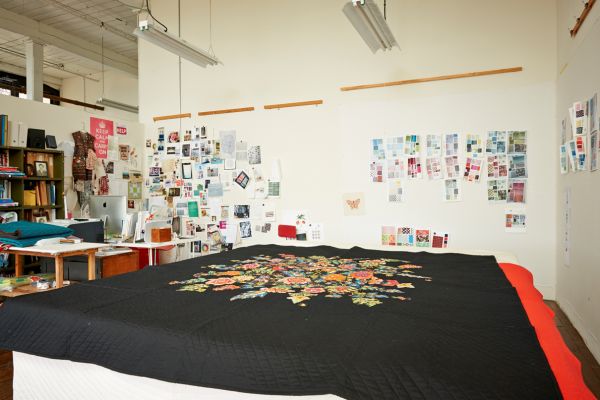 Photos: Sloan Howard