Official Rules – 2015 SewStylish Spring Fashion Challenge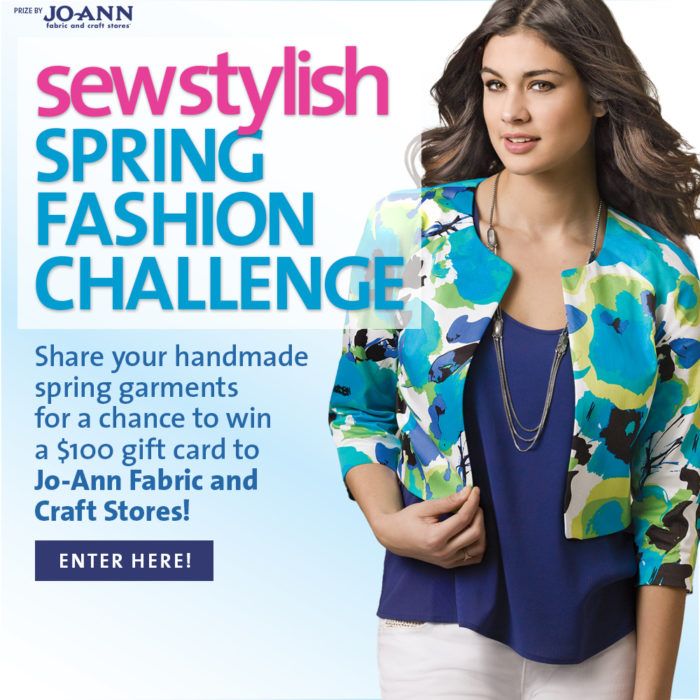 Threads magazine's "SewStylish Spring Fashion Challenge 2015″ Contest Official Rules:
NO PURCHASE NECESSARY TO ENTER. Entries for "SewStylish Spring Fashion Challenge 2015″ Contest (Photo Contest) will be accepted during the period beginning at 12:01 a.m. EST on March 26, 2015 and ending at 11:59 p.m. EST on May 29, 2015 (the "Contest Entry Period"). All entries must be received during the Contest Entry Period. The Contest is only open to legal residents of the United States and Canada (except Quebec), who are at least 18 years old. Contest void where prohibited.
TO ENTER: There is one way to enter the contest. 1.) Visit https://www.threadsmagazine.com/contest/sewstylish-spring-15. Create a free account if you do not already have one by entering your first name, last name, email address, password, security question and screen name. Once you have created your account you can then upload your photo(s) by entering a title, attaching the photo(s) and adding a brief description of your project or photo(s). Please include a summary of techniques and materials used. Submit your completed online entry form. All entries become the property of the Sponsor and may be published in any media and in any format at any time they wish in perpetuity.
SUBMISSION REQUIREMENTS: Each garment submission that is entered into the Contest must meet ALL of the "Submission Requirements" set forth below (any Submission that, in Sponsor's good faith judgment, violates the following criteria will be disqualified):
The Submission must be the submitting entrant's original unmodified work;
The Submission must not have been previously published by any third parties in print, digital or any other format;
The Submission must not have been previously entered in any other competitive contest or event;
The Submission must not include images or text that is obscene, pornographic, libelous, illegal, discriminative or otherwise objectionable; and
The Submission must not include any corporate logos or any other material that may infringe on any third parties copyrights or trademarks.
The Photograph portion of the Submission may not be digitally enhanced or altered.
There is no limit to the number of garments you can enter. Your entry must be handmade by you, but does not have to be created specifically for this contest.
By entering into this Contest, each entrant represents and warrants that (i) his or her Submission is entrant's own original, previously unpublished work; (ii) that entrant owns the copyright in and to the Submission; (iii) that such Submission does not violate the rights of any third party or infringe or violate any law, and as of the date of the Submission, is not the subject of any actual or threatened litigation or claim; and (iv) the Submission does not and will not violate any applicable laws, and is not and will not be defamatory, libelous, pornographic or obscene. Note: Sponsor reserves the right, in its sole discretion, to disqualify any Submission in the Contest if Sponsor views the Submission as potentially infringing or otherwise a violation or potential violation of a third party's rights or seek to secure permission for Sponsor's benefit and allow the applicable Submission to remain in Contest.
Sponsor reserves the right to disqualify any Submission in the Contest if it deems the Submission to be lacking in taste, quality, or to be otherwise objectionable.
POSTING OF SUBMISSIONS ONLINE: Subject to Sponsor's sole discretion, all Submissions that meet the Submission Requirements above may be posted by Sponsor in a virtual gallery on the Website along with entrant's name.
PUBLICITY RELEASE/LICENCE TO USE: By participating in the Contest, unless prohibited by law each entrant irrevocably grants the Sponsor the rights to use such entrant's name, likeness, biographical information and Submission(s) in any and all media for any purpose, including without limitation advertising and promotional purposes, as well as, the Contest and/or other promotions conducted by the Sponsor, and each entrant hereby releases the Sponsor from any liability with respect thereto.
WINNER SELECTION: At the end of the Submission Period, the Sponsor will review the Submissions and select five (5) semifinalists. The semifinalists will be selected from all eligible Submissions and will be judged by inspiration, technique, skill, and design. Online Members will then choose one (1) winner in an online poll. There is no limit to the number of garments you can enter. Although your entry must be handmade by you, it does not have to be created specifically for this contest.
The winner will be announced on or about June 15, 2015 by Sponsor, whose decisions will be final and binding in all matters related to this Contest. The winner will be notified by email. Odds of winning will depend upon the total number of eligible entries received. One winning entry per person, household, or family.
PRIZE AND APPROXIMATE RETAIL VALUE (ARV): $100 USD
$100 Gift Card to Jo-Ann Fabric and Craft Stores®
TAXES: Except where prohibited, all federal, state, provincial, local or other tax liabilities, including sales, use, income, VAT, GST, and PST tax, if any, are the sole responsibility of the winner. In the event of a Canadian winner, Sponsor will deduct any applicable withholding taxes imposed by the U.S. and applicable state governments from value of prize award and the prize award value will be adjusted accordingly.
NO PRIZE TRANSFER OR SUBSTITUTION: No prize or any portion thereof is transferable or redeemable for cash. Any portion of the prize that is not used is forfeited. No substitutions for prize except by Sponsor, in which case a prize of equal or greater value will be substituted.
TERMS/CONDITIONS: Employees, officers, and contractors (including immediate family members and members of the same household) of Sponsors, affiliated companies, subsidiaries, distributors, dealers, retailers, vendors of Sponsors, and all other entities associated with this promotion, are not eligible. By participating, entrants agree to release, discharge, indemnify and hold harmless the Sweepstakes entities and each of their respective officers, directors, employees, representatives and agents from and against any claims made by winners, entrants, or any other third parties, related in any way to the operation of this Sweepstakes as well as any other claims, damages or liability due to any injuries, damages or losses to any person (including death) or property of any kind resulting in whole or in part, directly or indirectly, from acceptance, possession, misuse or use of any prize or participation in any Sweepstakes-related activity or participation in this Sweepstakes.
Sponsor not responsible for unavailable network, failed server or other connections, miscommunications, interrupted, misrouted or scrambled transmissions or other errors or problems of any kind whether mechanical, human, electronic or otherwise. The Sponsor assumes no responsibility for lost, stolen, delayed, damaged or misdirected entries or for any failure of the website during the contest period, for any problems or technical malfunction of any telephone network or lines, computer on-line systems, access providers, computer equipment, software, failure of any e-mail entry to be received by Sponsor due to technical problems or traffic congestion on the Internet or at any website, of any combination thereof including any injury or damage to an entrant's or any other person's computer related to or resulting from playing or downloading any material related to the contest. The Sponsor reserves the right, in its sole discretion to cancel or suspend this contest should a virus, bug or other cause beyond the reasonable control of the Sponsor corrupt the security or proper administration of the contest. Any attempt to deliberately damage any website or to undermine the legitimate operation of this contest is a violation of criminal and civil laws, and should such an attempt be made, Sponsor reserves the right to seek remedies and damages to the fullest extent permitted by law, including criminal prosecution. Entries are subject to verification and will be declared invalid if they are illegible, mechanically reproduced, mutilated, forged, falsified, altered or tampered with in any way. Entrants to abide by the Contest Rules and decisions of the judging panel which are final.
CLAIMING PRIZES: Winners will be notified by email within 10 days of the selection. The winner must sign and return an Affidavit of Eligibility and Liability/Publicity Release (or in Canada a Declaration of Compliance) within 10 days of notification, or prize may be forfeited. Winner will also be required to provide proof of age. (Tennessee residents will not be required to sign Publicity Release as a condition of winning a prize.) Residents of Canada, in order to win, must first correctly answer a mathematical skill-testing question administered by mail or e-mail at Sponsor's sole discretion. All prizes will be awarded.
WINNER'S LIST: Send self-addressed, stamped envelope by July 15, 2015 to: Threads magazine "SewStylish Spring Fashion Challenge 2015" Contest Winner List Request, PO Box 5506, Newtown, CT 06470.
SPONSOR:
1. The Taunton Press Inc., Threads magazine, 63 S. Main Street, PO Box 5506, Newtown, CT 06470-5506