Book Review: Women in Clothes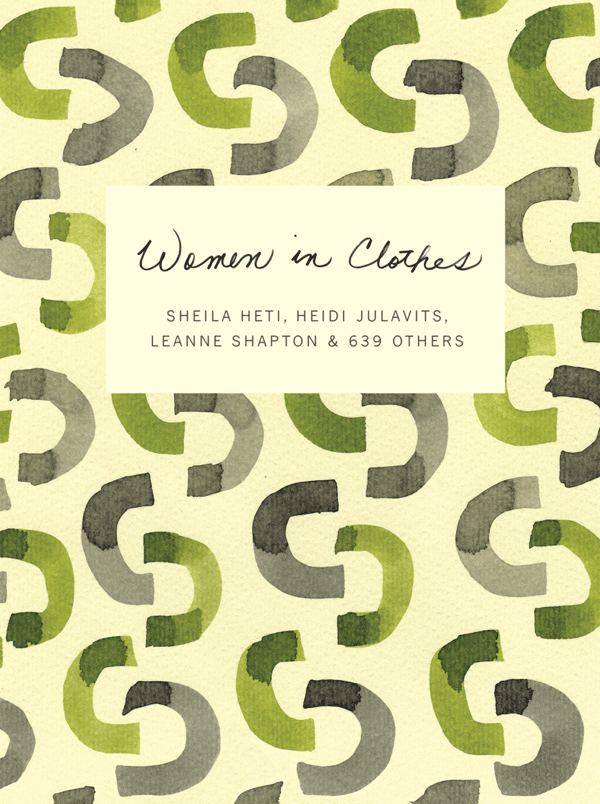 If you are a woman who sews-or buys-clothing on a regular basis, you're participating in the world of fashion. However, your relationship to fashion may engender mixed emotions: on a good day, joy; on a bad day, despair. Despite what mainstream fashion magazines would have you believe, you're not alone in your cognitive dissonance.
Editors Sheila Heti, Heidi Julavits, and Leanne Shapton, along with 639 women from a wide range of backgrounds, share their experiences with fashion in the fascinating book Women in Clothes (Blue Rider Press, 2014). Seeking insight into what guides women as they get dressed each day, Heti, Julavits, and Shapton devised a detailed questionnaire, distributed it to hundreds of women, and thoughtfully edited and compiled the responses.
What we find out is that clothing means many things to many people-and that it is, in fact, important to all of us in some way. Although that sounds like something you could figure out simply from talking to your coworkers, friends, and family, what makes this book so wonderful is the sheer variety of voices articulating the ways that garments reflect, protect, and project our identity. The next time you put on a beloved friend's pilly old sweater for moral support, or step into high heels to gain courage, or justify keeping that pair of jeans you'll never fit into again, or spend hours sewing or shopping for the perfect dress for your high school reunion (or job interview, or wedding), you'll know that you are not alone in viewing apparel as more than just a covering against the elements.
The book includes not just survey responses, but also essays, poems, and interviews by contributors known for their often unconventional relationship to fashion: Lena Dunham, Kim Gordon, Molly Ringwald, Tavi Gevinson, Miranda July, and Cindy Sherman, among others. And yet it's the less well-known respondents, as they open up with descriptions of themselves and their wardrobes, and accounts of how clothing figured in important life events, who end up feeling like friends you'd like to meet. You're also likely to want to take a peek inside their closets.
If you're interested in reading more or in taking the survey yourself, visit WomenInClothes.com, and share your thoughts about style, taste, and culture. Here at Threads, we'd like to know what clothes mean to you and, especially, whether you feel differently about clothes you've sewn yourself. If the woman makes the clothes, do the clothes make the woman?
Does being able to sew your own clothes help you better define yourself? Does wearing a good outfit increase your chances of having a good day? Is it shallow to care about what you wear?
---
In addition to this great book, if you are looking for Great Sewing Books, we have an collection of our favorites!