Designer Update: Mimi Prober Earns Widespread Recognition for Her Lace Creations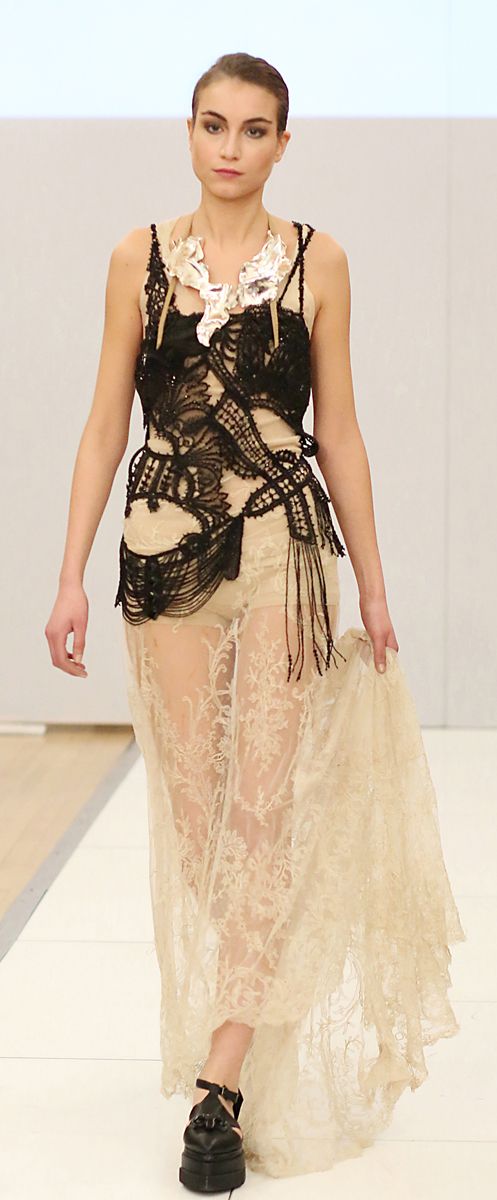 Mimi Prober, whom you'll remember from "Saving Lace," featured on the cover and inside Threads #166 (April/May 2013), is enjoying greater success in her career. Along with handling commissions from high-profile clients, she's showing internationally, in Amsterdam and London. I highly recommend you visit her website MimiNewYork.com to see the beautiful creations she shows there.
For those of you who may have missed the article in Threads #166, Mimi won the Critics' Choice Award for her senior collection at the Fashion Institute of Technology in New York. She designs under the label Mimi New York.
Mimi's vision for her collection is to rejuvenate the artistry of the past to establish a sustainable future. Through the use of antique materials from the 18th, 19th and early 20th centuries, she creates delicate, one-of-a-kind pieces for this evocative couture collection.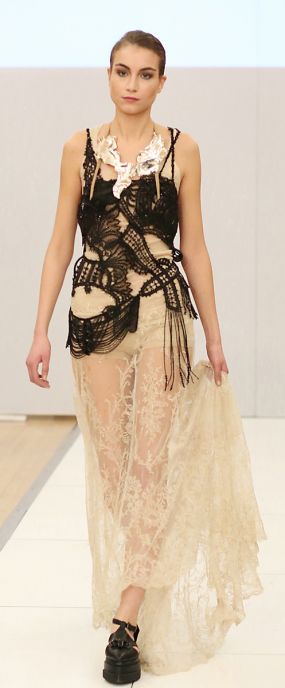 Her creations are intelligent puzzles, assembled from antique textiles and laces. She collects and recycles these fragments of antique and vintage textiles and laces into magical gowns.
Recently, she showed her collection at Chelsea Old Town Hall during London Fashion Week.
She debuted pieces from her ongoing "These Hands" collection, and complemented them with her sustainable fine jewelry line" Metamorphosed Art." The jewelry line follows the same philosophy as the sustainable couture collection, and comprises handcrafted sculptural forms using antique sterling silver.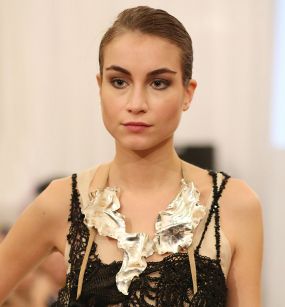 Staying true to the philosophy of her couture, Mimi also has developed "Metamorphosed Art," a fine jewelry collection crafted from sustainable antique sterling silver. Each unique piece is created organically into a modern sculptural form.
These images of her exquisite collection show that Mimi has a singular vision and the skills to translate that into sustainable clothing of incredible beauty. 
I'm going to let the pictures substitute for a thousand words. Revel in the talent of this upcoming young designer, who had her print debut in Threads.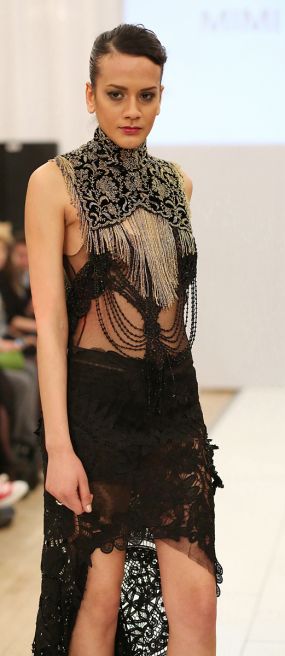 Mimi New York's collections are not defined by seasons. Instead, each collection makes up part of a connected philosophy, building upon the brand's personal identity through developed concepts and techniques.

Mimi New York's designs are accessorized with award-winning designer Zack Lo's new shoe collection "Idol Empire," also premiering on the runway.
To honor the history of each point in time that a fabric was handed on and refashioned and reused, Mimi has created the collection "These Hands."
This collection carries the idea of a story to be passed down and given a new life. Each design is constructed on the mannequin from lace fragments and antique materials that are delicately draped, pinned in place, and then hand-sewn.


The work of Mimi New York is internationally recognized for its brilliance; pieces have been featured in several publications, such as Marie Claire, Forbes China, and V Magazine.  
Some of the pieces have been worn for premieres (Actress Valorie Curry from Fox's "The Following" & currently "House of Lies"), Red carpet and performance for Broadway Dreams Foundation, by singer/songwriter/actress (formally on Broadway, and current Sony Epic recording artist) Morgan James. Also, Mimi was a featured designer for the host Kelly Choi on the Emmy award winning  documentary show "Secrets of New York".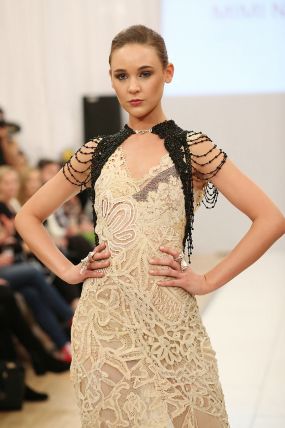 Here is another piece of fine jewelry line from the "Metamorphosed Art" fine jewelry collection.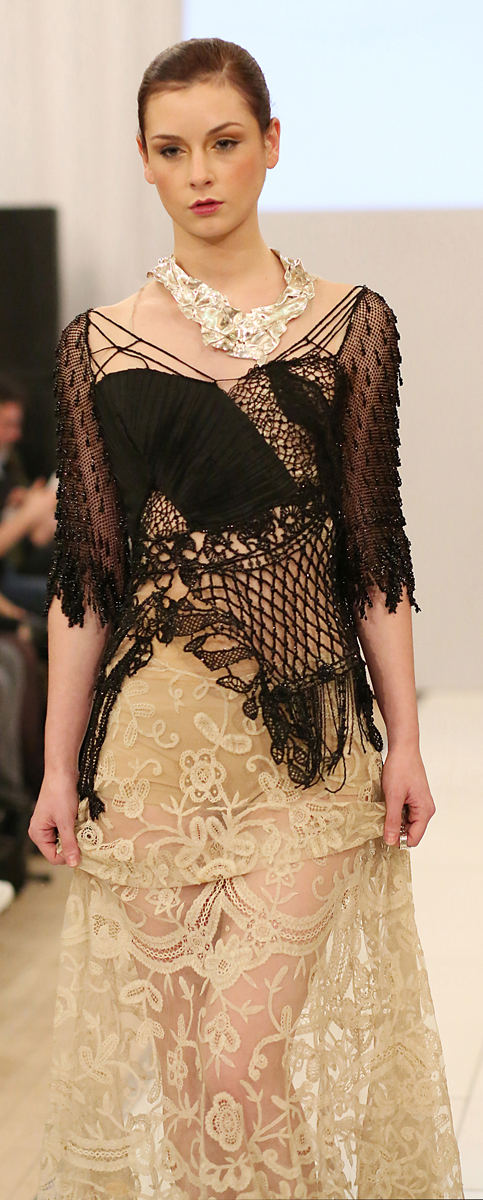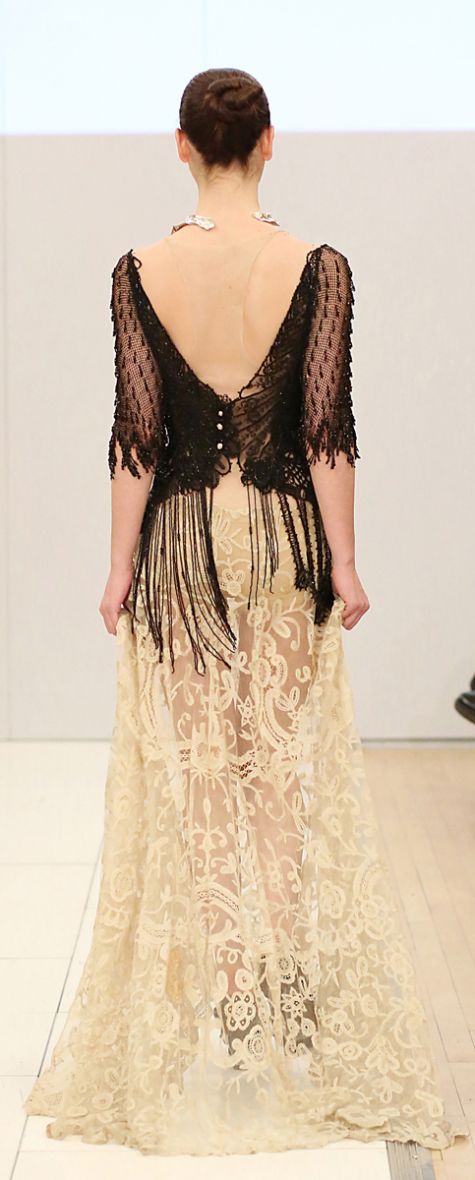 Mimi sends her best to all who wished her well when the Threads article featuring her work first appeared. If you want to find out more about her exquisite designs and the Mimi New York brand, be sure to check out her site, MimiNewYork.com.
All photos by Ana Gely.