Historical Fashion Gets Turned Inside Out at Kent State University Museum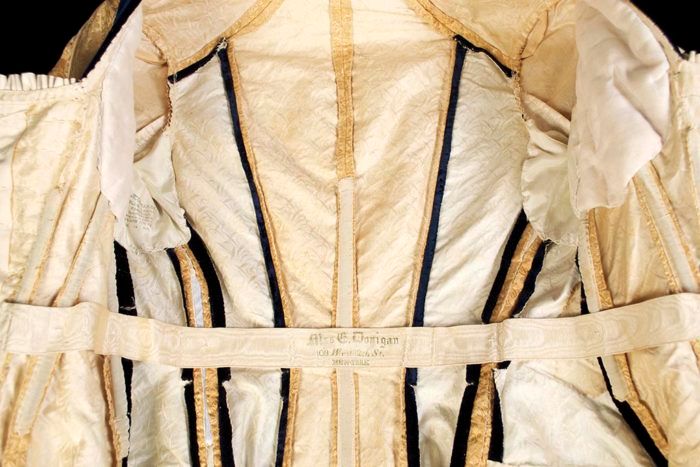 No matter how beautiful and innovative a garment's exterior is, sometimes the interior is even more fascinating. Whenever I see an excellently preserved piece of historical clothing, from whatever era, I usually itch to take a look at its 'guts'–its insides. Looking at a garment's interior shows you what construction methods were used and how the fashion exterior was supported from the inside or anchored to the body. It shows you what techniques were used and hints at the technologies available to the creator.
This is the focus of a newly opened exhibit at Kent State University Museum in Kent, Ohio: "Inside Out: Revealing Clothing's Hidden Secrets." Garments in an exhibition are usually displayed with their beautiful exteriors facing outward, naturally; but that hides equally stunning workmanship that goes into their creation. This exhibition turns the garments inside out to display their inner workings: pockets, quilted linings, boning, labels, fastenings, etc.
The garments selected include both women's and men's clothing from the 18th, 19th, and early 20th centuries. They are excellent examples of their respective eras, because they were never remodeled as many garments were, especially in the 18th and 19th centuries. They exist in their original state.
Just as fashionable silhouettes changed through the decades, so too did construction methods and internal structures. Viewing the interiors of fashion pieces through history tracks the periodic changes in how seam edges were finished, closures were fastened, and material was made to conform to or shape the body.
The exhibit opened March 15, 2015, and runs through February 14, 2016 at Kent State University Museum. More exhibition details are available here. Those who can't visit the exhibit in person can still explore some of the garments virtually through the exhibition website: https://insideoutksum.wordpress.com/.
Threads will publish a special behind-the-scenes look at "Inside Out: Revealing Clothing's Hidden Secrets," coming up in issue no. 181 (October/November 2015).
What do you find more interesting in historical fashion: the exterior or the interior?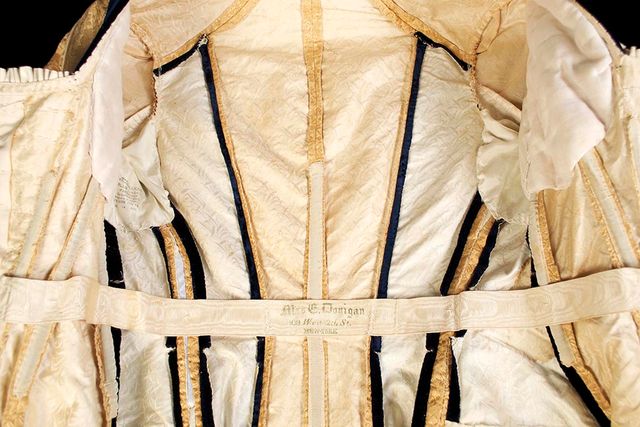 Gold silk and blue velvet ensemble
Label: "Mrs. C. Donigan 109 West 12th St. New York"
American, ca. 1880
Jacquard woven gold silk, ivory taffeta, silk fringe, dark blue velvet, petersham waistband, baleen (whalebone), ivory cotton petticoat, starched cotton ruffles and lace, buckram
Gift of Elizabeth Macintyre, KSUM 1995.49.1 a-c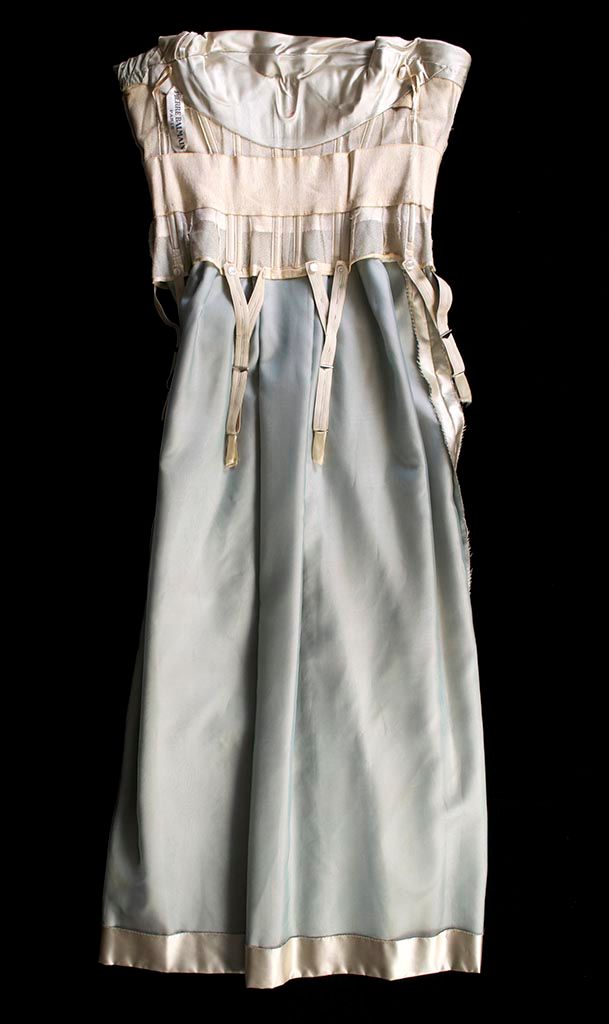 Evening dress of grey-green satin and taffeta
Pierre Balmain
French, 1958
Satin, taffeta, petersham waistband, elastic garter suspenders, boning, silk organza underlining
Transferred from the Allen Memorial Art Museum, Oberlin College, Oberlin, Ohio, Gift of Ernest Byfield through the Metropolitan Museum of Art, 1980, KSUM 1995.17.576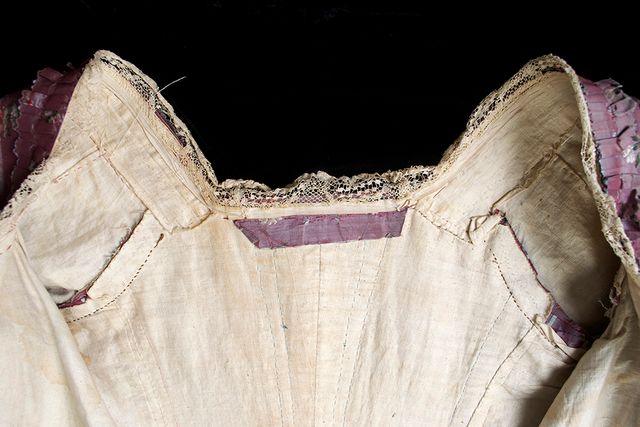 Robe à l'Anglaise
European, 1770s
Iridescent purple silk with brocaded flowers, lined with linen, silk hem facing, linen tapes
Gift of Ross Trump in memory of his mother, Helen Watts Trump, KSUM 1995.68.1
Get the latest including tips, techniques and special offers straight to your inbox.