Embellishments Special Issue: Check out our latest issue and enter to win!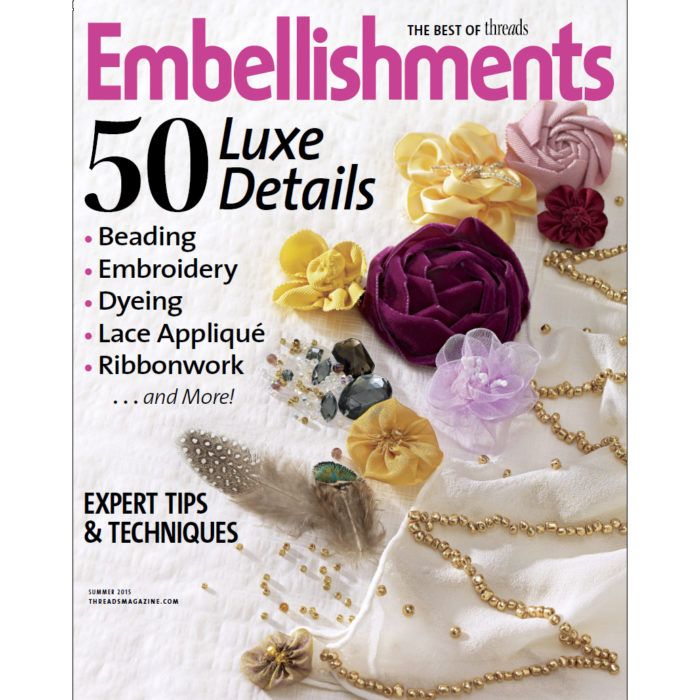 The Best of Threads: Embellishments special issue hits newstands April 7, and it is full of more than 50 luxurious embellishment details. Here's a quick round up of what you can expect to find inside this incredible issue.
The Embellishments special issue can be purchased in our store or downloaded directly to your mobile device. If you can't wait to get your hands on it, check out some of the web extras from this issue. We're also giving away three copies. Read on to find out how to enter.
Surface Design
Painted Textiles. Create original fabric prints with brushes and stamps.
Shirred Velvet. Fashion a luxurious surface with gathered tucks.
Distress Leather. Age, fade, and texturize with household tools.
Ombré Effects. Spray or dip-dye your way to gorgeous color gradations.
Trim & Detail
Cutaway Lace Appliqué. Add a delicate couture touch to lingerie.
Ribbon Flowers. Adorn garments and accessories with beautiful blooms.
Glamorous Yo-yos. Gather fabric circles into an elegant trim.
Fabric Filigree. Nature takes shape with sculpted bias tubes.
Fanciful Feathers. Borrow soft and colorful plumage for glamorous accents.
Creative Beadwork
Beading Basics. Essential methods and materials.
Charmed Cutwork. Suspend pretty baubles in open "windows".
Beads on Leather. Three easy methods for over-the-top effects.
Pile It On. Combine materials into dramatic embellishments.
Stitching & Embroidery
Border Stitches. Four ways to sew decorative edges.
Cutwork on Knits. Stabilize before you stitch and trim.
Boho Embroidery. Find contemporary inspiration from Eastern European techniques.
Lavish Stitching. Enhance machine embroidery with free-motion sewing.
Needle-Felt Silk. Meld fabric pieces for rich texture.
---
MAGAZINE GIVEAWAY
For your chance to win a copy of Best of Threads: Embellishments, all you have to do is:
Look at the embellishment articles listed above.
Leave a comment on this post explaining which feature article or department you're looking forward to most.
Entries must be recieved by 11:59 p.m. EST, April 17. Three winners will be chosen at random, contacted via email, and announced the week of April 20.
Good luck!