How to Sew a Bound Buttonhole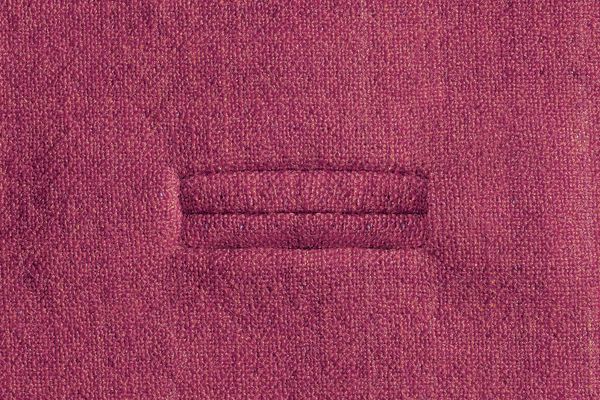 Claire Shaeffer shares her favorite bound buttonhole method for stable fabrics once taught to her by a tailor. It's perfect for wool materials, fabrics that are firmly woven, and fabrics that don't ravel much. Made by stitching two strips or welts to the long sides of the buttonhole, it's really a piped buttonhole. The strips can be cut on the lengthwise grain, cross-grain, or the bias.
Mark the garment with basting, as shown below, in preparation for buttonhole application.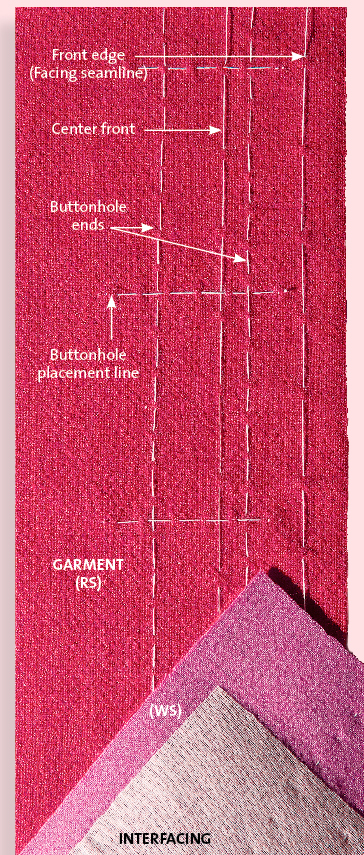 1. Make the welts for the buttonhole. Begin with a fabric scrap long enough to make multiple welts, and folded on the desired grain. Don't try to work with a narrow strip. You'll burn your fingers, and the folded edge of your strip will have undulations. Press the fold. Machine-stitch through both layers 1⁄8 inch from the fold. Then trim 1⁄8 inch away from the stitching on the unfolded edges so the stitched line is centered on the strip. Cut each welt 1 inch longer than the finished buttonhole.

2. Align the raw edges of one welt with the buttonhole placement line; baste. Repeat with the other welt, abutting the cut edges. With a 1.5-mm-long machine stitch, sew over the previously basted line, starting and stopping at the buttonhole ends. Fasten the stitches securely at the beginning and end with hand-tied knots on the interfaced side.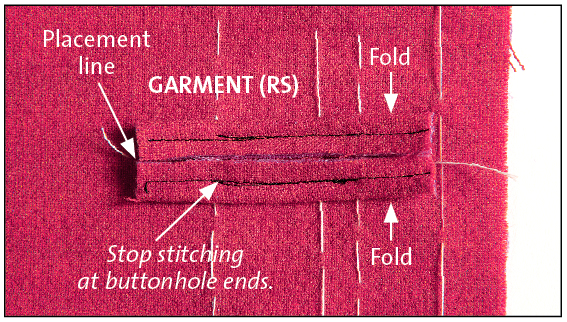 3. Open the buttonhole. On the wrong side, cut between the welt stitching lines and into the corners.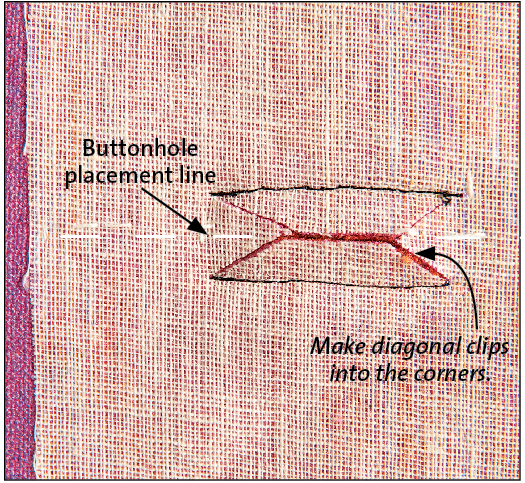 4. Turn the welts' cut edges to the wrong side through the cut opening. With the right side up, adjust the welts so they meet at the center along the buttonhole placement line; pin. Using small diagonal stitches, baste the welts together.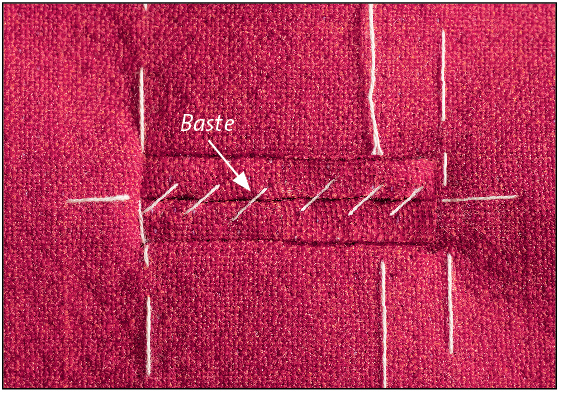 5. Fold the garment edge back. Stitch across the triangle. Trim the ends of the welts, and round the corners to reduce bulk. Then press the buttonhole face down on a soft surface. Finish the buttonhole. For a finishing technique, see the article "Bound for Beauty" in Threads #160.