Q&A: Is Fabric Pilling Avoidable?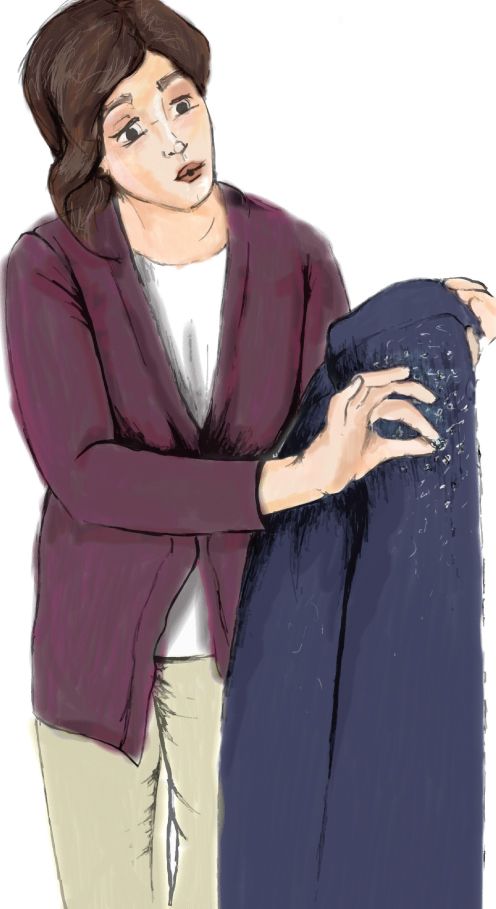 READERS' QUESTIONS – EXPERT ANSWERS
Q: Not long ago, I had the misfortune of selecting a twill fabric I thought would make a nice, durable pair of pants. I loved the color, the weave, and the price. However, the first time I washed the pants, the fabric pilled to the point that I relegated the garment to "house or garden only" status. I washed them on the warm/hot water cycle with similar garments, and then line dried the pants. I could not believe the amount of tiny loose blue fuzz that sloughed off the fabric and stuck to the wear areas (thigh, seat, pockets). The pilling also seemed to attract lint. The pants are not presentable to wear in public. I have not had this happen before on fabric. I don't remember this fabric's manufacturer or point of origin. I have sent two unwashed samples of the fabric to Threads for you to evaluate. Can you tell me what caused the fabric to pill? Is it the fabric's weave or its fiber content? Did a fabric manufacturing process create the problem? If so, how common is it?
—Agnes Krug, Saratoga, New York
A: Julianne Bramson, partner/designer for Fashion in Harmony Patterns, studied fibers and fabrics and holds a degree in home economics from California State University, Sacramento. She lectures about fibers and fabrics and authored "Fabric Selection Secrets," Threads no. 168, Aug./Sept. 2013.
I am sorry to hear about your garment's performance failure. With all the time, effort, and skill that went into constructing it, it is a shame that the pants are now relegated to home use only.
I washed the swatch of fabric that you sent and also performed a burn test. The fabric burned quickly, formed a hard, black bead, and emitted a chemical smell-indicating a synthetic fiber, likely polyester.
A wrinkle test (clenching the swatch in my hand) resulted in a small amount of wrinkling; this also indicates polyester, which is mostly wrinkle resistant.
In order to determine if the fabric was a blend, and whether any percentage was wool, I put a piece in some household bleach and let it sit for two days; any amount of wool would dissolve in the bleach, leaving the polyester fibers behind. However, the fabric did not dissolve, so it has no wool content. It did lose some color, so there may be rayon in the blend.
Polyester and rayon are manmade fibers that can mimic natural fibers. I believe that your fabric was made using polyester and some rayon fibers in a short-staple length in order to mimic the look and feel of wool gabardine. While blending polyester with other fibers can create a fabric with amazing wrinkle and shrink resistance, it also increases the propensity for pilling.
Pilling is the formation of small balls or tufts on fabric, occurring when short or broken fibers emerge and cling to the fabric's surface. Most fabrics naturally shed small bits of broken fiber, but these fragments are usually sloughed off (your dryer's lint trap testifies to this). However, stronger fibers like polyester create anchors that hold onto them, forming pills.
Fiber content is the likeliest reason for pilling. It's always wise to pay close attention to the fiber content, particularly with polyester blends. However, other factors-such as poor finishing processes or certain weaves-also can affect a fabric's tendency to pill.
If possible, buy a swatch and try washing it or subjecting it to something similar to normal wear before putting the time and money into making a garment. It is always a good idea to prewash fabric before sewing. Sometimes one washing will expose a tendency to pill.
Cut two 6-inch-square fabric swatches and subject one of them to some tests. Keep the other swatch as your control and write down your tests and the fabric's response. Launder or dry-clean the fabric as you intend to care for the finished garment. Clench the fabric tightly to see how much it wrinkles. Press it with a fold or two to see if it shows marks from the iron. These tests help you determine how your fabric may perform if made into a garment.
This post was originally featured in the Q&A department of Threads #180 (Aug./Sept. 2015).
---
Have a Question? Send it to us and we'll find an expert's answer.
via mail: Threads Q&A, PO Box 5506, Newtown, CT 06470-5506
via email: ThreadsQ&[email protected]
via the Contact the staff page to submit your entry