Project Runway, Season 14, Episode 1: "Mad Dash Mayhem"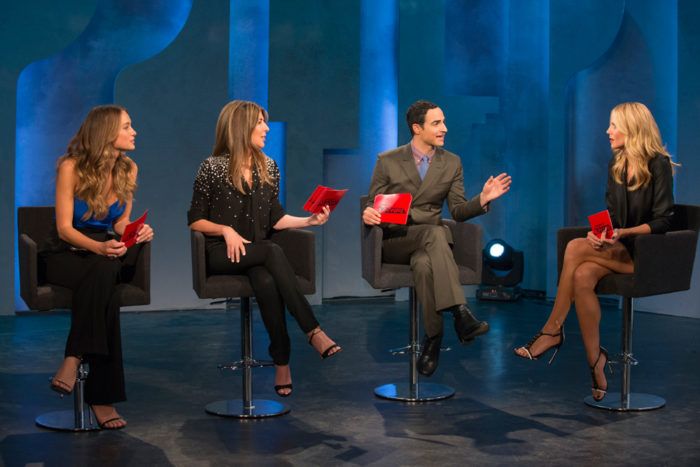 Project Runway is back for its 14th season, and the first episode was promising. The title, "Mad Dash Mayhem," implied some crazy antics and plenty of drama, and yet the challenge and design process in the workroom were, for the most part, focused and under control. For those of us who care more about the work than the drama, this was a pleasant surprise. It's no secret that Project Runway's producers like to generate conflict, often at the expense of showing how the looks are conceived and created. However, watching people pick each other apart and crow self-importantly can be tedious compared to seeing them drape, draft, cut, sew, and fit.
On the other hand, the outtakes of Tim and Heidi trying to shoot hoops proves that, even if white-haired men in suits can't jump, they can be really good sports!
This week, the designers met for the first time at Madison Square Garden, where Tim and Heidi welcomed them at center court. The challenge couldn't have been more straightforward: Make a look that expresses who you are as a designer, and you have a day to do so. The only twist was that the designers weren't taken to Mood to shop, but rather were sent scurrying through the stands to collect lengths of fabric that had been spread enticingly over the seats. The more athletic contestants, and those not hampered by high heels, got first dibs, but everyone came away with four textiles–and later on, it seems that some swapsies took place as the competitors worked out their designs. No one seemed dissatisfied with his or her materials.
When the designers reported to the workroom, Tim arrived and made the portentous announcement that three of the designers–Swapnil, David, and Merline–had not brought sewing kits and would have to rely upon the kindness of the other competitors for measuring, cutting, and design tools. This turned out to be a non-issue, and everyone just got after it, shared nicely, and did their work.
You might not have picked up on that, though. Throughout the episode, confessional videos were edited to show many of the designers in a somewhat unflattering light: Lindsey came across as entitled and judgmental; Blake as shallow and self-aggrandizing; and Merline…as an insane parrot who drives everyone else crazy.
Tim's first workroom critique began with a positive response to Duncan's coral charmeuse draped gown, and to Ashley's pleated print skirt. From there, things went downhill quickly, with phrases like "bad construction," "unprepared," "amateur," "messy," and "antithesis of joy" shattering the designers' confidence. After expressing his disappointment, and suggesting the designers all had a "lump of coal up their rear ends" (an atypically vulgar turn of phrase for Tim, I thought), Tim exited, muttering "Wow" in a tone of dismay.
Come runway day, all the designers had their work well in hand; for a change, there seemed to be no threat that a model would go naked to the catwalk. The runway show itself, not surprisingly, happened in a flash. Even some fashion-indifferent watchers I know complained about how little they got to see of the final garments. (To watch the runway show again, go to visit the official Project Runway site.)
The judges were Heidi, Zac Posen, Nina Garcia, and as guest judge, Hannah Davis, a Sports Illustrated model who will be the host of Project Runway Junior when it debuts this fall.
The winner:

Ashley's bold, colorful print skirt and textured, openwork top. Tim was right to encourage Ashley to design the sort of look that she herself would wear. She has great personal style and is one of the very few individuals I've seen make lavender hair seem like a logical choice.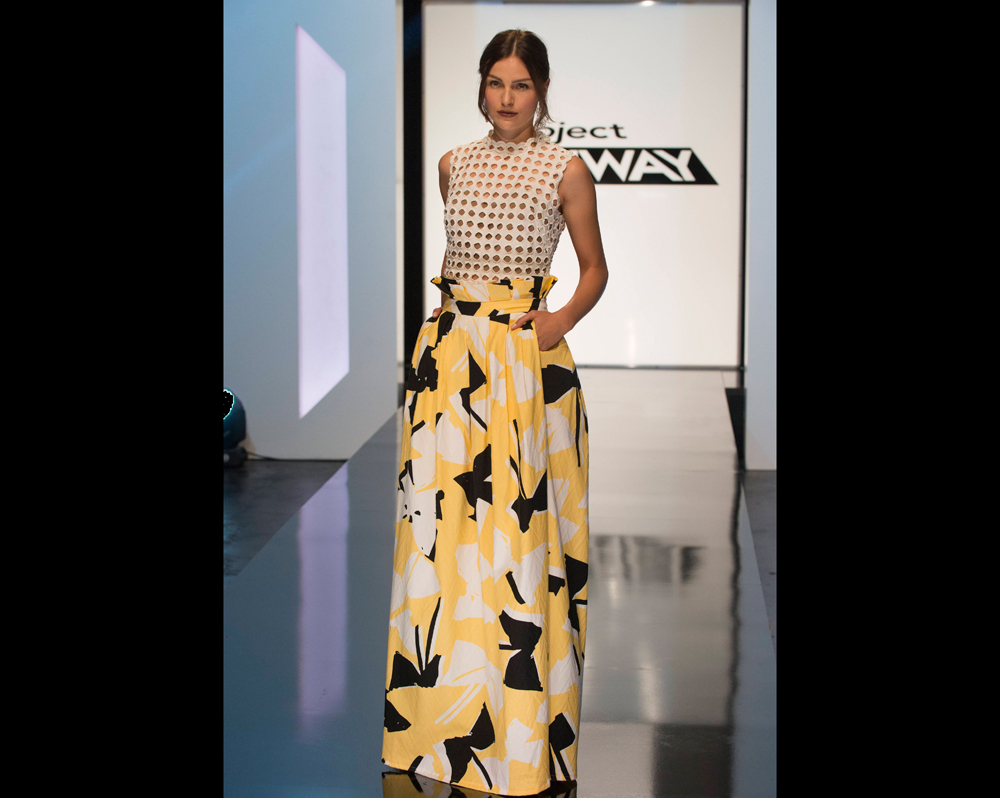 The remaining top looks:

Edmond's little black dress with a chartreuse-lined train. Very basic as a design, but well-executed and striking on the runway.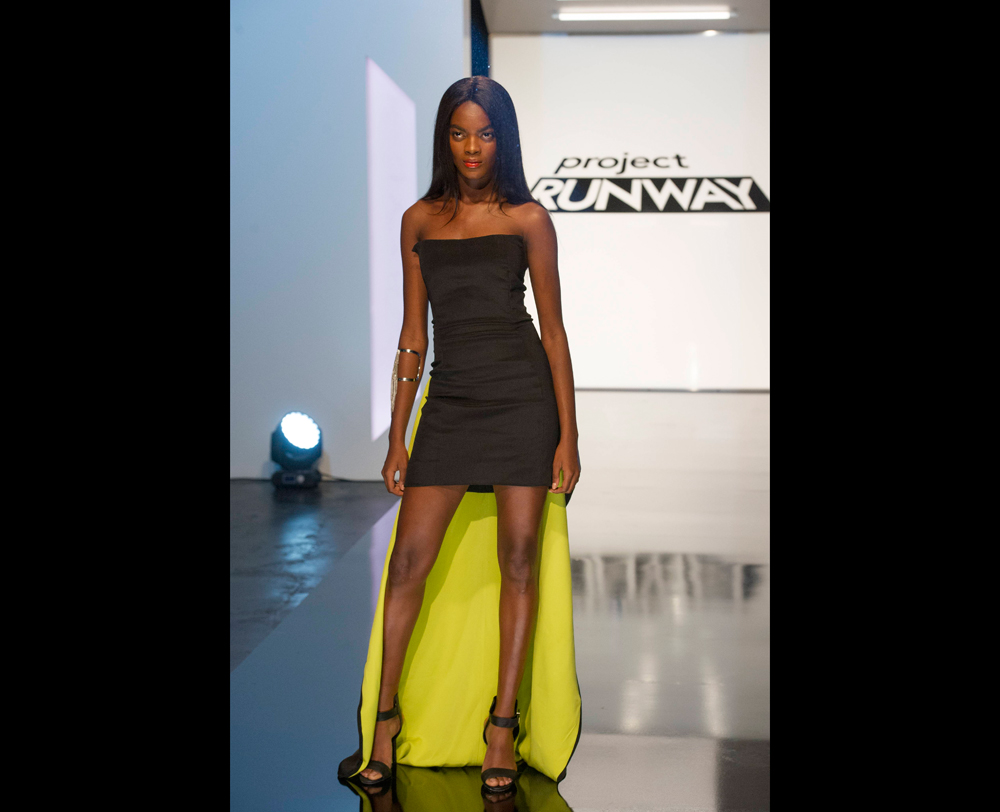 Merline's pumpkin-colored, architecture-inspired top and skirt. Given the crazy-person edit she received earlier, and her failure to bring her sewing kit, it was a surprise (or was it?) that she turned out a successful outfit that pleased the judges.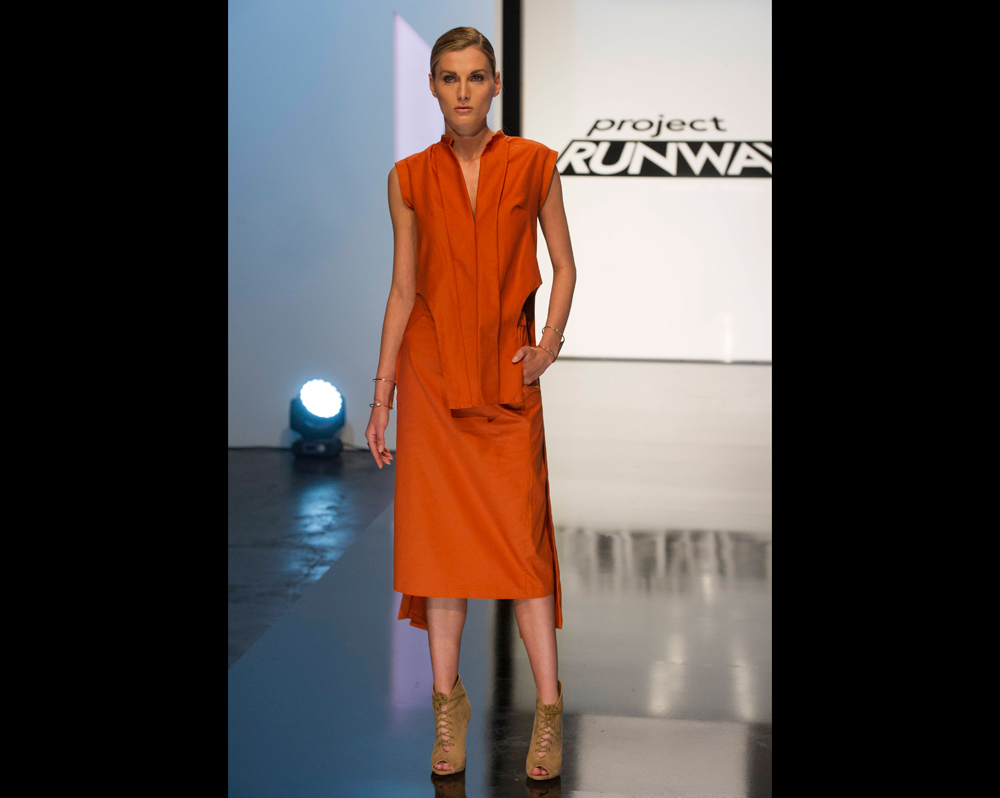 The loser:
Duncan's pink toga. His fellow designers and Tim praised this look initially, but it was Duncan's first foray into womenswear, and the finished dress was unresolved. It looked better from the back than from the front. This wasn't my favorite, but there were other garments I thought were much less appealing. The problem here seems to have been not only the inherent flaws in the design, but also the fact that it didn't seem to reflect Duncan's aesthetic. His menswear and knitwear designs are pretty interesting. Is it cynical of me to think Duncan got the auf because of his low-key, pleasant personality?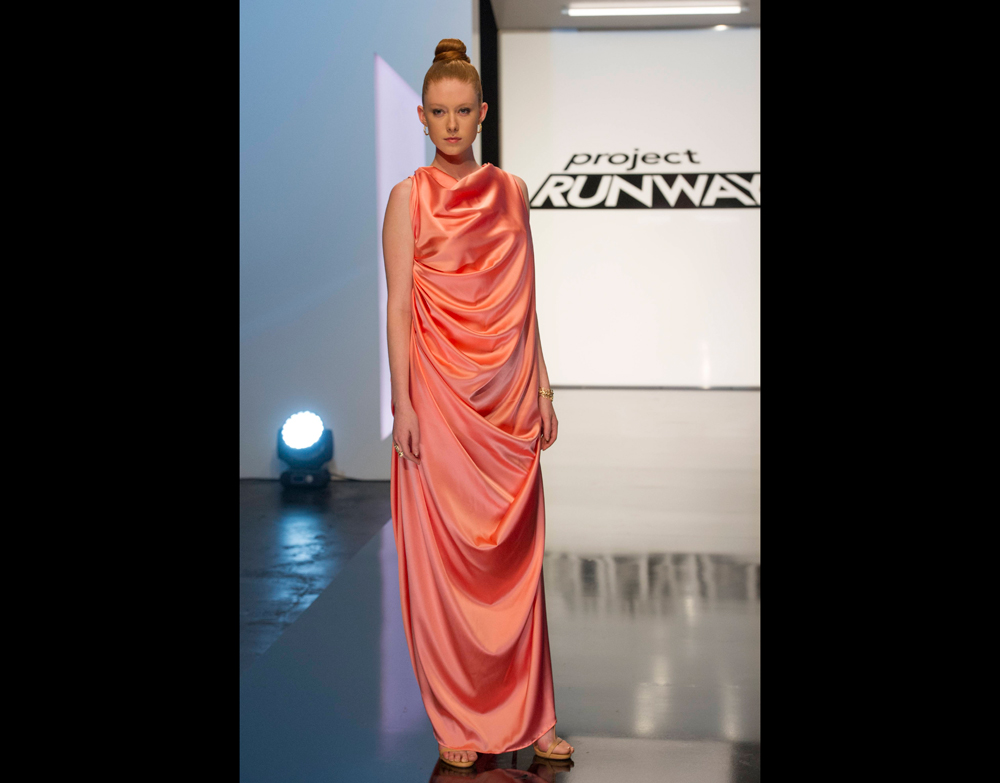 The remaining bottom looks:
Blake's geometric-print draped gown. The judges considered it tortured and clownish.
Hanmiao's yellow patchwork dress and coat ensemble, which was likened to maternity wear, a monk's habit, and Sally Draper at a picnic. Remarkably unflattering, and not well made.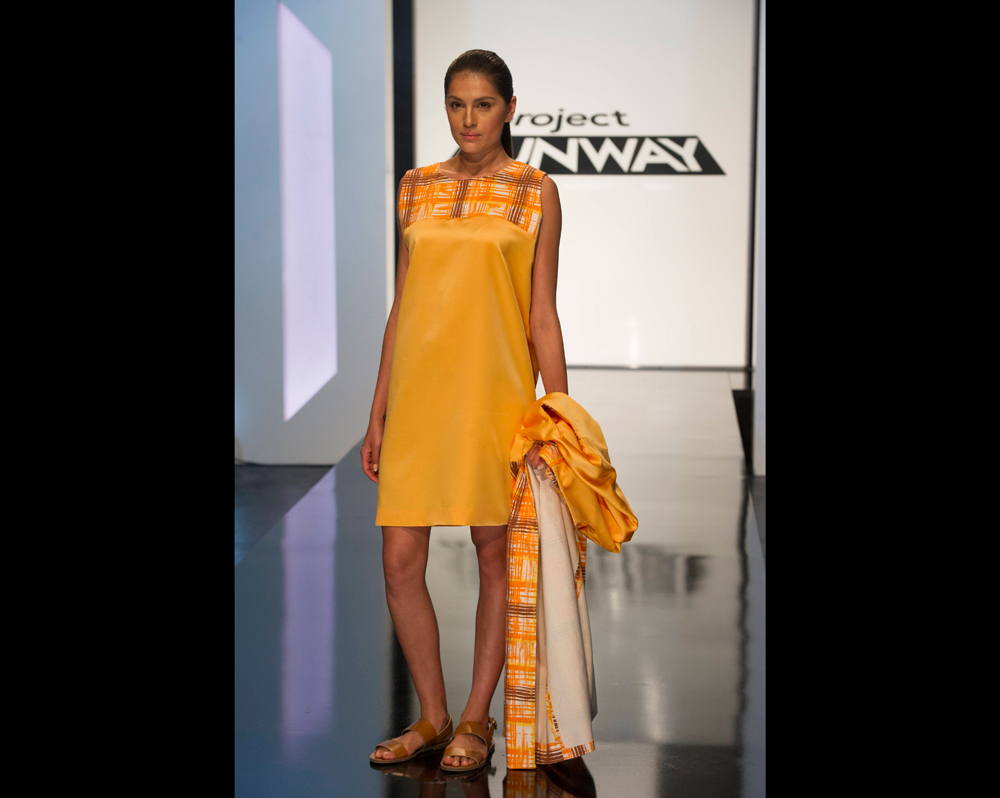 All the rest:
Amanda's blue dress with print bodice and straps. Are handkerchief hems still a thing?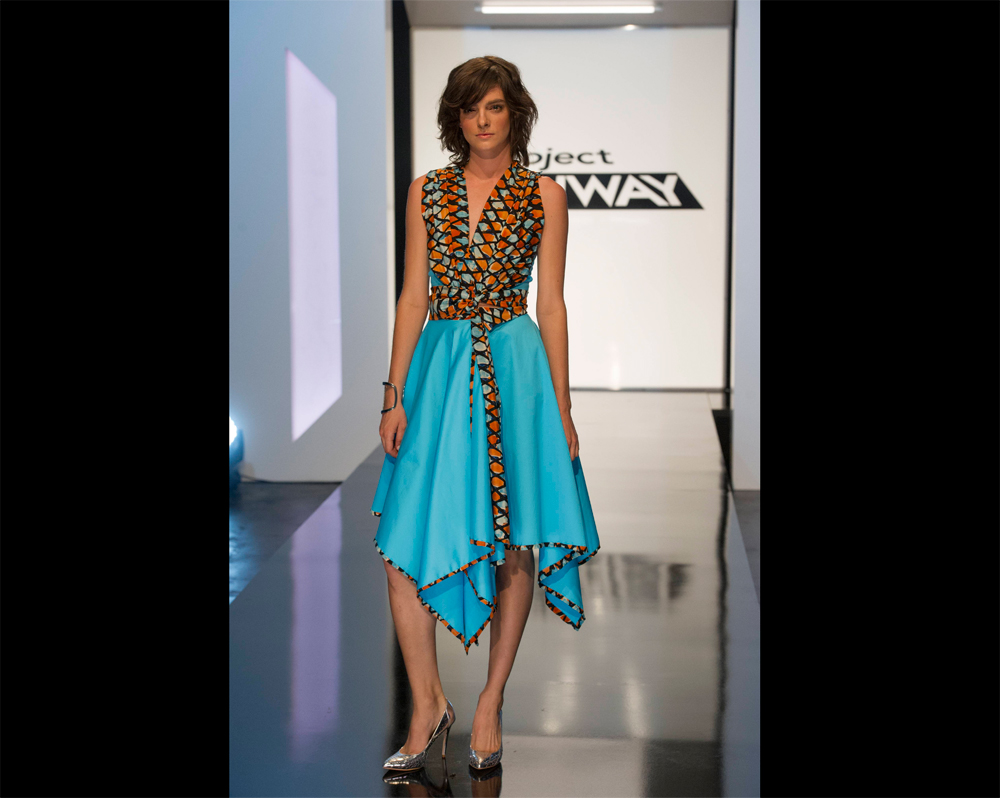 Laurie's body-hugging off-the-shoulder red gown with an almost indecently high side slit. Her model looked pretty great, but this is not a dress for everyone.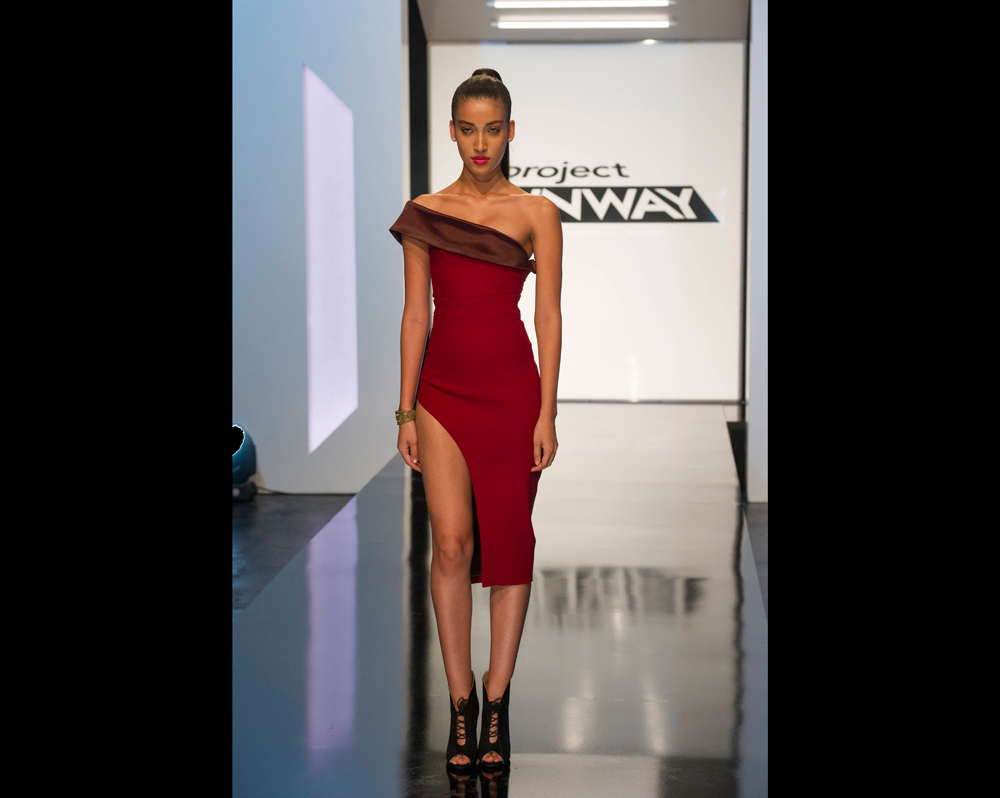 Swapnil's blue dress with a strip-woven bodice–pretty and very much like what he showed in his audition collection.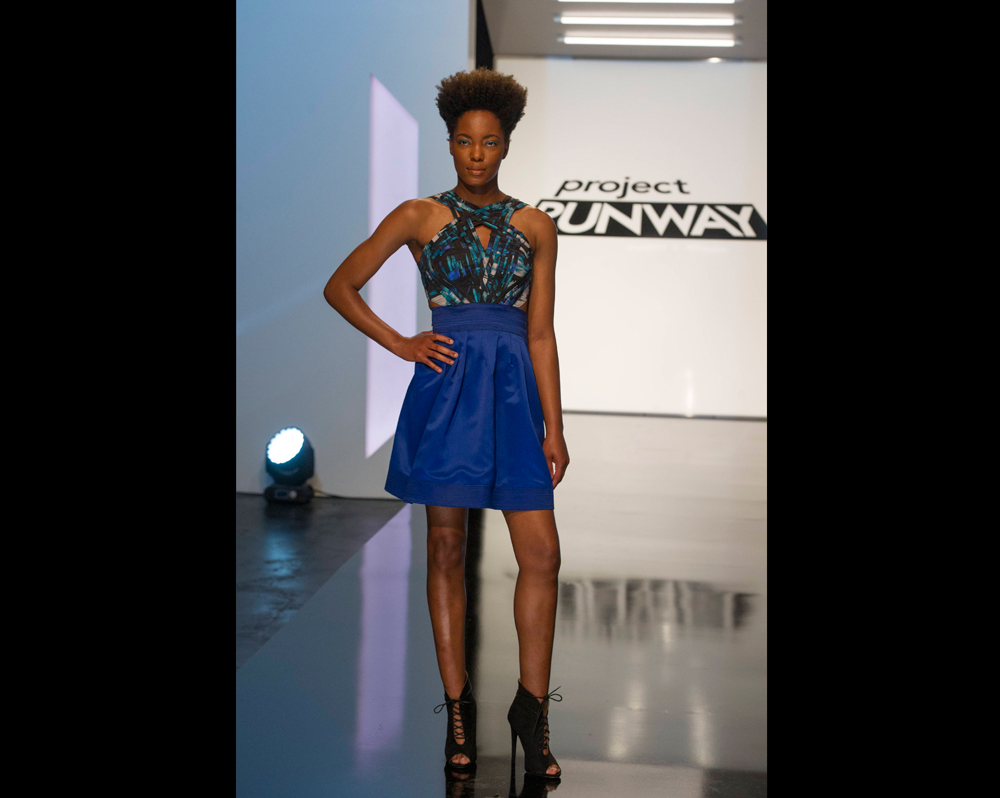 Lindsey's print romper–or was it a little dress? Junior. Macy's juniors. Styled with clunky booties, this looks like a Coachella outfit.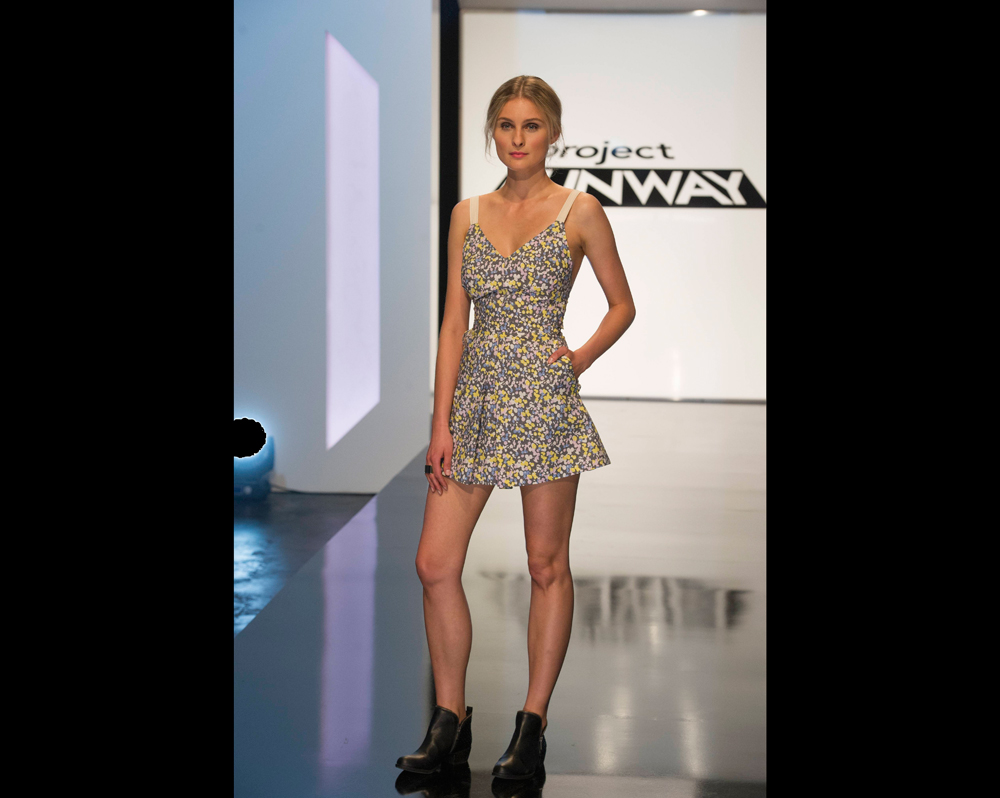 David's print-blocked maxi dress, which was a favorite of mine. I loved the effortless silhouette and was impressed with how interesting and sophisticated the mix of prints was, considering the limited choice of textiles.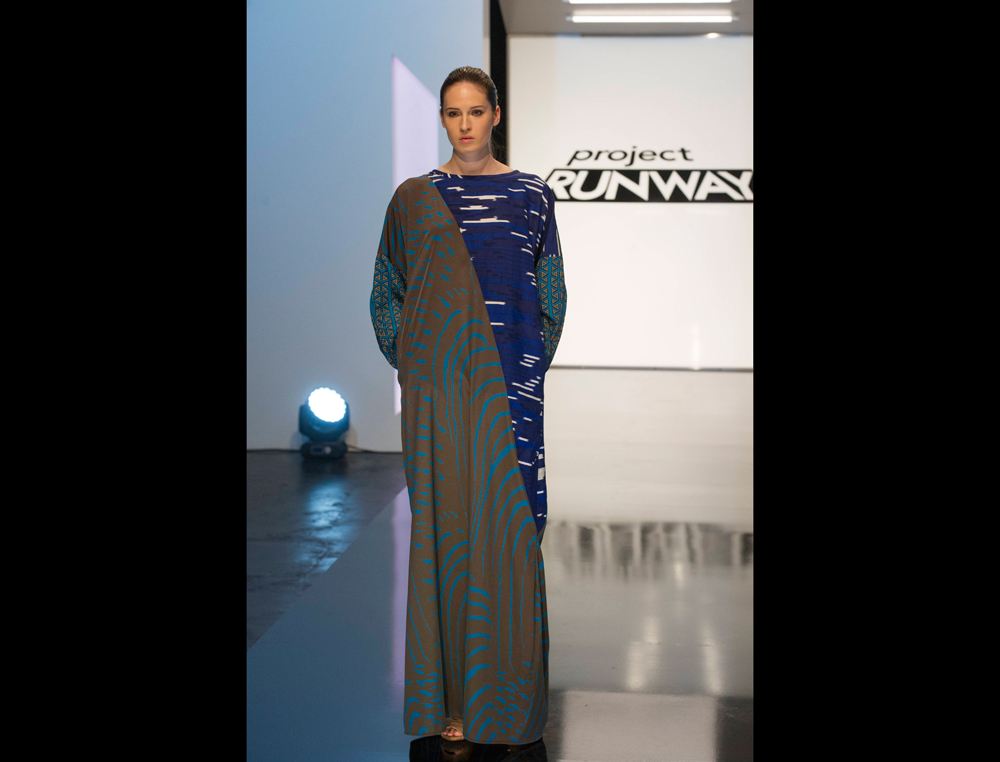 Joseph's lavender skirt with floral-print crop top. Fine, apparently well-made, but uninspired.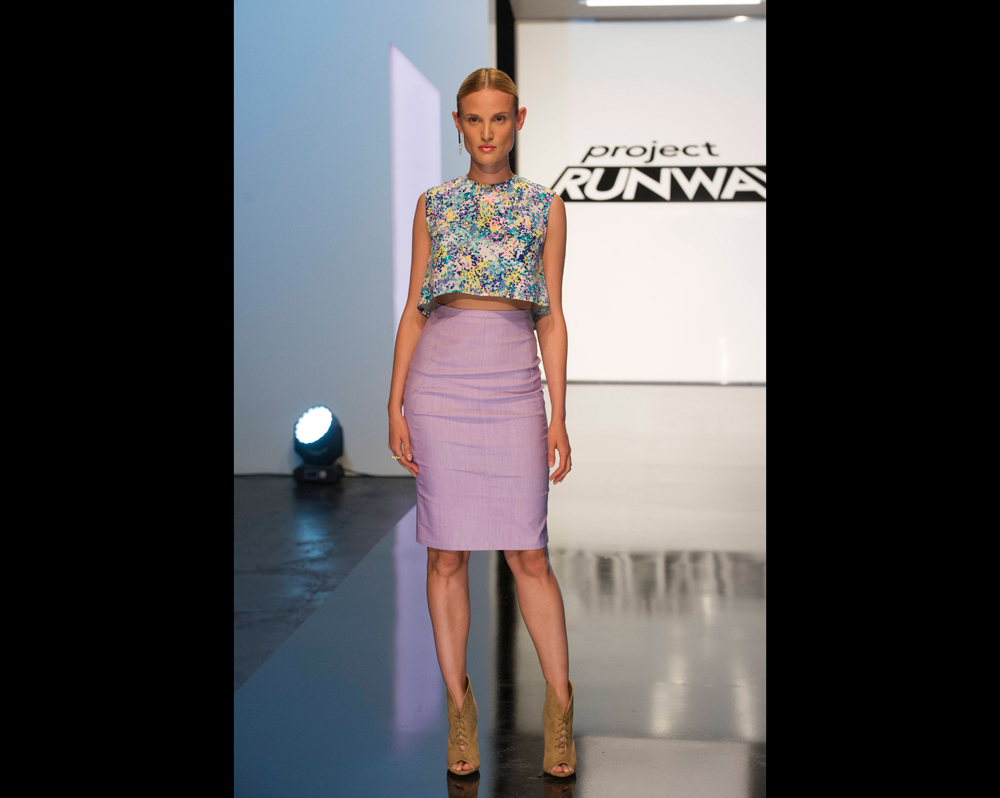 Kelly's confusing dress. Another handkerchief hem, and a dreadfully mismatched bodice construction, in a print that a friend of mine described as "throw-uppy." And again with the boots!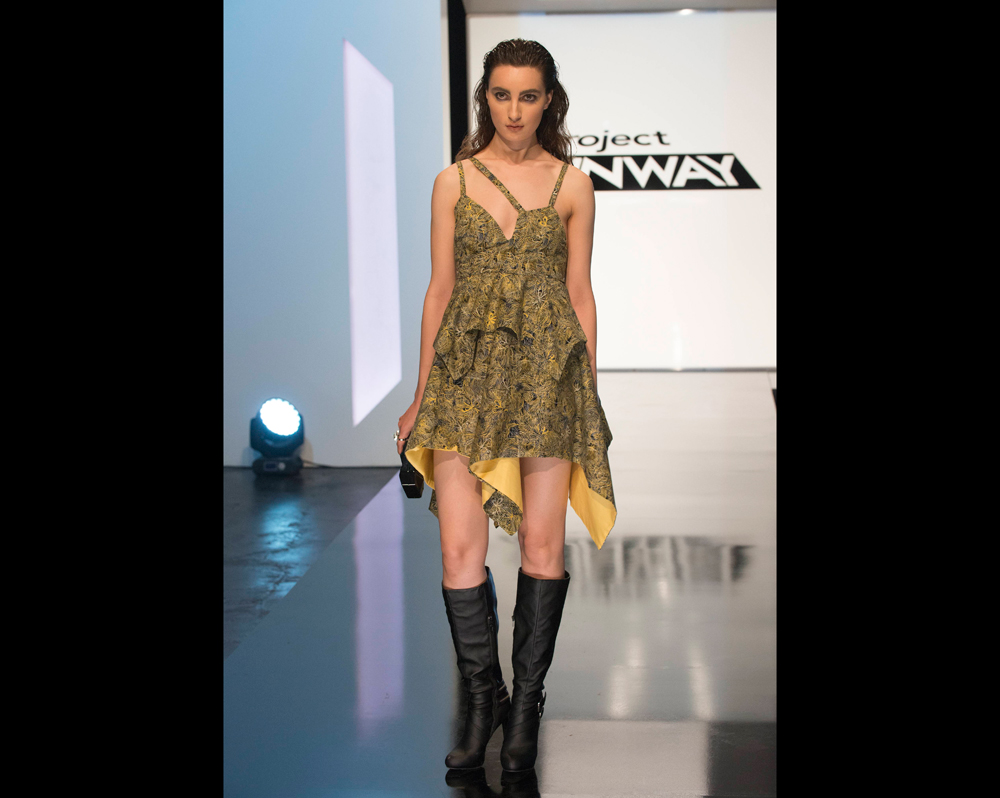 Jake's competent striped silk dress in oranges and yellows. Pretty enough, nothing very new here.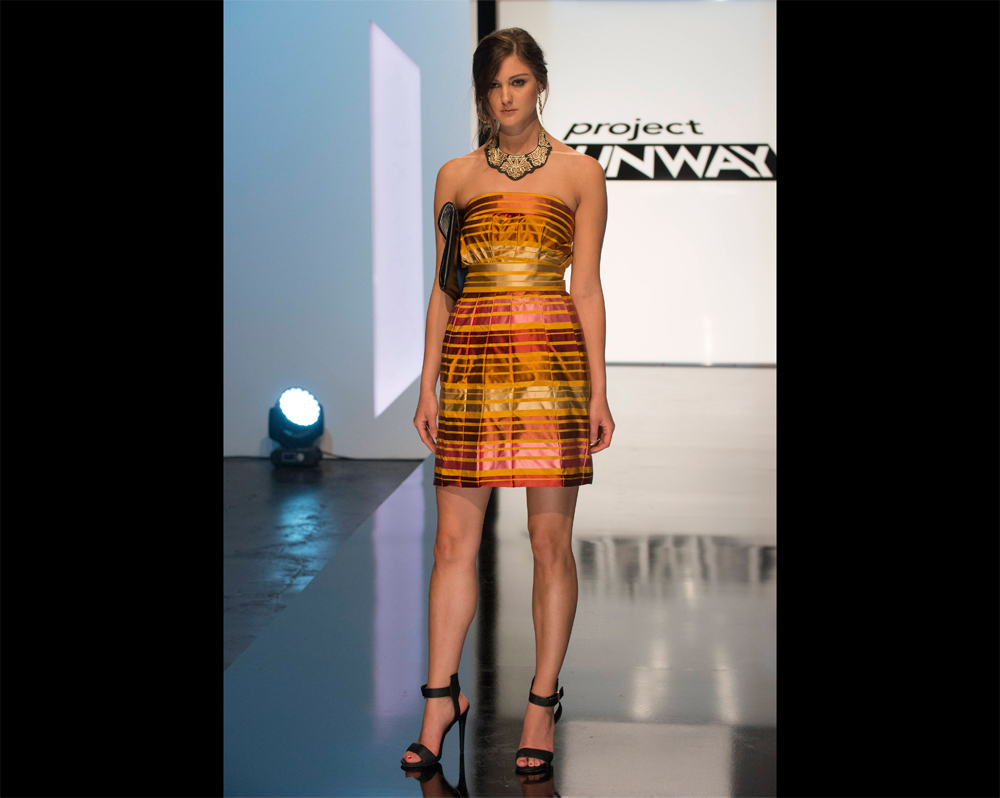 Gabrielle's ill-fitting gray dress with godet hemline and cutaway shoulders. Even she admitted that this was not a good look.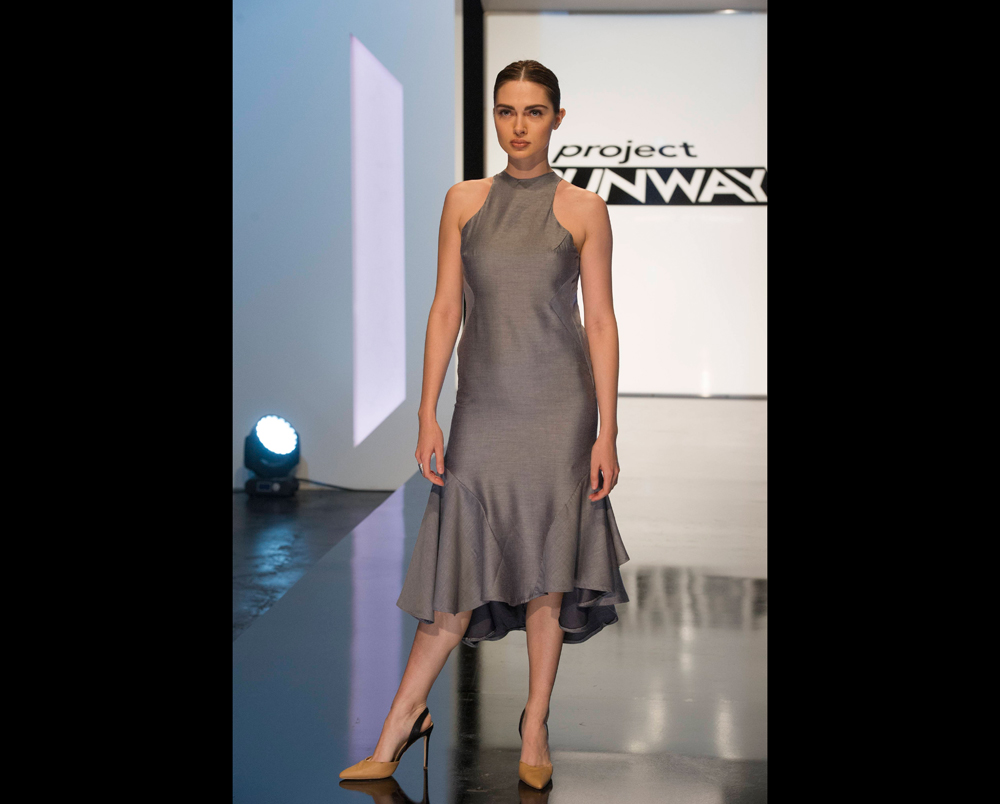 Candice's white striped dress with an asymmetrical peplum and black trim. The idea behind this dress was not bad, but the execution didn't work. It appeared overworked, and the trim crossing over the bust was especially unflattering.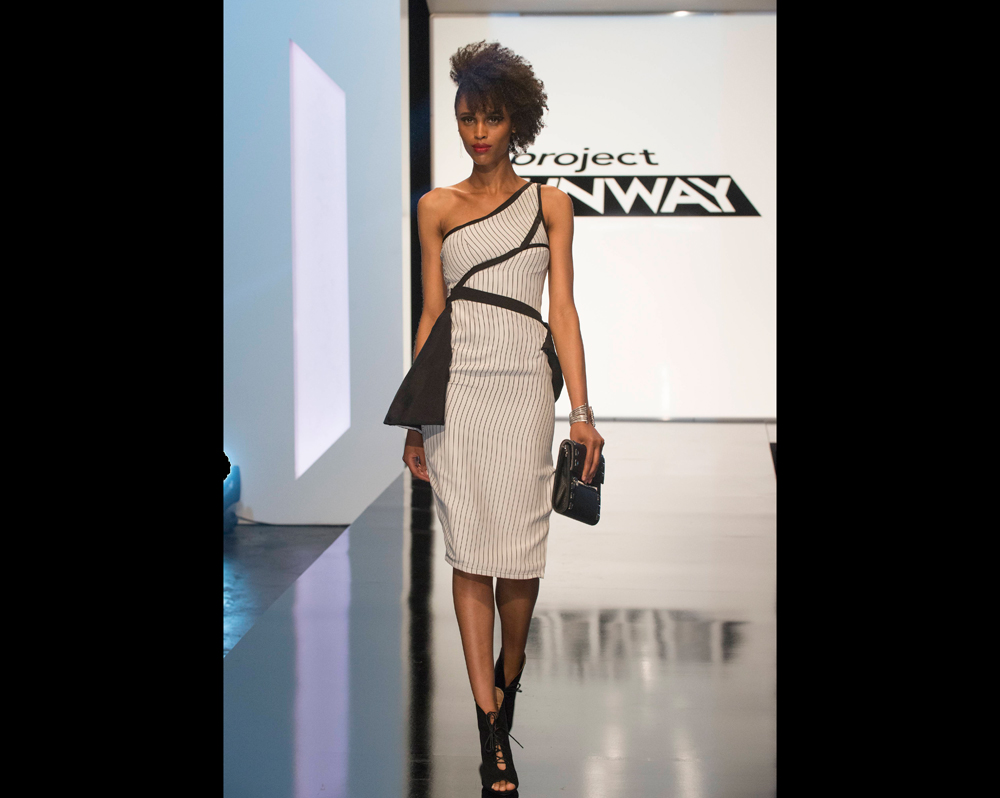 What did you think? Did the judges get it right? What were your top and bottom choices? And how do you feel about the way the designers and their work are presented? Do you like seeing interpersonal drama? Do you care about the designers' backstories? Let us know in the comments section below!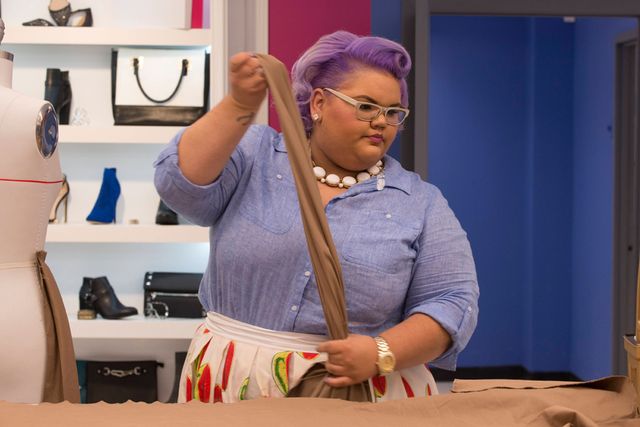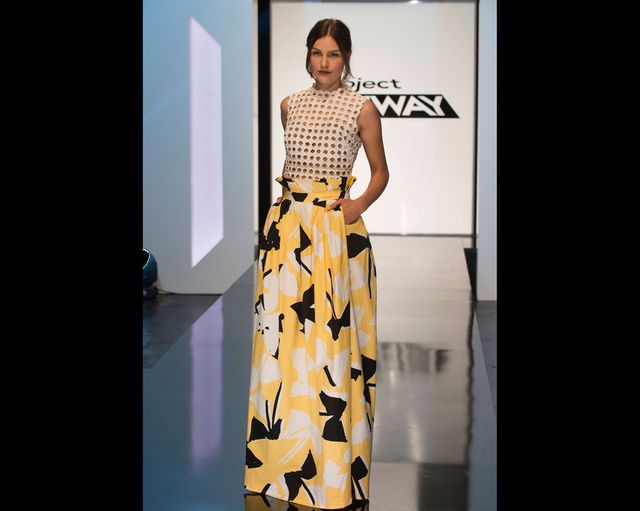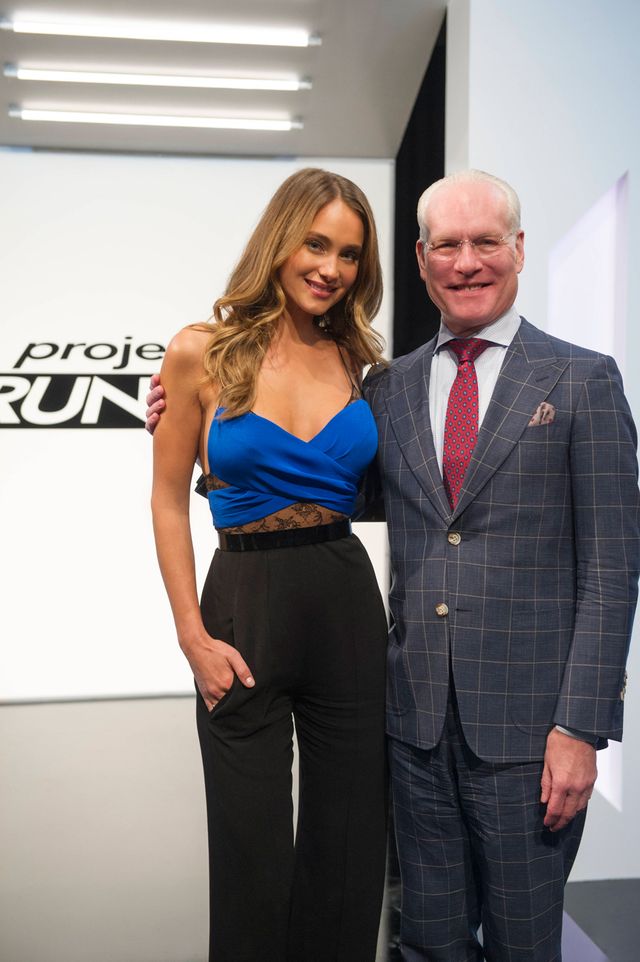 Guest judge Hannah Davis and Tim Gunn during the premier episode of Project Runway season 14.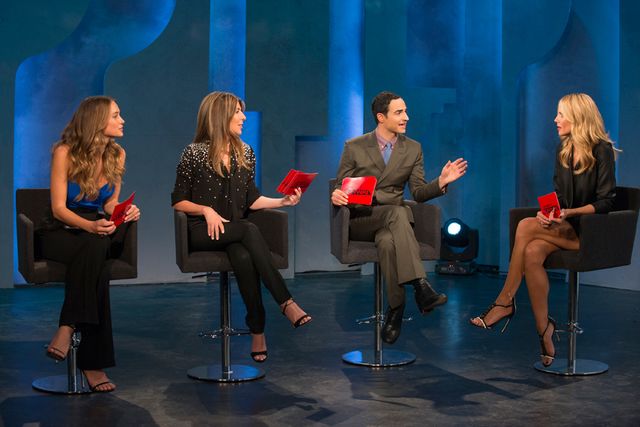 The judges were Heidi, Zac Posen, Nina Garcia, and as guest judge, Hannah Davis, a Sports Illustrated model who will be the host of Project Runway Junior when it debuts this fall.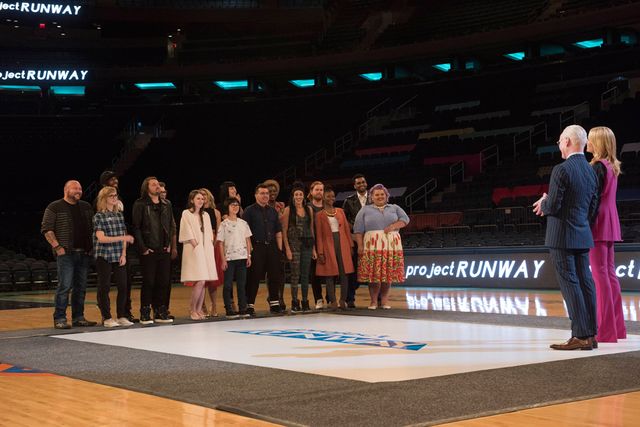 The designers during the first challenge.