ASG Honors San Diego Member with Spirit Award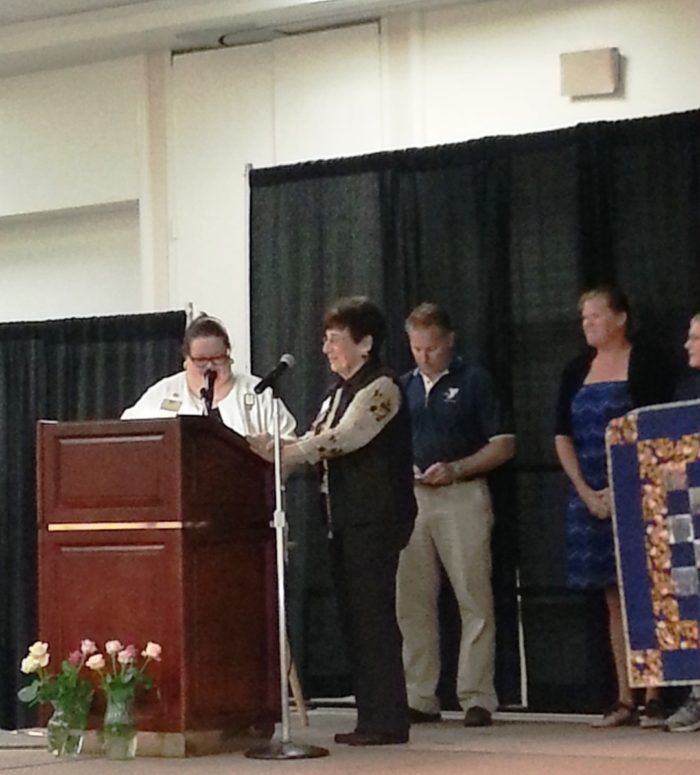 At the American Sewing Guild's Annual Conference, held in San Diego, California, July 16-21, local ASG member Rhoda Keegan was honored with the ASG's 2015 Spirit Award. The Spirit Award recognizes ASG members for exemplifying the ASG spirit of creative energy, enthusiasm, inspiration, commitment, and organizational pride and loyalty. Nominees are submitted by ASG members. Such members go above and beyond to further the ASG's mission.
For the past 15 years, Rhoda has been a volunteer with the Armed Services YMCA of San Diego's Operation Kid Comfort, which delivers hand-made quilts to children ages 0 to 17 that feature photo transfers of their parents who are deployed by the U.S. military. The quilts are intended to help the children cope with being separated from their deployed parent. Operation Kid Comfort has 14 locations around the United States and has delivered 6,000 quilts in 10 years, according to the ASG.
In December 2014, Rhoda spearheaded an initiative within her local ASG chapter to fulfil an emergency call for 60 quilts. They made all 60 quilts in just a few weeks.
Congratulations, Rhoda!