Project Runway, Season 14, Episode 3: "Shut up and Sew"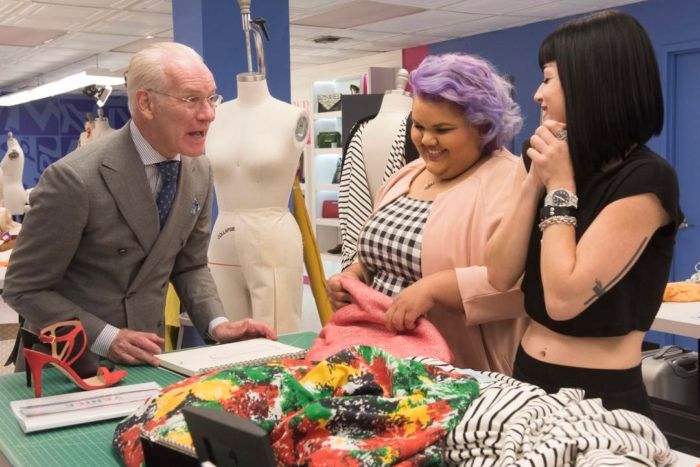 The episode opened with the designers onboard the Celebrity Summit, a cruise ship that caters to celebrities. The designers were greeted by mentor Tim Gunn and Celebrity Summit President and CEO Lisa Lutoff-Perlo. They gave the contestants an introduction to the cruise line's history and outlined the week's challenge.
Designers were shown 7 suitcases, each labeled with a different continent. Tim stirred a frenzy when he announced the suitcases would distributed among the 14 designers, who feared having to work in two-person partnerships. Tim pulled out a black bag and started calling out names.
The first pair was Gabrielle and Amanda. Though appearing excited at first, Amanda admitted in a one-on-one interview later that the results might be mixed. Amanda noted that Gabrielle is a straightforward designer, and she worried that working with her could either be a breeze or end up in a debate over artistic choices. The two chose the suitcase labeled South of France as their inspiration for the challenge.
Ashley was called next. She was partnered with Candice, who said that being paired with Ashley was a "sigh of relief." Both designers have similar aesthetics, which would bode well for them in the competition. They chose to create a design inspired by Venice.
The third pairing was Lindsey and Jake. They chose the suitcase labeled Hong Kong, where Jake had travelled several times.
Laurie was paired with Swapnil. They chose to be inspired by India, which prompted Tim to say, "that means your expectations will be even higher!"
When Kelly was called, she made it clear she did not want to be partnered with Edmond. Her reasoning was that he had immunity, and she would be the one on the chopping block if he did not give the challenge his full effort. Much to her relief, she was paired with Blake. They selected the Greek Isles suitcase.
Edmond and Hanmiao chose the Carribbean suitcase, leaving Joseph and Merline with St. Petersburg, Russia, for inspiration.
Once the designers got to work, Joseph, who did not want to be paired with Merline, mentioned his issue with her excessive movements. He attempted to tackle it in a joking way. His approach appeared to work on her. She later said she hated disappointing people and did not want to disappoint Joseph.
In the workroom, Tim dropped a bomb on the designers: They had only 8 hours to complete their designs.
The real drama kicked in during this episode, with at least two sets of partners finding themselves at odds. Jake and Lindsey hit a snag when Jake barely took Lindsey's suggestions into consideration and Lindsey felt treated in a condescending manner. Hanmiao and Edmond start arguing right off the bat. The opinionated Hanmiao stuck to her choices and constantly tried to fight Edmond's ideas. After Edmond told Hanmiao that she needed to vocalize what she wanted to do, Hanmiao told Edmond to "shut up."
The only rules were that the designs reflect the continent chosen and that they transition seamlessly between day and night.
On the runway, the models showed off the designs without flaws, as always. If you missed it, you can click here to watch the latest episode.
This week's judges were Heidi Klum, Zac Posen, Nina Garcia, and guest judge Tracee Ellis Ross, an actress with a website dedicated to all things fashion.
The winners: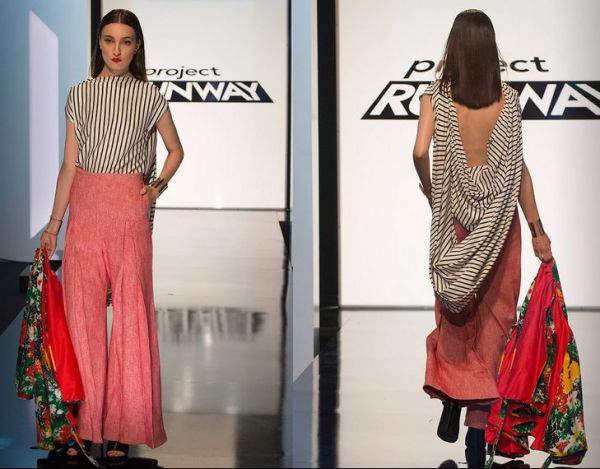 Candice and Ashley both won the challenge. Rather than choosing one winner in the pair, the judges made both partners winners because they split the work equally. Their three-piece, Venice-inspired design incorporated all three materials they found in their suitcase. Both women will recieve immunity in the next challenge. This is a first in Project Runway history.
The remaining top looks: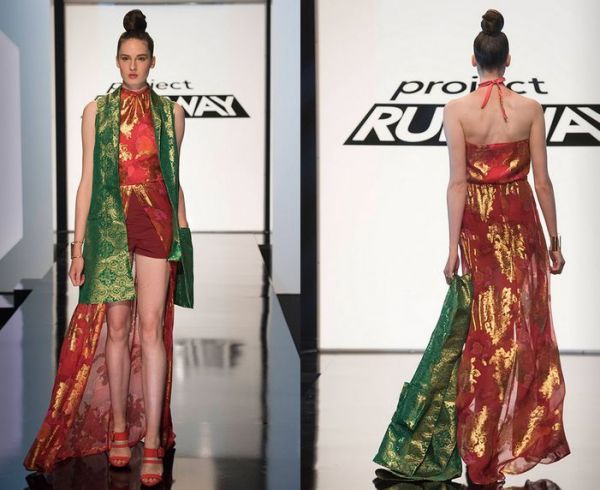 Although Jake and Lindsey had a lot of issues while making it, this high-low dress with green vest was enough to keep the pair safe. Inspired by Hong Kong, the two used very typical fabrics while making it an interesting design.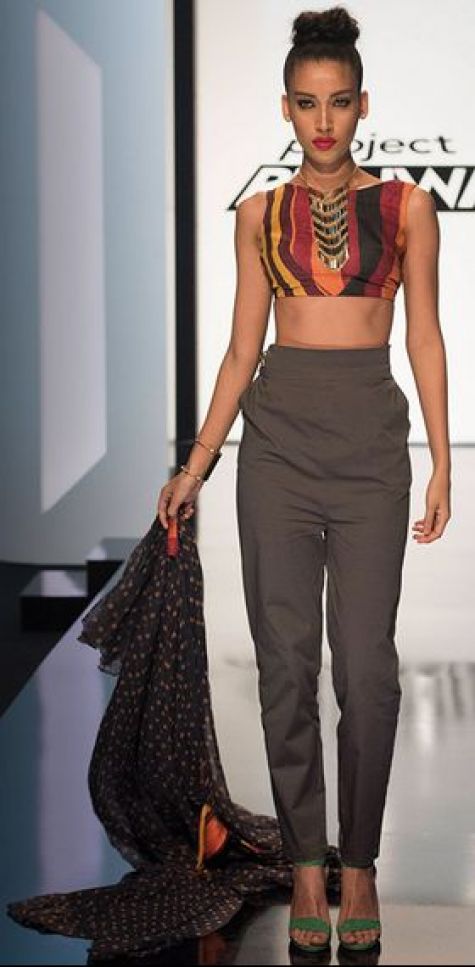 Laurie and Swapnil's Indian design perfectly captured the look they were going for. It was casual yet sophisticated, the perfect day-to-night outfit.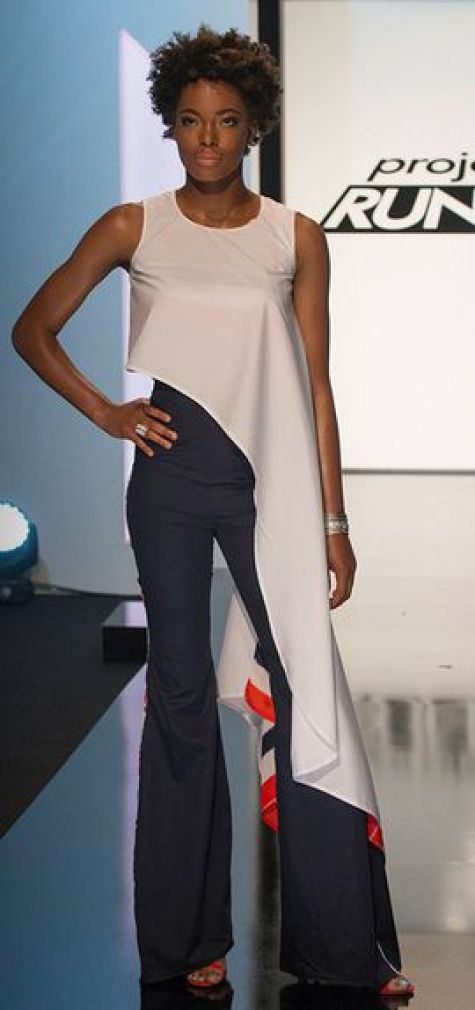 Gaby and Amanda's two-piece design was motivated by the South of France. They wanted their design to be sexy, and appropriate for everyday wear.
The loser: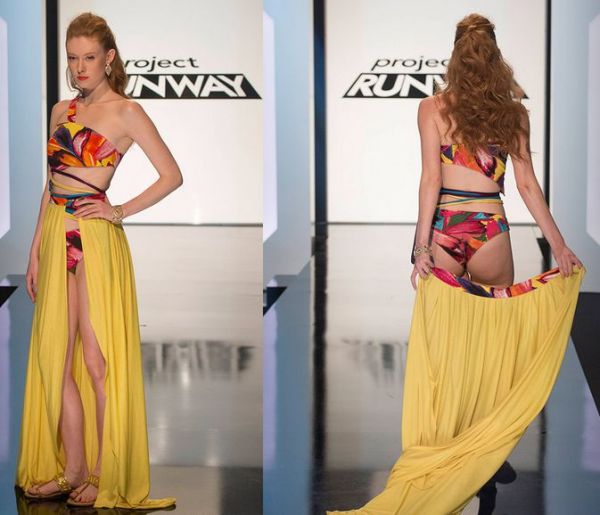 Luckily for Edmond, he had immunity. The collaboration between Hanmiao and Edmond was a mess, from the putrid mustard-yellow skirt to the jersey knit they used for the bathing suit. This was not the design that Hanmiao wanted, and she was eliminated because of it.
The remaining bottom look: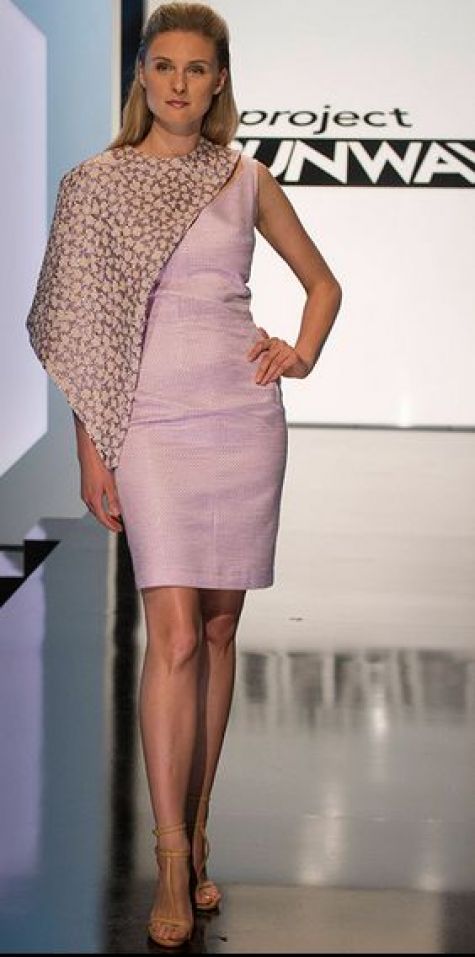 Merline and Joseph's St. Petersburg unique cape and dress design failed to impress the judges. In the workroom, Tim called their idea "matronly," and against his advice, they went through with the design anyway. Fortunately, both designers were safe.
The leftover: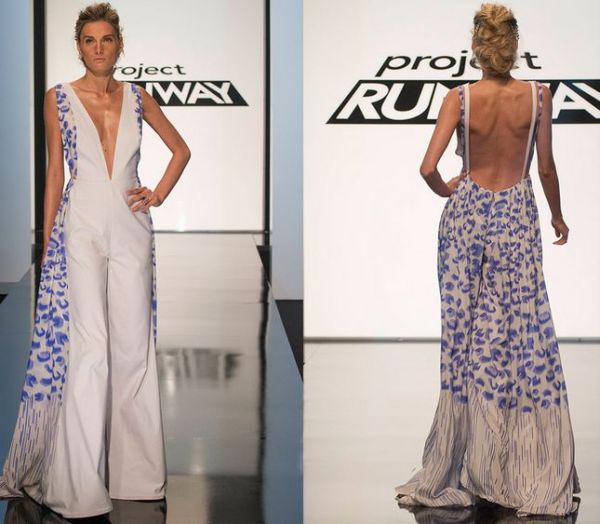 Blake and Kelly's design also did not make an impression on the judges. Inspired by the Greek Isles, this flowy pantsuit attempted to look like a "modern day Greek goddess." 
What were your thoughts on this week's episode? Did you think the challenge was interesting? Was the judging fair? Leave a comment below with your thoughts!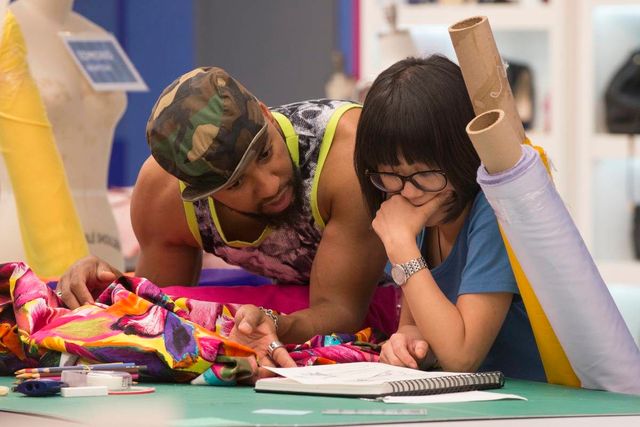 Edmond and Hanmiao have a tough time working out their differences.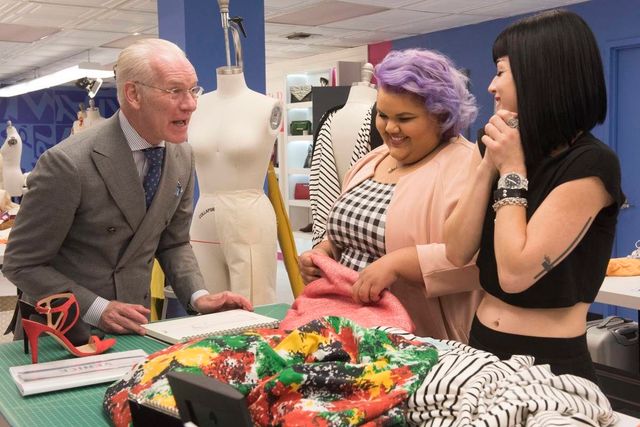 Tim Gunn meets with design team Ashley and Candice.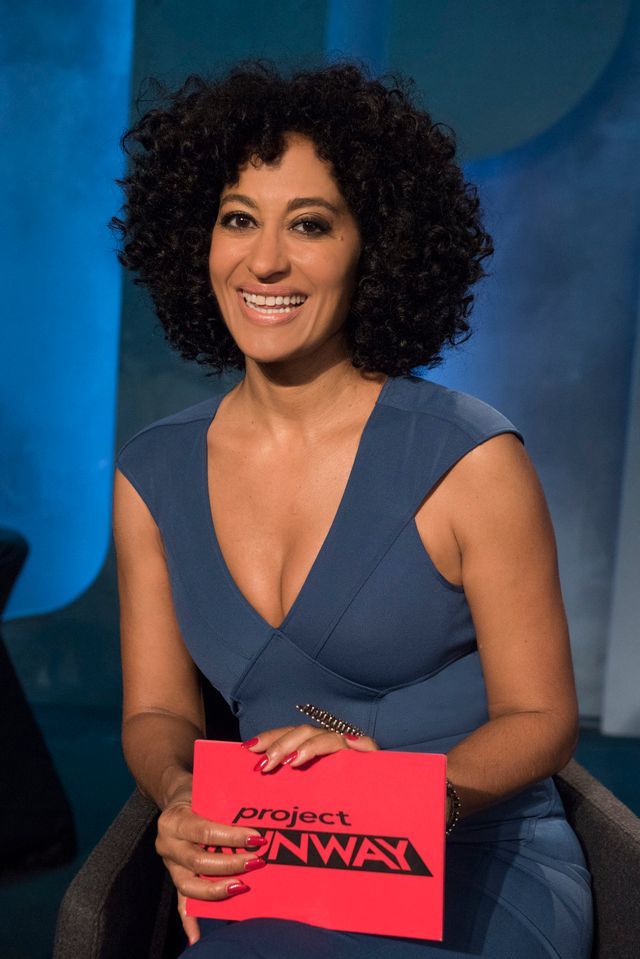 Guest judge Tracee Ellis Ross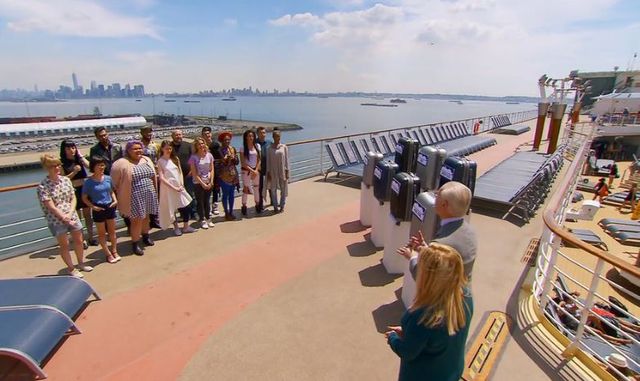 The 14 designers meet with Tim Gunn and CEO and President of Celebrity Summit Lisa Lutoff-Perlo onboard the Celebrity Summit cruise ship.