Project Runway, Season 14, Episode 7: Haute Tech Couture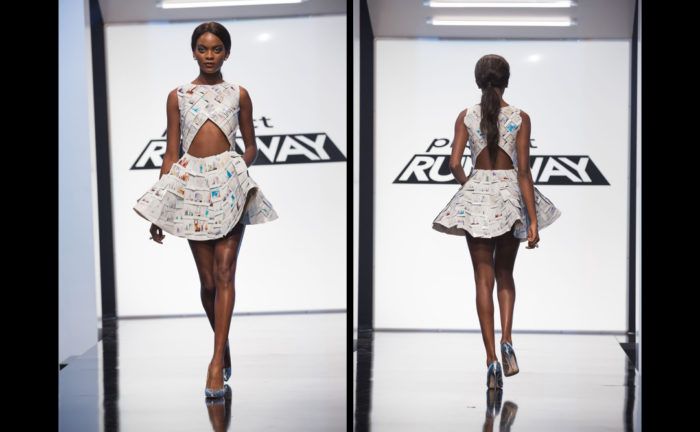 No Mood makes for a bad mood.
Week 7, and the designers have been to Mood Fabrics only once to choose their textiles. This week, they were again given an unconventional materials challenge: Merge the worlds of technology and fashion, by creating a high-fashion, modern, wearable look from outdated, discarded electronic parts.
I'm tired of watching the designers struggle with materials they haven't chosen and felt sorry for them having to Dumpster-dive to retrieve assorted cables, VHS tapes, floppy disks, CDs, Rolodexes, vinyl records, mouse pads, etc. etc. As unconventional materials go, these were actually not terrible. There was plenty to go around, in lots of textures and colors. However, fashion designers are at their best when allowed to choose their own materials (and to use actual textiles), so I feel these challenges hinder them from really showing us what they can do. It's fun to see them stretch themselves creatively, but unconventional materials rarely yield a truly wearable finished garment. For designers who seek a career in ready-to-wear, these crazy craft-project challenges are of limited utility.
So I was cranky about the challenge from the start. I'm happy to say that the designers were more enthusiastic, and most of them embraced the opportunity to play around with the materials they'd collected. Only Lindsey admitted on camera to being intimidated … was this the start of a "loser" edit, or a red herring?
The workroom
Thud! Crunch! Bang! The designers began "transforming" their materials in a noisy bout of demolition. We learned that Joseph was finally going to make something that's not mumsy; Ashley wanted to metamorphose a bunch of Polaroid photos; Swapnil planned to create an ethereal bridal look with white cables; and Kelly had too many ideas and couldn't focus.
Mentor Tim Gunn arrived to deliver a pep talk, and Jake asked to speak to him alone. It seems Jake had received news that his devoted dog had to be euthanized. Losing a beloved companion animal is difficult under any circumstances, but within the pressured environment of Project Runway, Jake was having very bad time of it. Tim and the other designers were supersympathetic, as Jake made the decision to leave the show to tend to his dog. This was a sad moment–no one wants to see a designer depart for this reason, but it was easy to understand why he did so. Jake, we're sorry for your loss.
Tim's critiques with the other designers proceeded with a lot of encouraging comments. Tim was pleased with the potential he saw and said he thought this might be one of the most successful unconventional materials challenges in the history of Project Runway. I'm not sure I agree entirely, but he was correct that most of the designers were really pushing themselves.
Swapnil, however, was futzing around making a punishing cable contraption as a bodice, and seemed to have lost direction. He confessed that he had been aiming to be safe, working to about 60 percent or 70 percent of his abilities, and that he would try to win in later weeks. Candice was shocked to hear this and pointed out that the judges would be able to see that he wasn't putting in the effort. One wonders how a creative person can deliberately set the goal of mediocrity, let alone achieve it. Swapnil's strategy was to step outside regularly for a smoke. He apparently gets grumpy without his cigarette breaks. Swapnil! You're smart, talented, and–under most circumstances–-driven: Don't risk your health and career by smoking. This has been a public service announcement.
Runway day
The designers are rushing headlong to the deadline, with Swapnil throwing together a painted muslin micromini at the last minute. Too much muslin-–everyone knows you can't get away with that. The rest of the designers have managed to create complete looks, and seem generally happy with what they're sending down the runway.
The guest judges joining Heidi, Zac, and Nina were actress Paula Patton and Marie Claire's editor-in-chief, Anne Fulenwider. Anne's bona fides are obvious, but Paula's are less so–although she happens to be gorgeous and is known for choosing some daring red-carpet outfits. She turned out to be a lovely judge and was very sweet and open-minded.
Here's how the judging went down:
The winner
Kelly's metal-covered minidress. Kelly really hit her stride this week, showing maturity and creativity in her approach to the challenge. She grabbed some aluminum duct tubing right away and began experimenting with it, eventually deciding to cut it into small pieces and glue those pieces to her garment. The effect was armorlike but pretty. The judges found it superchic, brave and bold, and a bit like a "futuristic tin-man." I was amused when, during the workroom critique, Tim suggested Kelly cut paillettes from the metal and attach them. Kelly responded enthusiastically to this idea, then confessed to the camera that she had no idea what a paillette was. Ignorance is bliss, I guess, and it certainly didn't prevent her from creating a great-looking dress.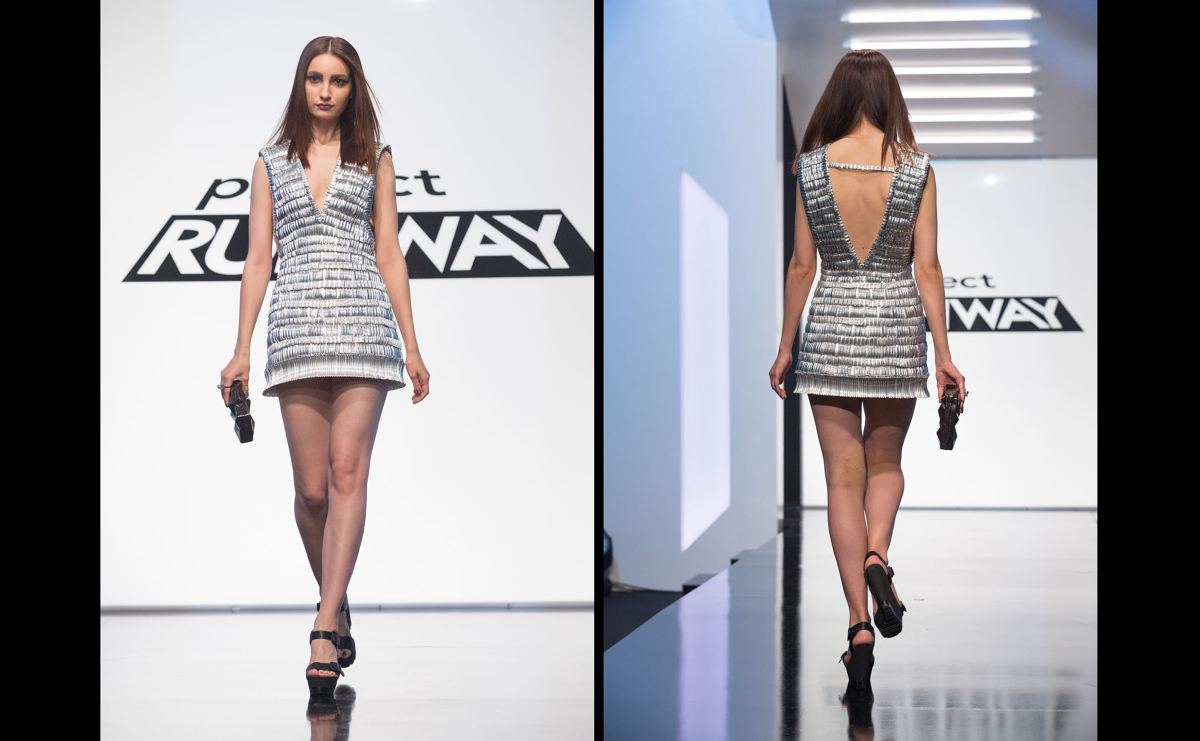 Kelly's metal-covered minidress.
The other top two
Edmond's black mouse pad dress with fringed epaulettes and a lace-up back. I see how this made an impact on the runway, but it didn't appeal to me. From workroom footage, I could tell it looked craft-glued, and I thought the fringed shoulders were overkill. However, Nina liked it and found it futuristic and current. Heidi called it sexy and sophisticated, and Paula said she'd wear it (I'll bet she would, but she could do better). Anne praised it as something that could be in the page of Marie Claire as is. I didn't mind it being in the top three, but was glad it didn't win.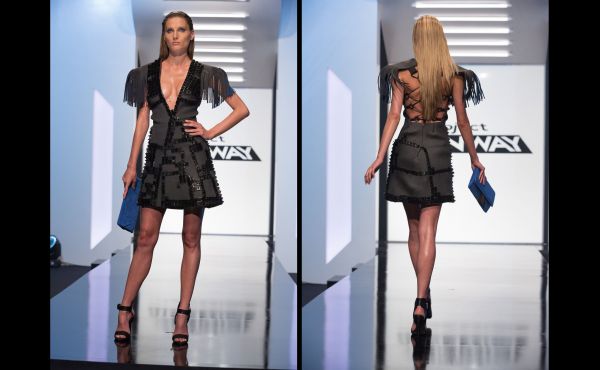 Edmond's black mouse pad dress with fringed epaulettes and a lace-up back.
Ashley's Polaroid-photo dress. She found a box of Polaroids, and pierced them to blend their chemicals. It wasn't clear to me exactly what she was doing, but she ended up with a wonderful set of images, and then joined rows of photos into strips to make a textile. This was made into a smart little dress with a high neckline and front and back cutouts. The judges loved it, and Zac supplied some much-needed words of praise about Ashley's talent, bringing her to tears. Ashley clearly has vision as a designer, and as far as I can tell is the only designer this season to really consider a wide range of customers. She's tapping into a vein that can be profitable for her in the future.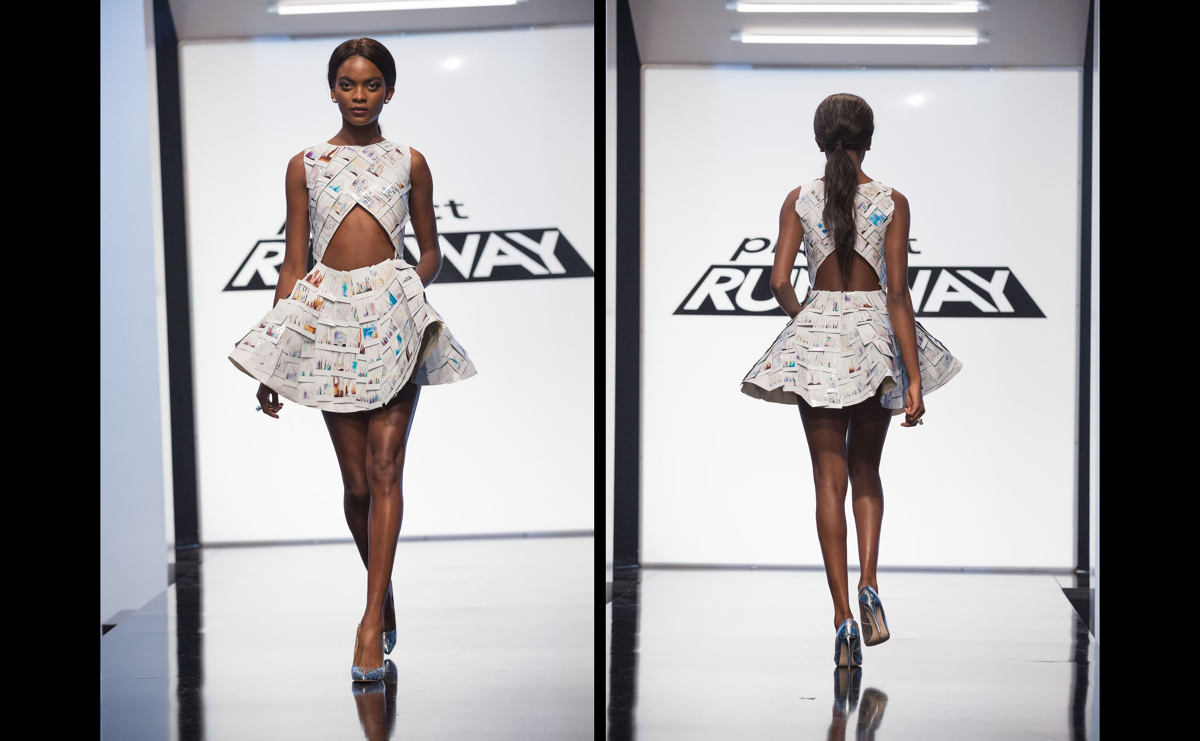 Ashley's Polaroid-photo dress.
The loser
Joseph strived to avoid the dreaded "m" word (matronly), by sewing a short, fitted dress with a low back and skinny wire straps. The dress wasn't bad, but the judges correctly deemed it conventional, uninspired, and not very creative. While there were uglier dresses on the runway (two of which were in the safe group), this one lacked inventiveness and didn't have the technical polish that Joseph has shown in weeks past. I'm sorry to see him go, but I agree.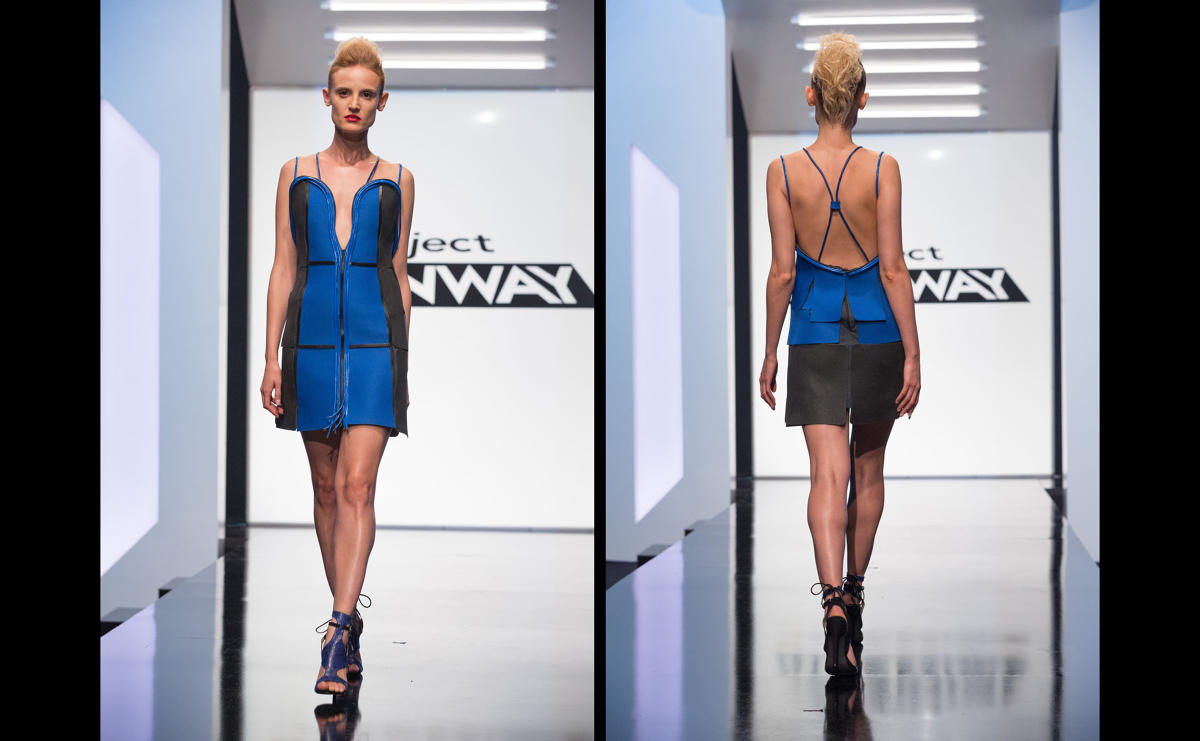 Joseph's mouse pad scuba dress.
The other bottom two
"Frumpy-dumpy and boring" was how Heidi described this. To my eye, the dress is inoffensive and sort of pretty in a bland way. The shape isn't terrible, and the construction looks good. On another day, it might have replaced Laurie's dress (see below) in the "safe" middle, but I think Lindsey's consistently boring garments have typecast her in the judges' eyes.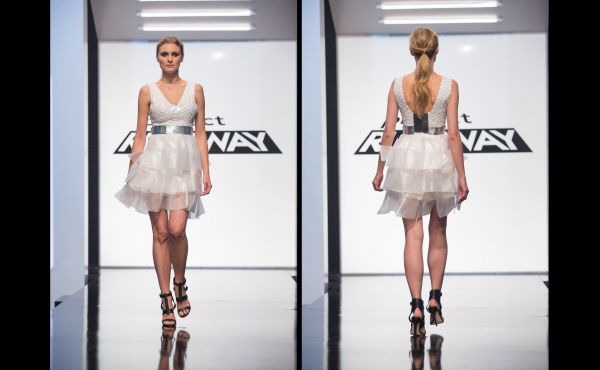 Lindsey's run-of-the-mill white dress with computer-key mosaic bodice and plastic-bag skirt.
Heidi nailed it perfectly when she likened this look to the mess of wires you find behind a TV set. "Ethereal" and "bridal" are the last adjectives I'd use for this–although perhaps this is the natural accompaniment to the bridal-harness lingerie Swapnil presented last week. I joke, but I do see sculptural potential here–potential that was almost completely unrealized. Like Zac Posen, I found this a "huge disappointment." Candice was right when she said the judges would know right away that Swapnil wasn't trying.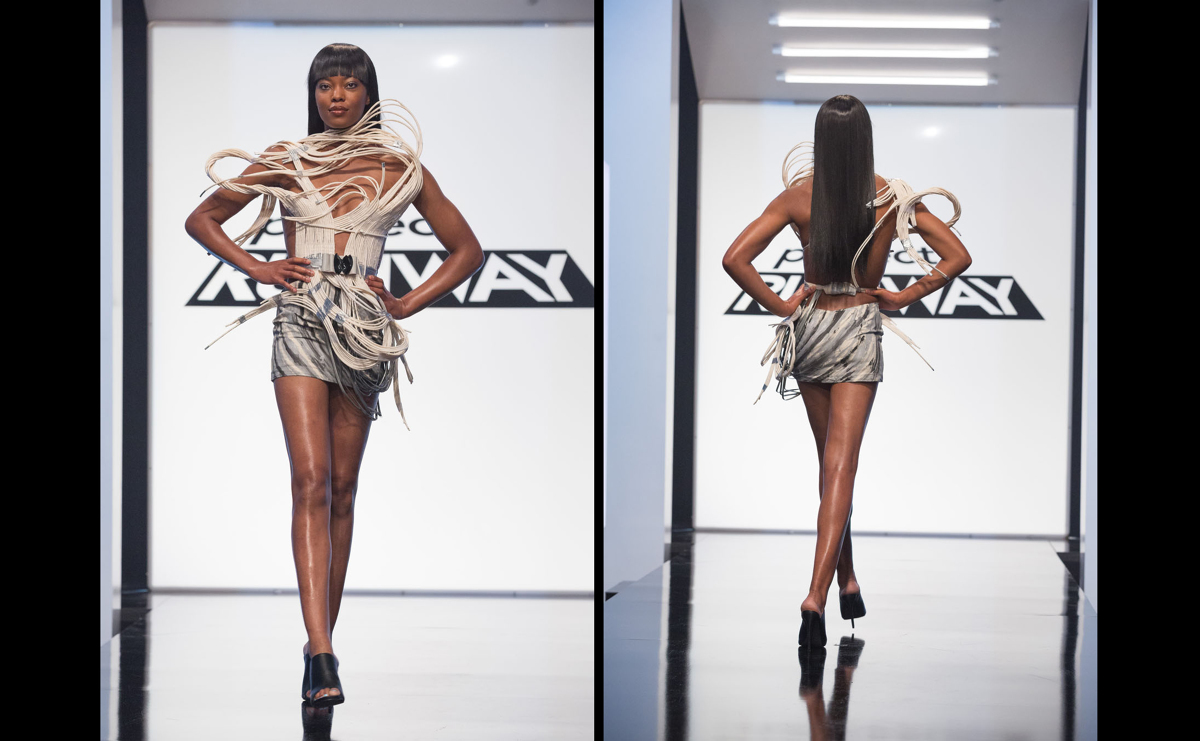 Swapnil's inexplicable tangle of white cables over a minuscule skirt.
 The safe three
This has Candice written all over it: figure-hugging, edgy, mostly black with a graphic twist. It's a striking look, but lacks some of the inventiveness of the top three designs. Candice sticks to her brand, though, and that's important. I think she'll hang around for a good while in this competition.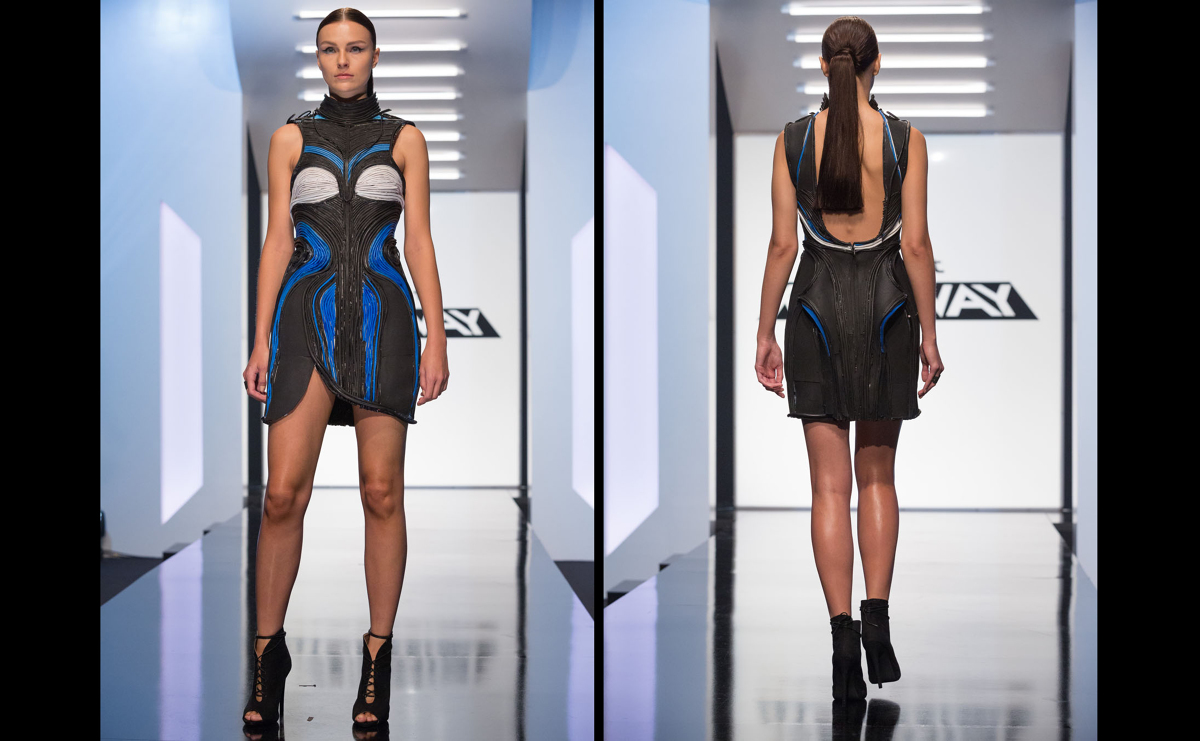 Candice's wire-wrapped sheath.
I'm not sure what's going on with this look. There's something costumey about it in its lack of finish, unflattering silhouette, and haphazard design elements. This could easily have been in the bottom three if Lindsey had a history of designing more exciting looks. Laurie is riding along on the basis of the cute outfits she made in earlier weeks. That won't last forever, so she needs to step it up.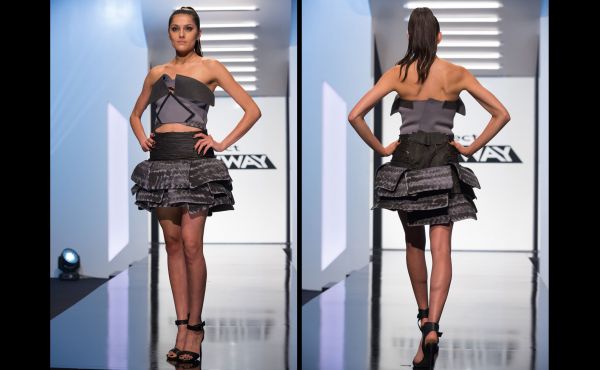 Laurie's mousepad bustier and flounce skirt.
Merline's black cable raven-wing dress. Eek! I found this very, very ugly, unwearable, and messily made and would have placed it in the bottom three, if there hadn't been three worse pieces. Merline was lucky to have immunity, and she knew it. That said, I kind of loved that, because she had immunity, she took the opportunity to try something extreme and perhaps unpleasing. This dress could have been amazing if executed better. It perpetuates the notion of Merline as an architectural designer who doesn't adhere to trends, and again, this may strengthen her position among the top contestants this season.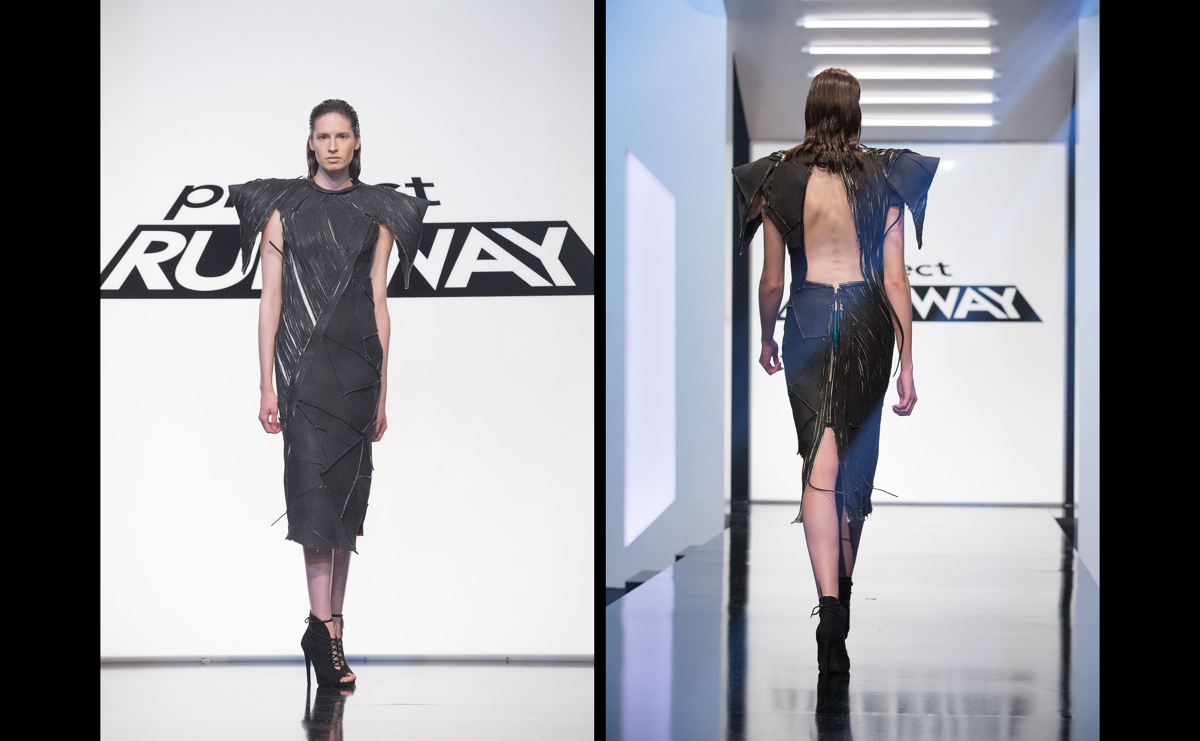 Merline's black-cable, raven-wing dress.
What did you think? Were the judges right? And how to you feel about all these challenges in which the designers don't get to choose their own fabrics? Are the producers drawing out untapped creativity, or forcing the designers into the battle of the glue-guns?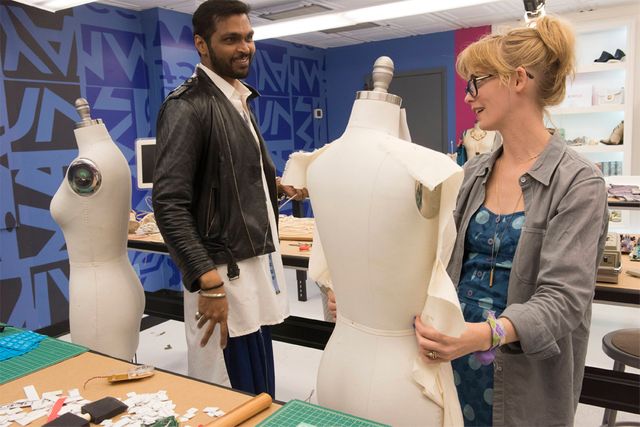 Swapnil and Lindsey discuss their designs in the workroom.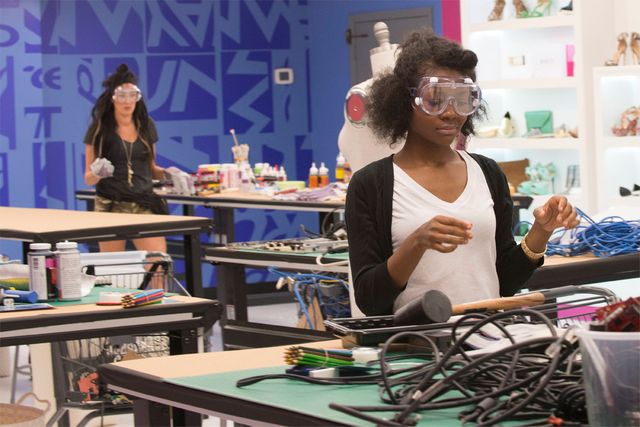 Kelly and Laurie in the Project Runway workroom, preparing unconventional materials for the Haute Tech Couture challenge.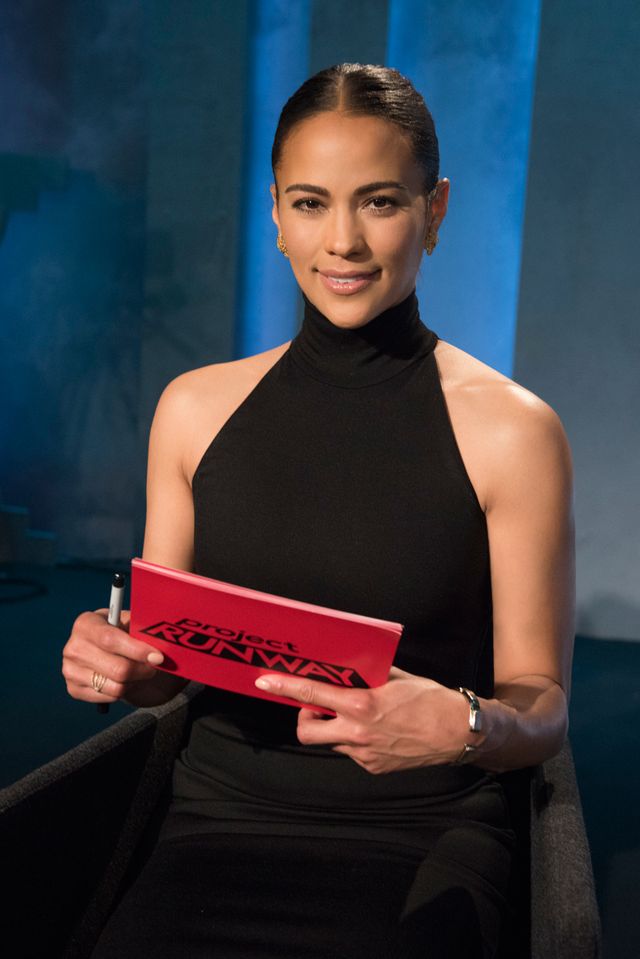 Guest judge, actress Paula Patton.
The designers get set to grab old electronic junk from Dumpsters. Wires, floppy disks, Polaroid film, and more went into the looks for the Haute Tech Couture challenge.