Project Runway, Season 14, Episode 8: Broadway or Bust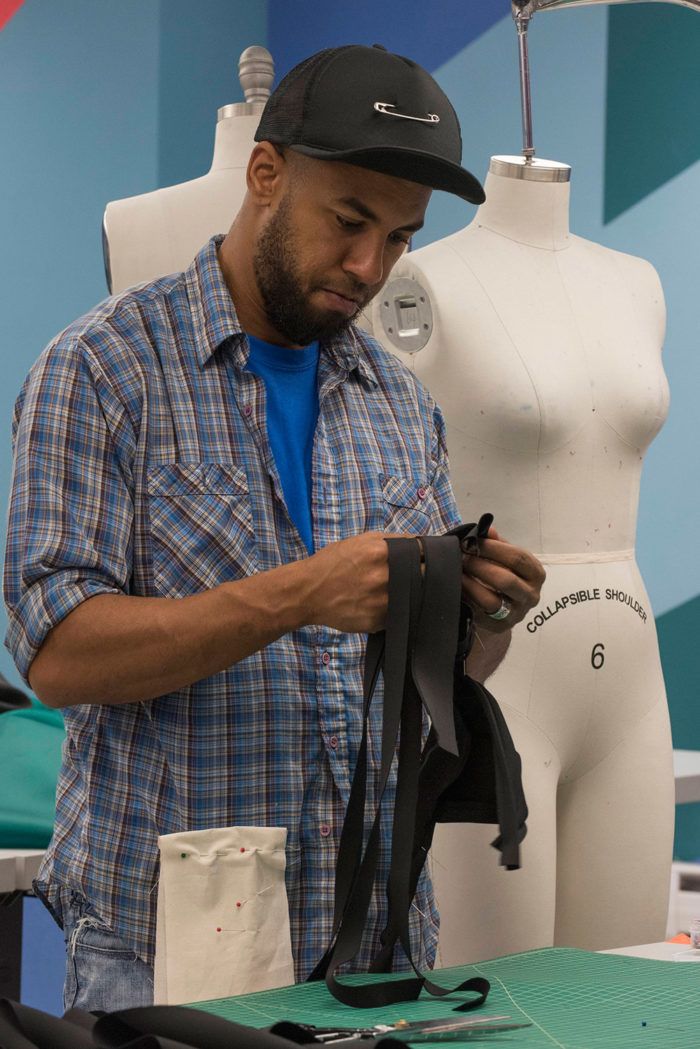 This week the designers were given a triple-treat: tickets to the Broadway musical "Finding Neverland"; a trip to Mood with $250 to purchase their own fabric; and the chance to design anything they wanted, inspired by the show. (A quadruple-treat if you add the opportunity to meet the show's star, Matthew Morrison.) Predictably, they were excited, creatively stimulated, and ambitious in their work. For the viewers, it was a relief to watch them really stretch their wings…well, some of them.
As has happened week after week, the episode began with a designer confessing to paranoia about his or her place on the show. Lindsey acknowledged that she was in trouble, having been in the bottom for several weeks. When the challenge was announced, she was thrilled, feeling that this was her chance to come back from the brink and show what she could do. Swapnil, meanwhile, finally faced the fact that he was doing too much smoking and not enough designing, and vowed to give 100 percent to this challenge.
Ashley was panicked because the challenge had so few limitations. This may sound like a strange complaint, especially after the creativity-strangling challenges the contestants have faced so far, but I think many artists would agree that design is, fundamentally, finding a solution to a problem. If the problem itself isn't obvious, then it's difficult to find a solution. When she sees the problem clearly (lingerie for a plus-size woman; fabricating a textile from photographs, etc.), Ashley is a champ. She has a good eye for color, understands how to construct a garment, knows what women like to wear and what a garment should do for them. Sometimes I think the very qualities that cause her to shut down in a particular challenge are the same ones that will serve her well as a designer in the real world.
Ashley Nell Tipton works on her design for this season's eighth challenge.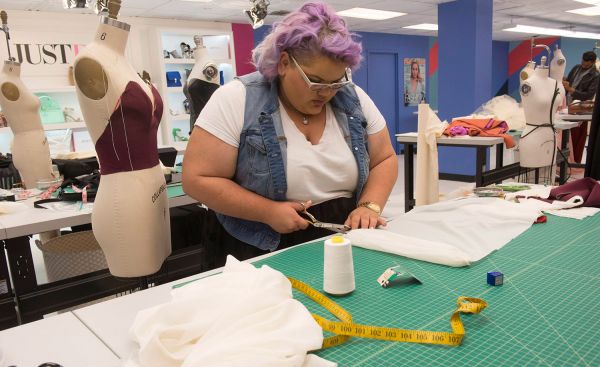 This week's soundbite from Kelly, who had never been to a live musical before: "I loved it. It's like the movies but in 3D." I have grown very fond of Kelly. She seems to have a grip on her design process, an open mind, and genuine, deep-down creativity that's not hemmed in by what other people expect.
Tim paid an early, foreboding, visit to the workroom, to warn the designers that "someone is going to go home tonight." I choose to believe the producers prompted this useless bit of anxiety-mongering, because Tim himself doesn't seem to need to overstate the obvious. When he returned for his individual critiques, he was his usual helpful and perceptive self. The designers were working hard, listening to his advice, and really striving to do wonderful things. This didn't prevent many of them from being very behind schedule when the morning of runway day dawned…
Runway Day
In addition to the regular judges, Zac Posen, Nina Garcia, and Heidi Klum, the designers' work was assessed by guest judge Coco Rocha, a model who has a long-standing professional relationship with Zac Posen, and a thorough knowledge of the fashion industry.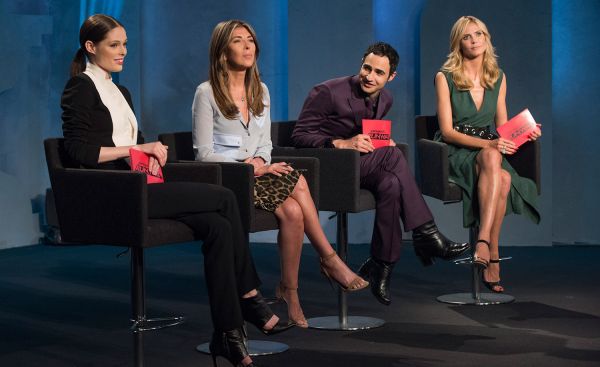 There was plenty of variety on the runway this week, and finally an opportunity to see the designers' aesthetics. I wish this had been a two-day challenge, though: all the looks would have benefited from additional time.
The winner
Candice's "own your dark side" black leather, taffeta and net corset-top and leggings. This was a pretty amazing creation that truly revealed the Candice style. Tim saw a 20th-century version of a 18th-century figure in this look, and the judges adored it, finding it romantic, editorial, dreamy, dramatic, sexy, modern, and spectacular. I concur–this looked like a winner to me, too.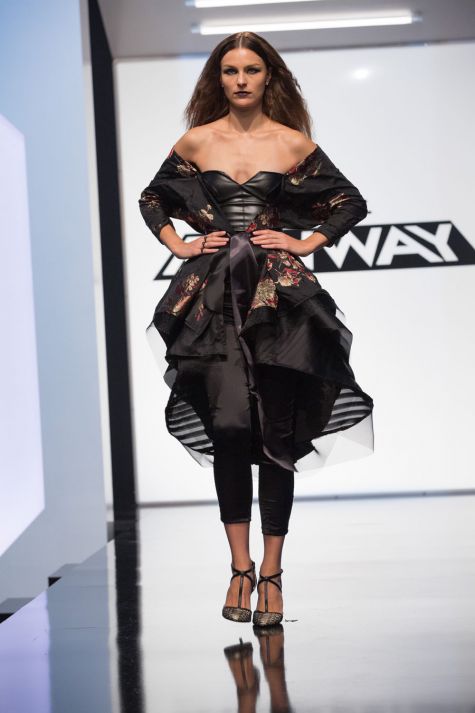 The remaining top two
Kelly created a black lace floor-length vest with teal sequins, over a black minidress, paired with long black gloves. This look certainly had impact on the runway, but as Nina pointed out, it was really all about the fabric. Kelly chose a showstopping textile, and used it cleverly by placing the scalloped edges vertically at center front and back. Zac praised her for taking chances, but Coco thought it was a little costumey. I thought it was a successful answer to the challenge–Kelly's inspiration came from vintage photos of theater-goers dressed to the nines. I did, however, question her decision to start her look by making the gloves (unless the episode was edited to put the glove-making before the dress design). The gloves would be the last thing I'd do–you can't send a model down the runway in only a pair of gloves! However, Kelly had immunity this week, so she could do just about anything she wanted.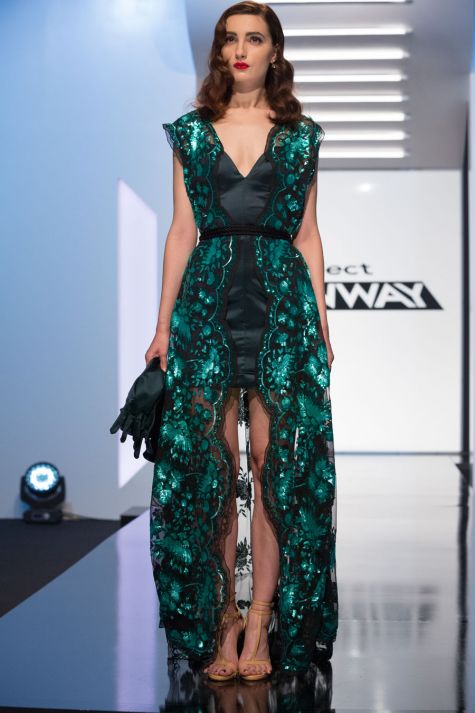 Edmond's blue-purple puffy "cloud" vest, belted over a black bra-top and superskinny high-waisted black pants. Every season some designer makes pants and claims it's the first time he or she has ever done so. Can this possibly be? I don't know whether Edmond attended design school–perhaps not, but how can a designer not have made a pair of pants before?
The judges liked the black top and pants, but were of mixed opinions about the puffy vest. Zac called it a muppet, and Coco really disliked it. Nina supported this piece as the source of drama. Heidi was fixated on the sexy black pieces and didn't care about the "purple haze."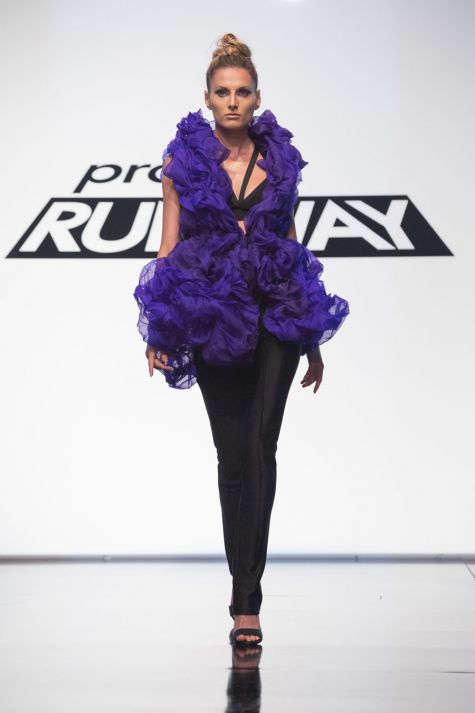 The loser
Lindsey's "boring and plain" green dress. This truly was a big old nothing–enough so that I couldn't even pull a decent set of quotations from the judges. Well, Nina said that green is the color of hope, but that this was hopeless. At one point in the episode, Lindsay claimed she wanted this dress to be "buoyant and fun and magical." Apparently no one could believe in this latter-day Tinkerbell.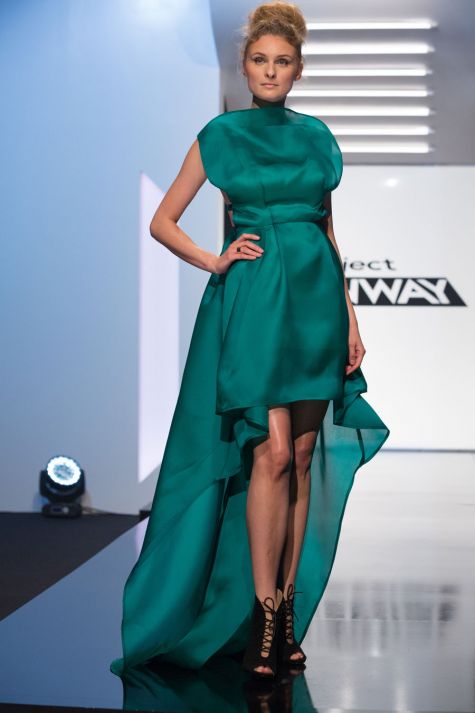 The remaining bottom two
Speaking of Tinkerbell, or rather, "Tinkerhell," as Nina called it, Laurie's look also attempted to reference J.M. Barrie's naughty fairy. Laurie's version eschewed the green color we associate with Tinkerbell (thank you, Walt Disney) for an oatmeal-colored tweed with a bit of metallic yarn, and a fabulous silver lace. (Full disclosure: I have a shower curtain made of the same metallic tweed, so I didn't mind the textile choice.) What Laurie made with these fabrics was pretty shocking, though: a droopy, bare-all tube top from the lace; a pair of skater-skirt shorts (I don't know what else to call this garment: a bifurcated circle skirt?), this time so brief that the model's derriere wasn't even covered; and a shapeless, over-complicated jacket. I could only be grateful for the jacket, because the rest was so tragic. The model earned her pay again this week, and is probably cursing her agent for landing her the Project Runway gig. I wouldn't have been surprised or unhappy if Laurie had been given the auf this week. I respect the judges' decision to save "bad and messy" over "boring and plain," but almost thought Lindsey should have been rewarded for at least making a wearable garment.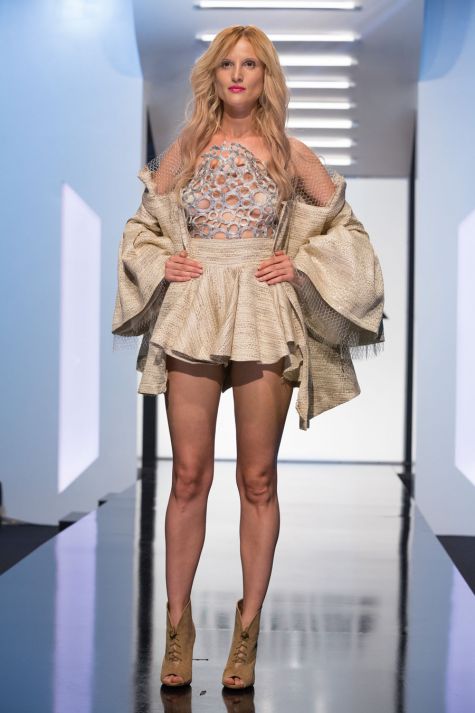 Ashley's purple swirly gown with a draped sweetheart bodice. Precisely what you'd expect to result from Ashley's sense of being unanchored: a dress that has a lot of features, none of them resolved. Ashley was inspired by a scene in the play in which a character twirled in a "tornado of glitter," and wanted to capture that movement and beauty. The judges deemed her effort sad, shocking, and a hot mess, but sent her to the green room, safe for another week.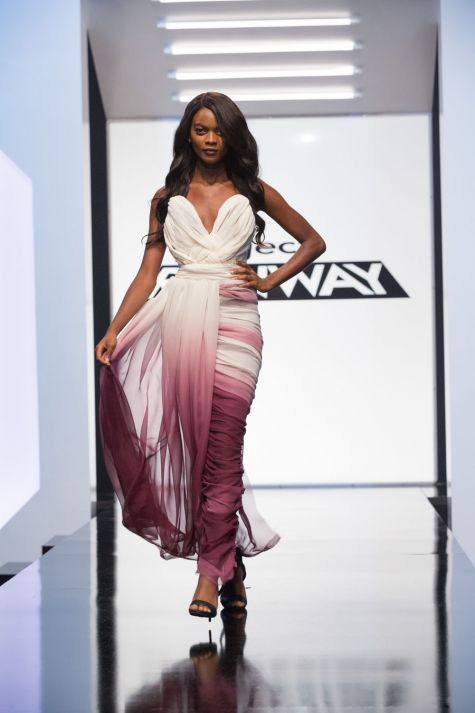 The safe designers
Swapnil's glen plaid twist over a chiffon skirt. Swapnil was taken aback at not making the top three with this look, an attitude that struck me as a little arrogant and entitled. He made more of an effort this week, certainly, but that doesn't automatically guarantee anyone the win. However, I happen to agree that was one of the more arresting garments on the runway, and felt Swapnil should have been in the top three, rather than Kelly. The idea of combining a menswear fabric with such a soft, feminine textile was interesting and, for the most part, successfully executed. I loved the big, twisted petals, or ears, or whatever they are, though the straight bodice hem seemed a little awkward. I'm not sure the styling was all it could have been, either. I'd have liked either a much closer-to-the-head hairstyle or a fuller Afro; and a jewel or two wouldn't have gone amiss. Still, it was nice to see a proper gown rather than a harness or cage, and the silhouette displayed a pleasing drama.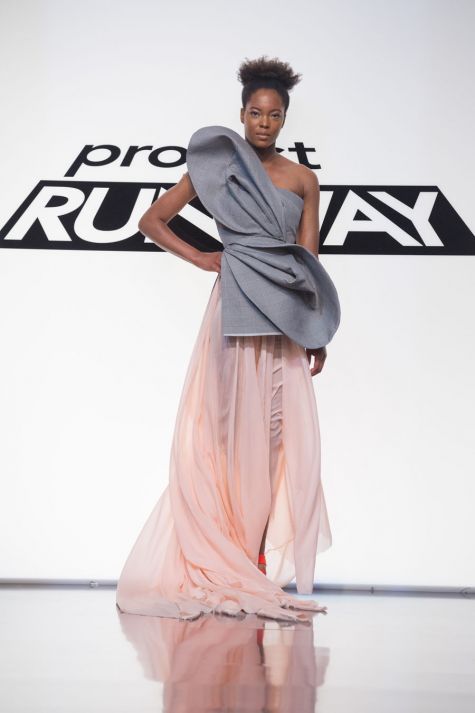 Merline's black lace gown with…something on the shoulders. Armor? I don't know what those are, but I didn't think they did anything for the dress. Merline's lace fabric was exquisite, and the dress had a dark sophistication, but it was let down by those odd helmet-like excrescences. On the other hand, without them, the piece is completely standard, much the way Kelly's is: nice fabric deployed very safely. So I guess Merline belonged in the "safe" group…and Kelly probably did, too.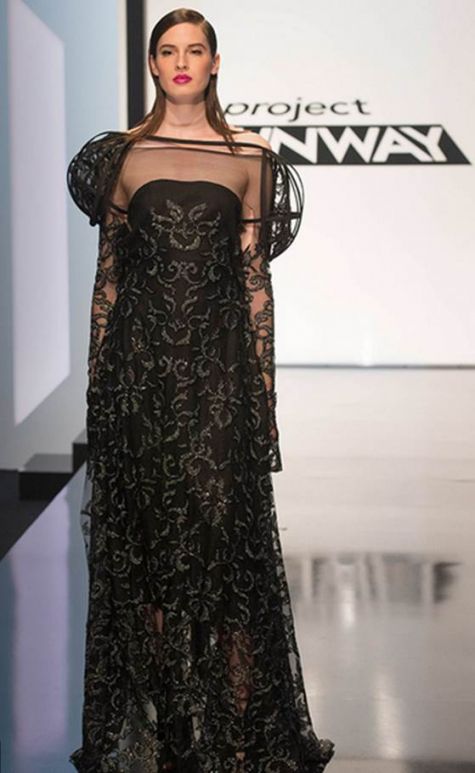 Did you notice that the judges never really asked or took into account how the finished looks were "inspired" by "Finding Neverland"? Was that fair? Did you agree with their selection this week? Do you have a favorite designer, and if so, what do you think his or her changes are of making it to fashion week?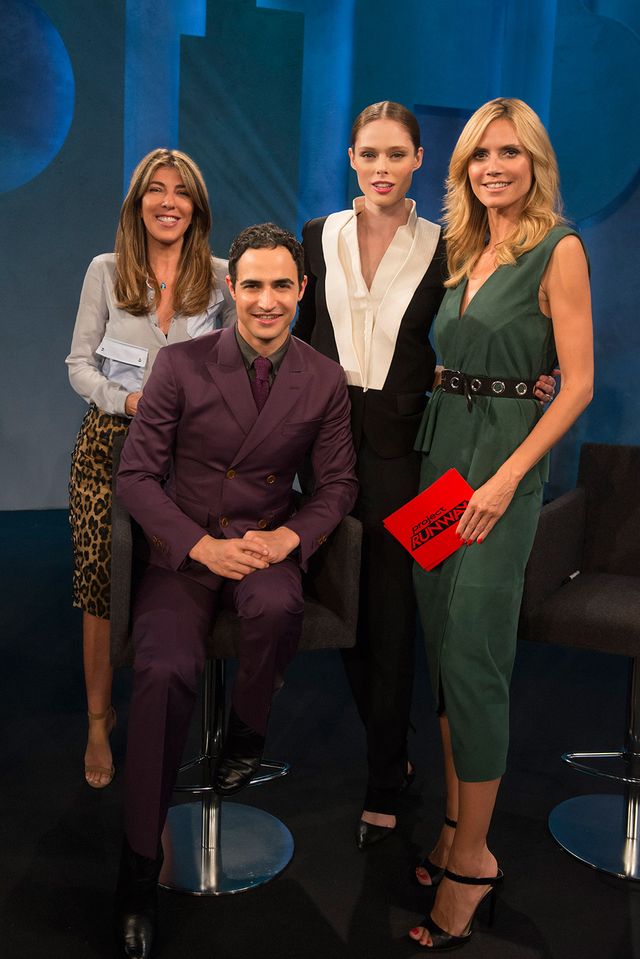 (Left to Right) Guest judge Coco Rocha, Nina Garcia, Zac Posen and Heidi Klum judge the eighth challenge of Project Runway season 14.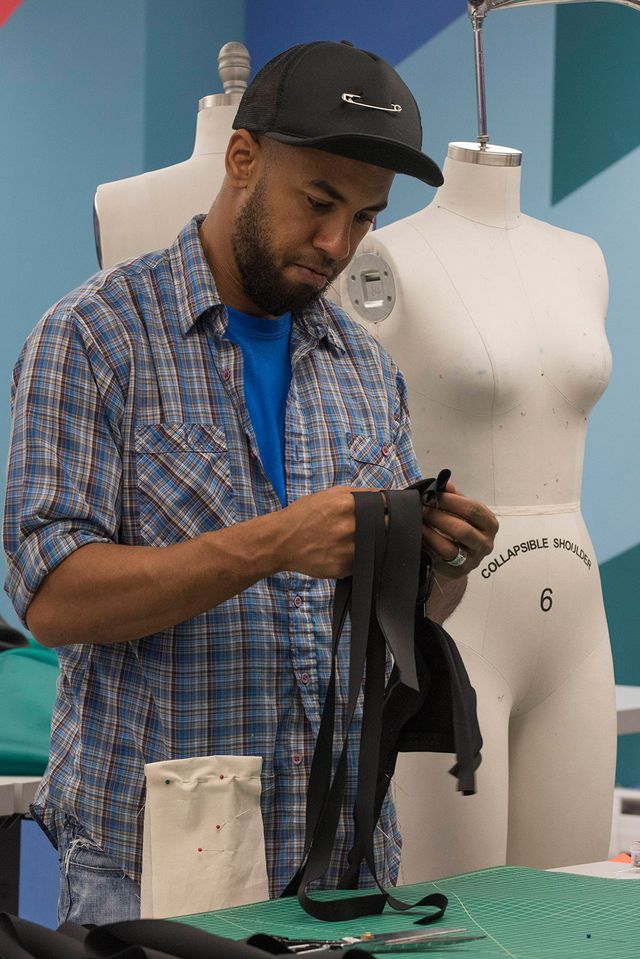 Edmond Newton working on his design in the Project Runway workroom.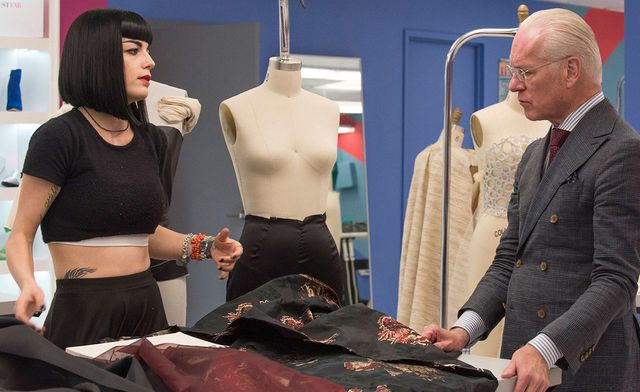 Candice Cuoco and Tim Gunn discuss what ended up being the winning look.