Cures for Puckered Stitches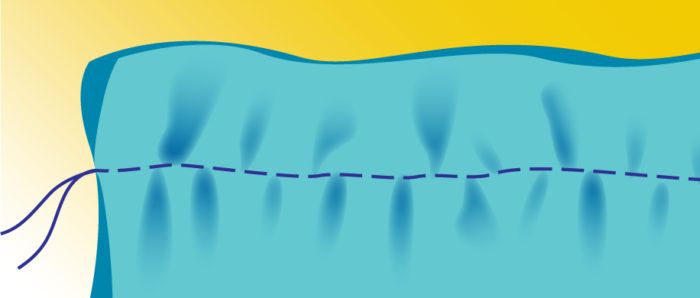 Q: What is the cause of puckered stitches? What is the best way to avoid a rippled seam?
-Abbie Bennet, via email
A: Judith Neukam, Threads' editor-at-large, replies:
There are multiple causes for puckered stitches, many of them related to thread tension. Some or all of them may come into play in your sewing. When you try to eliminate puckers along a seam, you may need to experiment with one adjustment at a time to see which one, or which combination, gives you the best results.
Thread is manufactured under tension and it is slightly stretched on a spool. Polyester thread stretches more than cotton. When wound onto a bobbin, the thread accrues additional tension. The sewing machine applies even more tension to the thread during stitching.
After a seam is sewn, the thread relaxes, drawing up the fabric and creating puckers. When you press the seam, the iron's heat can contract the thread further. In each of these scenarios, the thread ends up tight and incrementally too short for the distance it covers. To offset this effect, try reducing the tension on the upper thread, releasing it more easily into each stitch. If top tension adjustments are not enough, try changing the bobbin tension incrementally. Minute adjustments make a difference. If polyester thread isn't working for your project, try mercerized cotton thread, which doesn't stretch.
Besides tension, the combination of stitch choice and length, as well as fabric weight and weave, also contribute to puckering. A stitch that's too short on a thick fabric compresses the fabric, and can produce dimples.
A straight stitch may pucker some fabrics, such as stretch wovens or knits with spandex. Switching to a very narrow zigzag may solve the problem. The structure of a zigzag stitch means it can grow longer and narrower, or shorter and wider. It allows the line of thread to extend when the seam is stretched lengthwise.
An approach often recommended to cure ripples in fine, sheer, and tightly woven fabrics, especially synthetics, is taut sewing. Grip the fabric in front of and behind the needle and tug lightly so that it lies smooth, and let the feed dogs advance it for a few inches. Stop with the needle down, release your hold, then begin again. Be careful not to stretch the fabric as you sew.
Watch your speed when you're sewing. Faster sewing may cause more puckers than sewing at a moderate speed. The feed dogs pull the fabric through quickly and create greater tension in the threads as the machine moves along.
Finally, it is always helpful to test seams on fabric scraps and make adjustments before sewing any project.
This post was originally featured in the Q&A department of Threads #182 (December 2015/January 2016).
---
Have a Question? Send it to us and we'll find an expert's answer.
via mail: Threads Q&A, PO Box 5506, Newtown, CT 06470-5506
via email: ThreadsQ&[email protected]
via the Contact the staff page to submit your entry