More on Vicki Vasilopoulos, Creator of "Men of the Cloth"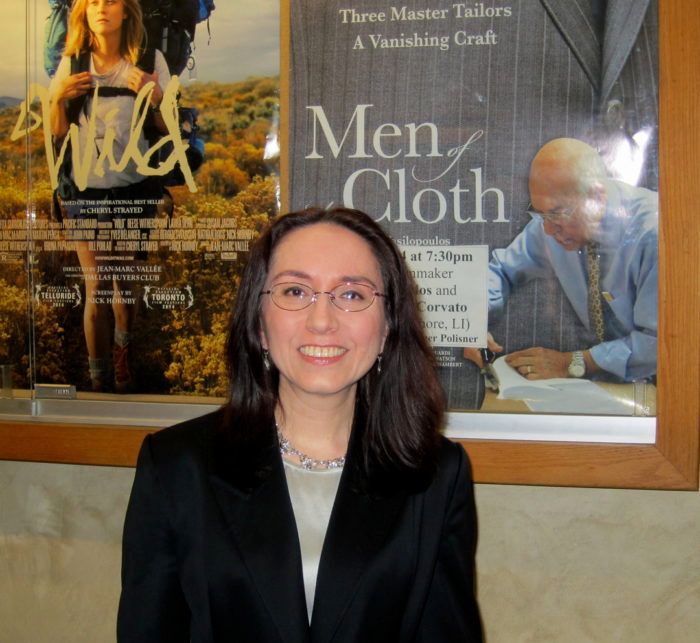 In Threads #182 (December 2015/January 2016), Kenneth D. King interviewed documentary filmmaker Vicki Vasilopoulos, whose 11-year project, Men of the Cloth, follows the professional lives of four master tailors in the United States and Italy. We could only show a portion of the great interview between Kenneth and Vicki, so we're running the complete interview on ThreadsMagazine.com.
For more information about the film and to purchase a DVD, visit MenOfTheClothFilm.com.
Kenneth D. King (KK): What was your profession before becoming a filmmaker?
Vicki Vasilopoulos (VV): I was a fashion editor at Daily News Record (now a part of Women's Wear Daily) the men's news magazine, where I styled and produced photo layouts, reviewed designer runway shows, and wrote fashion feature stories. I also contributed to Fashion Wire Daily (an international newswire service) and I've had features on style and the arts published in The New York Times, Esquire, Time Out New York, and New Jersey Monthly. I have a B.A. in Journalism from NYU and I studied at the Paris Fashion Institute in Paris, France, and at FIT in New York City.
KK: Why did you choose to transition into a different career?
VV: I've always been an avid movie fan and had started taking filmmaking classes and going to seminars about 15 years ago while I was a men's fashion editor. The disappearing craft of hand-tailoring is what inspired me to make a documentary film. Filmmaking is a craft and very much a collaborative art form. It feels like a natural career transition for me because I've been able to combine both my writing and storytelling skills from my journalism background, as well as my production skills and experience working with photographers, on set to create beautiful images. Like the master tailors in my film, I feel like I've found my true calling in life!
KK: Are garment-making and fashion areas of special interest to you as a filmmaker?
VV: I love fashion, sewing, and handmade things–both the personalities in those fields and the actual construction and creative aspects. I have a film in production now about a nonprofit organization that helps needy children in the developing world. It's called Little Dresses for Africa.
KK: Was Men of the Cloth your first film?
VV: Yes, it's my first film. It took 11 years to make. I thought I was done with the film. Then, young Joe Genuardi came along and Joe Centofanti took him as his apprentice, and I had to go back and raise more money to shoot more footage. It changed the entire structure of the film. It's better, of course, but it took a lot longer to finish as a result of that. It became an odyssey. People ask me why it took so long. It's because you have to follow your characters and what happens in their lives. How could I not go back and document that?
KK: I read that your father was a craftsman. What did he do?
VV: He was a furrier. We come from Kastoria in northwestern Greece, in the Macedonia region. That craft has been practiced there for centuries. I never really realized that that might have influenced me until relatively recently. I remember watching my dad working at a sewing machine with very luxurious materials, but he was a humble craftsman. I love seeing people work with their hands. There's something very magical about it.
KK: Do you work with your hands?
VV: I love to garden. That's what I do with my hands. My mom is amazing with embroidery, crocheting, knitting, and all that. I can do it, but sadly, I'm not expert at it. When you wear something that you know has been made by hand, when you know who made it, that thing acquires an entirely different place in your mind and your heart. You attach a different set of values to it. Its intrinsic value is somehow elevated.
KK: Do you interact with the sewing community?
VV: I screened the film for the American Sewing Guild and for the Association of Sewing and Design Professionals, and I just had a meeting with a woman from the Haute Couture Club of Chicago. So far, everyone has been very supportive and encouraging. I really appreciate that, because my film is not for everyone. It's for people who love sewing, people who love bespoke clothing or menswear, or people from the fashion and design community. It's also for Italian-Americans, or for people who love Italian culture.
KK: I love how you talk about what a gift it is, to find your true calling. I look at these guys (the tailors), and they get to practice their craft.
VV: But their craft was chosen for them by their parents out of economic necessity. So what are the chances that decision, which was made for them, would become their calling, their vocation? That, I find stunning, and that they'd stay with it their entire lives.
I have met a few tailors who got to retirement age, and they retired. These tailors are different. Checchino Fonticoli, a master tailor in Rome, Italy, (featured in the documentary) worked past his official retirement age. Nino Corvato continues to work into his seventies, and Joe Centofanti worked into his eighties. I think Joe tried to retire, but realized he couldn't give it up.
I feel a kinship with them; I feel I'm cut from the same cloth. These tailors all identify personally with what they make. It's imbued with their own spirit. When I make a film, I feel it's the same. Filmmaking is a collaborative art form; you're always getting better at your craft, you're always learning. It's very hands-on, you use your brain, but it's also very heart-centered. I want to do something that stands the test of time.
KK: How has putting this film out affected your life?
VV: Filmmaking is a second career for me. I'm reinventing myself, and intend to make other films. It's about having a vision and wanting to share a story with other people, wanting them to be inspired by it.
I didn't know if people would be inspired by my film, but the reaction has been beyond my wildest dreams. I travel a lot to the different screenings, and getting to connect with different audiences is a wonderful experience. Because I love people, and like to hear their feedback. It's exhausting but also really fun. It's a beautiful thing to connect with an audience and have people tell you how meaningful it is for them: how emotional they got throughout the film–they laughed, they cried; how it reminded them of their father or their grandfather. I keep setting up new screenings and keep getting the film out there, because it's a small film and depends on a grassroots following that builds. And those people are very motivated to push the film forward.
Master tailor Joe Centofanti and director Vicki Vasilopoulos during filming.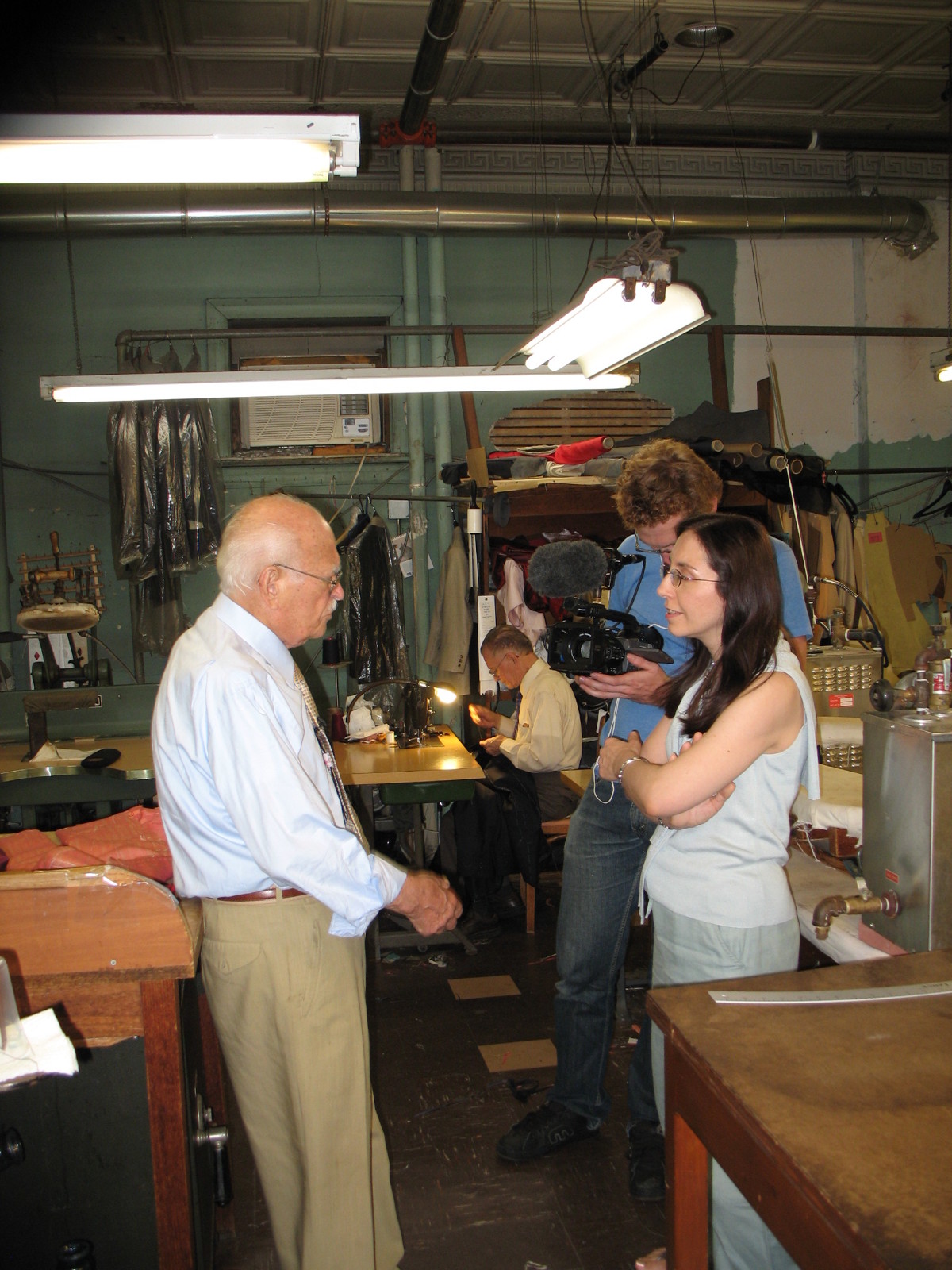 KK: What other projects are you working on?
VV: I've started shooting footage for my next film, documenting an organization called Little Dresses for Africa. It's an all-volunteer-run nonprofit based in Michigan. There are volunteers in every state in the United States and in 31 countries abroad. They sew these little dresses that they call "Ambassadors of Hope" and distribute them to little girls in the developing world. While it doesn't seem like a big thing to us in the West, this gives the girls who receive the dresses the ability to attend school.
There are a lot of charity sewing groups around the country, which I discovered in the process of researching this. These are people who have some time on their hands, people who are retired or senior citizens. I love old people. We tend to discount their contributions. We tend to forget that they are still very vital and important in our society. My film features one of their very inspiring volunteers, Lillian Weber of Bettencourt, Iowa, who had a mission of sewing 1,000 dresses before she turned 100 years old! I think that showing this woman in the very twilight of her life doing something incredibly meaningful will be very inspiring to a lot of people.
And another project, which is still very nascent, is a portrait of a well-known dandy. I'm gathering material now.
I also have another very personal film about my family in Greece, the current political situation there, and how it ties back to the Greek Civil War.
For more information about this wonderful film you can go to the website for screening updates, as well as to purchase the DVD. MenofClothFilm.com
Have you seen this film? If so, what were your takeaways? If you haven't seen Men of Cloth, do you plan on watching it?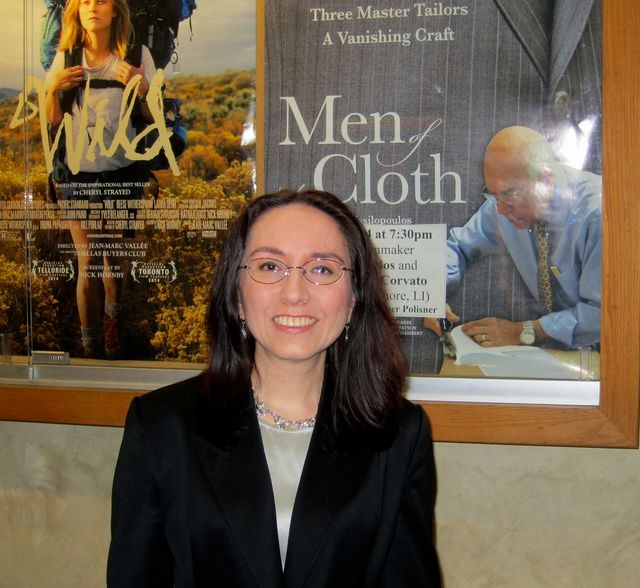 Filmmaker Vicki Vasilopoulos, director of Men of the Cloth.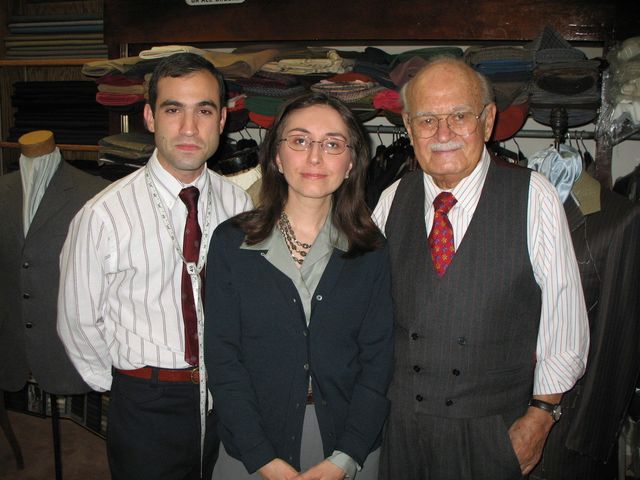 Tailor apprentice Joe Genuardi, director Vicki Vasilopoulos, and master tailor Joe Centofanti during filming in Ardmore, Pennsylvania.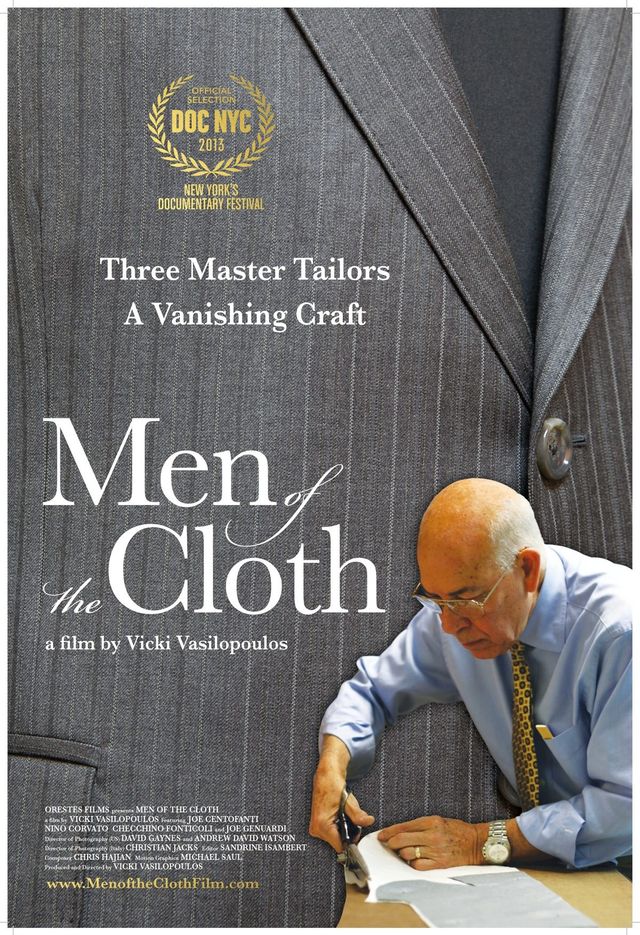 The documentary's promotional poster features master tailor Nino Corvato.