Winner, Winner, Chicken Dinner: Thoughts on competing, judging, winning and losing sewing contests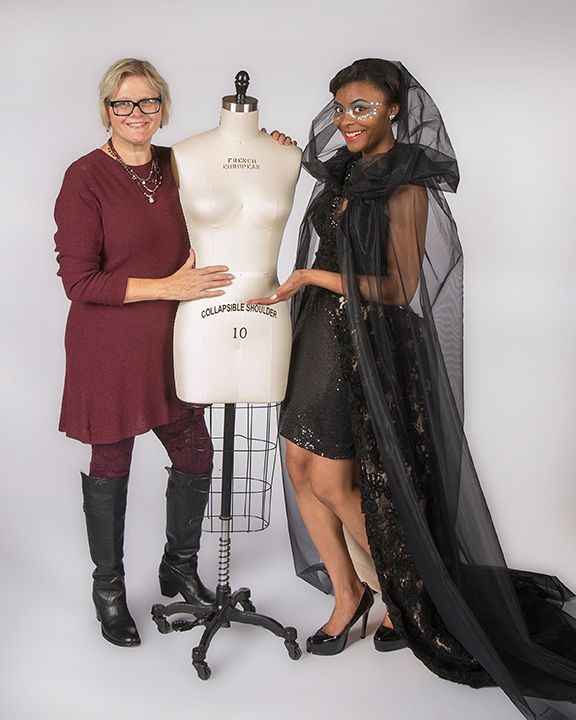 I entered my first sewing challenge in 2009. It was sponsored by Threads magazine with the Association of Sewing and Design Professionals (ASDP.) The challenge was to create an unusual seam. I spent the whole summer working on my entry, and I ended up a finalist in the challenge. The judging was held during the annual sewing conference. Ultimately, I won an award for Most Unexpected Seam in that competition. I was surprised and happy to win, but mostly I enjoyed the challenge of making a truly original seam.
I've won more than my fair share of contests and competitions. Sounds good, right? I can tell you, winning a competition or challenge will not fill any holes in my soul. Nope. What I enjoy most of all is the process of competing.
Why enter a challenge or competition? The answer is simple: personal growth. I work really well when I add more challenges for myself to the competition's mandate. I always work toward a personal challenge, always use something from my fabric stash, and I don't give myself much time to work.
In 2012, I entered the American Sewing Expo's (ASE) Passion for Fashion challenge. This competition is similar to Project Runway, but with a shorter time frame – about 1½ days. Competitors must submit a garment they have made in the past two years. Twelve contestants are chosen. The event is held during the American Sewing Expo in Novi, Michigan. The "workroom" is a bullpen in the middle of the show floor/vendor hall.
A theme is chosen in advance and is kept secret until the competition starts. There are 12 inspirations for the theme. The first year I participated contestants were each given $100 in cash to spend in the vendor hall. They also were given a list of supplies and tools they were allowed to bring to the event. On Thursday night, all contestants attended a meeting where the rules were explained and models chosen. Contestants were permitted to measure their model and set up their sewing space. Friday morning, the challenge was revealed. Each participant drew a number that determined his or her theme.
In the 2012 challenge, I made a terrible fabric choice: It was hard to work with, and it was beige. I can't explain the panic that set in, knowing I had so little time to make a garment. The challenge was to use an insect as an inspiration to create a cocktail dress for a female benefactor to wear to the opening of a museum insect gallery. The judges didn't like my interpretation, and I did not win. I did not even place in the top six. I didn't mind losing, but I felt I made an unattractive dress.
I entered the Passion for Fashion competition again in 2014. This time, I was lucky. The theme was "alternative wedding gown," and I had done many evening and wedding gowns for clients. I also drew a good number, so I was able to choose the theme, model, and fabrics I wanted.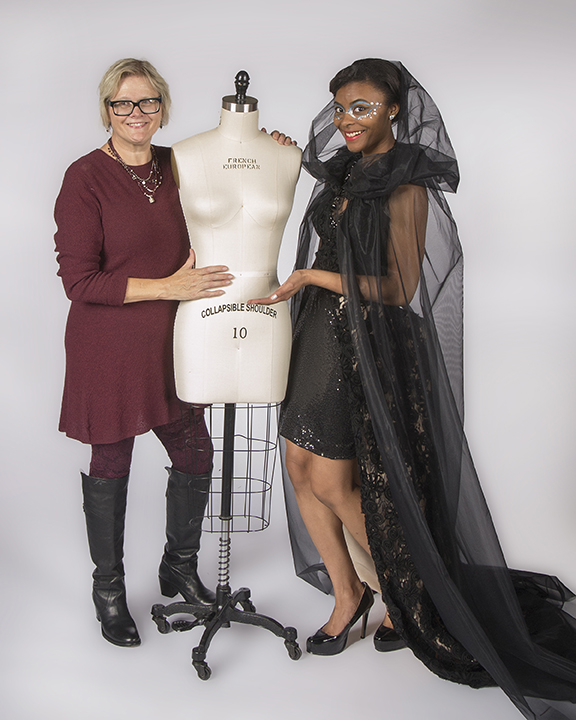 My Masquerade wedding ensemble won first place at the 2014 Passion For Fashion challenge. 
In my opinion, luck plays a huge part in this competition. If you get a theme or fabric you don't like, it can be a struggle to make a garment you are proud of. The actual competition is stressful, as there's so little time. Did you ever have a nightmare where the hands of a clock are spinning around at warp speed? That is what it is like.
It was hard the first time I entered the Passion for Fashion competition but much easier the second time. I made a schedule and told myself if I had time at the end, I could go back and correct any wonky bits. In the end, nothing got corrected; I didn't have any time left.
I have little formal training in sewing or design. I usually just start cutting into the fabric and pray that it works. Thankfully, I was happy with my design. I was short on time, as I had made three pieces for the challenge. By the end of the competition I was just exhausted. There was a runway show, and the kind judges chose six finalists from the 12 contestants. Then the winners were announced. I was truly shocked to win first place. In fact, I felt numb to it all.
I won a top-of-the-line Babylock sewing machine, a professional dress form, a gift certificate to Haberman Fabrics (a wonderful independent fabric store) and some terrific sewing machine feet from Claire Rowley. It was literally thousands of dollars in prizes.
As a winner, you can make a collection for the next expo. For the 2015 ASE, I made a display of five alternative wedding gowns from stretch fabrics and three more for the runway show. I also was asked to be a judge for the 2015 Passion for Fashion.
Continue to next page…
On Being a Judge
Judging the competition is much harder than I thought it would be, primarily because I had met many of the competitors the year before. I knew firsthand the disappointment they would feel if not chosen as a winner. Judges are given guidelines and rules and the admonition that personal likes and dislikes are not to be part of judging. When judging the Passion for Fashion contest, the most important questions to keep in mind were: What is the challenge, and how well was it met? The judging panel met briefly with each competitor and each judge scored the entries numerically. We were advised that some gowns are great in person but duds on the runway. Others look OK in person, but fabulous on the runway. After judging, we selected the top six finalists. All the competitors' creations walked the runway, the finalists were announced, and then we met again to choose the first-, second-, and third-place winners.
It was difficult to choose the top three winners because the six finalist entries were well done. Our decision on the winners' placement came down to how well each ensemble met the contest challenge.
As a Passion for Fashion judge, I did not want to disappoint the contestants. As a contestant, I can remember how exhausted I was and how attached I became to my designs. It is heartbreaking when you don't "win."
However, when put into perspective, it is incredibly special to participate in a national competition that only accepts 12 contestants. There were two young women competitors who had only sewn for four years. It is a HUGE accomplishment to be part of Passion for Fashion as a relatively inexperienced sewer, when some of the other competitors had sewn for decades.
Advice for competing:
Read the rules: It does not matter if you create a blindingly brilliant design if you don't meet the deadline for entry.
Read the challenge: If it says "cocktail dress," that means no long sleeves. In 2012, there was a stunning outfit (which won audience choice) but it was a slim pair of pants with a top. Was it fabulous? Yes. Was it a cocktail dress? No.
Make fewer pieces, sewn better: Don't monkey around with accessories. It is better to focus on sewing and fitting to the best of your ability.
Think runway: Passion For Fashion is a runway event. This means theater. Don't choose a drab color, or a subtle design. Runway means theater. Runway appeal also means a more fluid garment. Skirts that have movement are much more attractive than stiff or bulky garments.
Think fine finishes: Be sure zippers are sewn correctly – a jog at the back neck is very distracting. If you have fancy trim on a dress, be sure it is continuous and does not have any empty spots. Again, sew less, sew better.
Prints: Be aware of print placement. Make sure any bold prints are placed strategically. If you have a bold print and its placement isn't balanced, it is distracting on the runway. Bold prints require extra fabric for perfect print placement.
Think editorial for a Threads challenge: This means a garment that will look fabulous in a magazine.
Do some research: Before I entered Passion for Fashion, I looked on websites to see what garments won in past competitions.
Think new: Don't do classics. A black dress with white lace collar has been done to death. Read up on fashion trends, and be aware of what is fashionable.
Hem correctly: A runway show brings hemlines to everyone's eye line. There is no excuse for a crooked hem. Hemming a gown evenly is sewing 101. There is little time for finishing work, but as they say, "God is in the last 5 percent." OK, I made that up, but seriously, a well-done hand hem on an evenly pinned skirt is time well spent.
Don't rely on serging: When time is short, it is easy to rely on serged edges, but a serged hem is for napkins. Use clean finishes. They don't have to be couture, but anything will look better than a raggedy serged edge.
Make something you love: It is a thousand times better to lose with a garment you feel really proud of, that you love. Then, just creating the garment is a win. If you don't win, you still can use the garment to enter other contests. I have learned so much from competing in challenges and competitions.
Know your limits: Focus on your strengths. If you are the queen of bias, by all means, make a bias garment. If you have never sewn bias before, a competition is not the place to start. Do what you do well.
Final Thoughts
Winning has drawbacks. Does everyone really love a winner? Nope. Sometimes the winner wins by a tiny margin. Some observers may disagree with the judges' decision. Again, the top six contestants in any competition usually are very close. Don't think you are a loser if you don't receive the official win. Don't hand your self-esteem to the judges. Your opinion is more important. Think of the competition and result more as a challenge than a judgment.