Make It With Wool 2015: Junior Winner and Junior Exemplary Construction Winner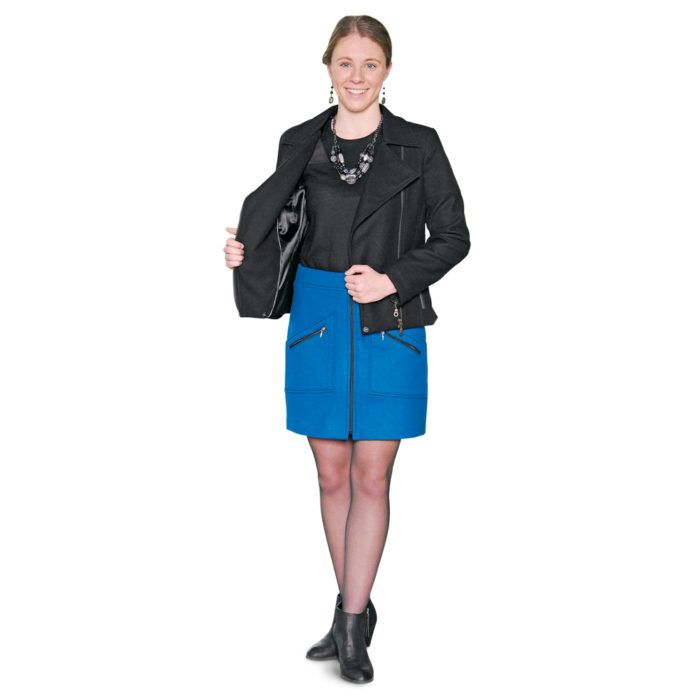 The Make It with Wool competition (MIWW) recognizes excellence and innovation in wool garment design and construction. Every year, sewers compete in age groups and in special award categories, and the state winners advance to the national judging round in January. Garments must be made from fashion fabrics or yarns containing at least 60 percent wool fibers. Judges consider each entry's appropriateness to the contestant's lifestyle, the coordination of fabrics and yarns with the garment's style and design, as well as the presentation, construction quality, and creativity.
Threads highlights National MIWW winners each year to recognize their hard work and skill, and find inspiration in their stunning garments. This year's winners were featured in Threads #182 (December 2015/January 2016), and now you can see them right here on our website.
Junior Winner and Junior Exemplary Construction Winner
Kris Puckrin
Sandusky, Ohio
Kris was inspired to create a look that is "young, fresh, and trendy," she says. She made her garments using Style Arc's Ziggi Biker Jacket, Mindi Skirt, and Tamara Top patterns. Kris's goal was to highlight the beauty of her chosen wool fabrics. She used jet-black wool flannel for the biker jacket and lined it with flannel-backed satin. Exposed metal zippers and a quilted design across the jacket's shoulder yoke and upper sleeves contribute to an overall edgy look. She made the skirt from vintage brushed wool broadcloth from Pendleton and lined it with black Bemberg rayon. The top is black merino wool jersey with chiffon insets at the shoulders and chiffon sleeves. Kris takes her sewing projects seriously. "Sewing to me is more than just making clothes; it provides me with an opportunity to challenge myself. I am all about challenges," Kris says.