Make It With Wool 2015: Outstanding Needlework Award Winner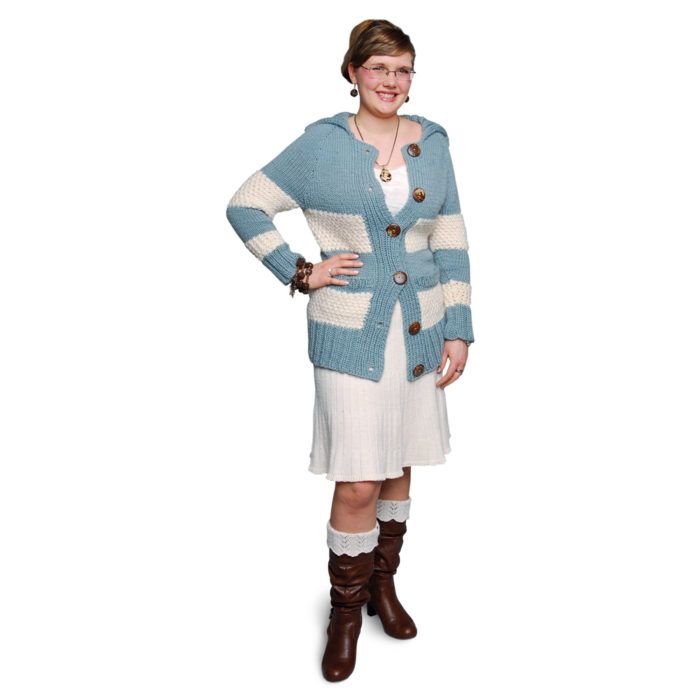 The Make It with Wool competition (MIWW) recognizes excellence and innovation in wool garment design and construction. Every year, sewers compete in age groups and in special award categories, and the state winners advance to the national judging round in January. Garments must be made from fashion fabrics or yarns containing at least 60 percent wool fibers. Judges consider each entry's appropriateness to the contestant's lifestyle, the coordination of fabrics and yarns with the garment's style and design, as well as the presentation, construction quality, and creativity.
Threads highlights National MIWW winners each year to recognize their hard work and skill, and find inspiration in their stunning garments. This year's winners were featured in Threads #182 (December 2015/January 2016), and now you can see them right here on our website.
Outstanding Needlework Award Winner
Kimberly Westenberg
Watertown, Wisconsin
Kimberly knitted her entire ensemble because knitting is her passion. She adds that seeing the other contestants' entries at MIWW has inspired her to become as good a sewer as she is a knitter. Each element of her ensemble can be worn with the others, or on its own. For the hooded, chunky cardigan, she used bulky-weight wool and followed the Aberdeen Sweater pattern from Love of Knitting's Winter 2013 issue. The skirt is DROPS Design's Fabel Skirt, and the stockings are Think Outside the Socks' Knit Lace Hose, both in fingering-weight wool. She knitted the skirt to be worn inside out, contrary to the pattern, so that its ribbing matches the stockings', and she altered the waistband construction for a better fit. Kimberly says that participating in MIWW has encouraged and driven her passion for knitting and sewing, taught her valuable lessons, and offered her character-building experiences.