Video: How to Fit Yourself with Sarah Veblen, Part 1
Mather Dolph and Carol Fresia; Gary Junken
When it comes to garment construction, understanding how to create properly fitting clothes is just as important as knowing how to sew. Making well-fitting garments is possible with the assistance of a sewing buddy. However, sewing enthusiasts don't always have a pair of extra hands at their disposal. What do you do when you have to go it alone?
Fitting expert and Threads author Sarah Veblen has great solutions. In her How to Fit Yourself three-part tutorial from the Insider All Access video series, Sarah demonstrates clever techniques for fitting yourself. All you need are two full-length mirrors, pins, marking pens, and a camera or smartphone.
Watch the How to Fit Yourself Three-Part Tutorial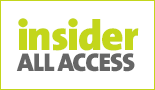 Get the latest including tips, techniques and special offers straight to your inbox.