Project Runway: Junior: Episode 2, "An Unconventional Car Wash"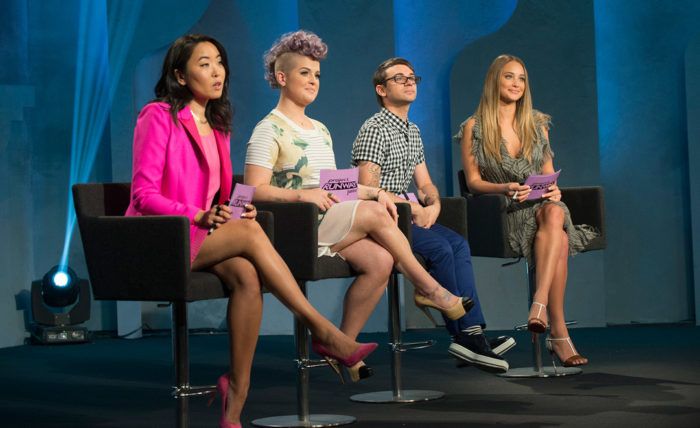 I'm feeling cautiously optimistic about this "junior" version of Project Runway. The designers are upbeat, energetic, and above all, talented. If you thought the producers would water down the show for the younger contestants, think again. So far, the challenges are much the same type we've seen on Project Runway, and the savvy young designers seem well prepared to face them. I enjoy seeing Uncle Tim (Gunn) interact with his youthful charges–he's obviously fond of them.
This week, mentor Tim and host Hannah Davis invited the designers to dress in their finest clothes, and sent them for a ride in a stretch limousine. Their destination: a car wash, where they were informed they were about to embark on the unconventional materials challenge. They were given three minutes to collect materials, which included a colorful assortment of mops, buffing gloves, sponges, hoses, pinwheels, keychains, air fresheners, fuzzy dice, flags, tinsel fringe, reflectors, and floor mats. Back in the studio, they found the usual basic supplies of muslin, thread, and glue guns.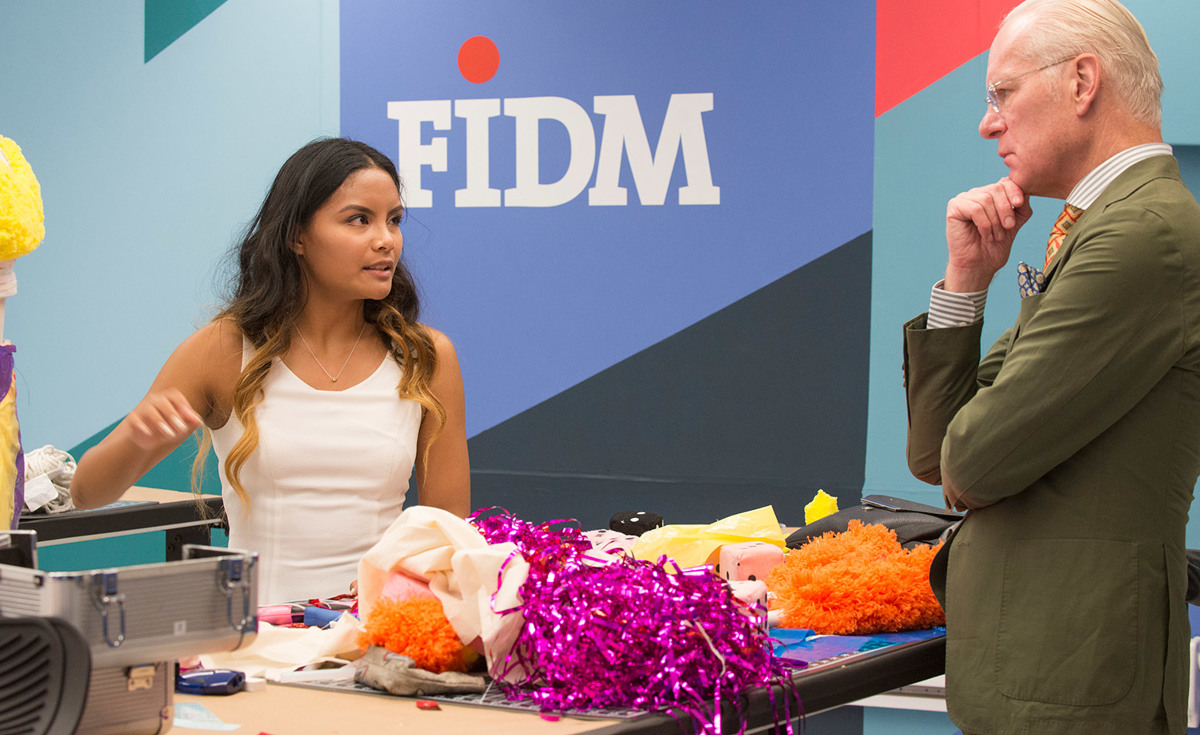 Ysabel receives some advice from Tim Gunn.
Once in the studio, the kids got straight to work. As is usual for this type of challenge, many of the garments consisted of muslin foundations with stuff glued on, or basic pieces made of the most fabric-like of the unconventional materials. When there's just a day to create an entire look with sometimes recalcitrant materials, you can't expect otherwise. And to the designers' credit, the results weren't appreciably worse than what their older peers on Project Runway have produced–and some were markedly better. 
The judges (Hannah, designer Christian Siriano, television personality Kelly Osbourne, and Executive Fashion Director at Cosmopolitan and Seventeen Aya Kanai) seemed impressed with the runway show, and chose four high-scoring looks and only two low-scoring outfits.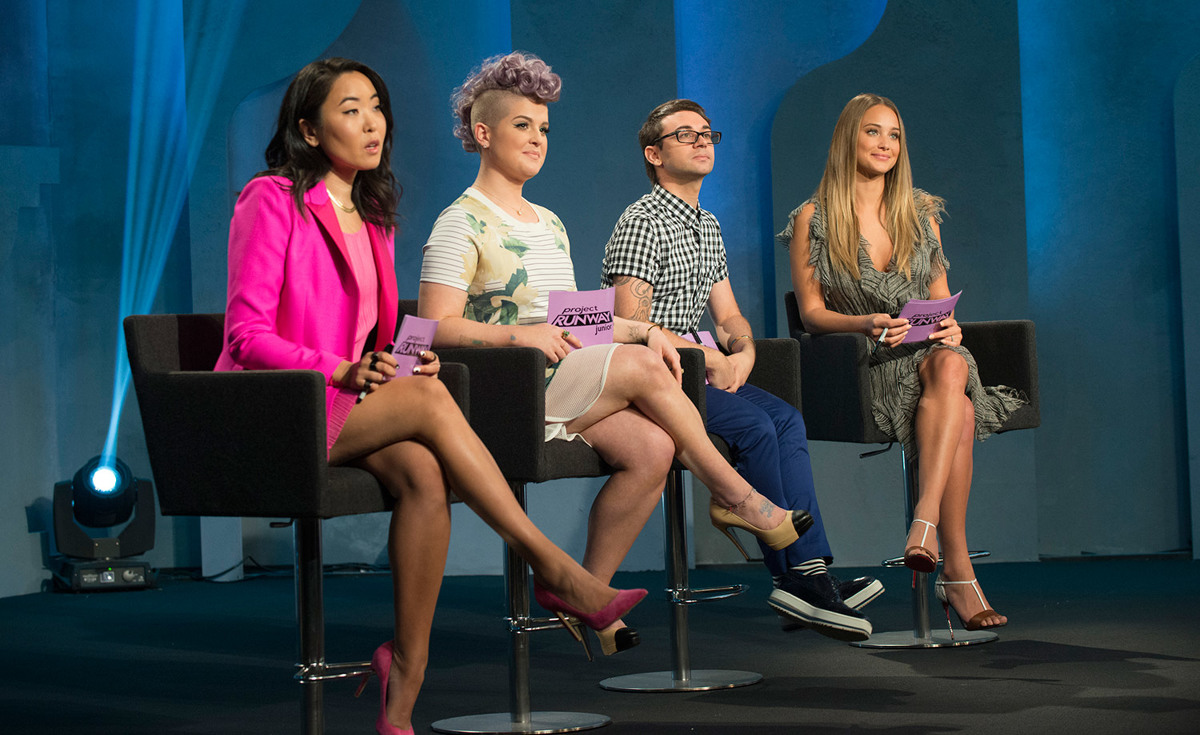 From left to right: Aya Kanai, Kelly Osbourne, Christian Siriano and Hannah Davis.
The winner:
Zachary's metallic bustier and full skirt. While I didn't like this outfit as much as Jesse's (see below), I was wowed by Zachary's transformation of his materials. The top is made of disassembled metallic pinwheels flattened and glued to fabric, creating a holographic effect. The full skirt comprises rubber floor mats and sunshields. The judges agreed that Zachary most successfully handled the challenge. Zachary has experience in TV sewing, having competed in (and won) an episode of Project Runway: Threads, last fall.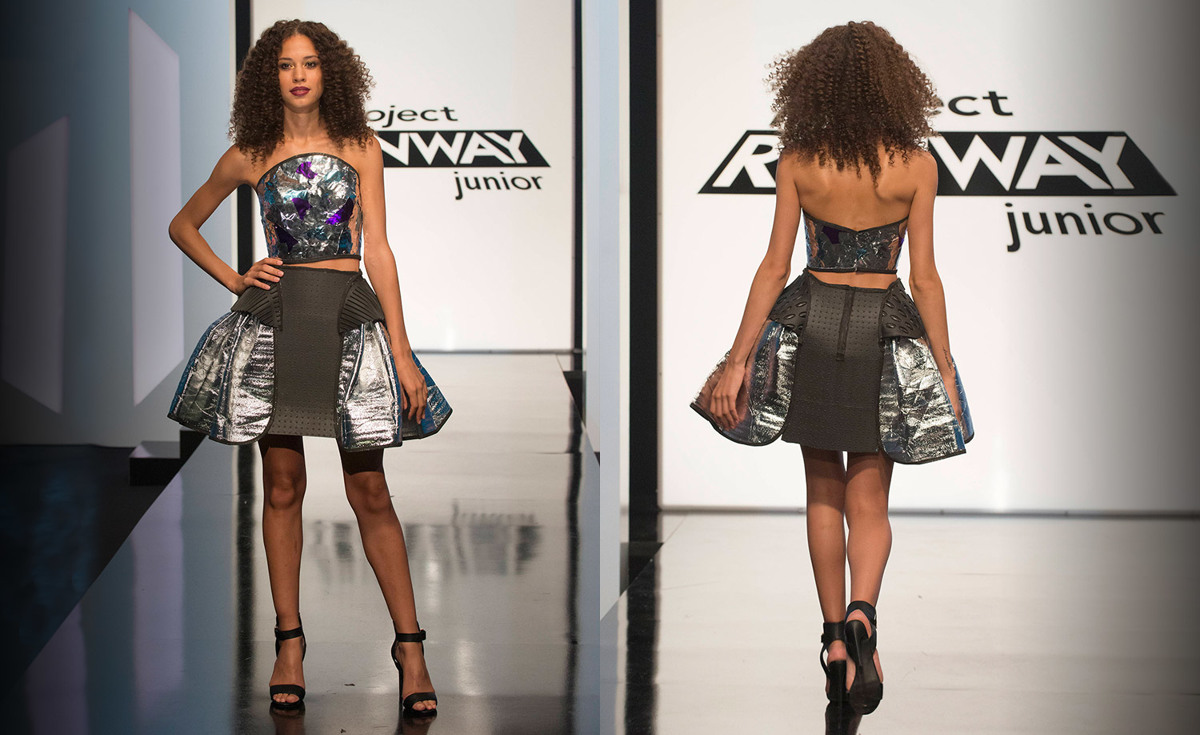 The loser:
Ysabel's beach-ball top and skirt. Ysabel has a nice, bubbly personality, and her embrace of color and texture reflected that perfectly. She covered the bra-top with bits of yellow sponge and crafted the skirt from triangular flags. However, the judges called the look "trashy," "flimsy," and "messy." They weren't wrong, unfortunately. The skirt, in particular, was not well constructed.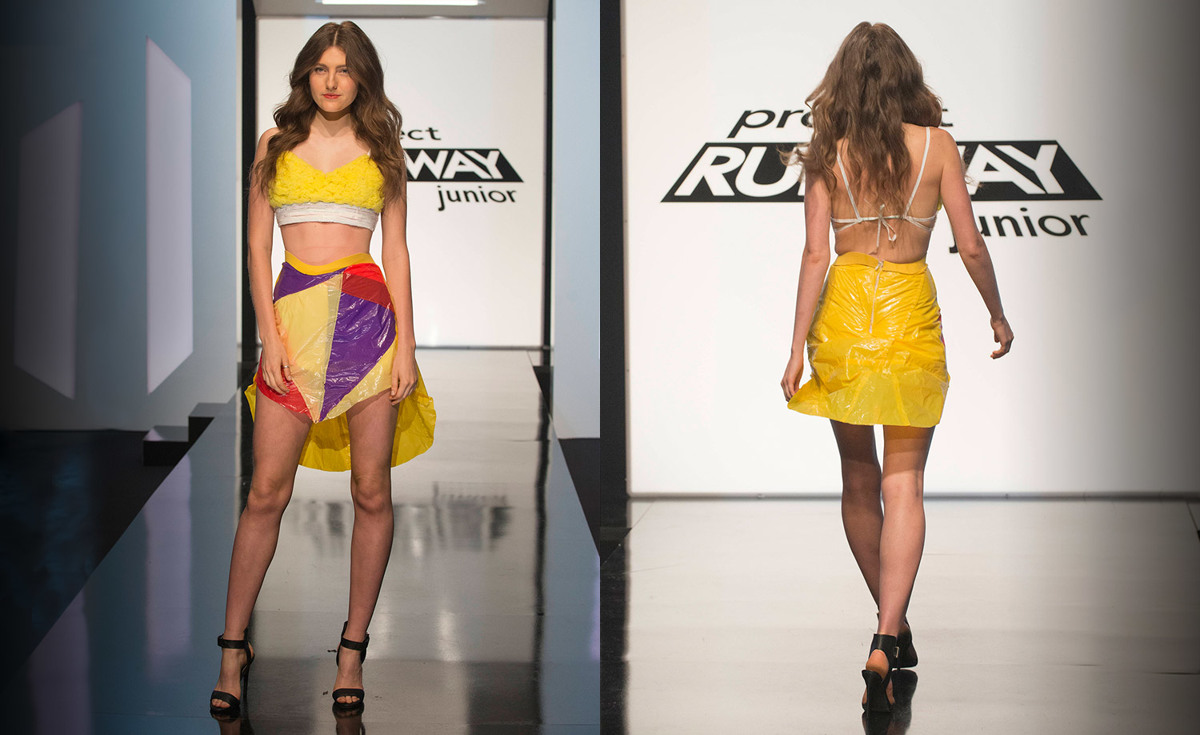 The other top three looks:
Jesse's silver two-piece look with keychain sleeves. The consensus among viewers in my small focus group was that Jesse was robbed this week. This ensemble was fabulous: The black-edges garment sections emphasized the excellent fit and proportions, and the arrangement of keychains on the sleeves in an ombré effect revealed that this young man has a good eye. This was Hannah's and Kelly's favorite look, and one that Kelly thought would be a great outfit for someone like Katy Perry.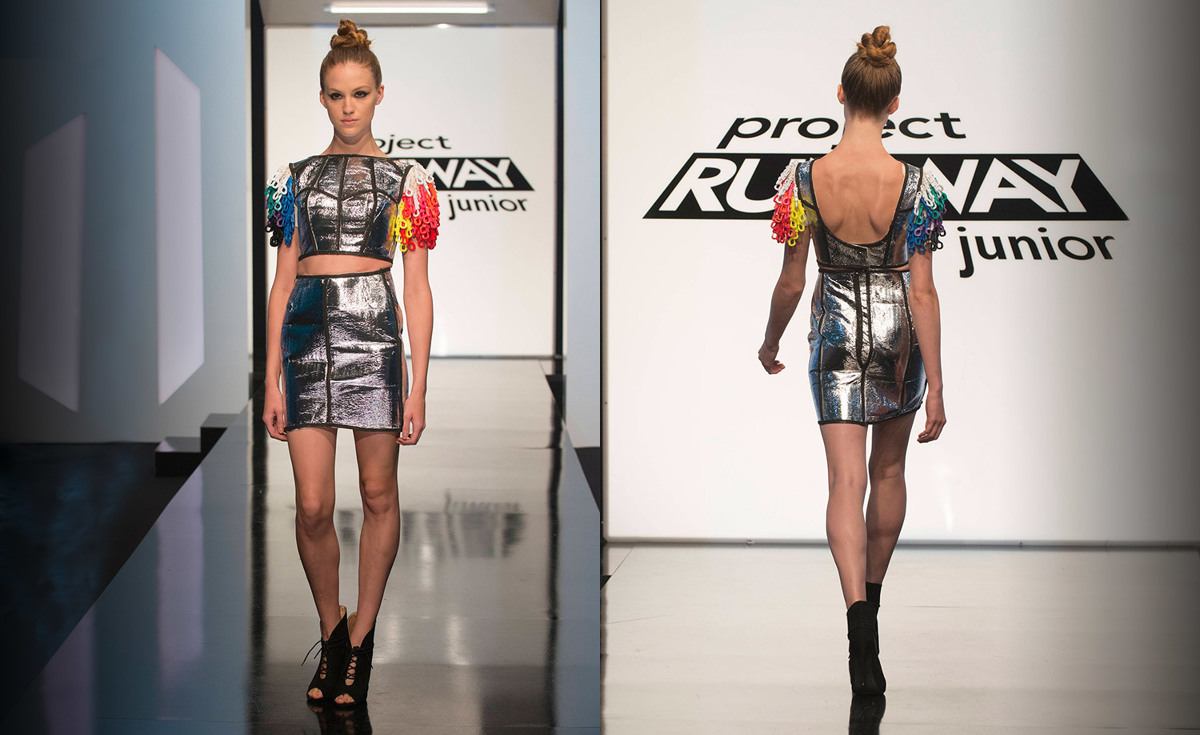 Peytie's mop-top and skirt. I have to admit that Peytie's surfer-girl/Malibu Barbie persona put me off at first. However, her designs have made a positive impression on me these first two weeks. Her point of view is clear, she's got the technical chops to create the designs she wants to make, and she manages her time well. This week, she had intended to cover the skirt in dozens of colorful air freshener trees, but Tim pointed out she would run out of time. Her back-up solution, a fringed miniskirt, worked perfectly with the polished cropped V-neck top she made. Peytie has her own fashion line already (TrueViolette.com), so her professionalism isn't much of a surprise.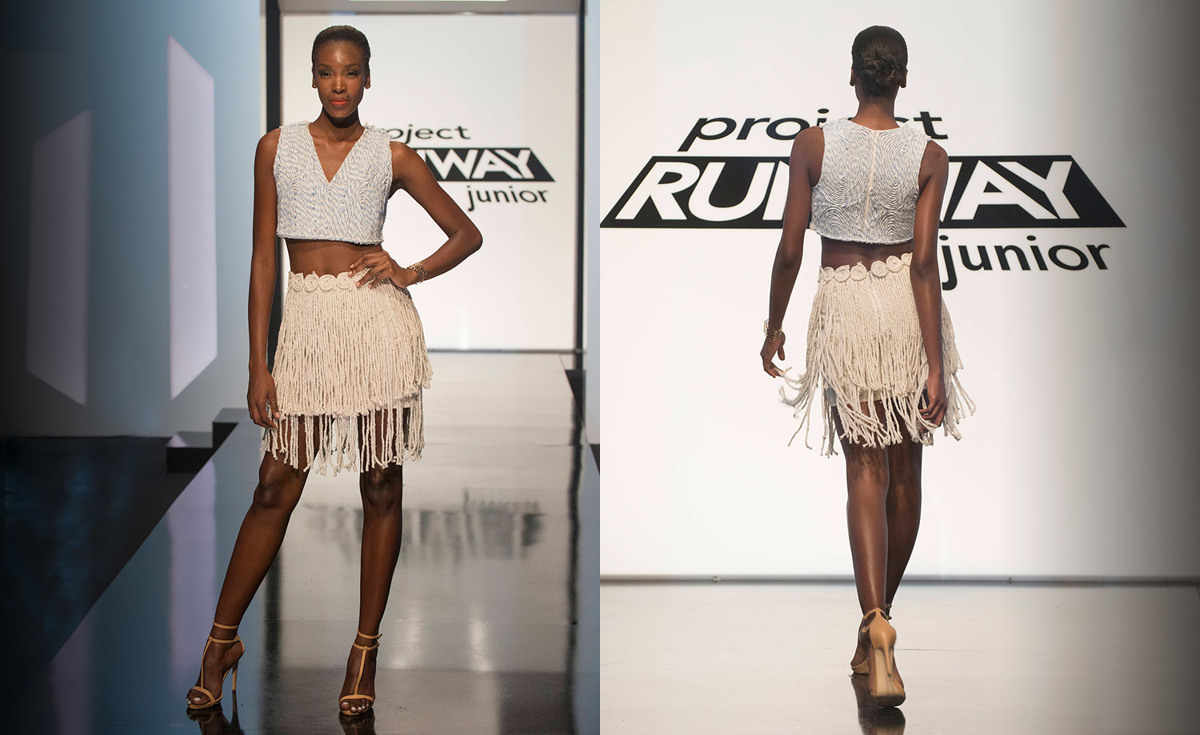 Samantha's "muppety" bathmat dress. Samantha came into this challenge with immunity, and that served her well. Knowing she was safe, she had the confidence to design this risky but ultimately successful frock. Made of shaggy car-polishing mitts in screaming colors, it's not an obvious solution to the challenge. But Samantha doesn't seem to go for glamour in the same way as her peers, opting instead for simple but well-considered and unusual looks. The judges are obviously fond of her street-inflected style.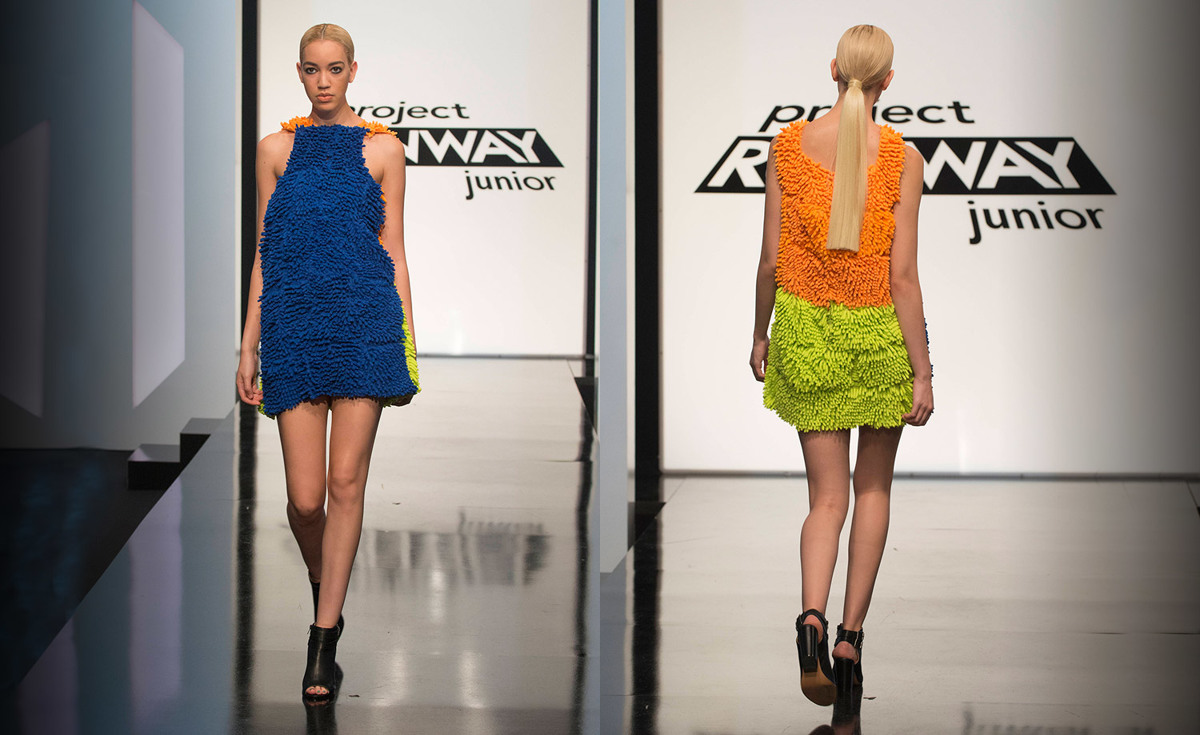 The other bottom look:
Matt's "Gaultier" inspired crop-top and miniskirt. This outfit was rightfully criticized for its poor execution and the fact that the model could hardly take a step, but Matt admitted that it was a "hot mess" in many ways, and Christian was lenient with him because he "understood the problems." I don't think that's a great reason to keep someone on the show, but this look, though uninspired and poorly made, was still better than Ysabel's, so Matt will be back next week to design something new. Note that Matt, like Zachary, debuted on Project Runway: Threads a year ago, and showed some impressive pieces. I hope he gets his act together in the next couple of weeks.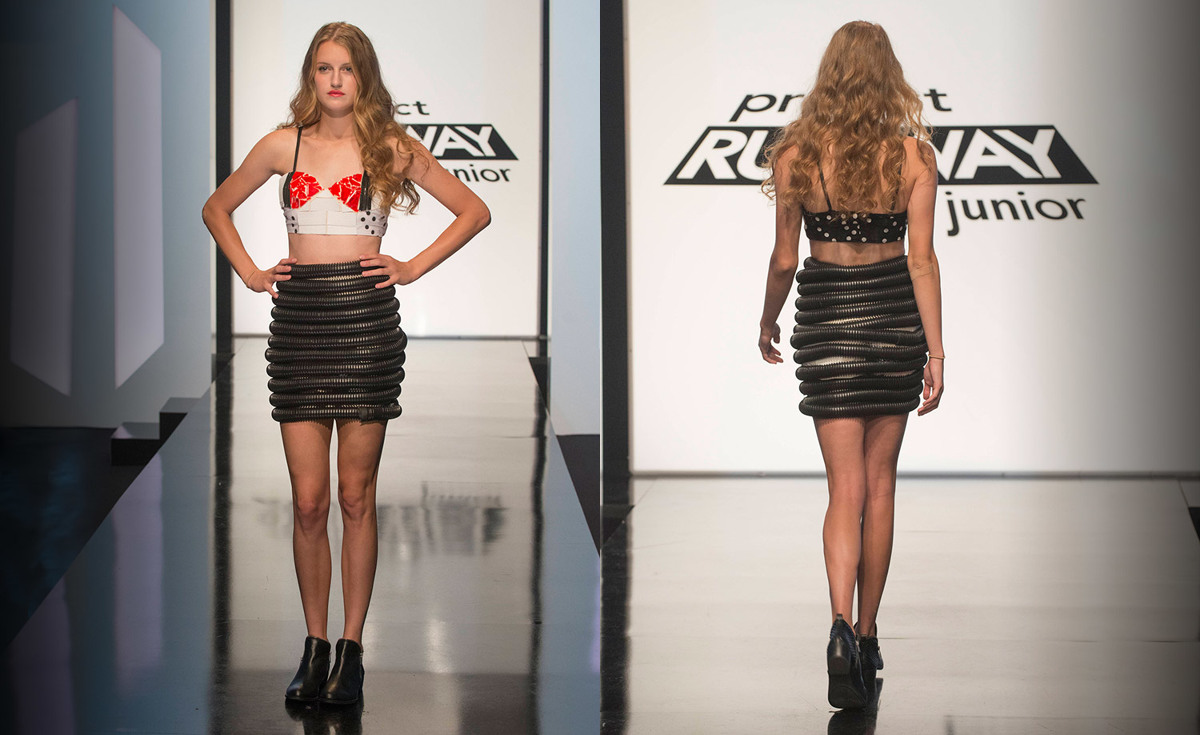 The remaining looks:
Victoria's LBD with blue tubing belt. Victoria remained true, mainly, to her goth/punk aesthetic, but is playing it way too safe. She claims to be inspired by Vivienne Westwood and Alexander McQueen, but this dress is so basic it hardly deserves to be called design. It's well-executed, though, so Victoria survived. She'll need to step up her game in coming weeks. The competition is fierce!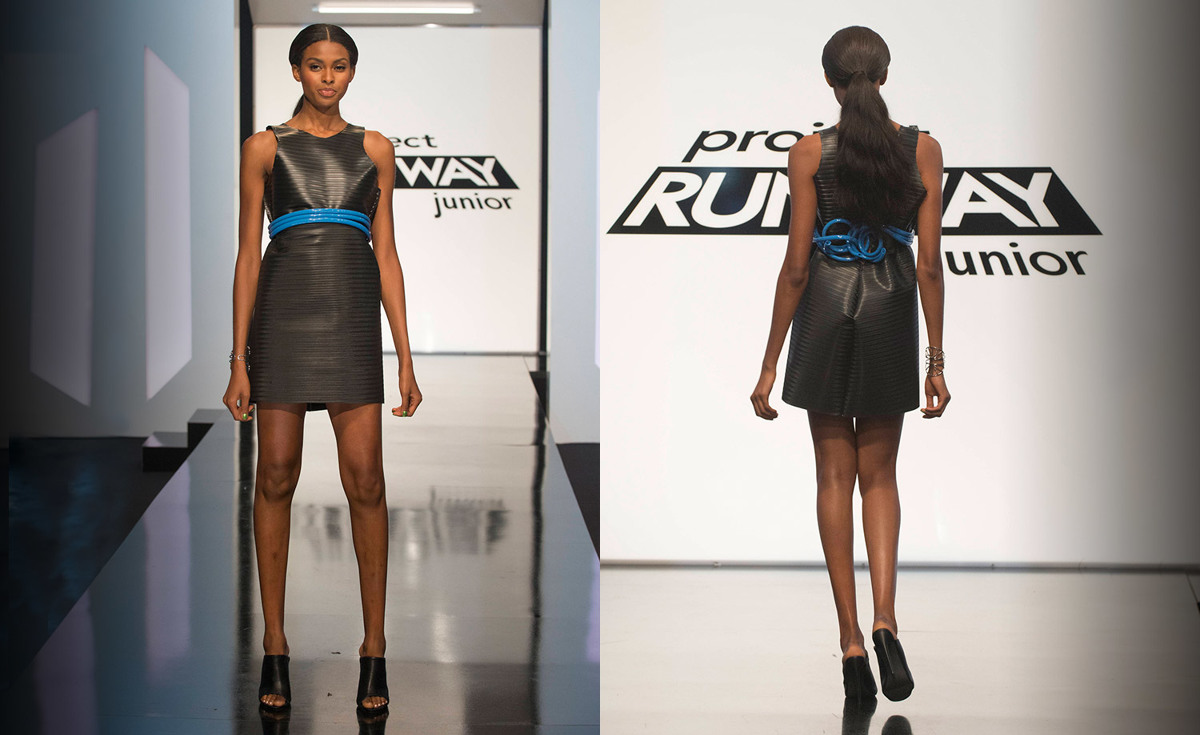 Bridget's red, white, and blue dress with mosaic bodice and layered-flag skirt. This was described by one viewer as a "five-year-old's party piñata," and by the designer herself as "quinceañera gone wrong." I agree with both. The dress is a bit silly and unsophisticated, but it fit the model well and seemed reasonably well made (beneath the glued-on flags). It belonged right where it ended up, somewhere in the middle.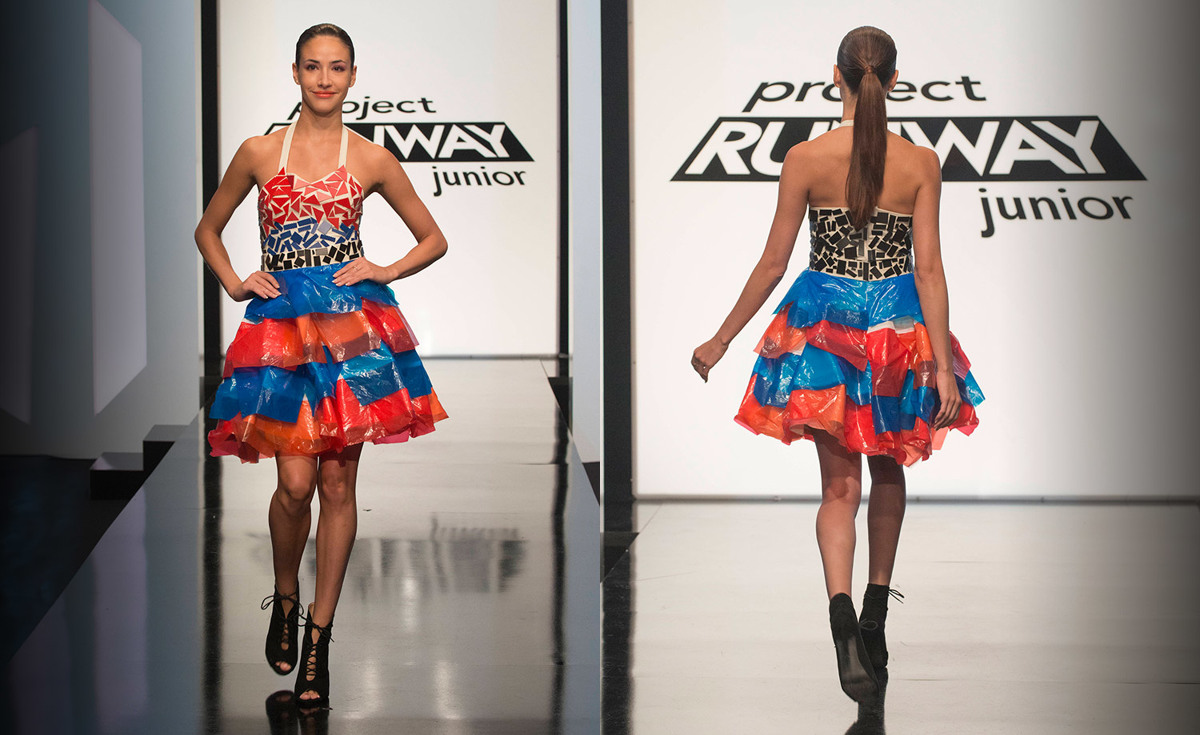 Maya's pinwheel skirt and tube top. This was cute on the model, but wasn't much of a design. I suspect 13-year-old Maya, who is the youngest contestant, has some maturing to do to solidify her aesthetic. In her online profile at MyLifetime.com, she described her work as "edgy and eccentric," but named Michael Kors and Carolina Herrera as her favorite designers. They're just about the last designers I'd call edgy or eccentric. Maya appears to be ambitious, skilled, and focused, so once she nails down her point of view, her age won't be an issue.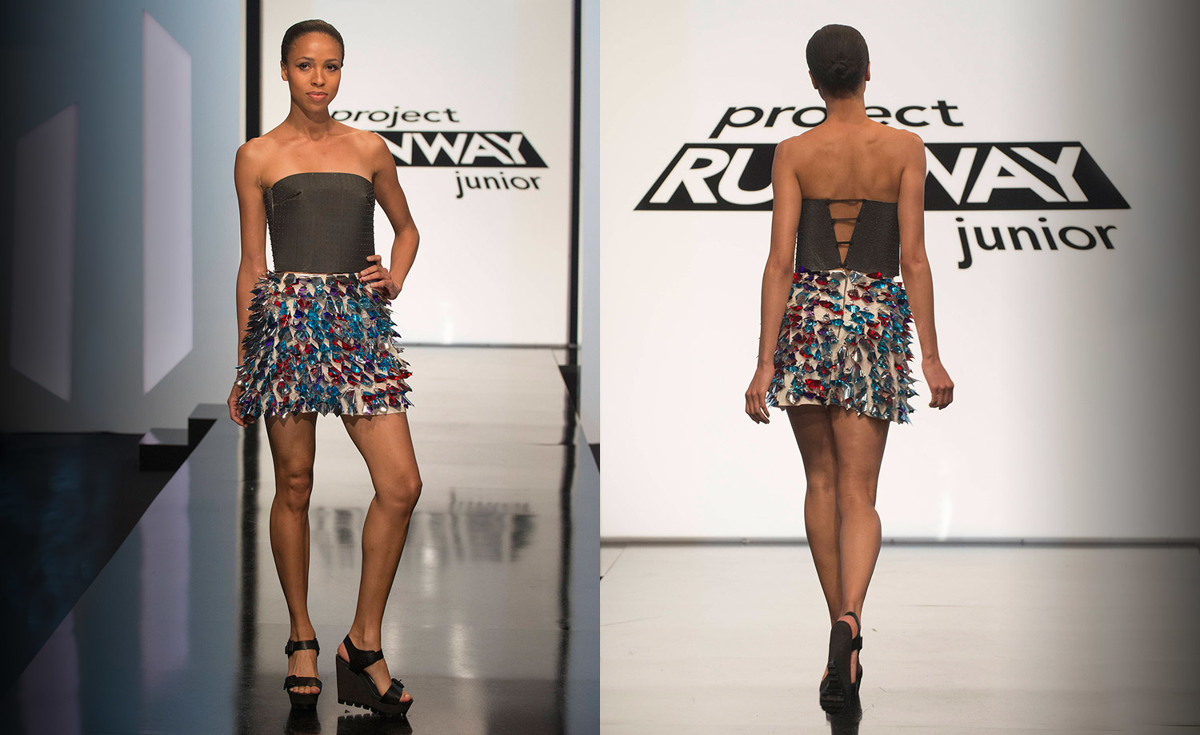 Jaxson's tinsel shorts and strange hose-ribbon bra-top. Outfits like this boggle the mind: Who would wear something like this, and where would she go in it? On the other hand, it's inventive and fun, and shows a willingness to ignore convention. What could be more suitable for the unconventional materials challenge?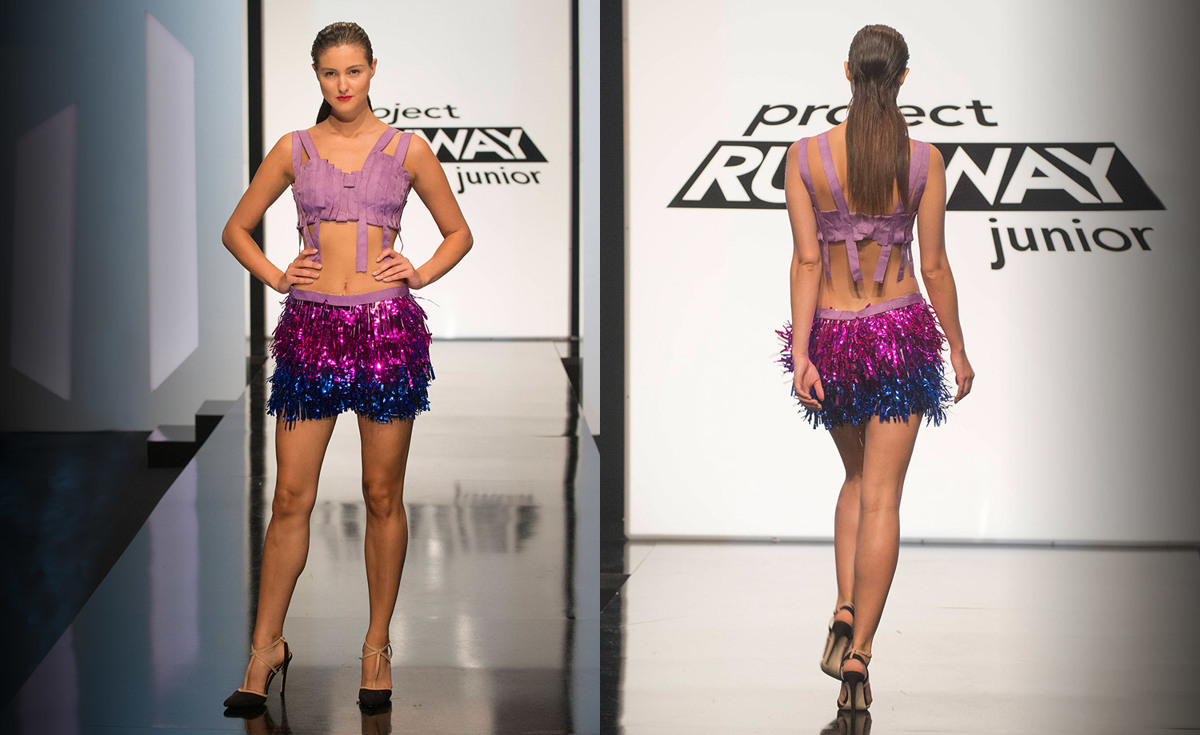 Zach's sheer bustier and A-line skirt. This outfit isn't too bad. The bodice fit is off, but the use of sheer and mosaic effects, along with the textured skirt, give it some interest. Zach was safe, and it will be interesting to see what he does in weeks to come.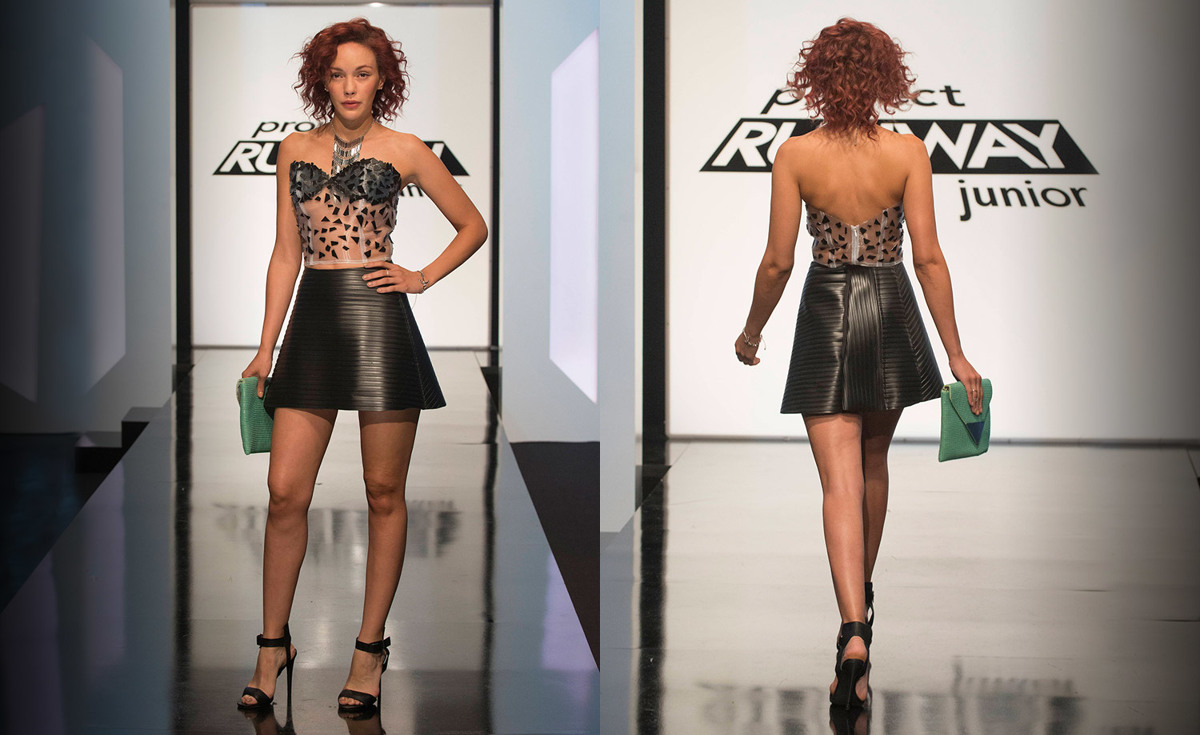 Did you agree with the judges' call? Do you have a favorite designer yet? And how to do think "PR Jr." stacks up against Project Runway? Are the judges being fair, too mean, or too kind?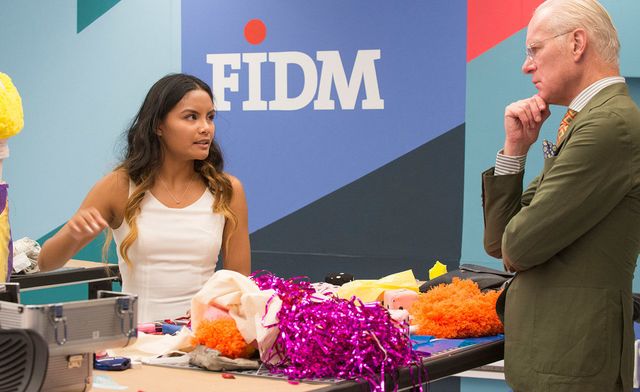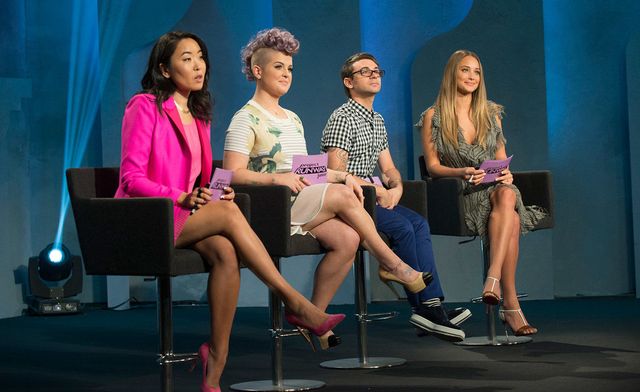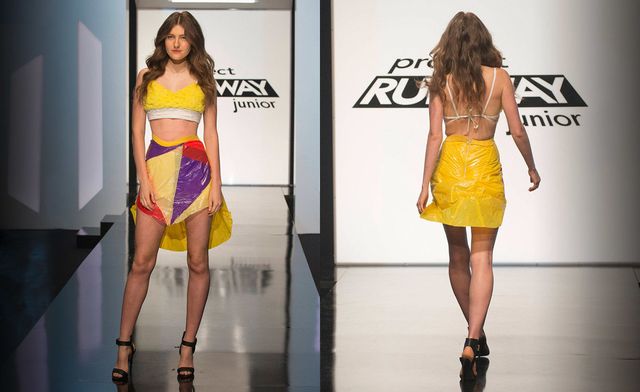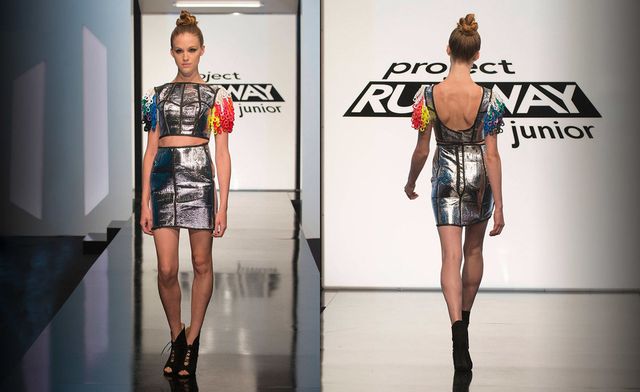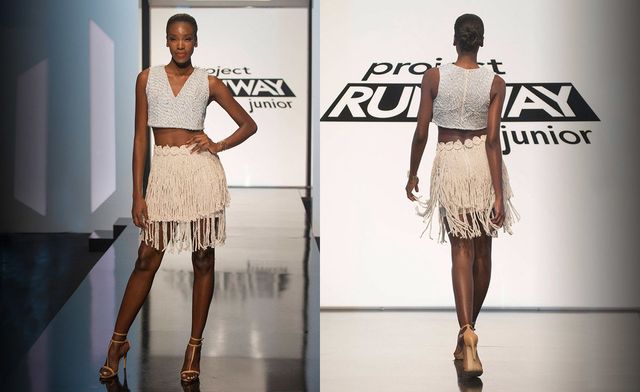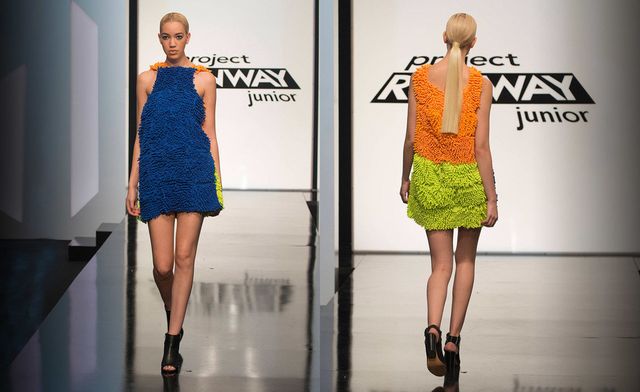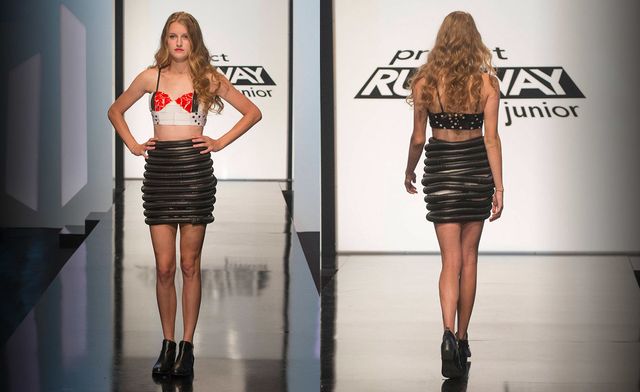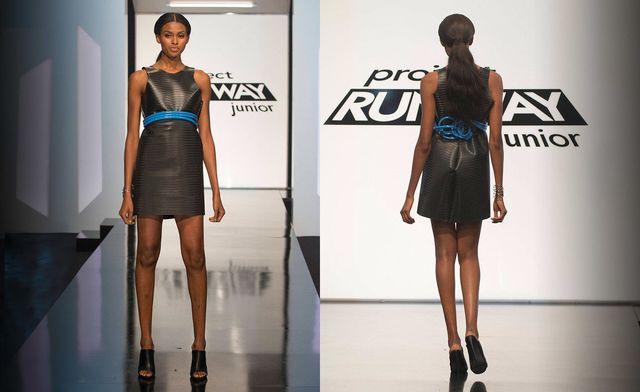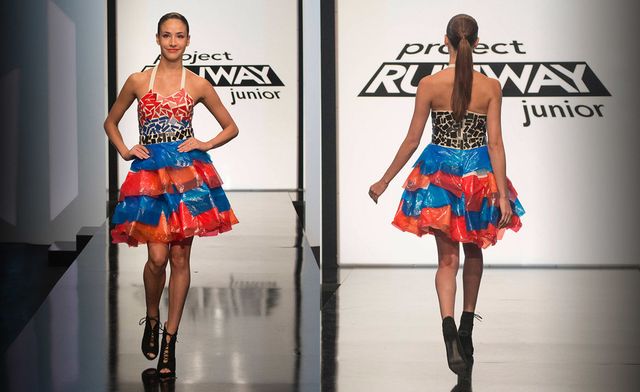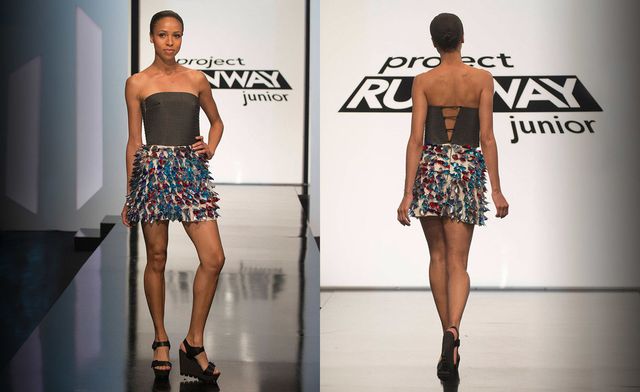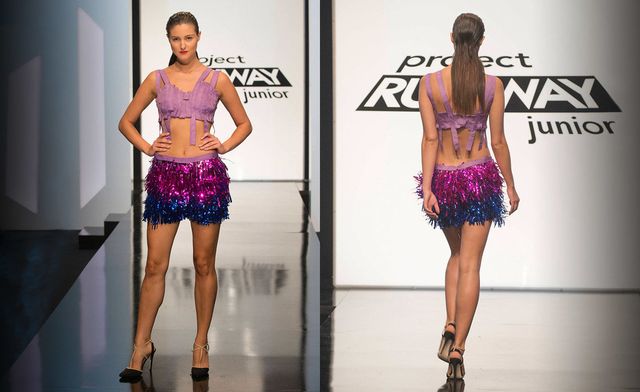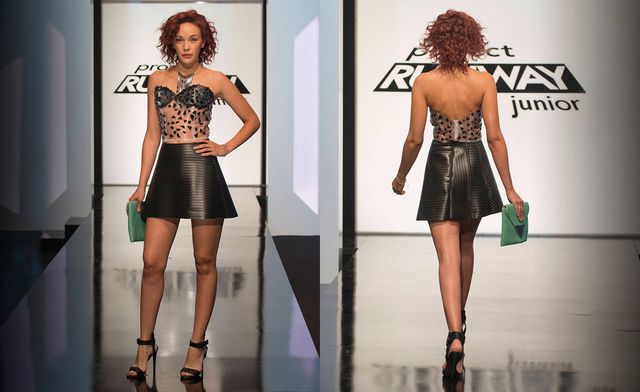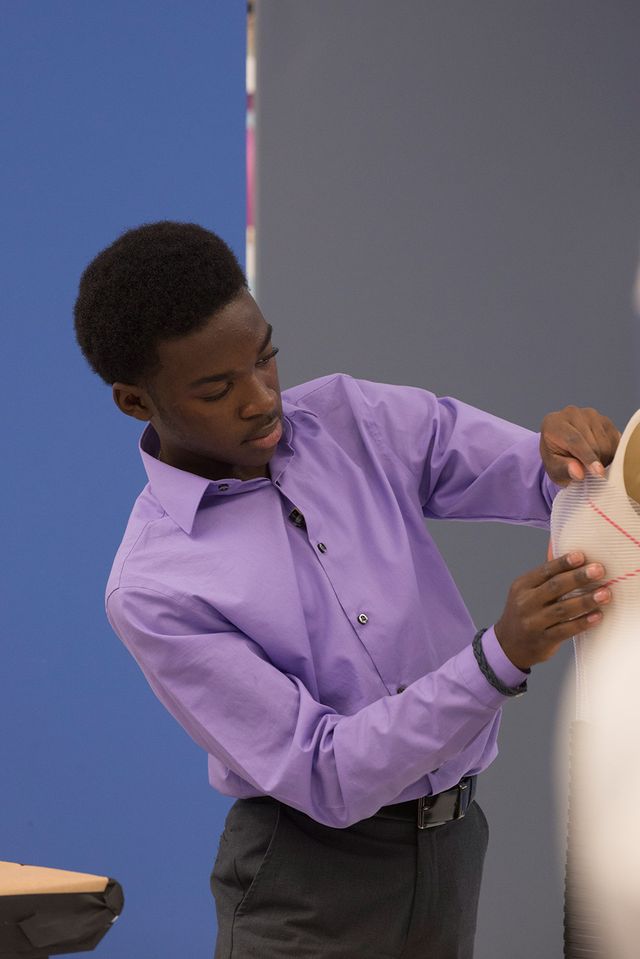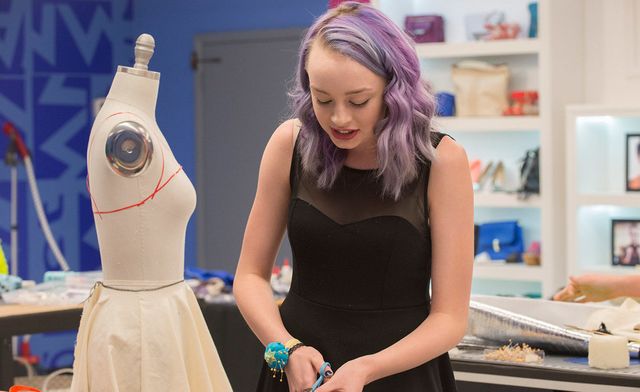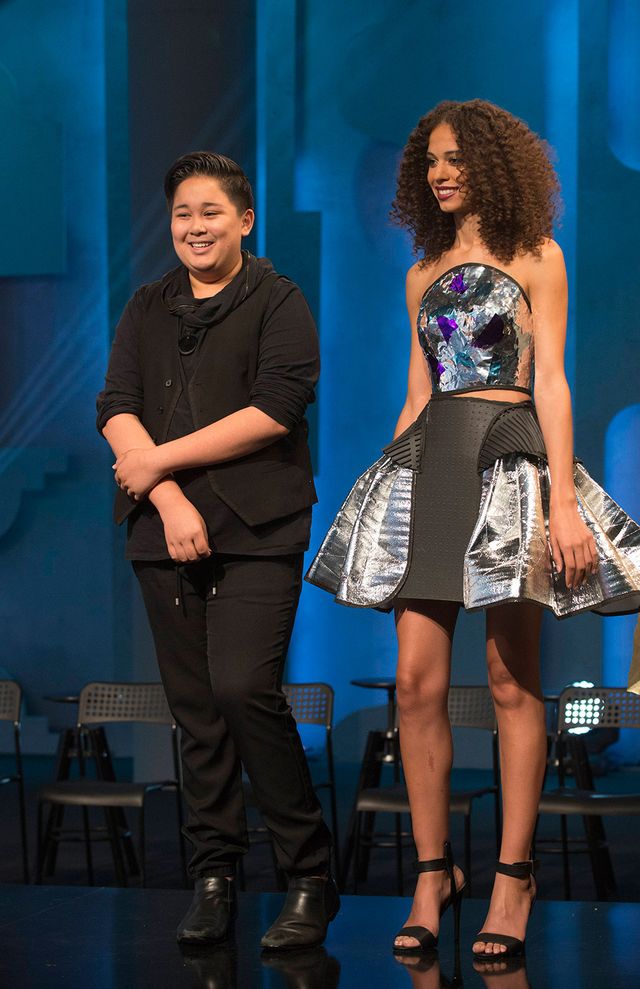 Zachary stands with his model during the judging portion of the episode.