Project Runway Junior: Episode 3, "Teamwork is hard!"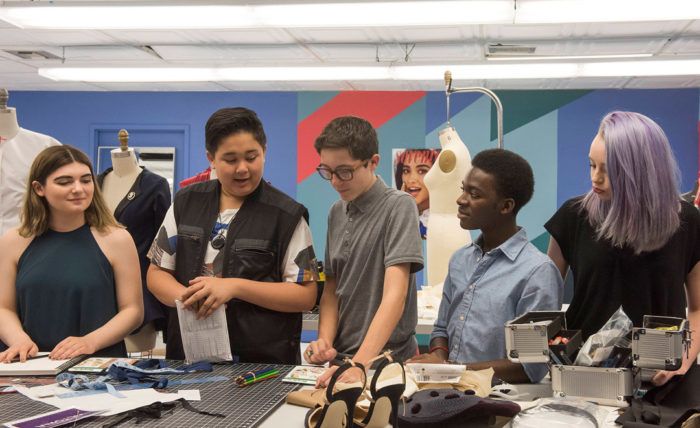 Project Runway Junior, Episode 3 Recap
There were at least two elements to be thankful for in the first episode after Thanksgiving, and I'm crossing my fingers that the season progresses in the same vein. 
First of all, the kids' attitudes: The contestants continue to be generally personable, and the producers are letting us see that. Watching the "senior" Project Runway contestants backstab and bad-mouth each other is wearying.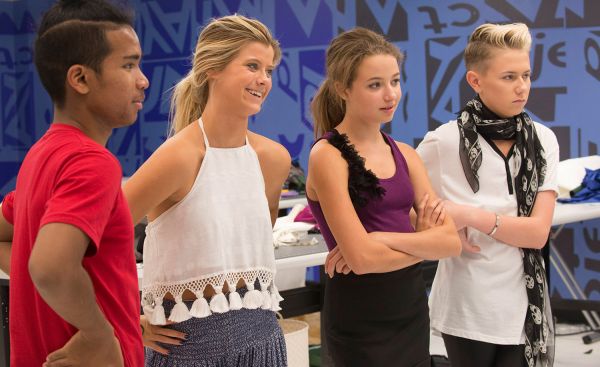 It's a nice change to see these teenagers behave respectfully to each other and to their adult wranglers.

Secondly, Simplicity and Mimi G!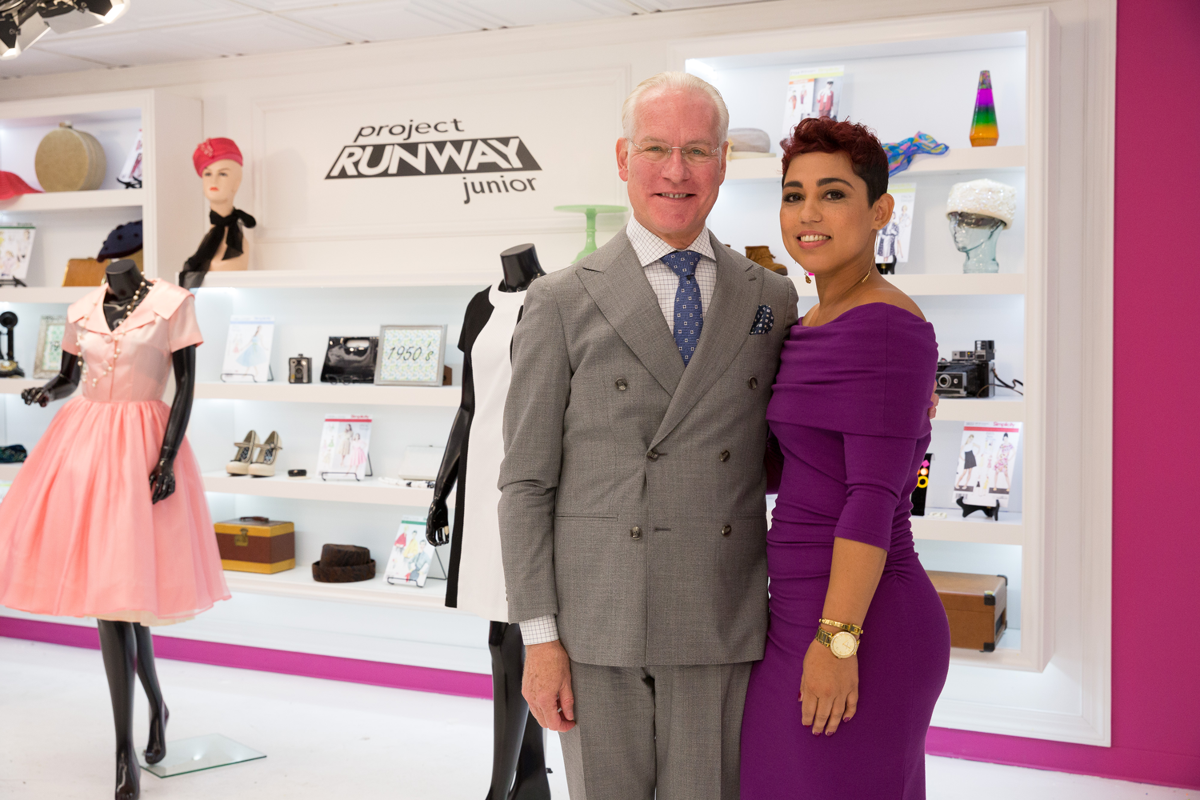 Mentor Tim Gunn and sewing blogger and Simplicity pattern designer Mimi G.
For the home sewers who didn't attended design school, commercial patterns are a crucial part of the creative process. Whether you use a pattern straight out of the envelope or you change it to suit your style, it's the foundation for making almost any garment. It was a pleasant surprise to see that this week's episode was sponsored by Simplicity patterns, one of the best-known names in the business and a company that strives to make fashion sewing accessible to a wide audience.
Although the young designers weren't entirely excited to learn that they were going to be faced with their first team challenge, they were excited about the challenge itself. Both Tim and Simplicity's representative designer and blogger Mimi Goodwin, known to most of us as Mimi G, explained that each team was to create a five-piece collection inspired by a decade of fashion from the mid-20th century. One team chose the 1940s, and the other opted for the 1960s.The best part of the challenge was that the winning garment would be produced as a Simplicity-branded pattern. And behold! It's up on the Simplicity website: Look for C1006.
The teams spent a half hour sketching and planning, then each team sent two members to Mood Designer Fabrics store with a $400 budget. The remaining designers got started on their garments, working with fabric from the "mini-Mood" closet on set. The shoppers (Peytie and Samantha for Team '60s, Zachary and Jaxson for Team '40s) had mixed results, with Team '60s ultimately starting over twice with fabrics from the closet, and team '40s doing a great job with the textiles chosen by their delegates.
Team '60s continued to struggle, with Tim disliking all but one of their original looks during his critique. Despite the designers' apparent aimlessness and lack of leadership (Samantha tried to captain the team, but ended up just working on her own piece), the designers didn't turn on each other. Each designer ended up with presentable garments.
The Runway
Team '40s won the challenge, with Bridget taking the individual win for her flowing red charmeuse gown. Team '60s turned out looks that were surprisingly OK for being made in just a few hours. It came down to Matt's crop top and pencil skirt vs. Samantha's blue jacket and unfinished white dress for the elimination. However, the judges decided not to send anyone home this week . . . with the proviso that there would be a double elimination in the near future.
Let's take a look a the collections.
The winner:
Bridget's gleaming crimson gown. This was rightly considered a "wow" on the runway, as it has all the glamour of a '40s screen siren. It's an impressive piece, and all Bridget's worries about the pleats being imperfect were for naught, because the finished dress looked wonderful. Congratulations, Bridget!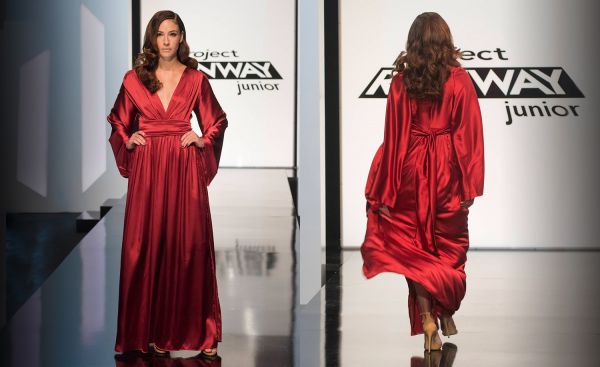 Remaining team '40s looks:
Jaxson's tipped crop top and full skirt. This didn't seem very '40s to me, but it's a solid look. Jaxson's strongest contribution to the team this week was in his shopping. He communicated effectively with his teammates and successfully gathered the textiles they needed for their looks.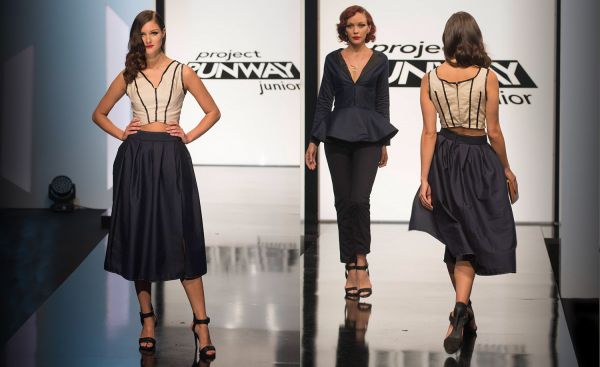 Victoria's crop top and full skirt. Like Jaxson's, this look had a mall-clothes vibe to me, but the blue trim on the black background was a cute touch. Victoria definitely has a specific style but, based on her own clothes and the designs she's made so far, it seems limited. She needs to step out of her comfort zone soon to make a stronger impression.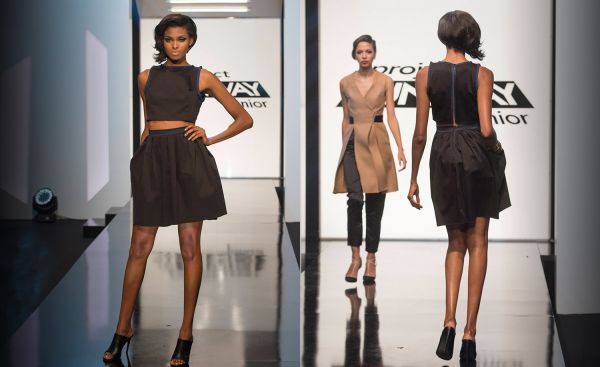 Zach's peplum jacket with cigarette pants. What a sharp outfit! The fit was good, the details seemed to be well-thought-out, and the execution looked clean. Very nice work. The judges found the jacket to be not entirely original, but they praised the fit of the pants.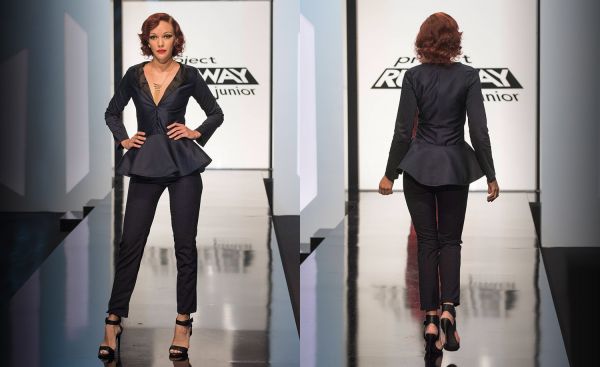 Zachary's camel-hair vest with black trousers. Zachary was the leader of the team in terms of coming up with an inspiration. Out of all the members on his team, Zachary seemed to have the clearest idea of how to modernize the aesthetic of the 1940s. His belted wrap vest had interesting and unique style lines.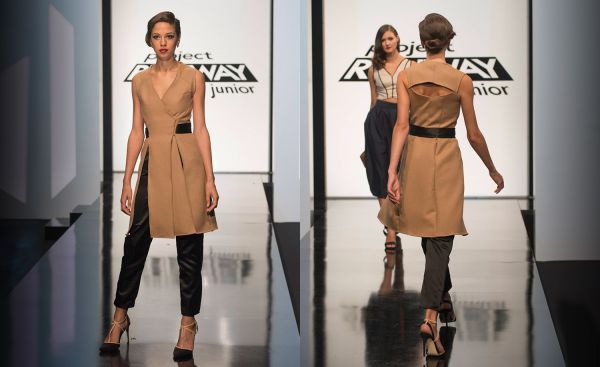 Team '60s:
Jesse's Mondrian-inspired shift. This looked very much like a '60s garment to my eye. Though it was simple, the color blocking was well done. Jesse continues to float around in the middle of the pack. I'm waiting for him to rise to the top. I think he's got the talent to do so.
Matt's crop top, gray skirt, and head scarf. Matt got lost in this challenge, and this was apparent to the judges and viewers as well. It was obvious that he scrambled to find some sort of '60s inspiration. He chose Jackie O., hence the head scarf, but the rest of the look was nondescript. He was lucky not to go home for this. His bubbly personality and clear opinions make for good TV, though, so I think he may be safe for a while longer.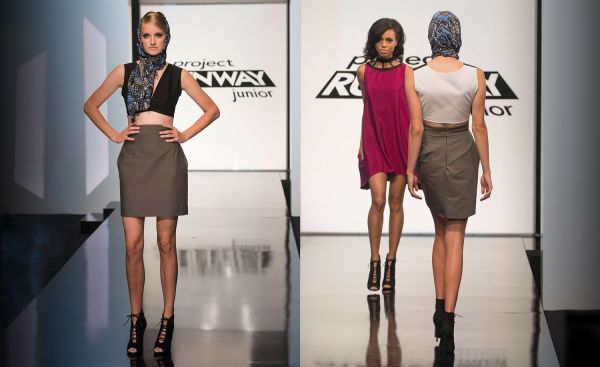 Maya's magenta shift. The judges praised this heavily for its unusual neckline and choice of color, but I didn't love it. I found the neckline awkward and strangely strangling. But Maya was the only designer on her team to get Tim's approbation in the first round of critiques, so she knows what she's doing.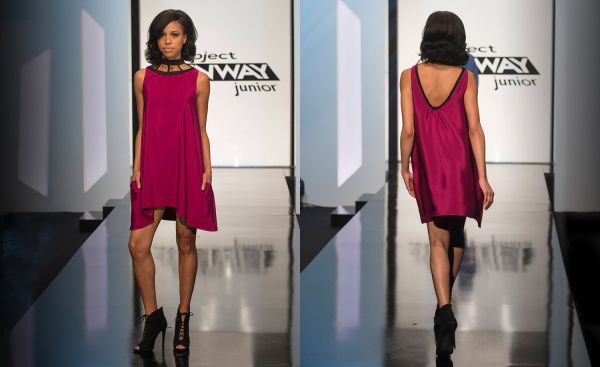 Peytie's shift. Another shift dress! This was a print with a white stripe down the front and a band around the collar. The dress looked fine and clearly '60s-inspired, but I would hesitate to call it design.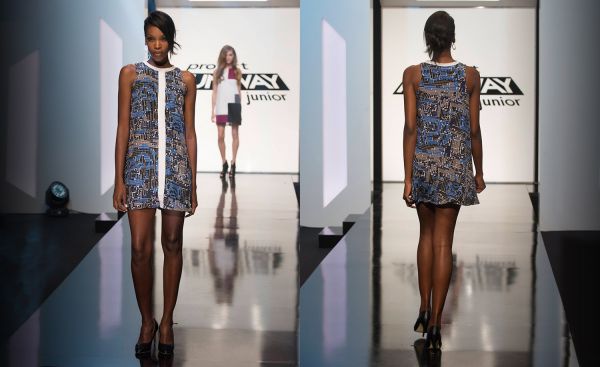 Samantha's blue coat with white dress. I'm not sure why, but the judges adored this coat. It looked badly made to me. I had the feeling it never went near an iron. The raw edges looked incomplete, rather than deliberately deconstructed, and the dress was unfinished. This landed Sam at the bottom. Clearly, she's the judges' darling right now, so they won't send her home just yet.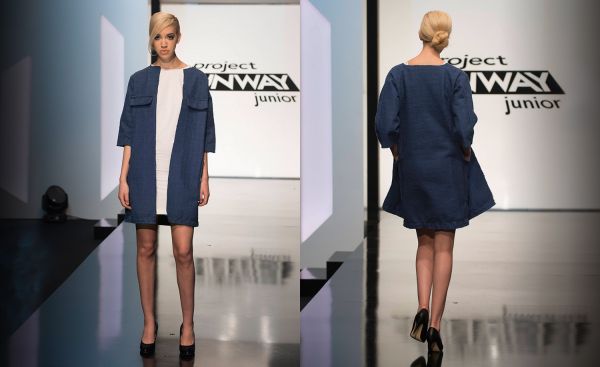 What do you think of the designers' takes on decades past? Were there any looks you especially liked? Did you agree with the decision not to send a designer home this week?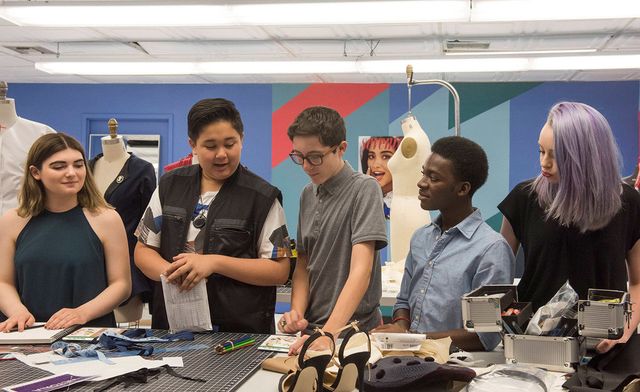 Five of the ten remaining contestants
Contestant Jaxson in the workroom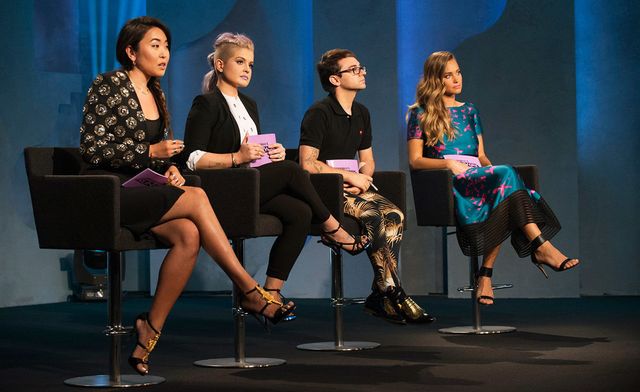 This week's panel of judges: Aya Kanai, Kelly Osbourne, Christian Siriano, and Hannah Davis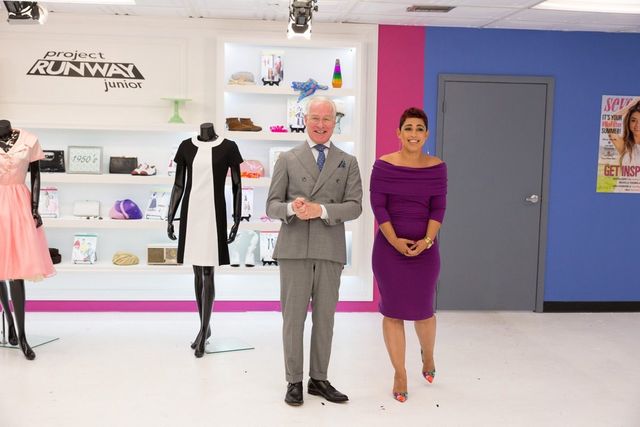 Tim Gunn and Simplicity's represenative Mimi Goodwin