Project Runway Junior: Episode 4, "A Very Special Guest"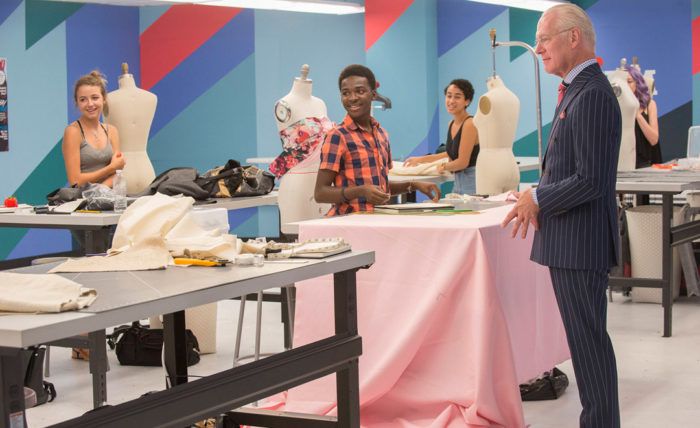 When we've gotten used to Project Runway promoting Samsung refrigerators, Red Robin, and hotel chains, it was a refreshing surprise to learn that this week, the contestants would be designing for a cause: Let Girls Learn. What's even more exciting is the challenge was described to them by First Lady Michelle Obama via a prerecorded video message. The special prize, in addition to immunity next week, was the opportunity to design a backpack to be sold through Lands' End, supporting the initiative.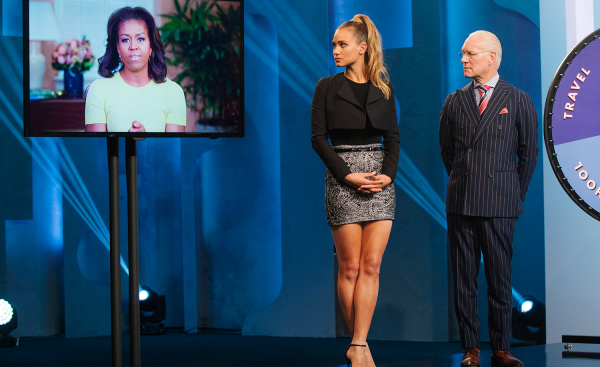 Each designer was brought onstage in turn to spin a wheel, which would determine what aspect of "girl-on-the-go" he or she would tackle: work, party, sports, travel, or school. Everyone seemed satisfied with the results, except Jaxson, who specializes in glamorous special-occasion clothes: His spin landed him with "sporty," and he didn't seem pleased.
After a trip to Mood Designer Fabrics in New York City's Garment District, where Jesse and Jaxson seemed discombobulated and unfocused, the designers got to work on their looks. Mentor Tim Gunn stopped by for his critique, and it was helpful for most of the designers. He persuaded Jaxson to switch from a dull white dress (under a mesh vest) to a silver romper. He helped Jesse see that the white bouclé pleated skirt he designed for "school" was too grandmotherly. And he steered Victoria away from re-creating the same outfits she's shown for a couple of weeks in a row-–although as we'll see, even Tim's spot-on advice wasn't enough to save everyone.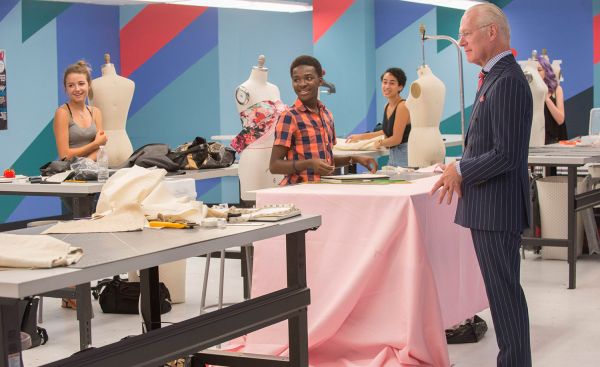 Runway day
Oh, how I was hoping Michelle Obama would show up as a guest judge! I love her, and I'm sure she'd have been wonderful in the role of fashion arbiter for teens. She's got great style, and so do her daughters-–you can tell the Obama women understand how to use fashion to express themselves. It was not to be. Nonetheless, the runway show was impressive. Our crew of adolescent designers are, for the most part, living up to their talent. (As an aside, this makes me wonder if they're given a more humane schedule than the usual Project Runway contestants. Perhaps they're required to go to bed on time and eat properly, as they seem bright-eyed and cheery.)
Here's how the challenge turned out.
The winner:
Peytie's "fancy apron" and shorts. Boho-spirited Peytie was thrilled to get "travel" as her category, and she chose a great print for her look. The fabric says "global" and "high-end" at the same time. The outfit she designed was cute and chic, though it certainly skewed young. Still, it was well made and well styled.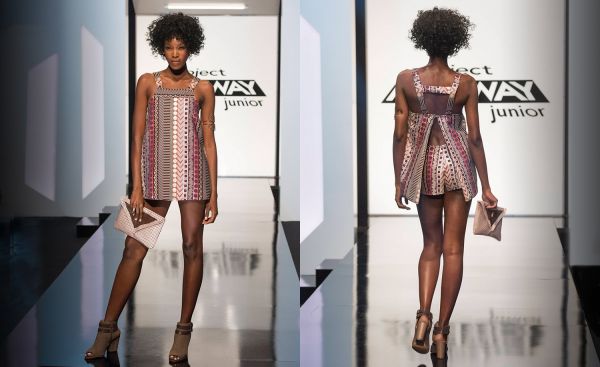 Remaining top two:
Zachary's two-piece "party" ensemble. The judges loved the color, proportions, and sophistication. I'm not sure about the bust ruffle, but Zachary does seem to have an innate sense of just how far to go. There's enough embellishment and drape and drama to make this super-eyecatching but not look costumey and crazy.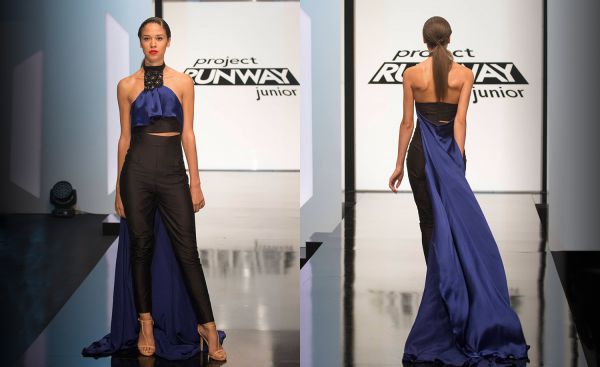 Maya's ultramodern "sporty" leggings-and-vest ensemble. The judges praised the sophistication of this look, with its asymmetrical zipper and cool collar treatment. Maya even made the sports bra that her model wore under the top. I'd like to know how Maya learned to design and sew like this–she only just turned 14 (belated birthday wishes, Maya!).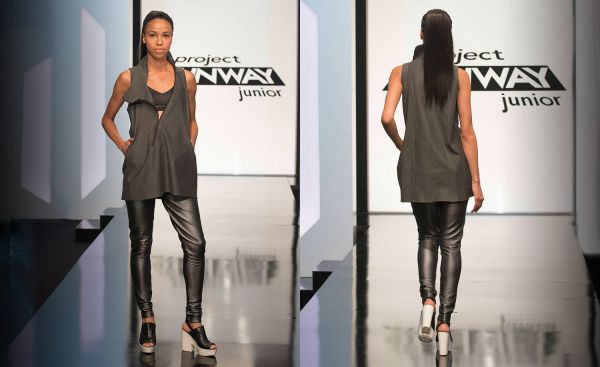 The losers:
Because no one was sent home last week, there was a double elimination this week.
Victoria's shorts and top look. Victoria struggled with this week's challenge. Even with her "school" theme, she couldn't step outside her black-on-black aesthetic. Zachary warned her against making the same black cotton tank top (and he managed to do so without coming across as mean or nasty), and Tim repeated the advice in his critique. In fact, Tim practically redesigned her look, although Victoria still managed to stray. The black top she made was basic and boring; all its details were obscured by the dark palette. But the real trouble was the black stretch shorts. Shorts like these are known in my house as "demerit shorts," because you get a demerit if you wear them to school. The model looked sporty, but not appropriate for high school.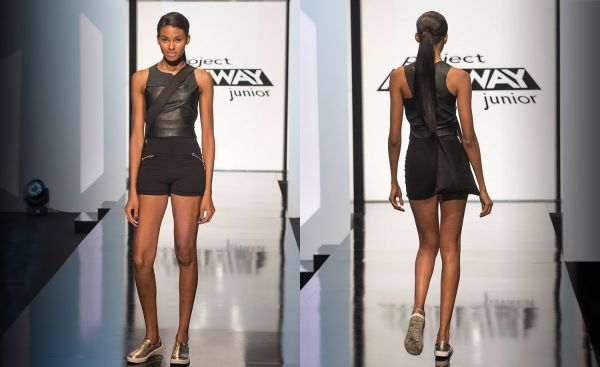 Jesse's school-uniform outfit. Ah, Jesse! Why did you have to go so soon? Your sewing skills are amazing: two sharply pleated skirts in one challenge?! But we never got to see what you can really do as a designer. The judges were down on Jesse's too-literal take on the "school" theme, and while I see their point, the quality of his work is extraordinary. My guess is that Jesse's low-key personality wasn't television-friendly enough for the producers. He didn't deserve to be sent home for this look.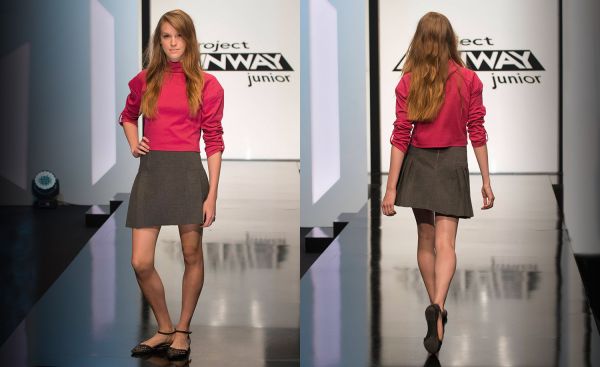 The remaining bottom look:
Jaxson's "sporty" romper and mesh vest. To me, this was the worst of the looks on this week's runway. It was aptly described by Jaxson's fellow designer, Matt: "It looks like it he's designing for Neil Armstrong's drag persona." Even that doesn't excuse the mediocre sewing and fit, unfortunately. Jaxson is a funny, enthusiastic, likable oddball, and that seems to please the producers. I would be sad to see Jaxson go home, but it would have been justified this week.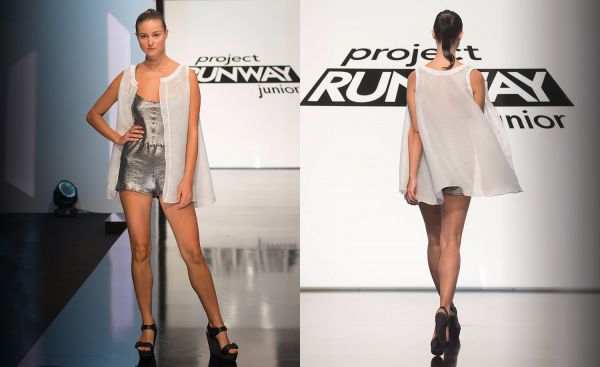 The safe looks:
Bridget's black halter dress with flannel "shirt" wrap skirt, intended for school. This was undeniably a cute, teen-appropriate look, but like Victoria's shorts, the halter-neck bodice wasn't suitable for school.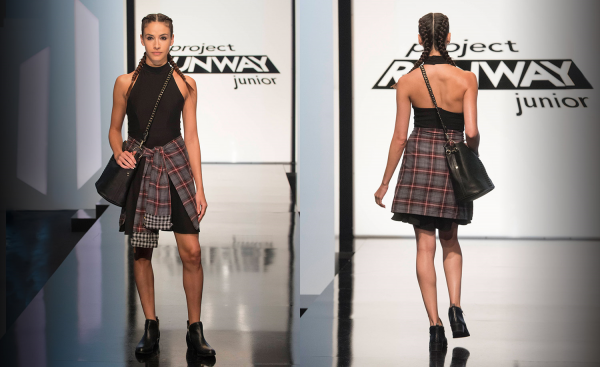 Matt's black-lace bodice gown. Matt's theme was "travel," and I don't see how this look had anything to do with travel. I don't know anyone who wears this sort of getup to go anywhere; nor do I know a single girl-on-the-go who's going someplace that calls for a sheer top and high-slit maxi skirt. None of this made sense to me, but it wasn't a crop top and pencil skirt, so Matt was safe. I think Jesse's "literal" school-girl ensemble should have won over this puzzling" travel" look; maybe the judges should just let Matt be a commentator and bring Jesse back as a designer. That would be fun for all.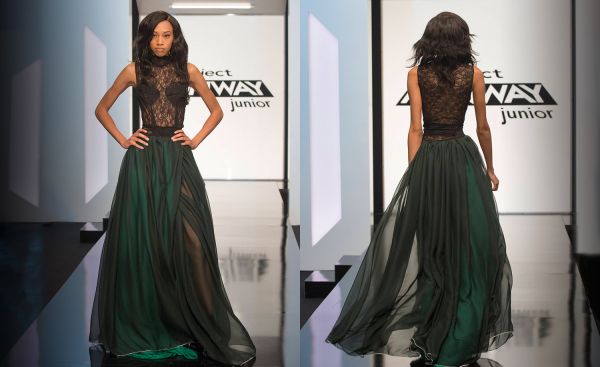 Samantha's work look. I liked this coat, pant, and top outfit, although this had more of a "school" vibe to me than some of the "school" looks. The proportions were interesting and the fabrics appropriate for the garments, so the result was quite successful.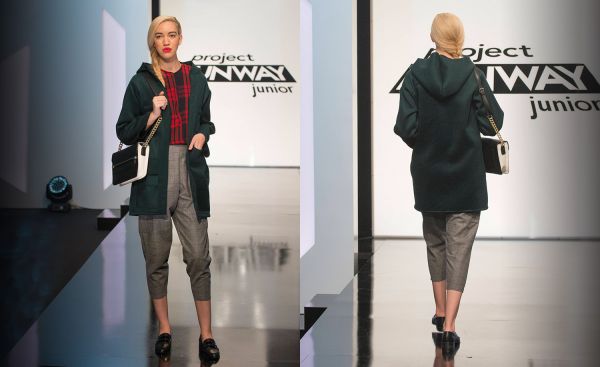 Zach's floral print "party" jumpsuit. Maybe this was separates–-I couldn't tell. This seemed very Southern to me, specifically southern chair cushions on the veranda. I didn't love this print. However, the look was true to Zach's point of view, and there seemed to be some interesting details (which were lost in the print). Zach appears to be a highly skilled seamster, besides. It will be fun to see what he comes up with in future weeks.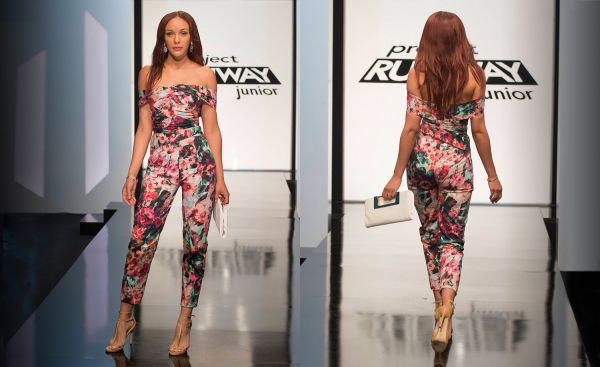 What did you think of the judging? Did Jesse deserve to go, or would you have chosen someone else?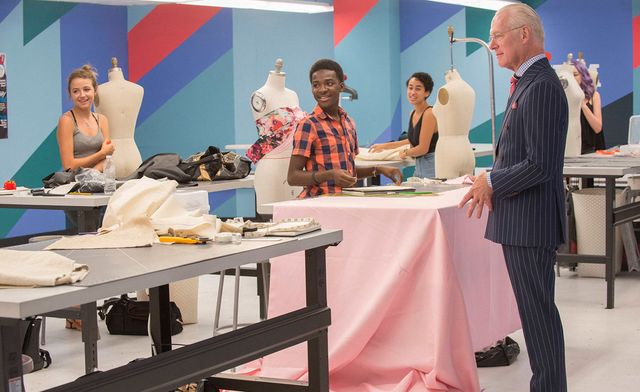 Tim critiques the designers' work.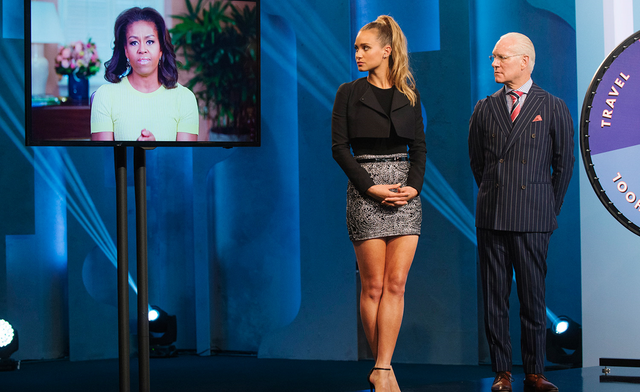 First Lady Michelle Obama announces the challenge.