Corsets for Historical Costuming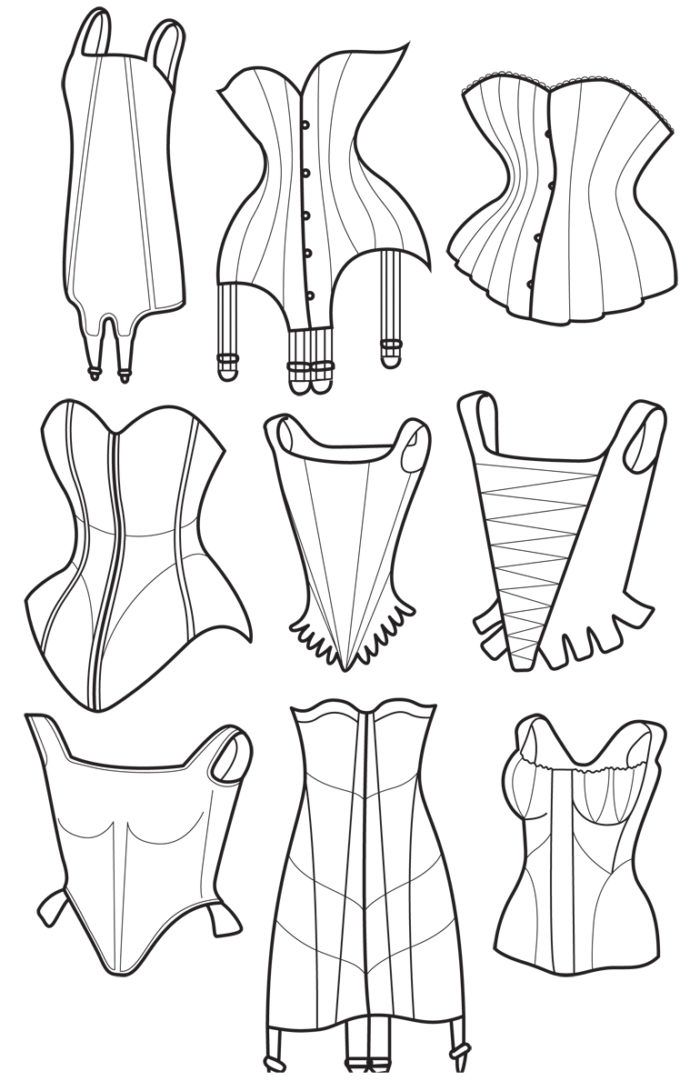 READERS' QUESTIONS – EXPERT ANSWERS
Q: I am interested in doing historical, or at least pseudo-historical, costuming-from Regency-type gowns to steampunk outfits. These seem to require a corset. Can you give me some ideas of what corset styles to make, and sources for patterns and essential materials? I'm not terribly concerned about historical accuracy in the construction-machine sewing and modern materials are fine, but I'd like to get the silhouettes more or less correct.
-Barbara Willey, Pleasant Prairie, Wisconsin
A: Stephani L. Miller, Threads special projects editor and an expert on historical costuming, responds:
Historical costuming is fascinating-it tends to suck you in, leading you deep into a maze. There are thousands of hobbyist historical costumers around the world who share your interest and many frequently write about their experiences online, where anyone can access the information. You're already on the right track, since you want to start with corsetry: Undergarments are the key to achieving the right silhouette for any period.
You mentioned a wide time span, from the late 1790s through the early 1900s (the steam-punk genre-not a true historical period-tends to emulate styles from the 1850s through about 1915). Fashion silhouettes changed quickly during these 100-plus years.
The shaping created through corsetry changed from a rounded cone to a smooth column with a high waistline and uplifted bust; then morphed into the familiar hourglass that dominated most of the Victorian age, which transformed into the wasp-waisted S-bend silhouette; and finally ended with another smooth column.
Since you're not concerned about strict historical accuracy but simply want to capture the correct silhouette for the time periods you noted, I recommend starting with Simplicity's and Butterick's historical costume collections. Both offer corset patterns. The instructions are thorough and the pattern drafting is solid. However, you may need to watch for more ease than is historically accurate. Consider measuring the pattern pieces and making adjustments for a close fit before cutting.
Butterick and Simplicity focus on 18th-century stays and Victorian and Civil War-era corsets, though the precise style or era isn't always noted on the pattern envelope. For anything else, do a Google search for independent pattern companies that focus on historical garments. Some of them cover multiple historical periods, while others focus on one or two.
For conical Georgian-era stays, look at patterns by JP Ryan, Butterick, or Period Impressions.
For Regency-era stays and corsets, look at Laughing Moon Mercantile, Past Patterns, Mantua Maker, Reconstructing History, and Sense & Sensibility.
For Victorian-era corsets, look at Butterick, Simplicity, Laughing Moon Mercantile, Truly Victorian, and Past Patterns.
There are also books that document extant historical garments held in museum collections and that provide scaled patterns of everything from corsets to ballgowns. Nora Waugh's Corsets and Crinolines and The Cut of Women's Clothes, Janet Arnold's Patterns of Fashion series, and Jean Hunnisett's Period Fashions for Stage and Screen series are all good investments, even if you don't plan to create 100-percent historically accurate corsets. These books have been reprinted and, in some cases, revised or updated by different publishers.
You also can find more obscure patterns that costumers have posted or discussed online by searching Pinterest. Of course, costumers with their own blogs are invaluable resources for inspiration and information.
Some of the best resources are reviews posted to websites like PatternReview.com or GBACG.org (the Greater Bay Area Costumer's Guild). The latter offers a database of reviews for patterns housed on its site.
Materials for corset- and stay-making are not difficult to find; many vendors who sell patterns also sell boning, busks, corset coutil (a closely woven cotton twill), and the necessary tools and other notions. Some even package and sell kits with patterns and materials. CorsetMaking.com, Farthingales.on.ca, and VogueFabricsStore.com reliably stock what you'll need, and they offer fair prices.
This post was originally featured in the Q&A department of Threads #183 (February/March 2016).
---
Have a Question? Send it to us and we'll find an expert's answer.
via mail: Threads Q&A, PO Box 5506, Newtown, CT 06470-5506
via email: ThreadsQ&[email protected]
via the Contact the staff page to submit your entry