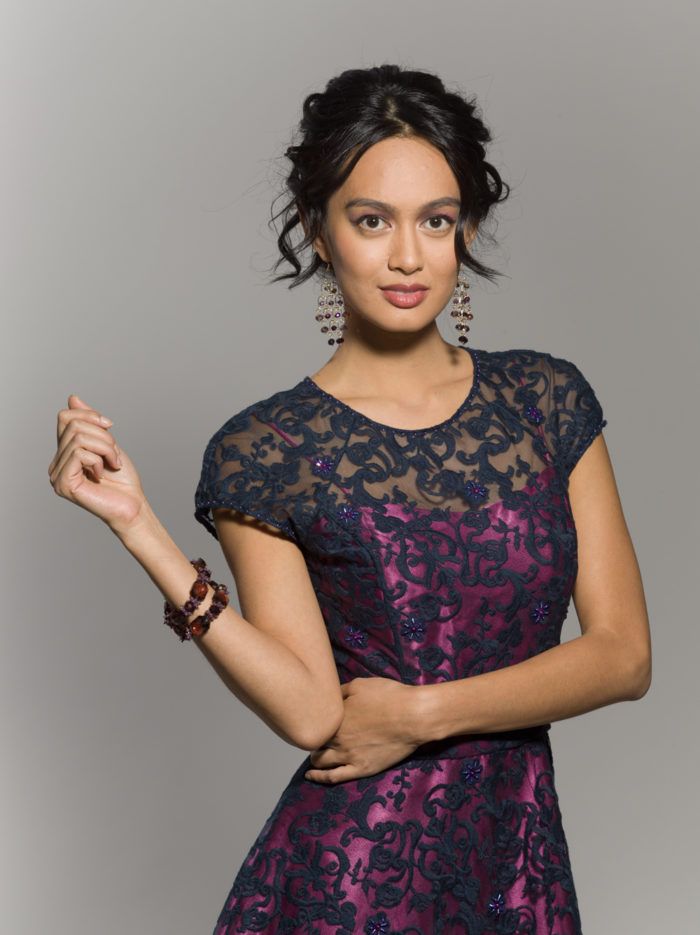 Garments made with embellished lace are one of a kind. Your handwork creates a fabric typically found only in couture fashions. Consider the following factors before you choose a design for your garment and start stitching.
1. Let Lace Inspire You

If you have a particular lace fabric in mind or in your stash, take pattern cues from it. Does it have body? Or is it soft and fluid? Your lace's drape affects the garment fit.
2. Use Underlining to Influence Body
Your lace garment can be underlined. Consider what to use and in what color; if it is a fitted garment that you desire, a China silk, crepe, or organza are good choices. Use netting to add strength if it is needed. Georgette or silk tulle is appropriate for a garment with drape.
3. Lace Style Dictates Design
A contemporary-looking lace might call for a design that is different than one for a traditional-looking lace. Motifs, cut out and repositioned, create a new embellishment design. The lace scale should also work with the design. A larger lace pattern calls for a bolder design; a smaller one needs a softer, more feminine motif.
4. Keep your Pattern Simple
Keep the focus on the lace and the embellishment. Look for patterns with few pieces; seams disrupt the lace pattern and the flow of embellish ment, so you want to keep them to a minimum.
5. Construct with Care
Try not to cut through lace motifs; instead, cut and sew around them. This means that a seam meanders rather than goes straight. This is true for darts also. The pattern in the lace determines whether you design a garment with bust darts, although you can always cut out motifs and position them over darts to make the construction less conspicuous.
6. Use the Selvage to Advantage
Examine the selvage of the lace. Some lace fabrics have beautiful selvages that you can use to trim the garment. If the lace has a border and you plan to use it, note the border's repeat and height. Make pattern adjustments to use the selvage elegantly.
7. Make Test Samples in Advance
An embellished lace garment takes a long time to create, so invest some time in making samples to establish the right color, design, and fit.
8. Create a Muslin
After choosing your lace and pattern, create a muslin version of your garment to check the design and to gauge the fit. Make any design changes, such as length, neckline shape, and the fullness of the garment, at this time. Address fitting issues at this point and make a new muslin if needed. Transfer fit adjustment to the pattern along with any design changes.
Do you have tips or tricks for working with lace? If so, share them in the comments section.