9 Ideas to Decorate your Sewing Room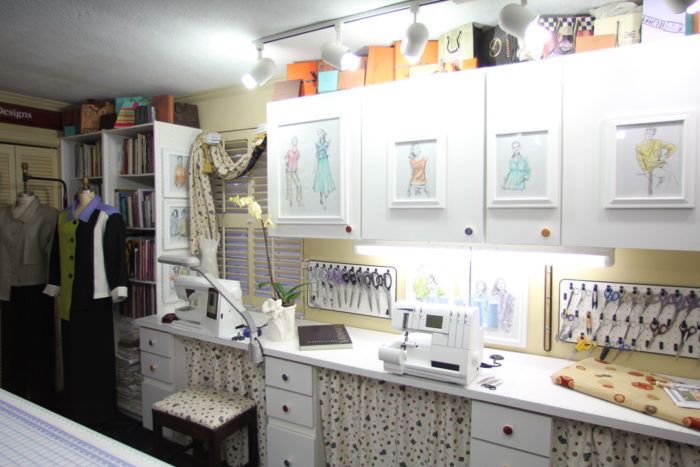 Below is a roundup of some of our favorite sewing room decoration ideas from Threads. If you're looking for a way to spruce up your studio, look no further.
Owner of Cutting Line Designs and Contributing Editor Louise Cutting shared her Winter Park, Florida, sewing space with us in Threads #173.
Louise adds color to her room by placing high-end shopping bags from all around the world above cabinets and bookshelves. She also frames and hangs her hand-drawn pattern illustrations on cabinets, bookshelves, and on just about any free wall space she can find.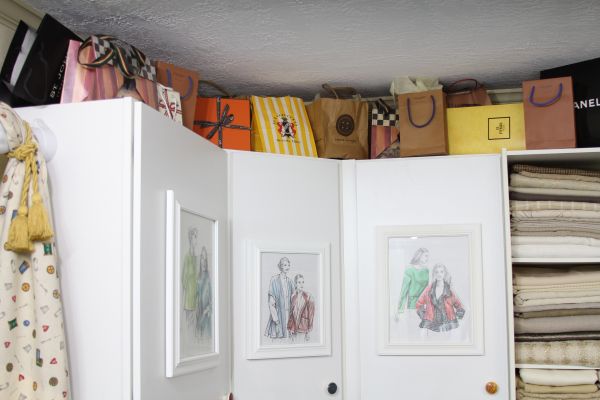 Photo by Gary Junken.
In addition, Louise always knows where to find the right pair of scissors. She conveniently hangs her many varieties on hooks attached to a peg board close to her sewing machines.
Photo by Gary Junken.

Take a look at more sewing studios and spaces:

• An Inside Look at Mary Ray's Sewing Studio
• Inside Louise Cutting's Sewing Room
• Another Look at Kenneth D. King's Sewing Space
• Helen Haughey's Favorite Tools and Storage Solutions

In Threads #174, business owner and couture sewer Helen Haughey let us tour her lovely sewing studio in her St. Louis, Missouri, home.
Helen says this wooden MyKoalaStudio table is the perfect combination sewing/cutting table for her. The additional storage space beneath the surface is provides room for displaying fabric and other treasured memorabilia.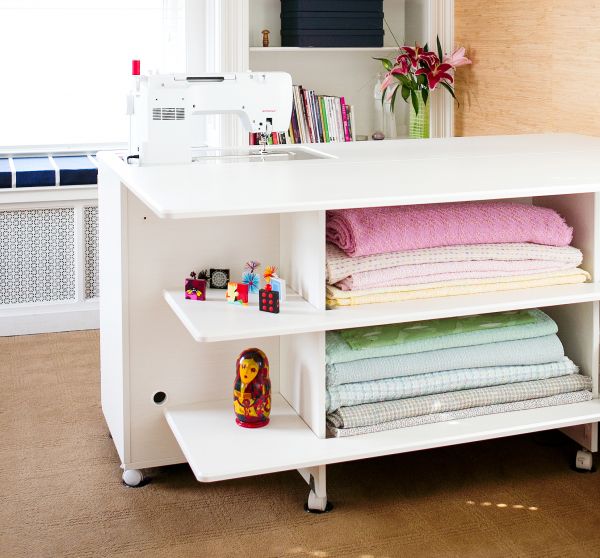 Photo by Heather Roth Fine Art Photography
Helen also has a beautiful fitting setup. In addition to her tri-fold mirror, she has plenty of space for client fittings on a covered platform.
Photo by Heather Roth Fine Art Photography
In Threads #175, Mary Ray described her favorite methods for storing fabrics, notions, and thread in her Banner Elk, North Carolina, studio.
You'll notice Mary's inspiration board, where she keeps images and objects she finds interesting.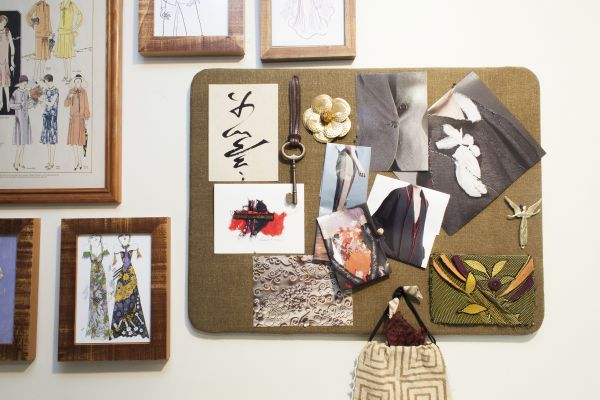 Photo by Cheryl Zibisky Photography
Mary uses decorative threads to add color to her studio as well. She stores them in shallow, wooden wine boxes, which she uses as shelves.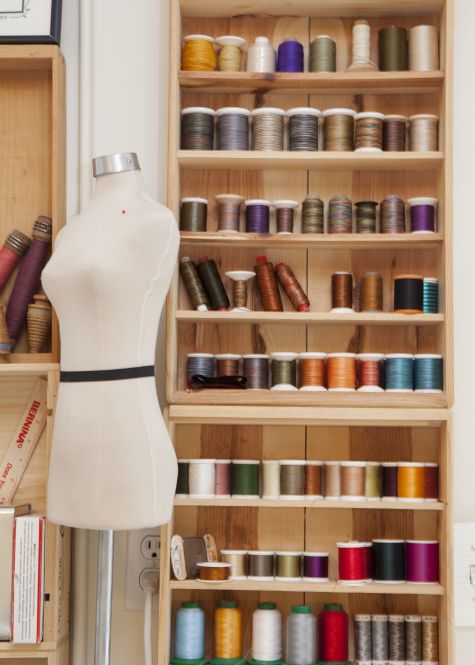 Photo by Cheryl Zibisky Photography
In Threads #176, Ruth Ciemnoczolowski explained that she loves to fill her Omaha, Nebraska, studio with inexpensive furniture and storage units so she can put her hard-earned money toward high-quality fabrics and supplies.
This 3-foot-by-6-foot whiteboard display helps Ruth keep track of important dates, projects, and shopping lists. She made it herself using three whiteboards, narrow black tape, stick-on letters, and duct tape printed with tape measure markings.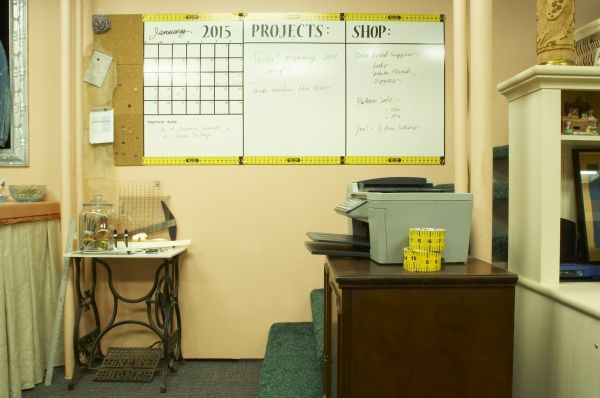 Photo by James Keller.
Since Ruth saves a fortune on organization, she doesn't feel guilty about spending money on precious fabrics and notions. This lovely button, for instance, cost $100 and is made with sterling silver and rhinestones. Until she finds a use for it, Ruth has it framed on the back of her studio door.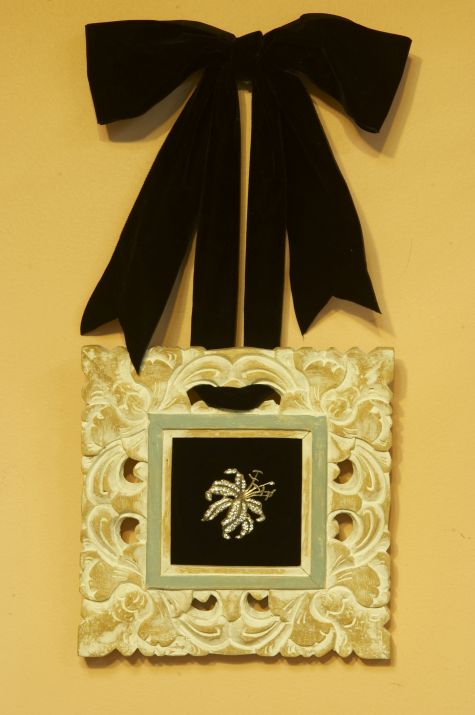 Photo by James Keller.
In Threads #178, modern quilter Denyse Schmidt showed us her office space in Bridgeport, Connecticut.
You'll see Denyse stores fabric and supplies on vintage shelving units with wheels for easy mobility. Denyse's prominently displayed fabrics brighten up the room and make it easy to see what she has available to work with at all times.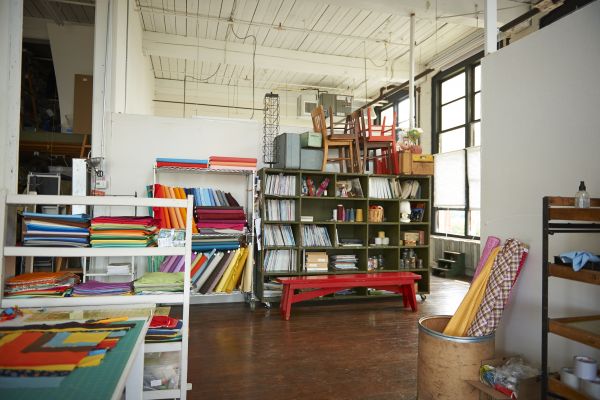 For more ideas on how to decorate your studio, check out Threads #178, featuring Denyse Schmidt's Sewing Room.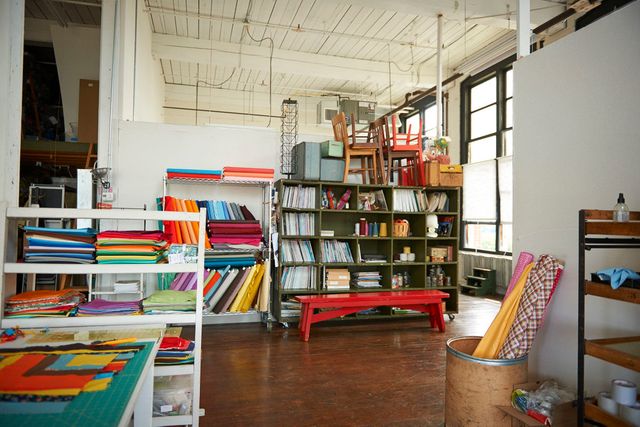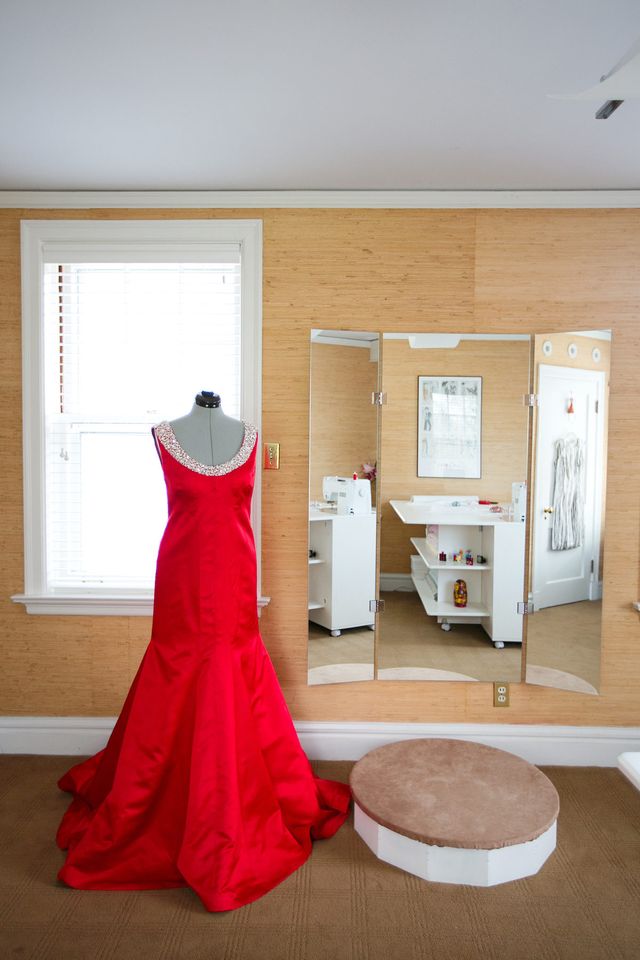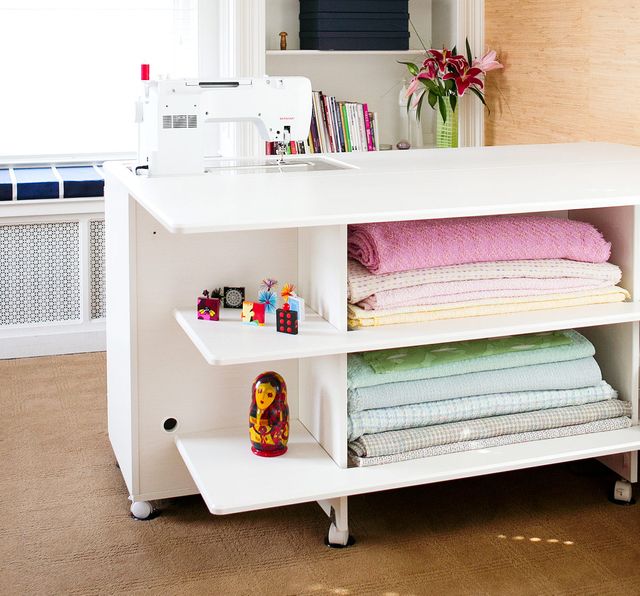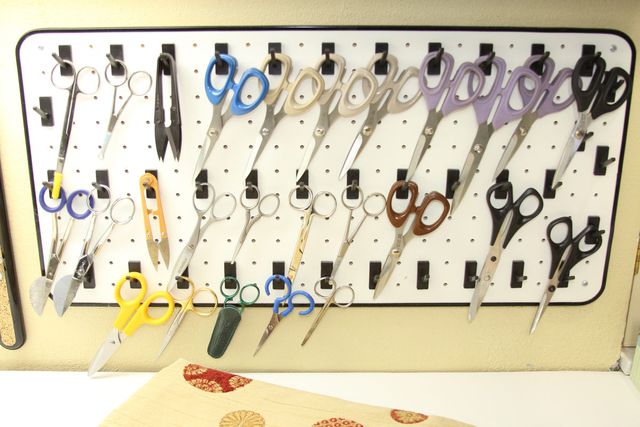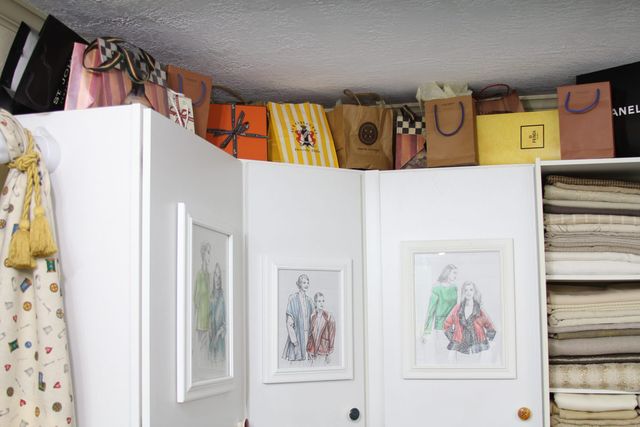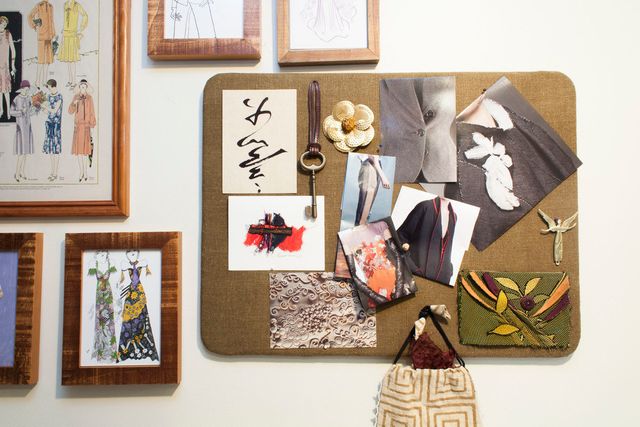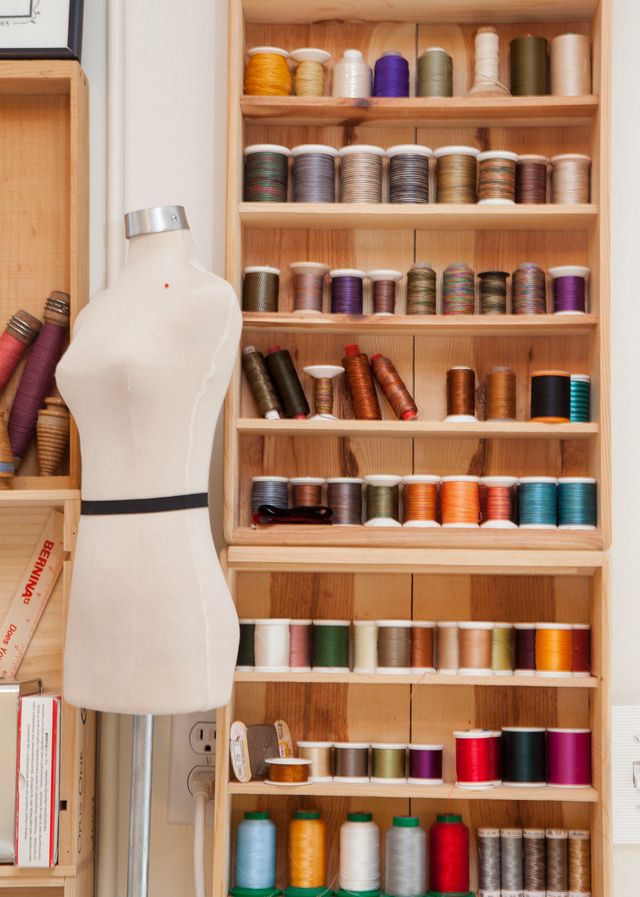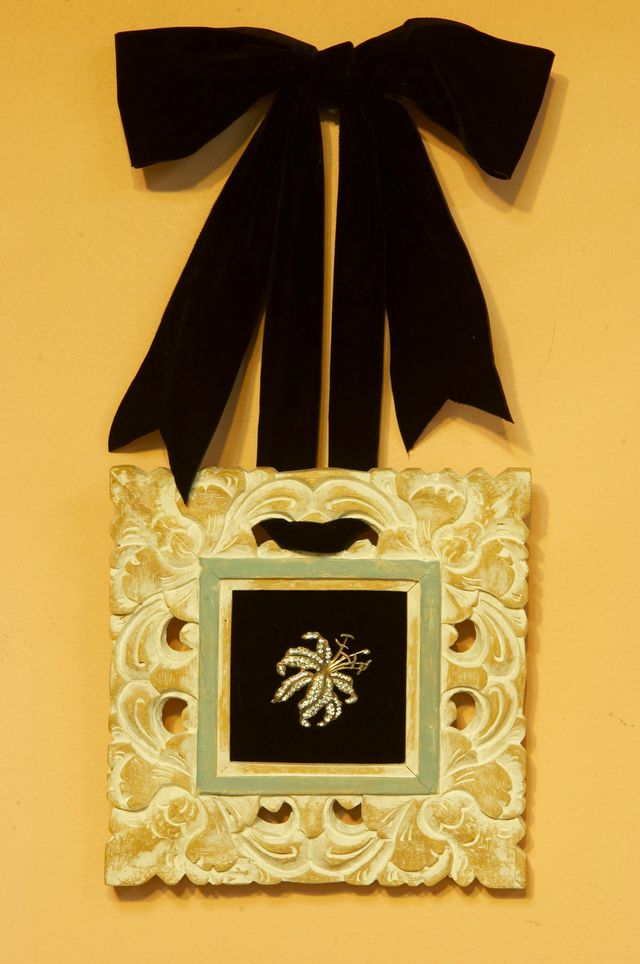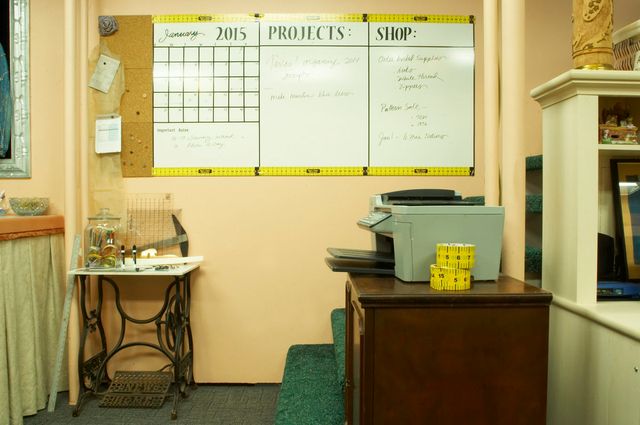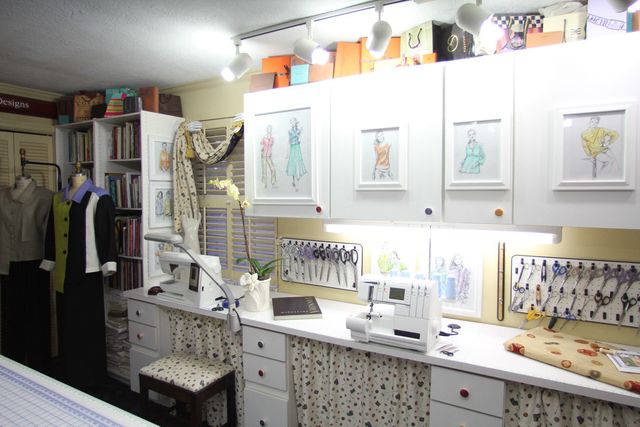 Contributing editor Louise Cutting's studio is covered with sewing-related decorations.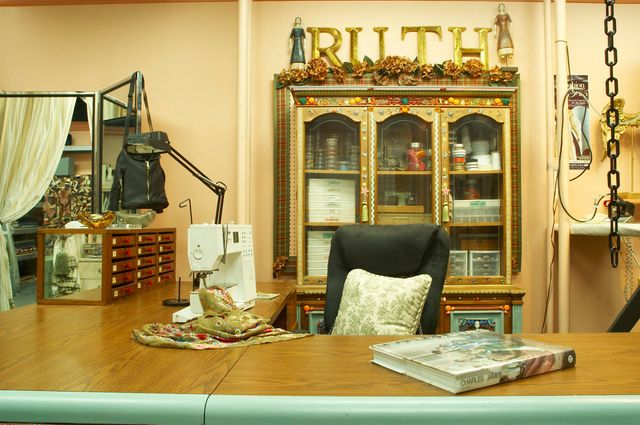 Ruth Ciemnoczolowski likes to take advantage of inexpensive furniture and storage systems to enhance her studio space.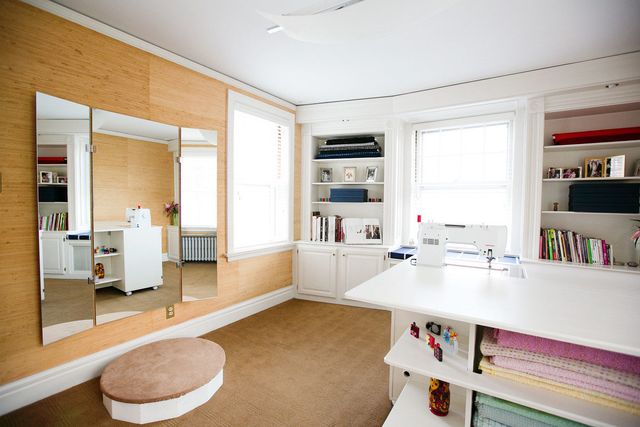 Helen Haughey's sewing space is bright, spacious, and subtly decorated with books, photos, and fabric.