Why Pant Hems Go Up When You Sit Down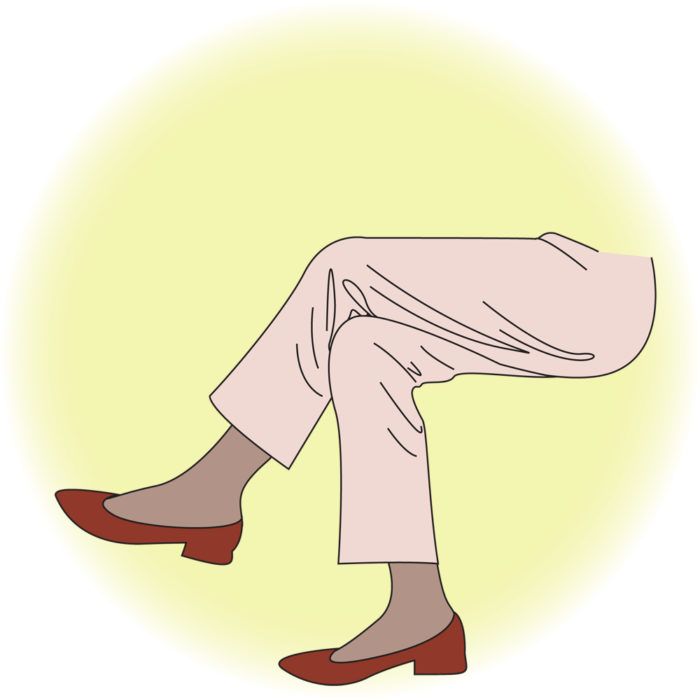 READERS' QUESTIONS – EXPERT ANSWERS
Q: Why are some pants too short when sitting down? When I am standing, my pants are all full length, but when I sit down, some of the pant hems ride up, while others don't. Why does this happen? Can I fix it?
-Stephaniemartins26, via Gatherings forum
A: Kenneth D. King, contributing editor and featured instructor in numerous fitting videos, assesses the issue:
If your pants are the proper length when you're standing and walking, then they will get shorter when you sit. Bending at the hips and knees takes up length in the pants. Men know instinctively that they need to hitch up the trouser leg, to move length upward so the body has room to bend. Obviously, the hem will rise when you do this.
Some factors that can affect how much pant legs ride up include the pants style (the leg shape and width, in addition to overall ease); the fabric (stretch fabric may simply flex so the pants don't ride up); and your body type (a fuller derrière may take up more length when you sit, for example).
How do you fix it? In fitting, it's all judgment calls. If you want the pants to be the proper length when sitting, then they will be too long when standing. (The exception to this is pants made of a very stretchy textile.) This falls into the category of "How will you wear it?" You can fit your pants quite long and wear heels, if you like. If a person is sitting all the time (say, in a wheelchair), then hemming the pants to the proper length when sitting is the way to go.
This post was originally featured in the Q&A department of Threads #183 (February/March 2016).
---
Have a Question? Send it to us and we'll find an expert's answer.
via mail: Threads Q&A, PO Box 5506, Newtown, CT 06470-5506
via email: ThreadsQ&[email protected]
via the Contact the staff page to submit your entry