Project Runway Junior: Episode 6, "Superstar Clients"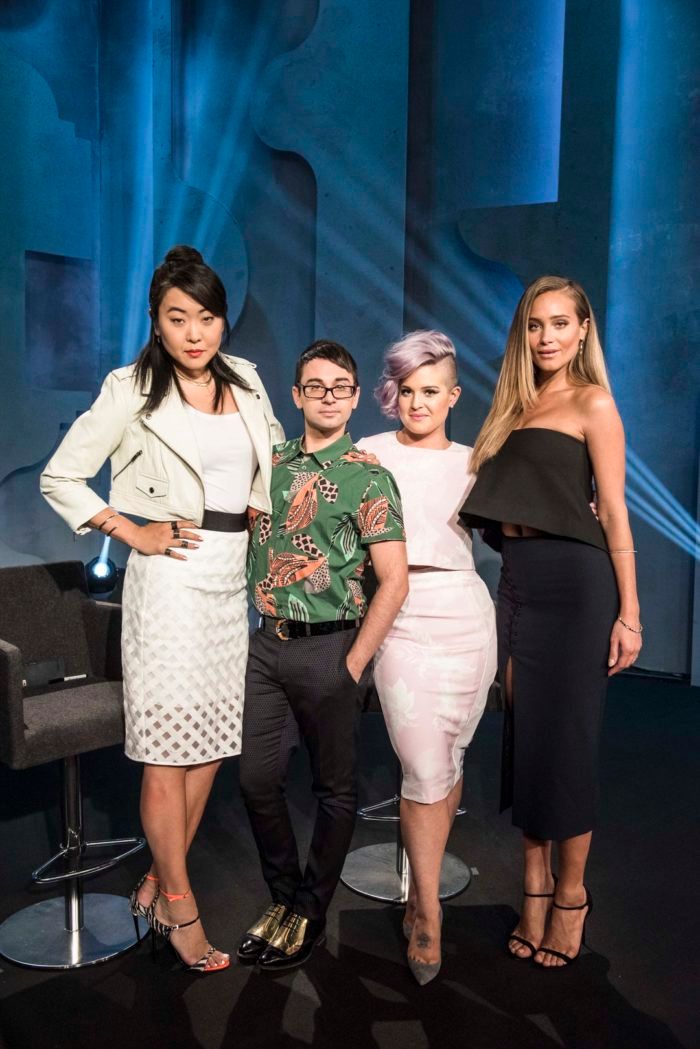 Cheerleaders? Yes, this week the contestants were tasked with designing for the New York Knicks City Dancers. As soon as the teens saw these glamorous dancers on the runway, they panicked, fearing they'd be required to make athletic wear. Happily, the challenge was to make a nonperformance look for the dancers. And while this was sort of a "real person" challenge, it wasn't as tricky as similar client-focused episodes, as these clients were all gorgeous and more or less model-shaped and model-sized. From what the show's editing revealed, the cheerleaders also were sweethearts who seemed genuinely excited to be working with the kids.
Each designer was paired with a dancer and given 30 minutes to talk with her about her personal style and the type of outfit she'd like. Mentor Tim Gunn reminded the contestants that they needed to please their clients while not losing their vision as designers. This has been a challenge for adult designers on Project Runway in past seasons, so I was curious to see how our can-do teens would handle it.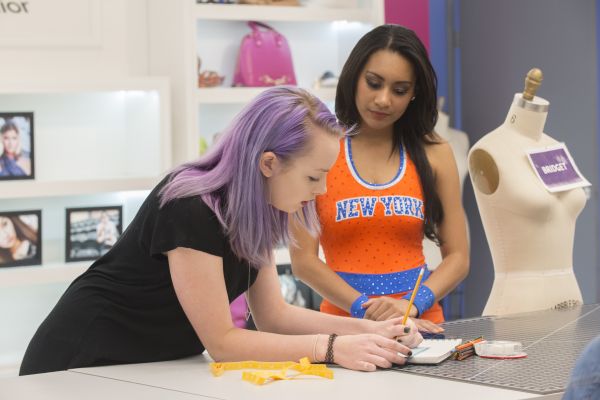 It turns out that they handled it well, just as they've handled everything that's been thrown their way so far. Most of them were enthusiastic about the assignment and felt attuned to their clients. The one designer who had reservations was Bridget. Her edgy/goth take on design didn't mesh well with her client Norby's bohemian style. 
With one day and fabrics from "mini-Mood," a selection of textiles stored in an adjacent closet, the designers got started.
As always, Uncle Tim stopped by to offer his critique. Tim has a gift for teaching and mentorship, and he has an affection and respect for the designers. He takes a slightly more active role in helping them work out design problems than he does with adult Project Runway contestants, but the teenagers are surprisingly mature in assessing their own work. They don't shy away from identifying what's wrong with their work and, better yet, they are energetic about finding ways to fix their mistakes. 
This week, Tim was a stickler for good construction, calling out a few of the designers for their "janky" sewing. He also made a point of challenging them to go beyond the expected. He damned several looks with the faint praise of "it's fine, it's OK." He then reminded the contestants that "fine" and "OK" would not help them move forward in the competition. Maya summed up Tim's critique with this lovely tribute to their mentor: "Tim saves us all." It's not every teenager who feels, let alone expresses, appreciation for help and advice from an adult.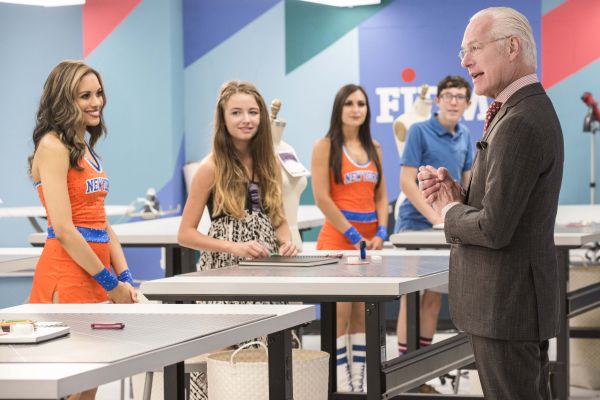 Runway day
After a couple of fittings, the designers got their bubbly and attractive clients into their new outfits and led them out to the runway. These ladies know how to work the catwalk, and they made each ensemble look good–even the less-than-stellar ones. Judges Christian Siriano, Kelly Osbourne, and Aya Kanai seemed pleased and impressed with what they saw.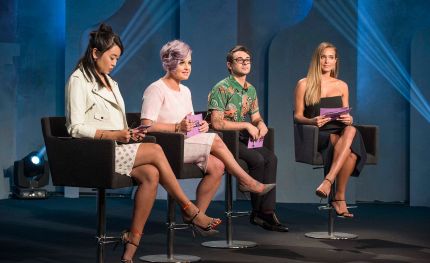 The winner:
Zach's two-piece, print dress for Julia. Julia requested something cute to wear to brunch in the city on a weekend, and Zach complied with this skirt-and-top ensemble in black-and-white print. Both pieces were reversible to black, giving the outfit versatility. The model appeared to love the look, and so did the judges. To my eye, it looked well made, and you can't argue with the pattern matching on the 18-gore skirt! Zach has been flying under the radar a bit; he has been doing good work that hasn't been edgy enough to garner him a win, so it was nice to see him rise to the top this week. Also, Zach is a good dancer–he did a cute samba (or salsa?) with Julia on the runway.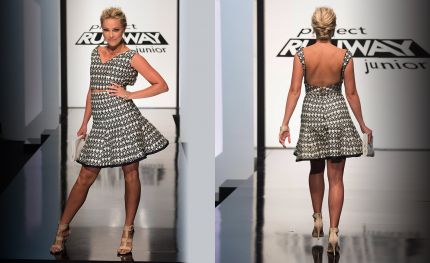 The remaining top two:
Zachary's olive and black jumpsuit, made for Alyssa who planned to wear it in Paris. This, too, was a hit with the judges, who liked the crossed straps in back, the tuxedo stripe on the pants, as well as the overall silhouette and proportions. Following valid criticism about the poorly sewn pant hem, Zachary laughed and commented that "the OCD is so real on this show!" A sense of humor, plus self-awareness, will get you far, Zachary, so hang onto both.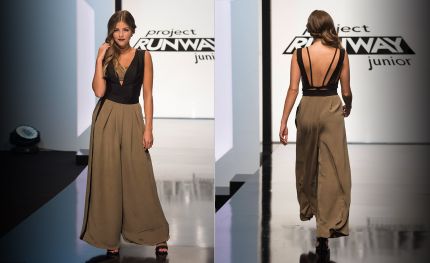 Samantha's three-piece "professional" look, for Teal. I was not convinced by this one. The olive-orange-denim blue color palette was not appealing to my eye, the top had no "design" at all, and the skirt was a mess. The neoprene jacket had potential, but, as usual, it draped terribly on the body. Samantha is clearly a talented designer, and her coats and jackets have had interesting details all season, but her handling of stiff fabrics continues to be awkward. This jacket looks like deflated plastic. For all the judges' praise ("Samantha is back!"), I doubt any of them would wear it.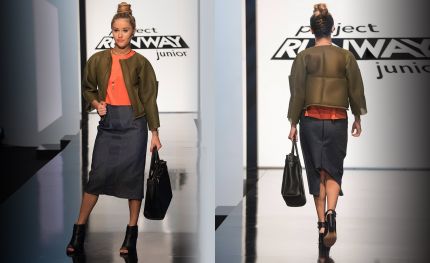 The loser:
Bridget's two-piece, white outfit with kimono jacket. From the start, Bridget had trouble tapping into Norby's bohemian vibe, and this ensemble showed her struggle. The white pieces were reasonably well sewn but boring in the extreme, and the kimono, while made of a pretty fabric, didn't do anything for the look. The judges' criticism was boring, too, which indicates just how little there was going on here.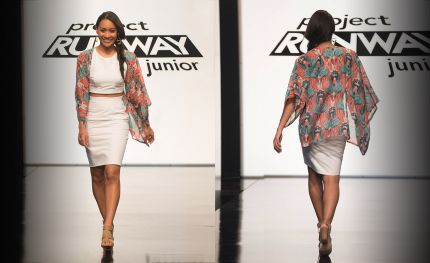 The remaining bottom two:
Maya's "fine" halter top and pant look, for Kerrie. Kerrie was hoping for something to wear on New Year's Eve, but she ended up with some that wasn't special enough for a festive night out, nor simple enough for every day. The judges admired the fit of the skinny black pants, but didn't think the top was ambitious enough. They decided the look wasn't up to Maya's standard, and were underwhelmed by it.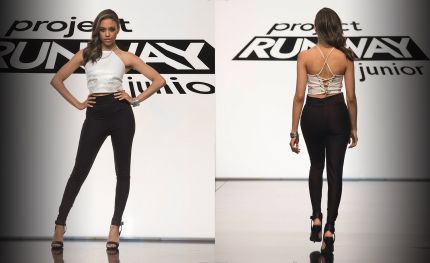 Jaxson's bold top and skirt, for Jessica. Jaxson's initial sketch for Jessica, who wanted a summery dress, was a halter top with a circle skirt. Good idea so far. But his choice of textiles sent up red flags (sorry, no pun intended) immediately: screaming scarlet plus a huge, multicolored print. He might have made it work if he'd stuck with the original silhouette, but he opted to make a long, shapeless, somewhat gathered column with an unnecessary slit at one side. "Circus tent," "cartoony," and "costumey" were the judges' comments. I agree (and the styling was way off, too). The outfit was saved by the pretty crisscrossed back straps and by the judges' unshakable love for Jaxson. He's a creative, hard-working kid who takes corrections and criticism well, and seems easy to have around, but he hasn't turned out anything too great in a while. I'd hate to see him go, but he'll need to do more next week.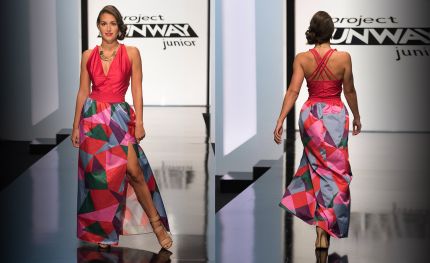 The safe "middle":
Peytie's pink frock for Taylor. Peytie's client had to attend a formal wedding anniversary party, where she also planned to "perform," though I'm not sure whether that meant sing, dance, or something else. Peytie began her design with a white fabric that she, ultimately, thought looked cheap. Tim concurred, recommending that she scrap the design in white, and find a better fabric with the same drape, keeping her original floaty design. The final dress was pretty, though somewhat tentlike. There were probably more flattering ways to dress Taylor.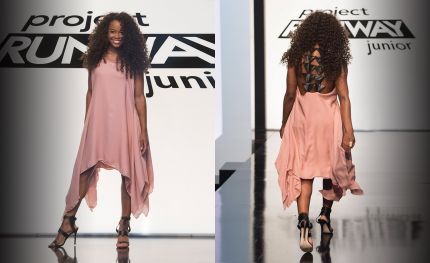 What do you think about the season so far? How does it compare to "regular" Project Runway? Who do you think will make it to the final? Let us know in the comment section below.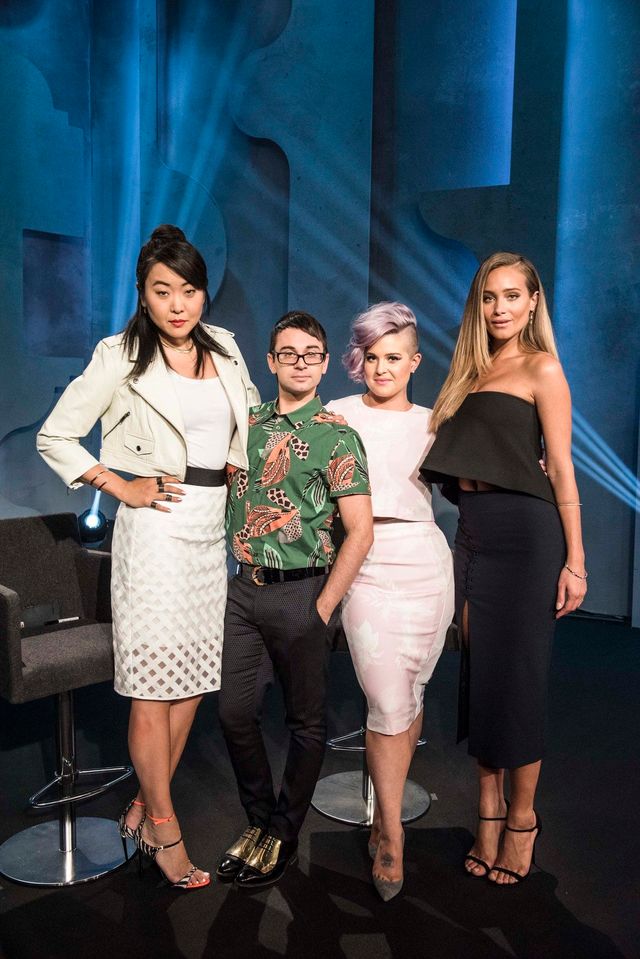 Project Runway Junior's four judges, from left: Aya Kanai, Christian Siriano, Kelly Osbourne, and Hannah Davis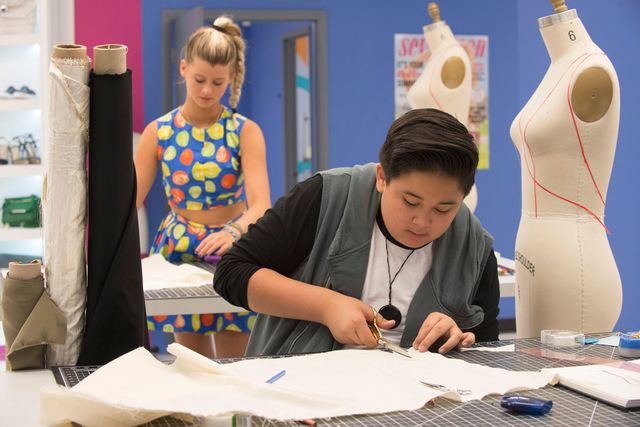 Project Runway Junior contestants Peytie and Zachary work on their designs.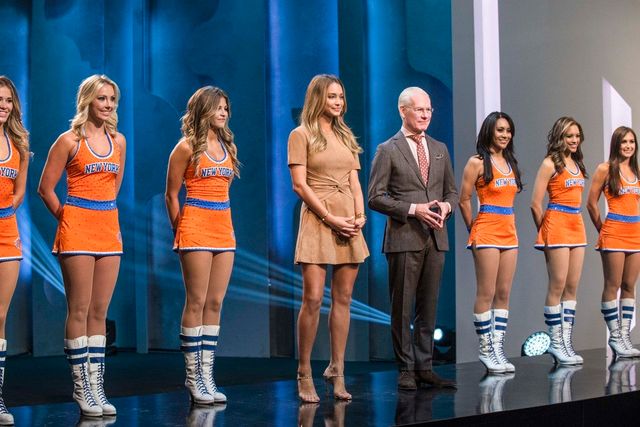 Hannah Davis, Tim Gunn, and the New York Knicks cheerleaders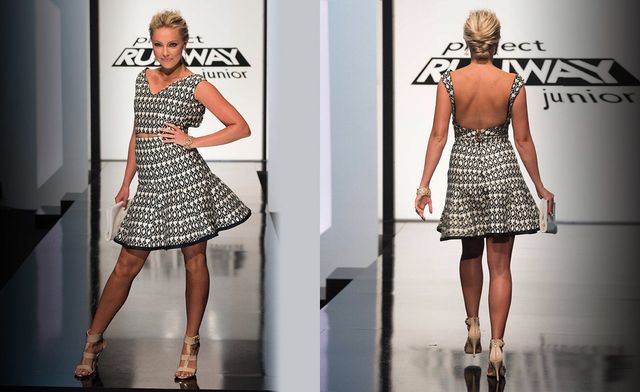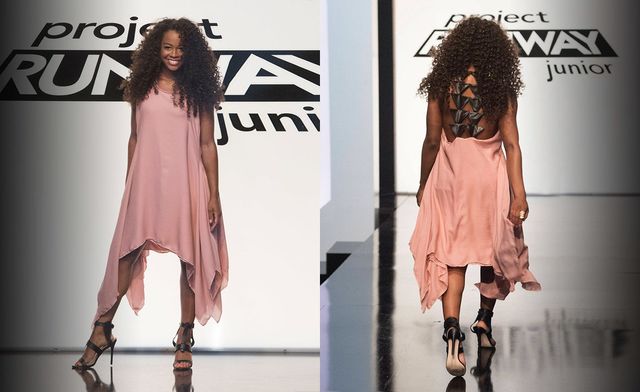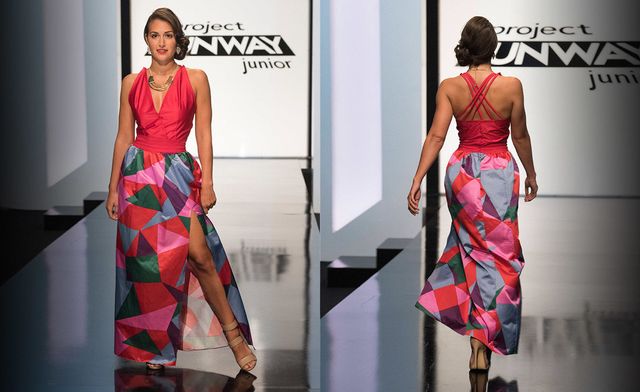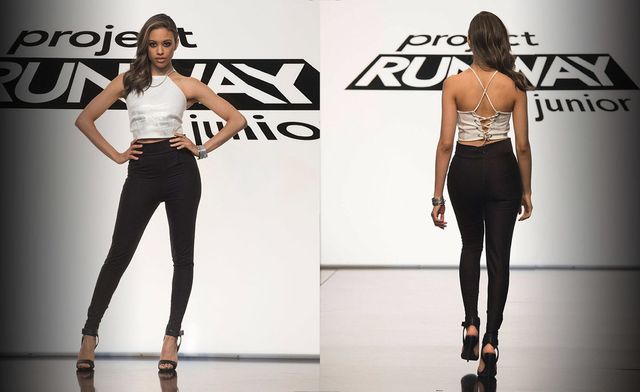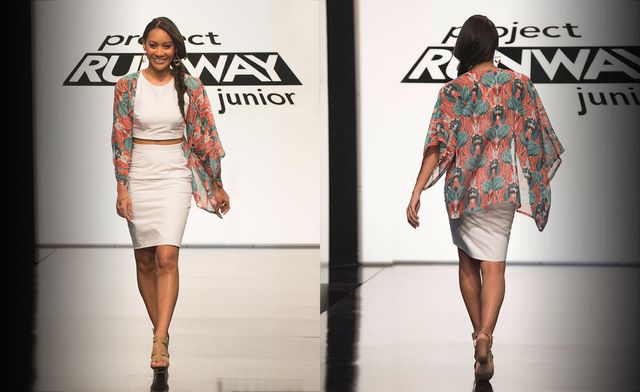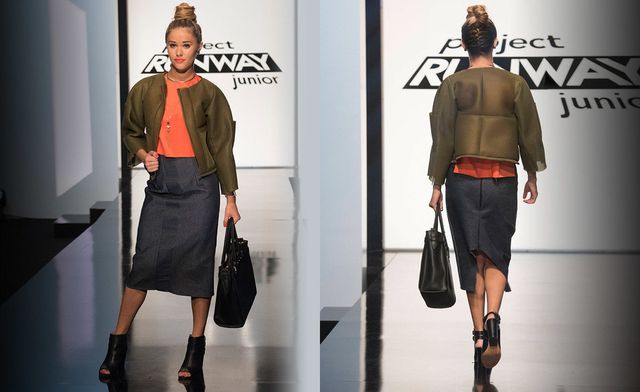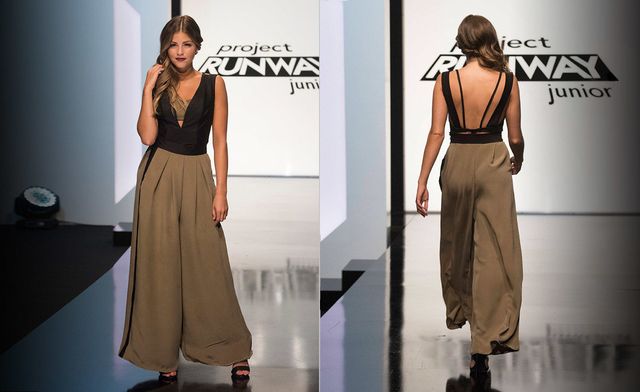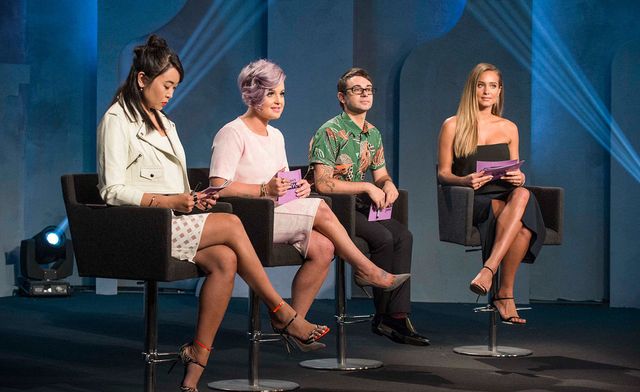 Judges Aya Kanai, Kelly Osbourne, Christian Siriano, and host Hannah Davis.