Project Runway: Junior: Episode 7, "Outfit of the Day"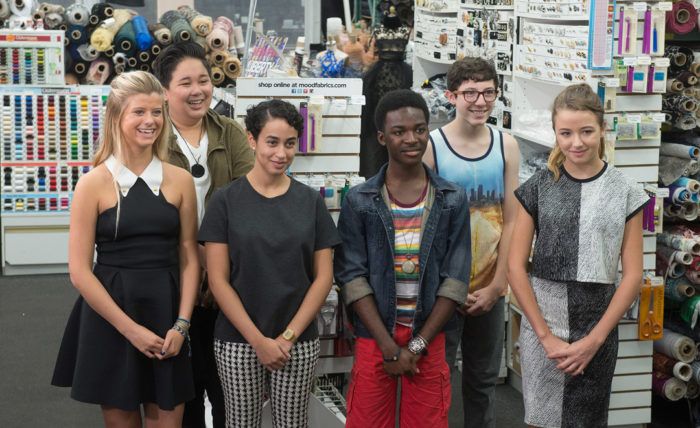 The finale is fast approaching, and the designers are beginning to feel it. Fortunately, this week's challenge was open-ended: They were to walk the city streets and find inspiration by photographing pedestrians' "outfit of the day" (OOTD) looks, and then make a fashion-forward, editorial look. That's easy enough, if you're a native New Yorker or an assertive and not-too-quirky teenager.
Watching the six kids try to connect with the urban populace was funny and a little painful. Samantha was in her element, and promptly spotted a construction worker in an interesting pair of cargo pants. All set. Jaxson, Zach, and Peytie, on the other hand, couldn't get the time of day from anyone. I guess their brand of low-key courtesy just doesn't make an impact in an environment inured to Billy Eichner-like confrontations.
This week, the contestants were allowed a budget of $200 and 30 minutes to shop at Mood Designer Fabrics in Manhattan's Garment District. When mentor Tim Gunn found Jaxson buying neoprene and white faux fur, he noted that this choice was dicey, and suggested he buy something else as backup. He did so, but later, he still needed a visit to the studio's "mini-Mood" fabric closet. Jaxson has consistently had trouble focusing his designs, and this week was no exception. Zach, too, worked in fits and starts, completely remaking his top after the model fitting.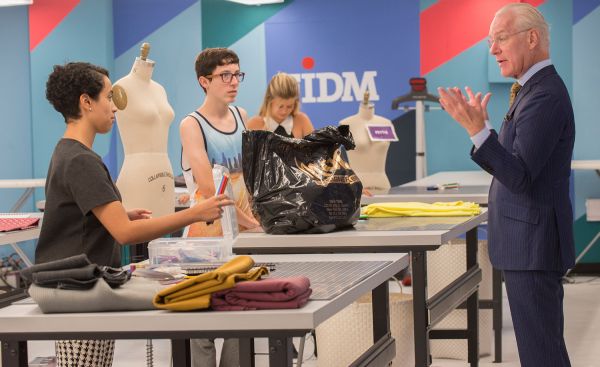 Let's look at the results.
The winners:
The prize this week was for the winning look to appear in Seventeen magazine. Exciting! The judges couldn't decide on a single winner, so they chose two.
Maya's three-piece "business" look
Maya had interviewed a pair of women on their way to work and liked their take on officewear: interesting layers of semicasual basics. Her outfit consisted of a patterned tank top, a long, drapey, unlined vest, and a great skirt in black leather with an overlay of olive green accented with lots of grommets. The judges thought this was rich, expensive-looking, and dynamic. I agree: This is one of the best ensembles of the season, and is pure Maya.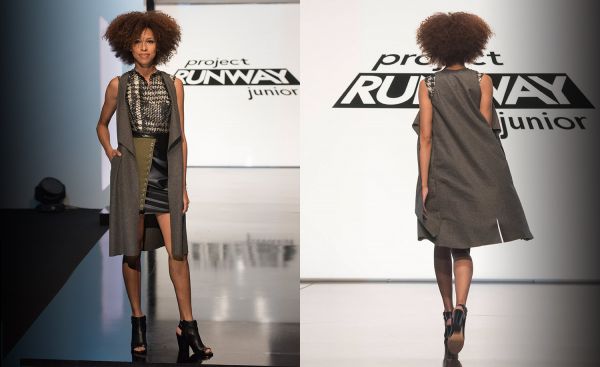 Samantha's cargo culotte and boxy turtleneck top
Samantha's aesthetic is unmistakable: She favors oversized, boyish styles that stand away from and obscure the body's contours. I have complained more than once about her handling of the stiff textiles she chooses, and, once again, I wish she'd found a way to make smoother, more professional-looking seams. However, her designs are cohesive. This outfit has the street vibe she's known for. If only it didn't have that ghastly black zipper in the back of the shorts.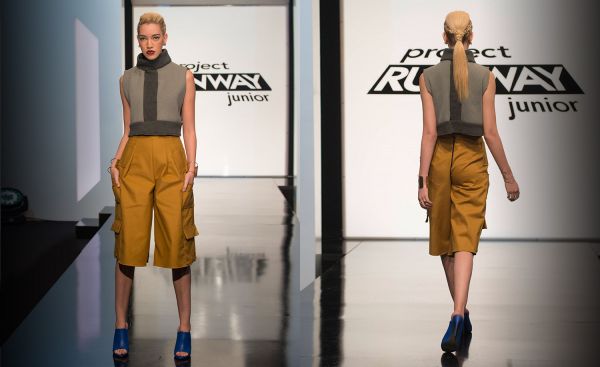 The loser:
Zach's pale pink blouse and checked shorts
Inexplicably, when asked for a fashion-forward look, Zach took his inspiration from a girl in a chambray shirt and preppy printed shorts. Given his design eye and his strengths in construction, he would have been better off ignoring the people on the street and following his instincts. He went way off-track with this outfit. The top was dull and ordinary, and the shorts ill-fitting; as Tim said early on, it's not editorial enough. I didn't think his look was the worst on the runway, but given the judges' preference for Jaxson, I predicted that, of the remaining two, Zach would be sent home. Ha, ha! I was right, until I was wrong! The judges balanced this week's double win with a double elimination. They also pointed the farewell finger at…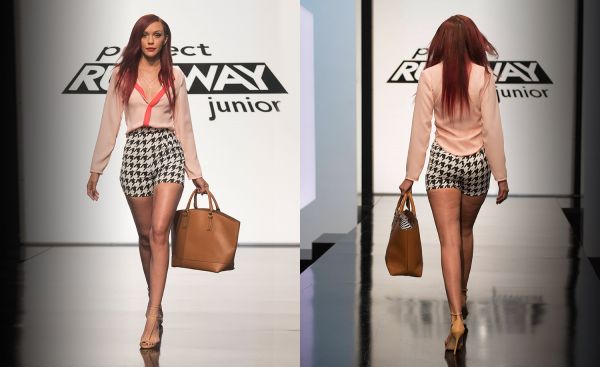 The other loser:
Jaxson's yellow dress and taupe jacket
Jaxson's inspiration was a white shirt with long, open cuffs, and that appeared in the jacket he made. But the unlined construction and plastic texture of the fabric gave the finished garment a salon-cape look that the judges didn't like. The dress was too basic for the challenge, though not a terrible dress overall. After several weeks of underperforming, Jaxson wore out his second (and third and fourth) chances, and was finally sent home.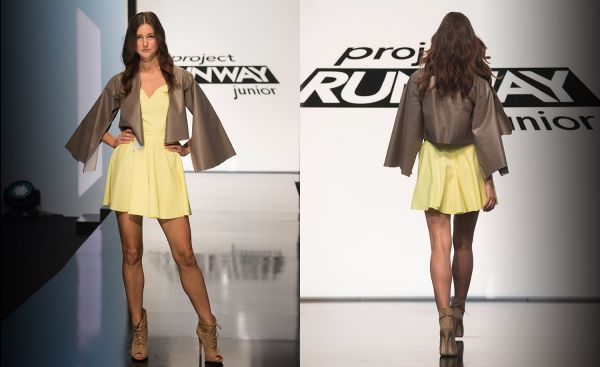 The safe middle:
Peytie's top, vest, and pant outfit
Peytie, bless her, could not get anyone to talk or pose for photos on the streets of New York. The one person she finally nabbed was dressed in all white: white fitted jeans with layered white tops. It was a chic look, and I have no idea how Peytie translated it into this ensemble. The judges praised the "elevated boho" effect of the racer-back crop top and vest, which, once again, reveal Peytie's talent for mixing prints. The top, in particular, which is made of printed leather, is spectacular. It was the giant pair of pants that did her in. The idea of a superrelaxed jean was clever, but the reality didn't work.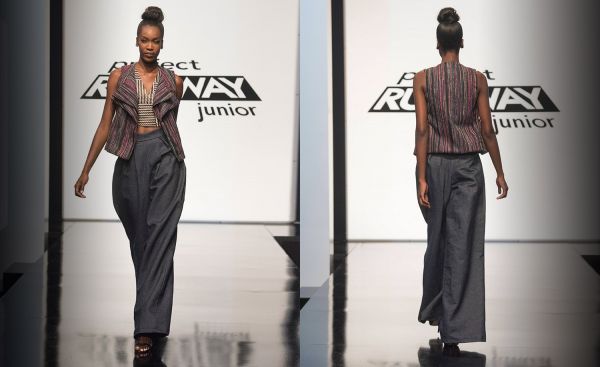 Zachary's menswear-inspired jacket and skirt outfit
Zachary was inspired by a couple of shirtdresses he saw during his meanderings. This is something that I love about his style: He has a good eye for classic elegance, and can turn out a nicely made, sophisticated ensemble. In the context of this program, however, he comes across as a little mature, and that may hurt him in the finale. Here, he chose a foulard-print silk fabric for his cropped jacket, and a black pinstripe wool for the skirt. The judges liked the skirt and appreciated the nod to traditional men's neckties in the jacket, but they said the jacket looked like a blackjack dealer's uniform. I don't frequent casinos, so I had to Google that, and see a faint resemblence (red and black with lapels). To me, the jacket simply appeared out of date.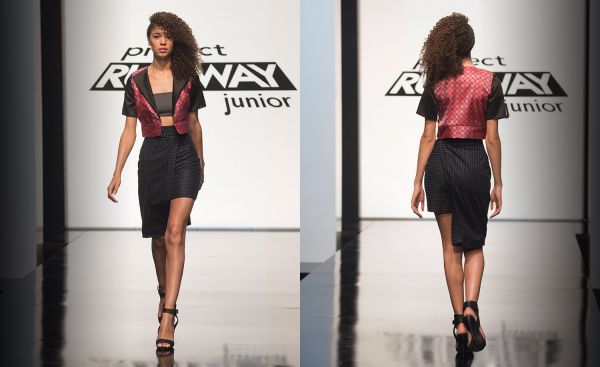 Were you surprised by the double elimination this week? Did you think both designers deserved to go? How do you think the "junior" designers compare to the adult designers on Project Runway?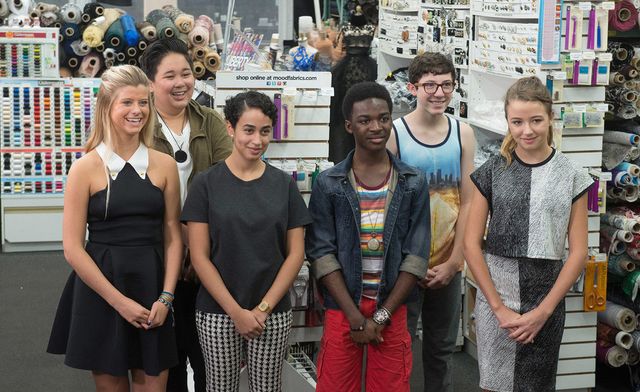 The designers shop at Mood Designer Fabrics this week.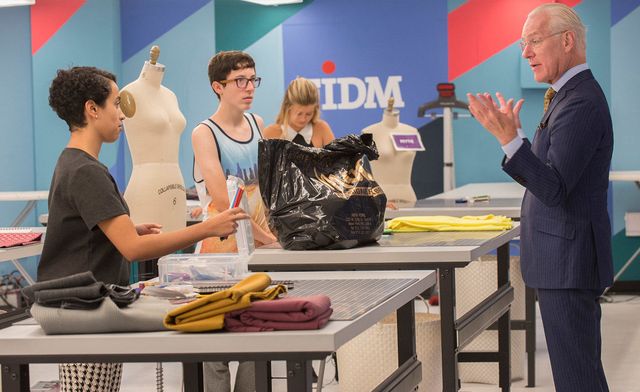 Mentor Tim Gunn offers input in the studio.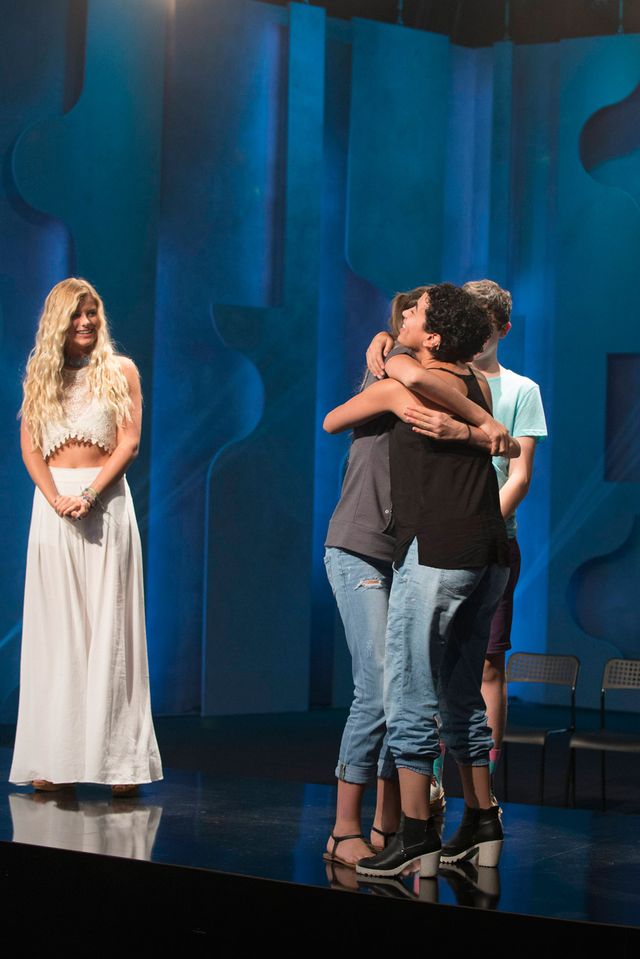 This week's winners embrace.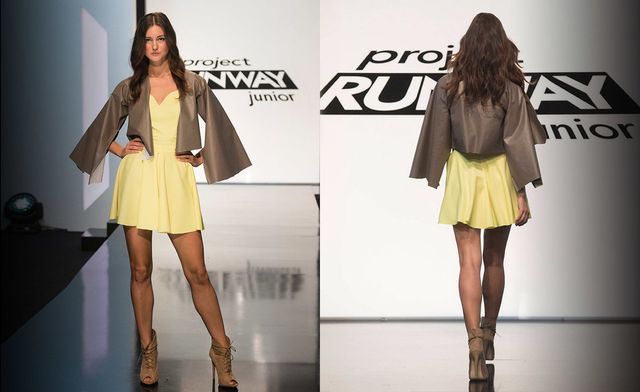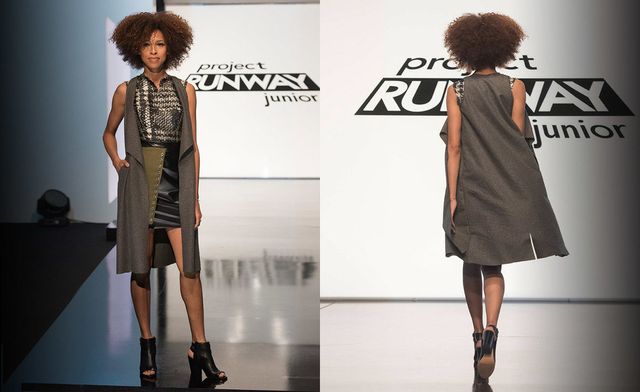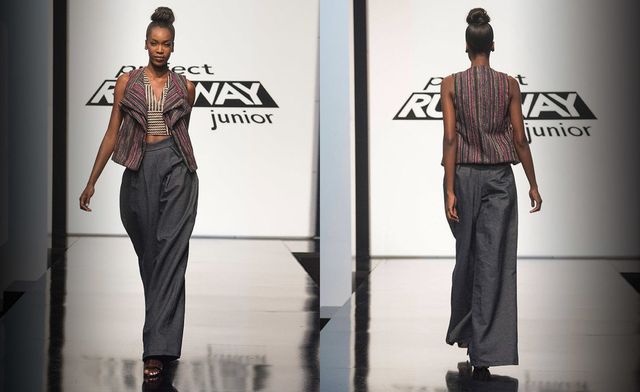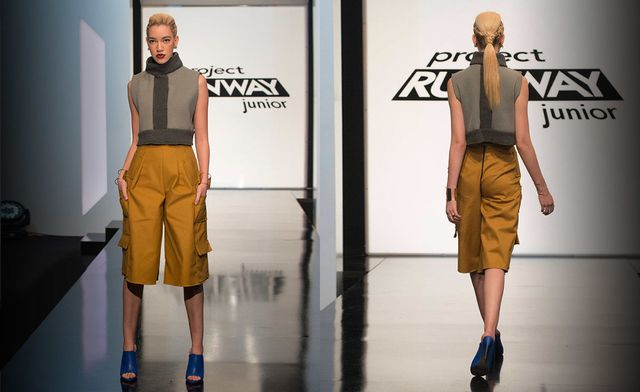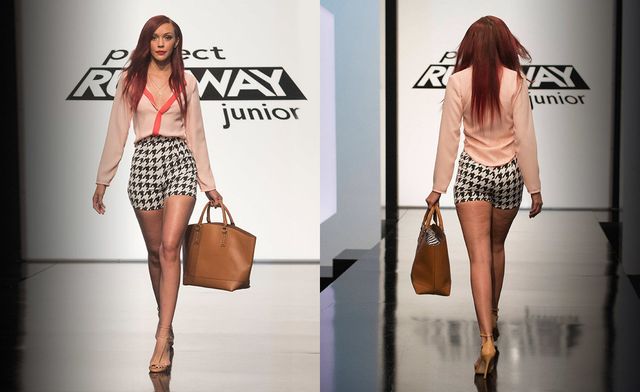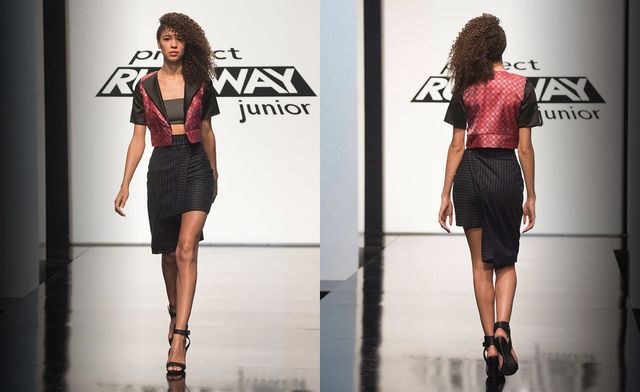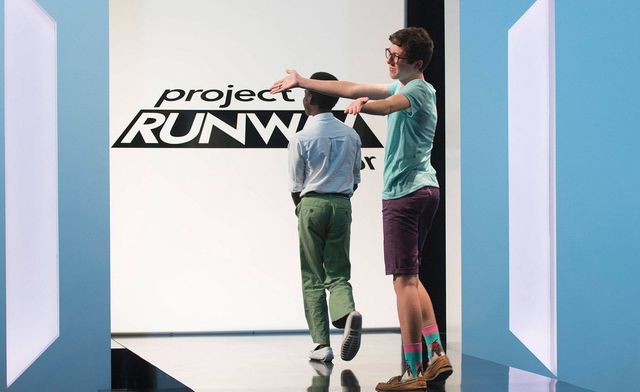 The losers leave the runway.