Project Runway: Junior, Season 1 – Episode 8: "Make a Statement"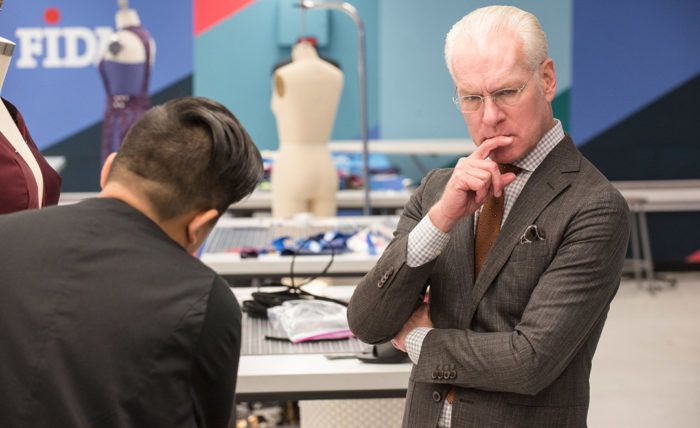 After a double elimination last week, the competition pressure was mounting for the remaining four contestants. Maya, Zachary, Samantha, and Peytie made it through to the new episode and were met with a unique task.
Host Hannah Davis and 18-year-old prom dress designer Kyemah McEntyre opened the episode. Kyemah became a worldwide sensation with the online debut of her homemade dress that celebrates her African heritage. The confident Kyemah had wanted to show her pride and channeled it into her statement-making, one-of-a-kind gown.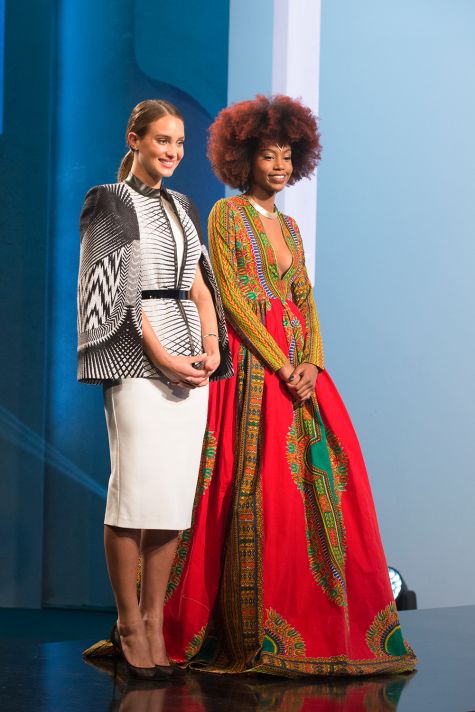 Project Runway: Junior host Hannah Davis and designer Keymah McEntyre greet the contestants and posed the next challenge.
Hannah tasked the four teen contestants with creating designs that represent their beliefs, lifestyle, or a personal statement. Before parting ways with the teens, Kyemah reminded them to "show the world who you are and what you're about."
In the workroom, mentor Tim Gunn and Rowenta Marketing Director Scott Pollard gave the designers a brief spiel about Rowenta irons. Then Tim threw the worried contestants a curveball: They were required to use iron-on transfer materials to make a custom textile. The designers were given 30 minutes to sketch their idea and an impressive budget of $400 to use at Mood Designer Fabrics. The teens responded with a synchronized, "Oh my gosh!" Tim brought them back to the reality by warning them they only had a day for this challenge. 
The teen designers returned from their shopping trip, and Zachary was already lost. He said he had no idea what he was doing and that he was really doubting himself. Was he letting his nerves get the best of him?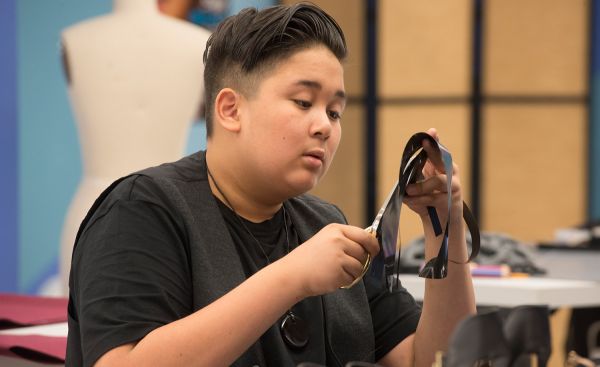 Surprisingly, Maya offered Zachary some friendly advice. She suggested he figure out the root of his fear before starting from scratch. It's so refreshing to see these teens be so kind to each other, especially after watching years of the very competitive adults on Project Runway going for each others' throats.
Tim's visit to the workroom gave the designers a boost of confidence and some helpful suggestions. He praised Maya's design but warned her to watch the fit. He praised Samantha's design, as well, but told her to be careful about covering up the dress with the coat. He also listened to Peytie's story that inspired her design. She explained that she felt like an outsider when students at school were wearing shirts emblazoned with, "You can't sit with us" (an apparent reference from the movie Mean Girls). Peytie wanted to make friends, and she didn't like the message the shirt was sending. She decided to design her own shirt that read, "You can sit with us." That, she said, was her turn-around moment.
When it came to Zachary, Tim picked up on his nervous energy and offered him reassurance that his design was good and made sense. This appeared to relieve Zachary and gave him some confidence.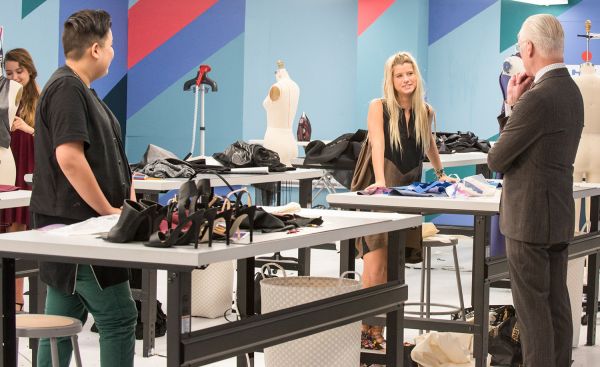 Before leaving the workroom, Tim gave the designers a sweet pep talk that reminded us why he is considered everybody's uncle. In a short, heartfelt speech, he said the teens were four of the best designers he had ever worked with.
This huge compliment comes from a man who has worked with dozens of designers in the 14 seasons of Project Runway. His workroom parting words, "I love you all," struck me as truly genuine.
The models came in with 90 minutes remaining. Samantha and Maya had a good handle on things, while Peytie had to resize her shorts. Zachary still was unsure of his design. All of the contestants had complaints about the added iron-on transfers. All felt the time crunch–this was the challenge that would decide who would go to New York Fashion week.
On the runway, Hannah praised the designers as prodigies.
The Top Three (moving on to fashion week):

Samantha designed using the advice she had always been given: "Be a leader and show them something they've never seen before." She wanted to channel the idea of being a leader, not a follower, by creating something different. Samantha followed the request of the judges and made a dress for the first time on the show. The casual shirtdress was feminine yet kept an edgy feel for which Samantha has become known. The judges said they wished the dress was more feminine (although I think it's good all her designs show a tom-boyish consistency) and criticized the roughly finished dress hem.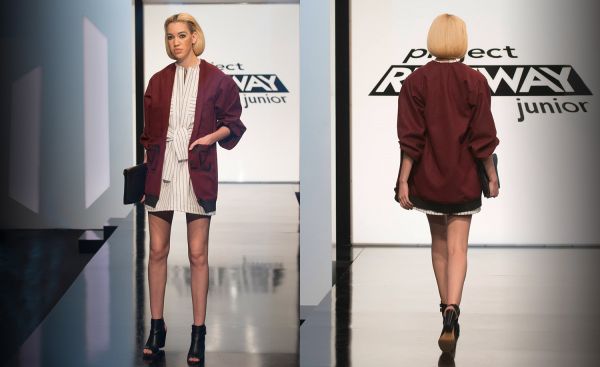 Maya, the youngest contestant at 14, incorporated the idea that you can be powerful at any age. Maya has definitely shown us that throughout the show. She has made it further in a Project Runway competition than those more than twice her age. Her black design was edgy: The flowy cape and leather dress created a wonderful contrast. The cape was structured to look like a strong, protective rib cage. Judges were clearly wowed by the silhouette and overall structure of the ensemble.
Peytie chose her middle-school years as inspiration for her design. Though supershy and unable to fit in, she found her confidence as soon as she started expressing herself with her clothes, she said. Her design used a vibrant print on the outside to show her present-day self, while the muted, or dull, lining expressed her shyness when she was younger. She explained that the dull print, meant to represent her awkwardness, is a part of the dress but would never be a main part. I found her inspiration to be deep and liked that she realized her shyness would always be a part of her. Judges praised the outfit's fabric print, the belt, and the overall look.
The Loser (saved):
Zachary wanted to use his label "old soul" to his advantage. He intended for his design to be something mature, yet elegant. Zachary told judges that he lives by the words of The Incredibles character Edna Mode: "I never look back, darling. It distracts from the now." For his ensemble, he left the back sheer. Judges praised his use of the iron-on piece on the back, but criticized the heaviness and lack of movement in the skirt. This ultimately led to the judges booting Zachary. After tearful goodbyes, Tim paid the four contestants a visit. That's when he surprised everyone. He announced, tissue in hand, that Zachary was too good to let go and he would use his "save" option to get Zachary to New York Fashion Week.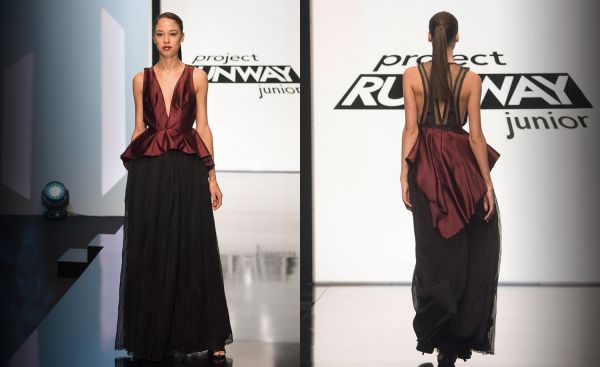 Do you agree with the Tim's save and all four contestants moving on to Fashion Week? Do you feel that any of the past designers already eliminated should move on to New York Fashion Week instead? Let us know in the comment section below. As always, we can't wait to hear from you.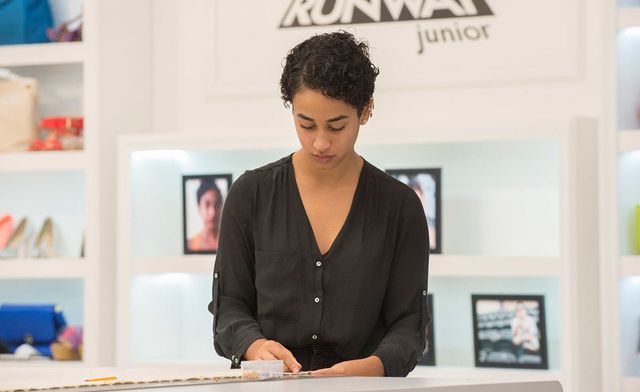 Samantha works on her shirtdress and coat design.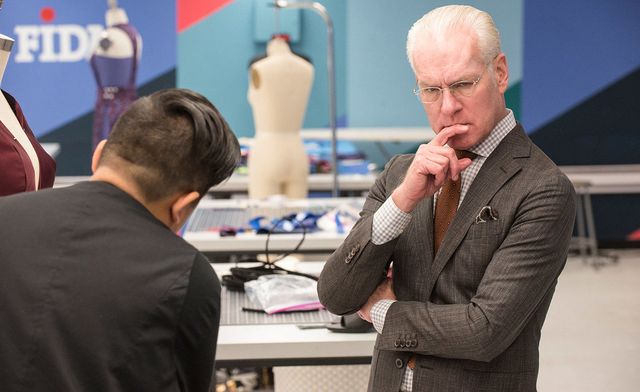 Tim Gunn critiques Zachary's design in the workroom.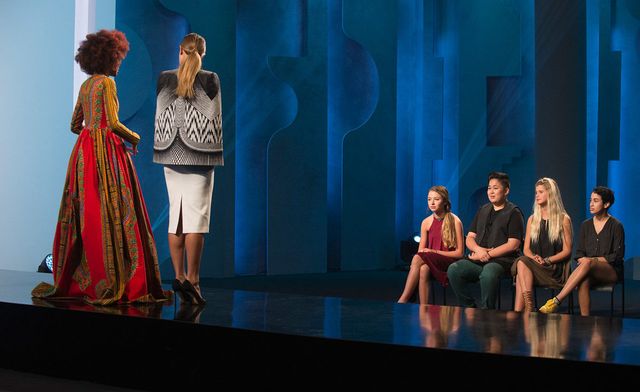 18-year-old designer Kyemah McEntyre and host Hannah Davis speak with the final four contestants before they start the challenge.