Project Runway All Stars: Season 5, Episode 1: "What Makes an All-Star?"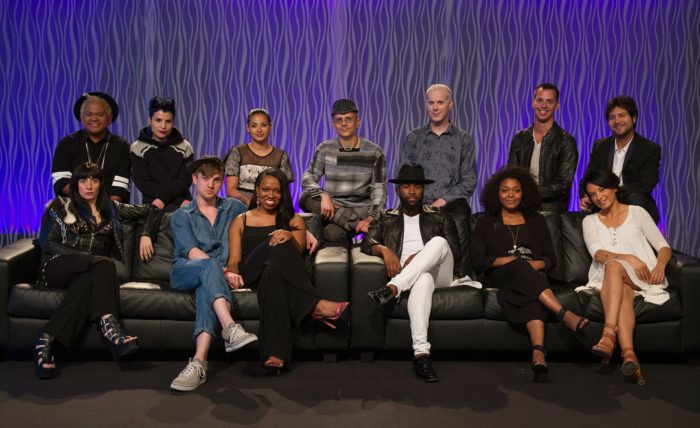 It's the all-stars again! Fresh from a fabulous first season of Project Runway: Junior, where novice designers showed us creativity, maturity, and talent, we're back in New York to be reacquainted with a crew of designers from Seasons 1 through 13. What will this season bring? The teaser promos promise there will be some interesting fashion challenges and the usual interpersonal drama. Whether we'll be treated to any great designs remains to be seen.
The first week's challenge was to create a fashion-forward look inspired by the moment each contestant decided he or she would be a designer. This is an open-ended version of "Show us who you are as a designer," but with a narrative attached. As it turned out, the personal stories tended to be of the standard "powerful female" or "misfit artist" variety. Let's see the results on the runway and meet the designers again.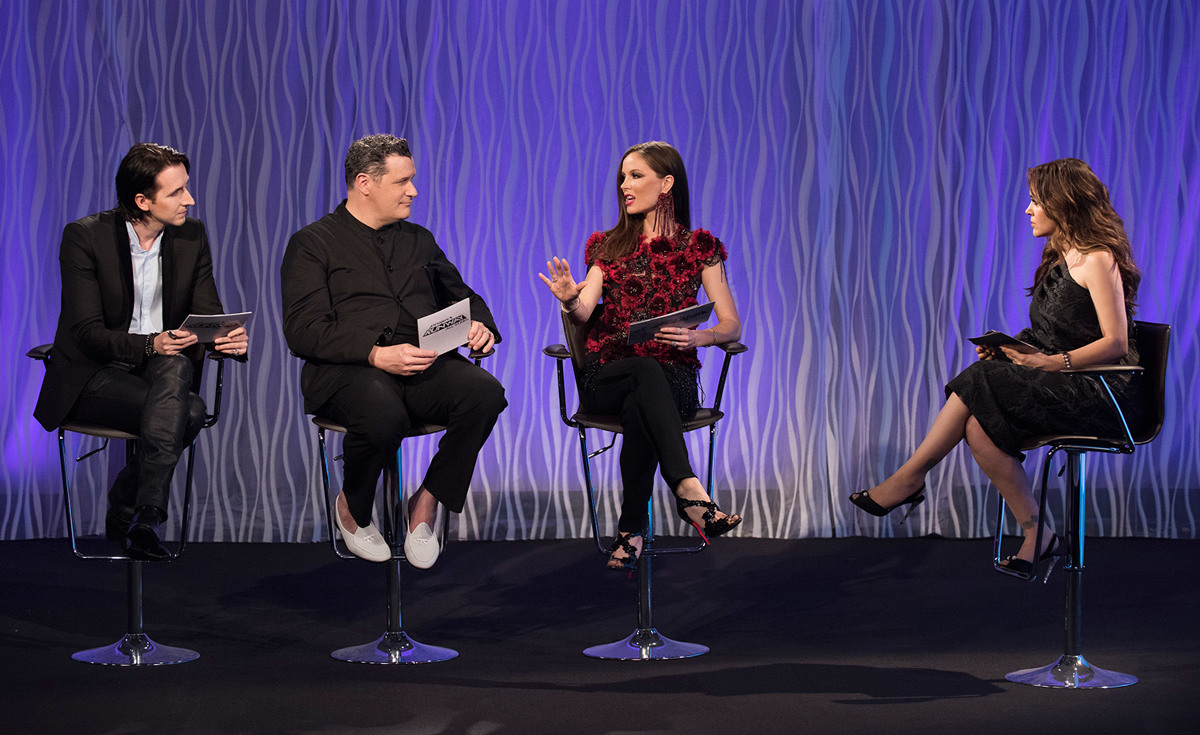 The judges were host Alyssa Milano, fashion designers Georgina Chapman and Isaac Mizrahi, and guest judge Dmitry Sholokhov. Playing the mentor role was fashion editor Zanna Roberts Rassi.
The winner:
Valerie Mayen, from Season 8. Valerie had never won a challenge during her first season, so she was especially pleased to win this first one. Her romper was beautifully made and fit the model well, but the puzzlelike appliqués were what made it special. At the last minute, Valerie added a little black jacket, which the judges felt detracted from the look (although Dmitry like the jacket on its own). Overall, it was a sharp, youthful look that deserved to win. Valerie was one of the few contestants during Season 8 who seemed like a genuinely nice person, so I hope she sticks around!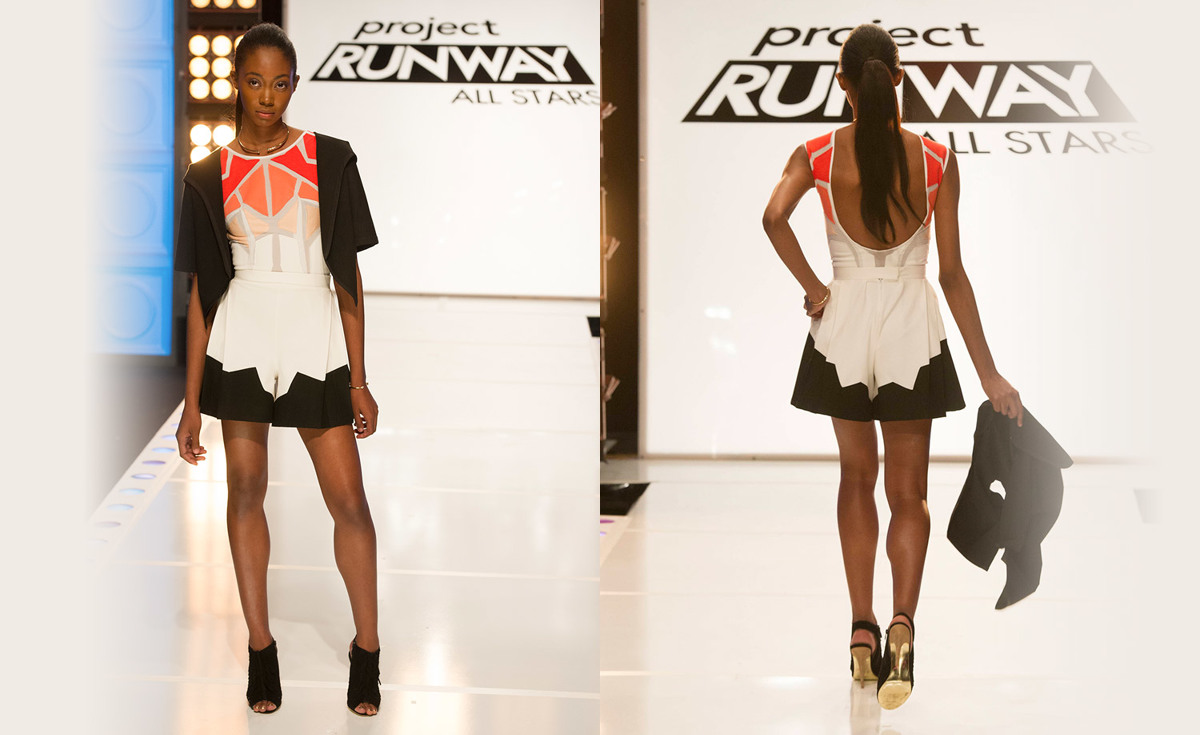 The remaining top two:
Layana Aguilar, from Season 11. This lavender jumpsuit was considered "fun" and "expensive-looking," and the pants section was well made. It captured the elegant, feminine style Layana showed in Season 11 on Project Runway. I thought, however, the bodice had awkward, unflattering lines and was out of proportion with the wide-legged pants. Was it safe? Absolutely. A near winner? Not in my book.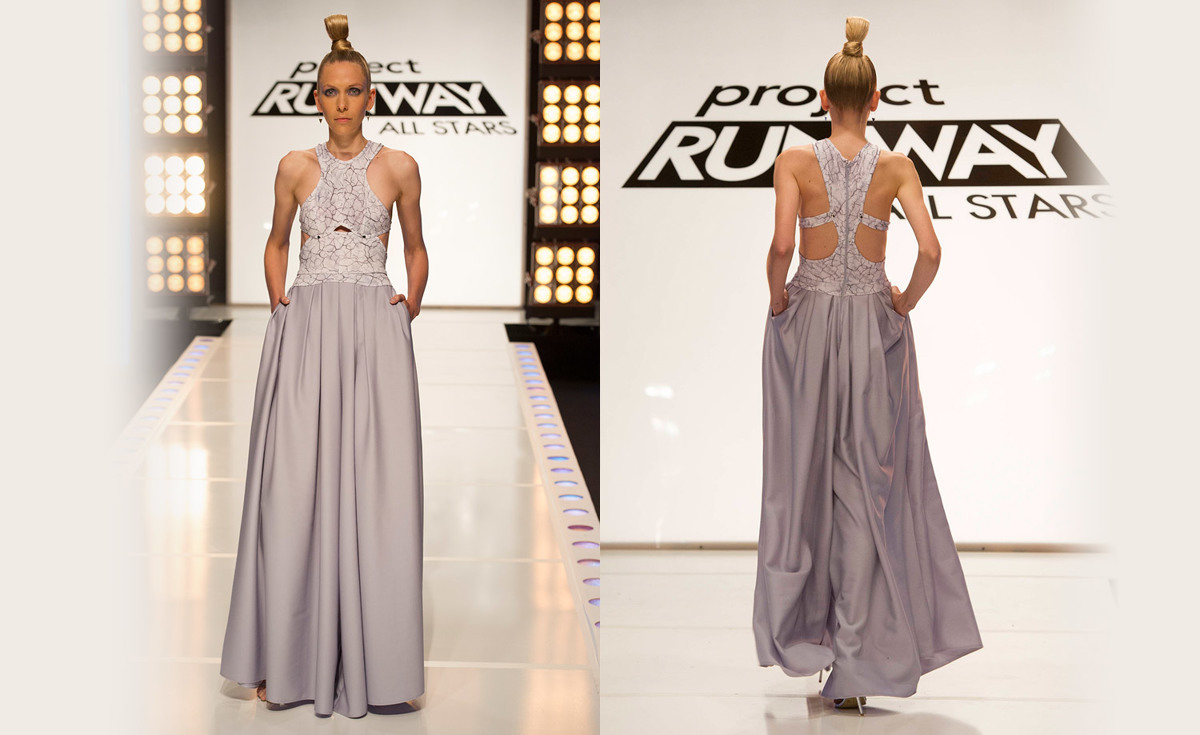 Ken Laurence, from Season 12. This peplum top and pencil skirt were good-looking and well sewn, and Ken's choice of fabrics enhanced the sense of power he was trying to achieve. All the judges liked the ensemble, but only Georgina had the guts to point out that it wasn't original. It's hard to call such a strong look dated, but it certainly looked more 2010 than 2015-2016. There were more modern looks on the runway that I would have placed ahead of this.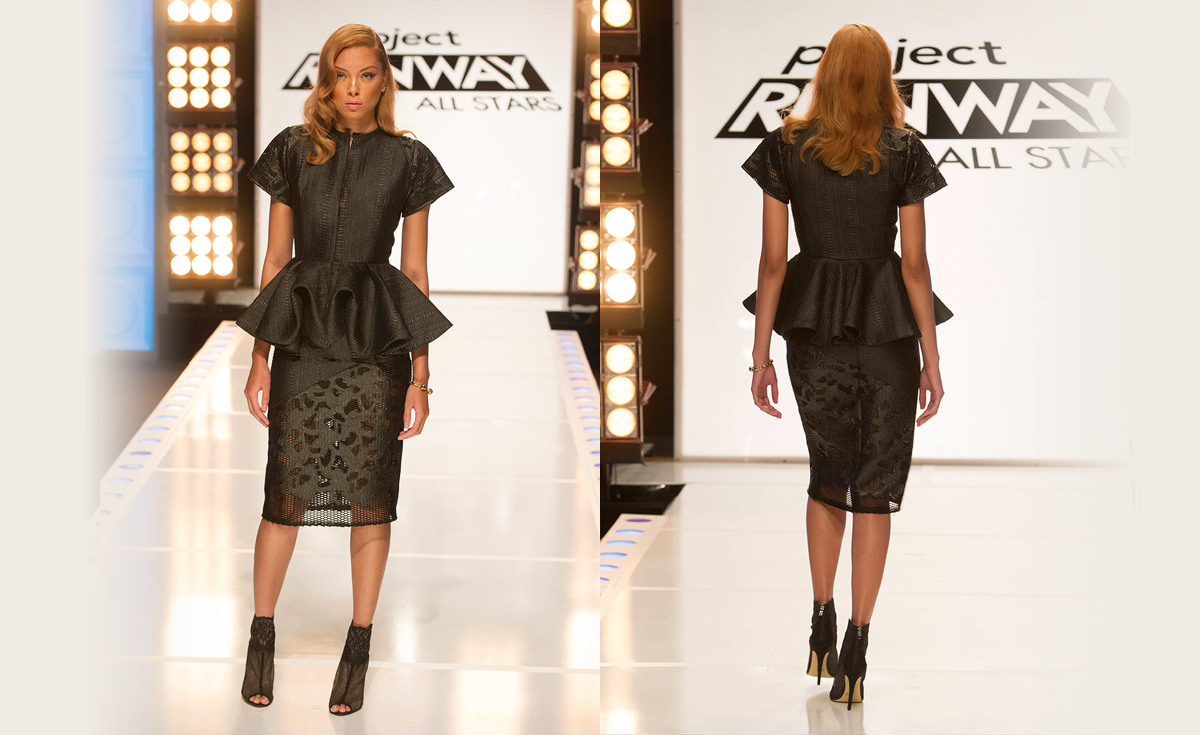 The bottom three:
The judges identified two potential losers but decided to keep them both for at least another week, so instead of a loser, there were three designers at the bottom: One was safe, and the other two were saved.
Asha Daniels, from "Under the (Tim) Gunn." Asha was the only one of the bottom three to be called safe, with her black pleather dress with crossover top, peekaboo midriff, and godet skirt. The judges said her choice of material made the dress look cheap, and the design was ordinary and "off-the-rack." Asha will be OK. She can sew, and she has a point of view that likely will have a big following.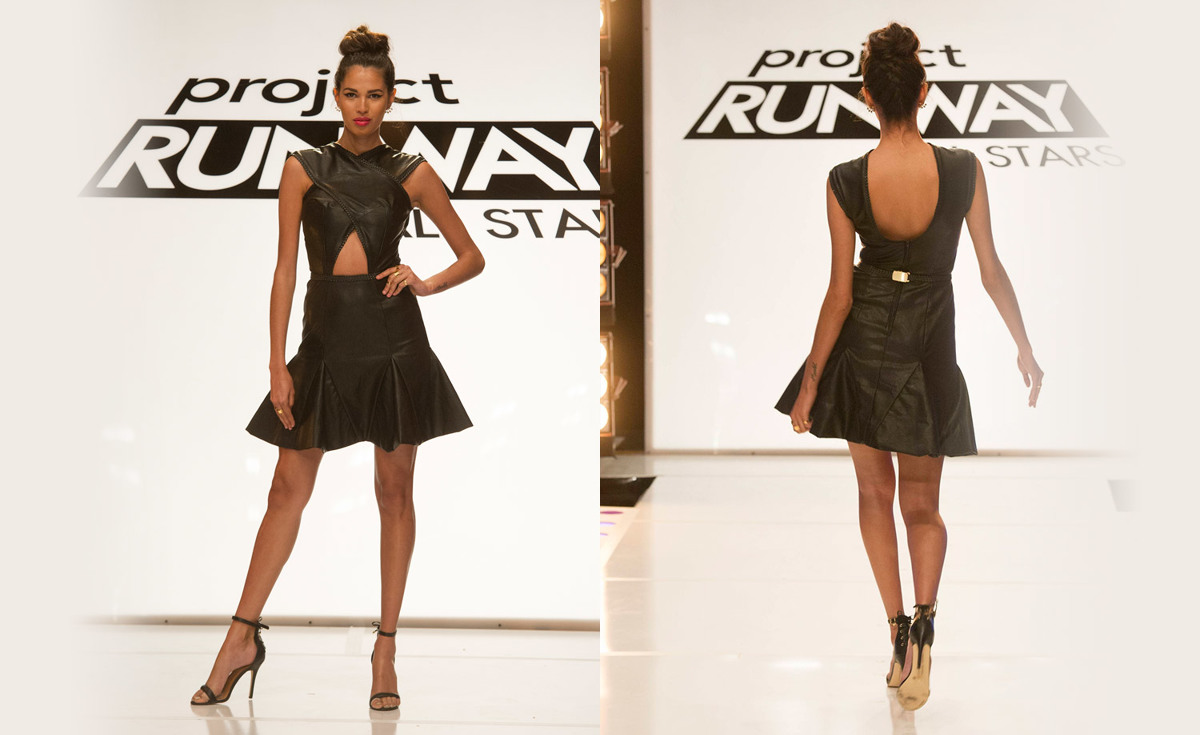 Mitchell Perry, from Season 13. Mitchell is kind of all over the place as a designer, and this look showed it. The bodice and skirt were at odds with each other, and my home focus group debated whether the skirt looked more like a shower puff or a toilet brush. Georgina appreciated that Mitchell had lots of creative ideas, and that's likely what kept him safe for this week. Maybe there was also some compassion for a kid with a tough upbringing, who turned to fashion design as a way to escape a scary and unnurturing home life.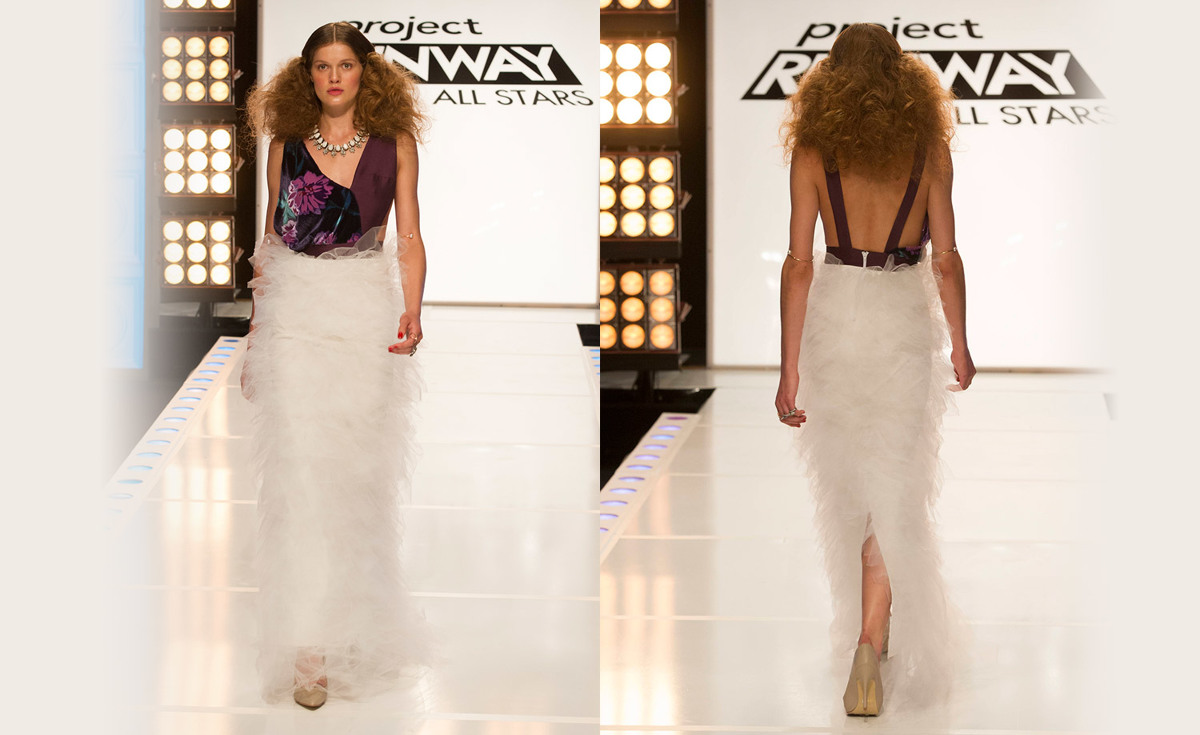 Daniel Franco, Seasons 1 and 2. After 10 years, Daniel is back, and the first thing he accomplished was to cut his finger severely. The medics bandaged him, but he still languished. His design idea, a coat dress in aqua lamé, looked good on paper, but the fabric he chose was impossible to tailor. He ended up sending an unfinished garment down the runway. Isaac summarized the piece as "nothing." Daniel probably should have been sent home this week, so he was lucky the judges were in a generous mood.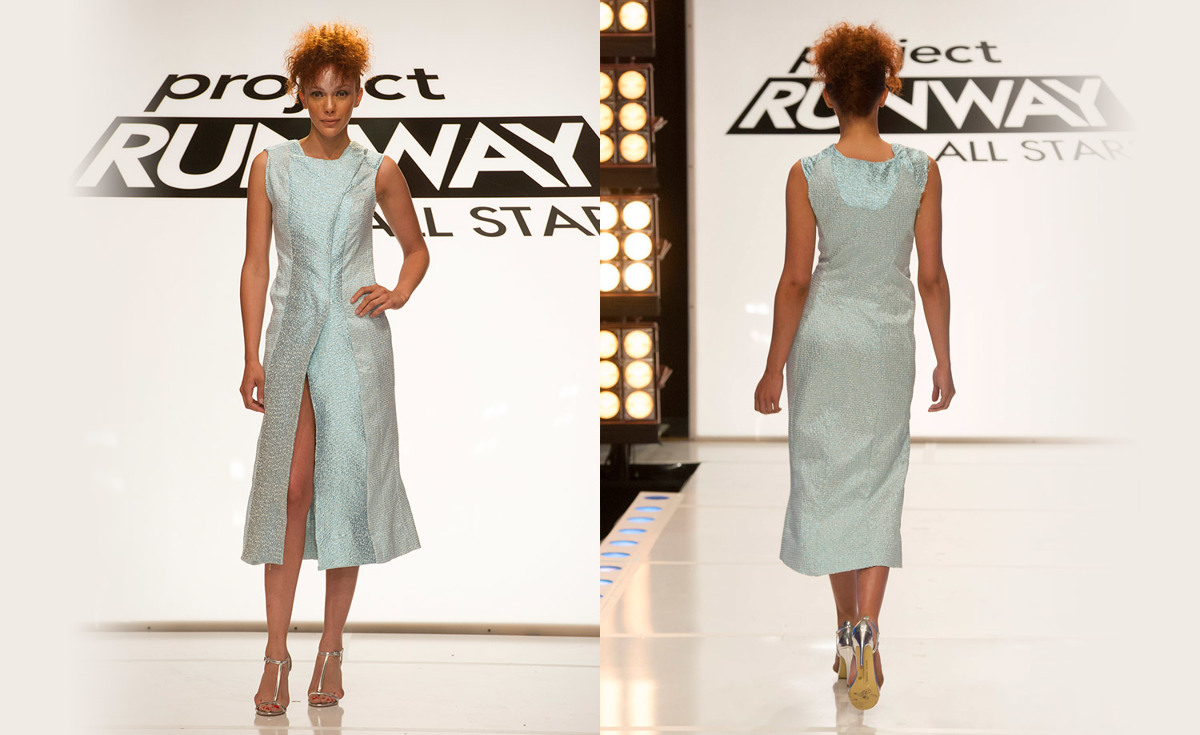 The safe middle:
I was surprised that some of these designs didn't make it into the top three, and as always, I was disappointed not to get a closer look at the finished garments. If the designers maintain this level of work, the season will be interesting.
Dom Streater, from Season 12. Dom won her season, so she's viewed by the other contestants as the designer to beat. Her black-and-white oversized coat with engineered stripes was cool. I didn't love the nude dress underneath, but I don't even know if she made that. There are no complaints here about Dom's place among the safe designers.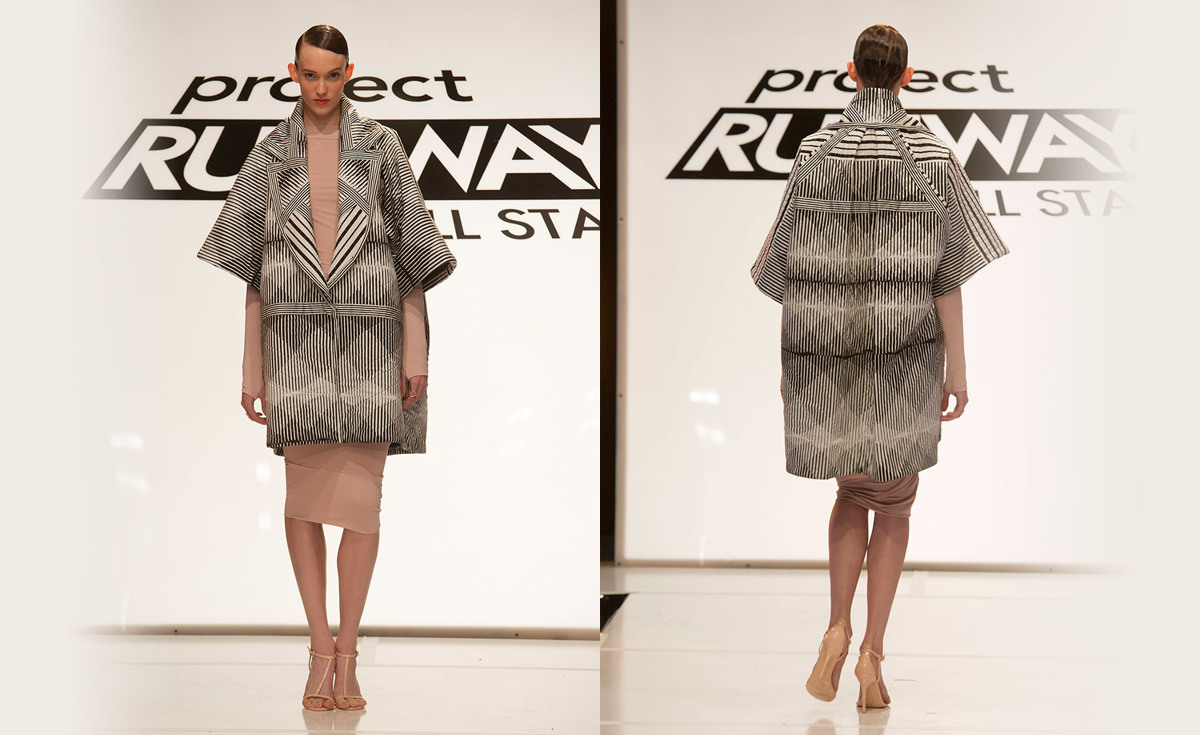 Sam Donovan, "Under the Gunn." Sam . . . are they feeding you a constant diet of Meow Mix? This fellow comes across as one of the cattiest characters in the history of the show. He proudly admitted to talking trash about other designers on social media, and he continues to do so in his confessionals. This behavior is immature and unproductive, but the producers encourage it to add drama to the show (and this might be why they kept Mitchell, who has been the target of Sam's comments). I find it irritating and tedious. On to Sam's look: A halter-neck mesh jumpsuit with big pockets. Sam intended this to be sporty, but it confused me. The silhouette was generic, so the mesh fabric and striped trim were doing all the work. I'd call it safe, but I hope Sam steps it up in weeks to come.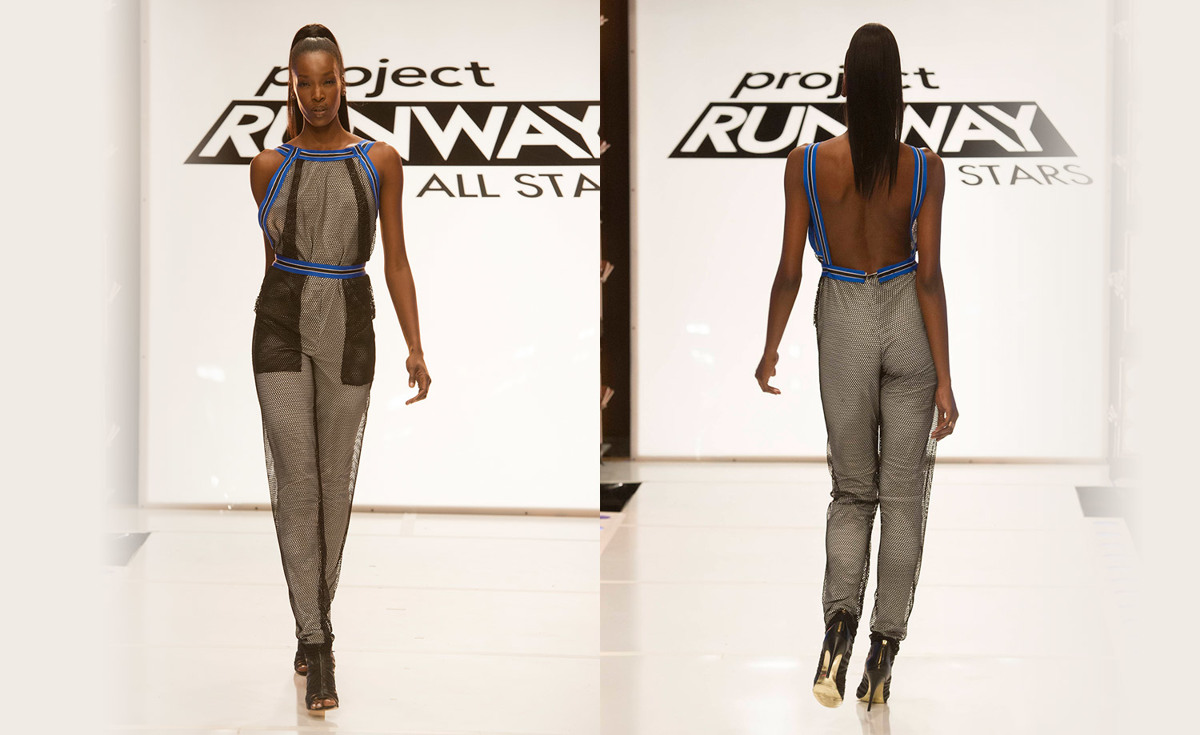 Stella Zotis, from Season 5. Stella was known in her season as the designer who made everything in leather. This time, she made a vest and pencil skirt of something that looks like black neoprene. The ensemble was nothing too inventive, but it reflects her tough aesthetic.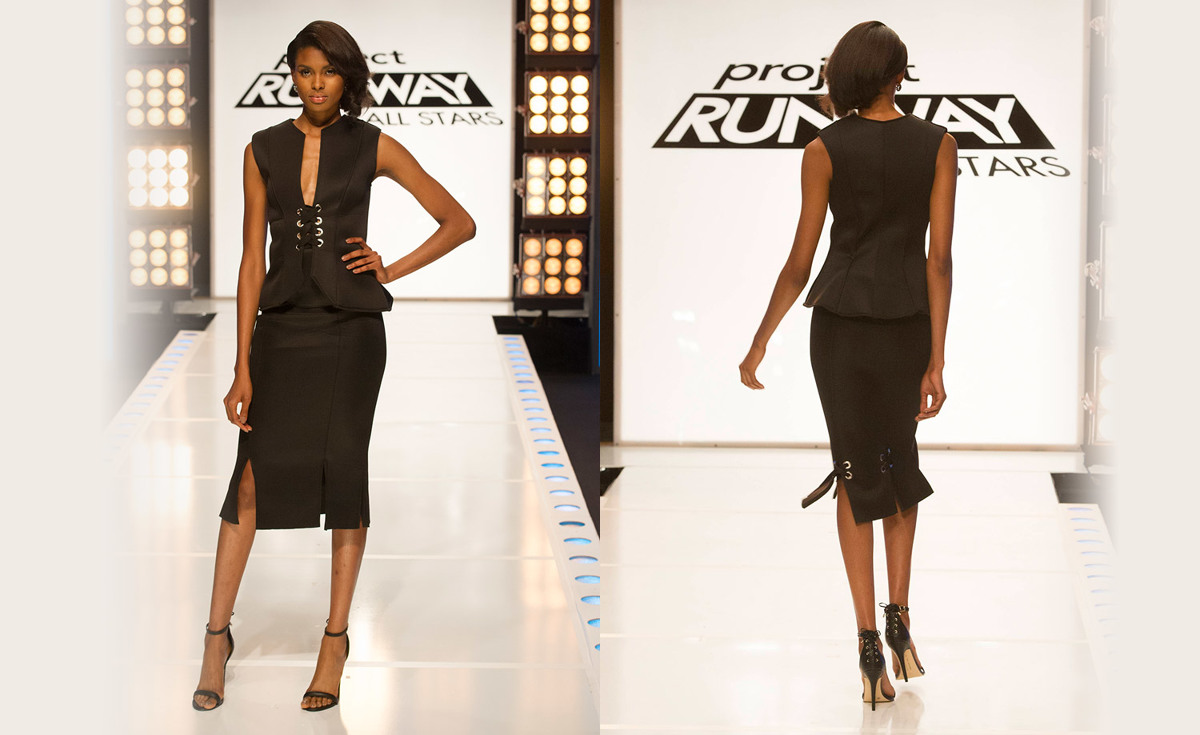 Kini Zamora, from Season 13. Kini picked up right where he left off as one of the three finalists of Season 13, with an intricately pleated, asymmetrical dress that featured an open back and a high white collar. As always, Kini impressed and intimidated his peers with his speedy sewing and beautifully constructed garment. I thought his dress was a fascinating, fashion-forward take on the classic shirtdress, and would have placed him in the top three this week.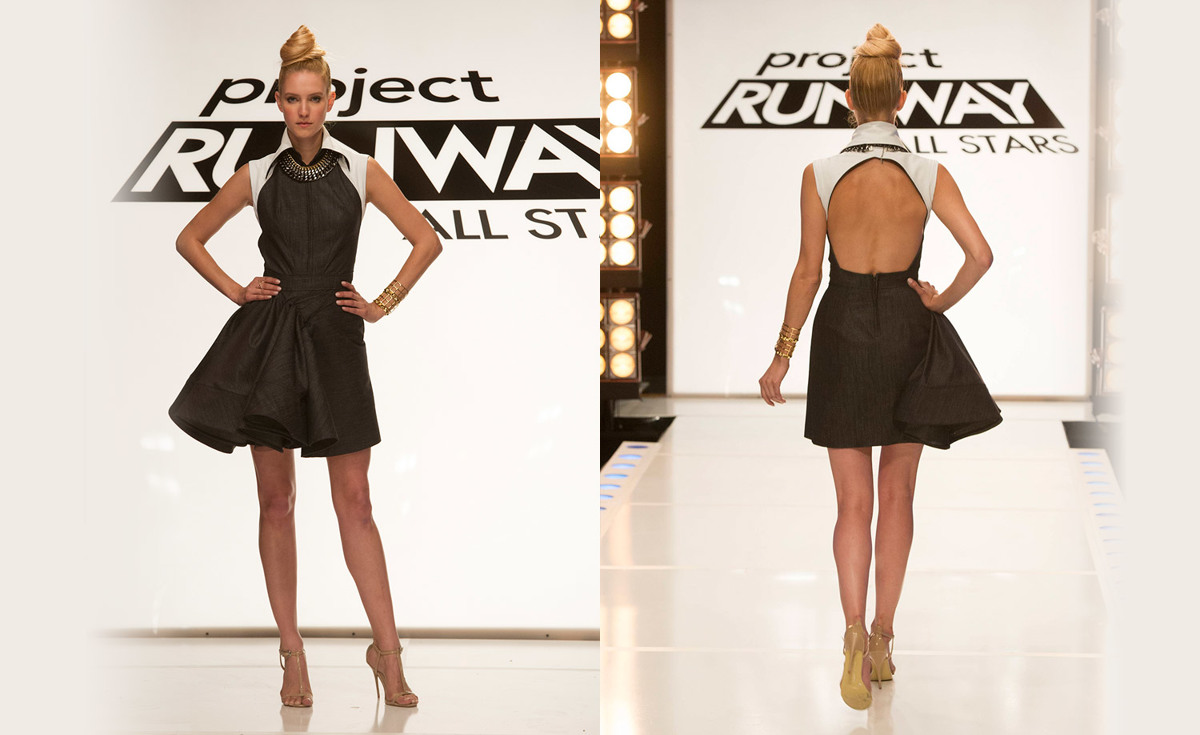 Alexander Pope, from Season 12. During the workroom critique, Zanna warned Alexander that his black brocade dress could look "goth mother of the bride" easily. He continued with the look, but seems to have made the skirt fuller and shorter, finishing with a classic fit-and-flare dress in a gorgeous textile. While the look wasn't especially new, it was well executed and would be flattering on many figure types. It was definitely safe!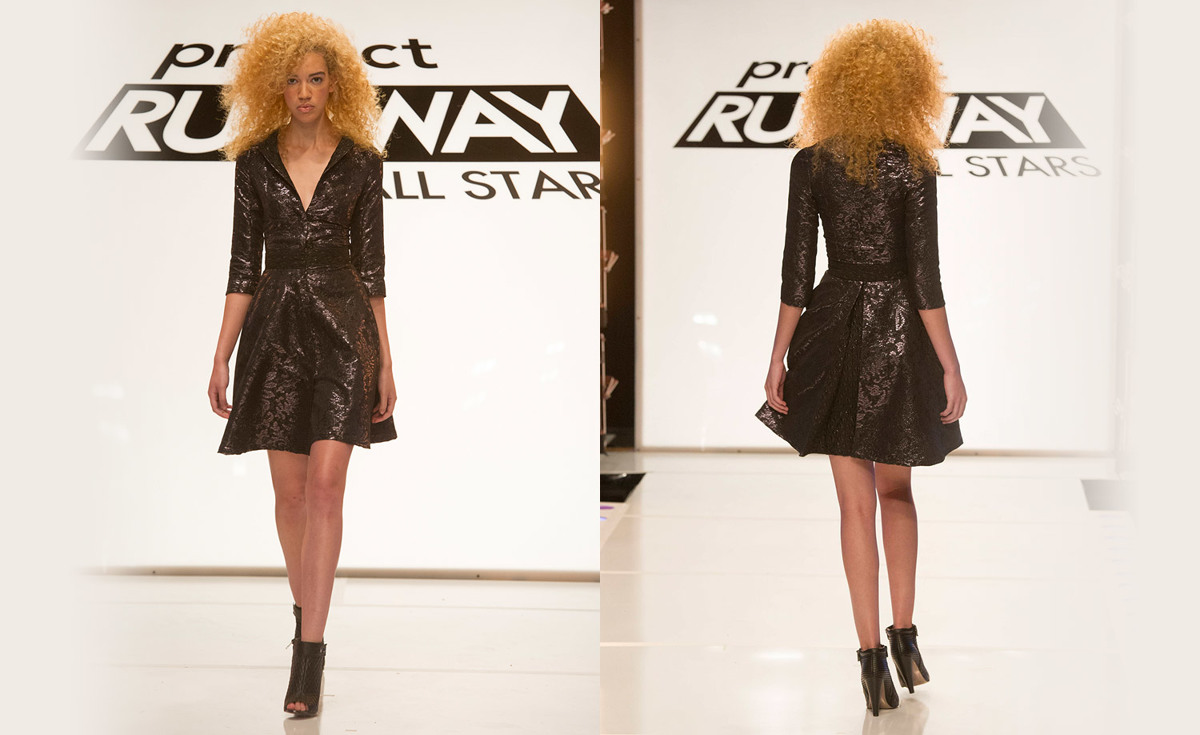 Emily Payne, from Season 13. The Project Runway class of 13 is well represented this season. Emily continues to work in her signature style of luxe sportswear, this time showing an oversized striped sweater with chunky rib-knit trim, and slouchy pants. Her outfit seemed to bridge commercial and fashion-forward style, and bodes well for her in weeks to come.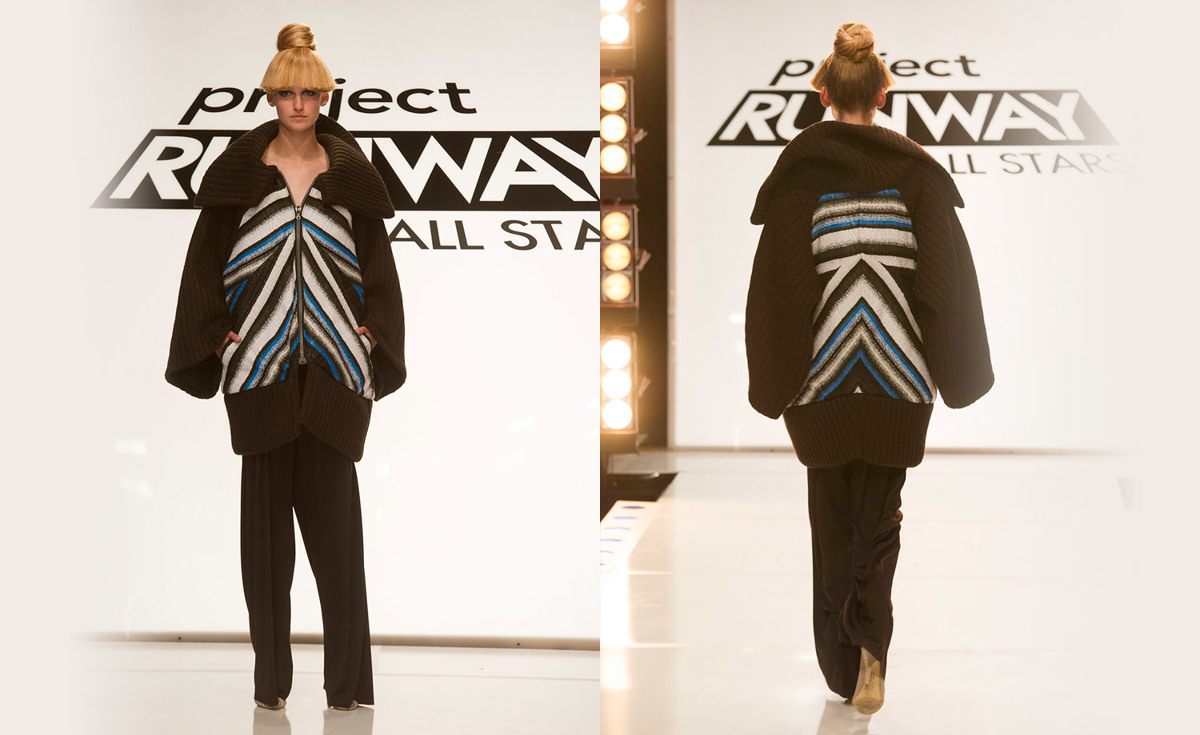 Fäde zu Grau, also from Season 13. I always mentally translate Fade's name as "fade to gray," although "Fäde" isn't even a common noun (let alone a verb!) in German, as far as I know. In any case, fading to gray is the last thing this designer's work does. He's best known for his use of color, surface design, text-based embellishment, and pattern mixing. His look this week, inspired by graffiti on the Berlin Wall, included hand-painted graffiti on a cropped jacket, paired with a black-and-white striped wrap skirt. There's usually a lot happening in Fäde's outfits, but he manages to make it all work together. This episode's look didn't disappoint, and I would have placed it in the top three.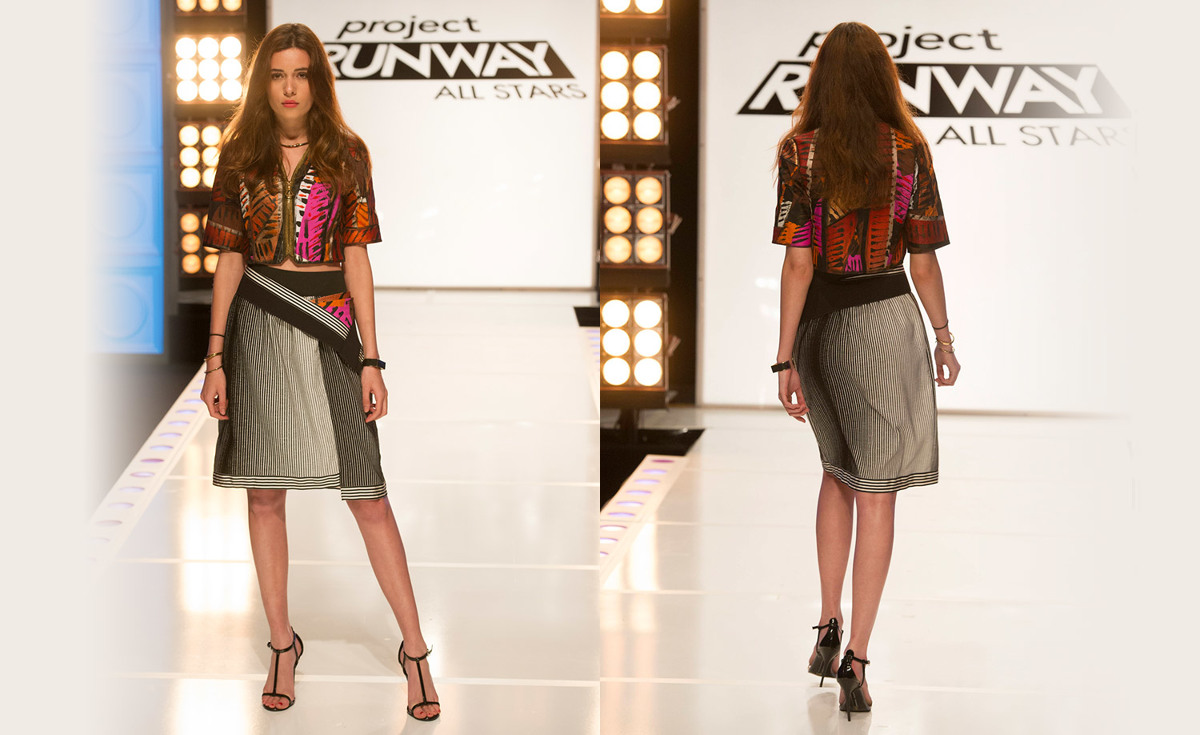 What did you think of this season's first episode? Are any of your favorite designers included? Who do you think has a chance to make it to the finale?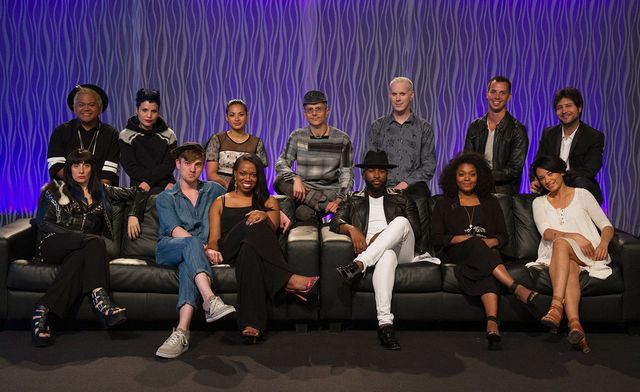 The cast of Project Runway All Stars, Season 5.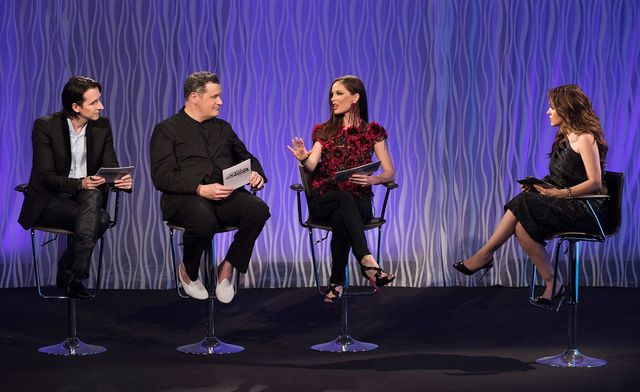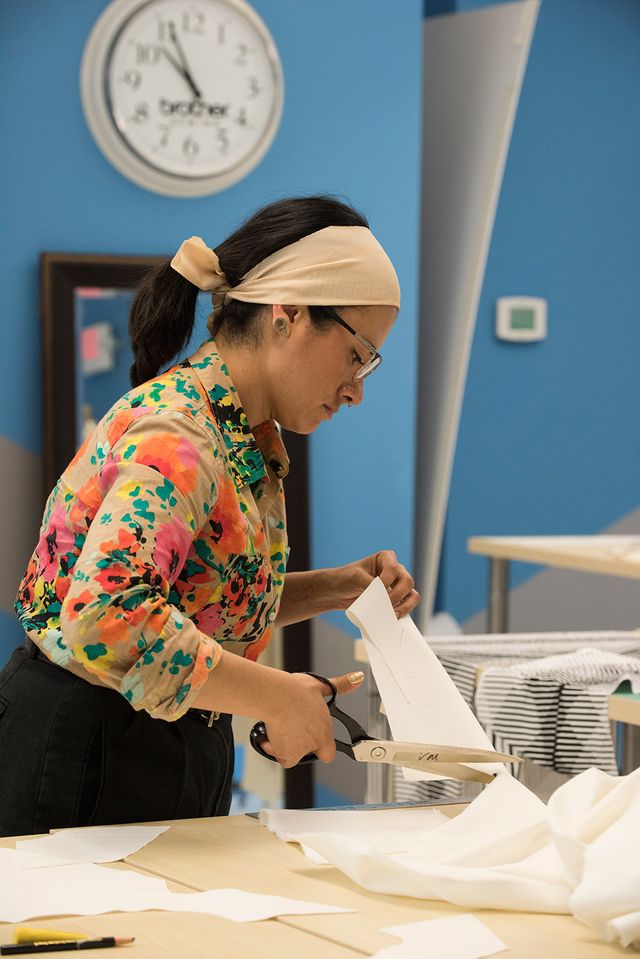 Valerie Mayen in the workroom.