The 9 Latest Sewing Machines On the Market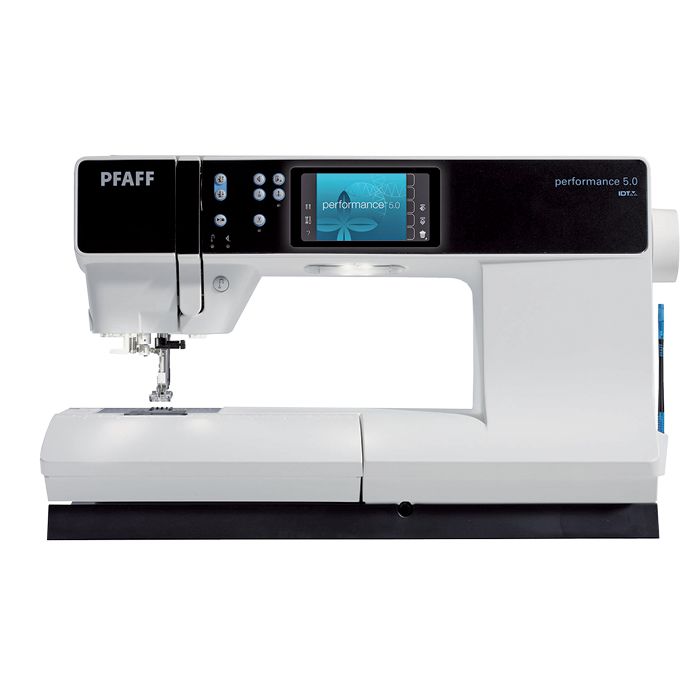 In this special sewing machine edition of our "Notions" department from Threads #184 (April/May 2016), we highlighted nine of the latest sewing machines to hit the market. The machines featured cover a wide range of prices and specialties. Take a look to see if one fits your needs.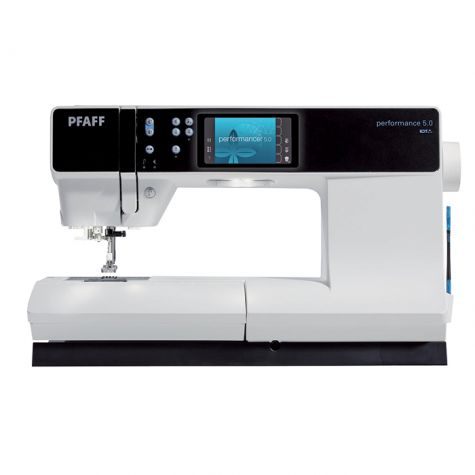 Complete stitch control
The Pfaff performance 5.0's color touch screen shows its 300 stitches at actual size and provides complete stitch control and customization. Users can create new stitches up to 9 mm wide or edit any of the built-in stitches. A side-motion sewing feature delivers stitches and monograms up to 48 mm wide. Other features include a nearly 8-inch-wide sewing area; automatic stitch tapering; seam length memory for repeats; customizable stitch number, sequence, and repeat settings; four-way directional stitch mirroring; stitch density adjustments that don't affect stitch length; and a stitch positioning program. (Pfaff.com; MSRP $2,999)
Features for sewing and quilting
To ensure smooth sewing on any fabric, from fine to heavy, the Brother Innov-ís NQ1300PRW sewing and quilting machine features an automatic height adjuster, longer feed dogs, and presser foot leveling. The machine has 290 built-in stitches, including 10 one-step buttonholes and five lettering fonts, as well as automatic thread tie-off. A pivot function assists fast and easy fabric manipulation, and sideways sewing enables its widest stitches. The nearly 8-1/4-inch-wide sewing space is augmented by an extension table. (Brother-USA.com; MSRP $2,499)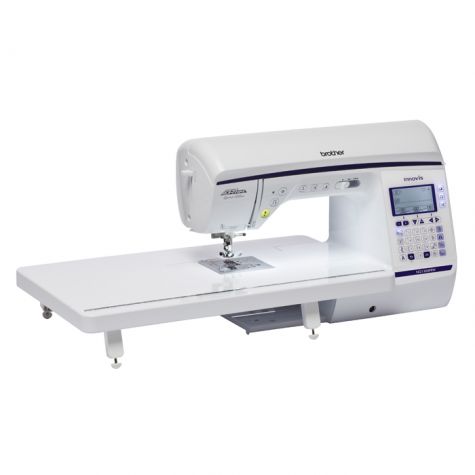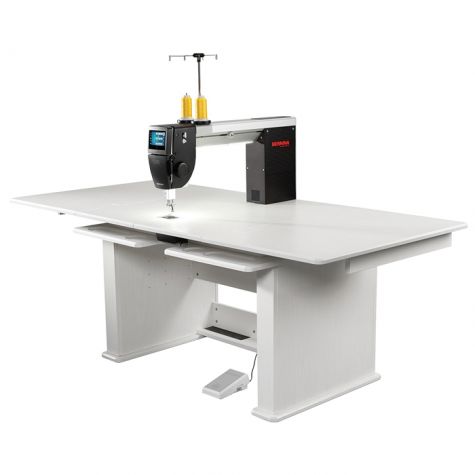 Speed plus size for large projects
Finish large quilts quickly with the Bernina of America Q 20 Longarm quilting machine. It offers 20 inches of sewing space and a speed of up to 2,200 stitches per minute. A thread tension-control system has numeric settings for easy adjustments, and stitch regulators with dual optical sensors for precisely detecting the machine and fabric movement to ensure uniform, even stitches. The Q 20 is available as a height-adjustable table model (shown); it includes a programmable foot control for securing stitches and for operating the needle up/down or presser foot up/down functions. It is compatible with Bernina's height-adjustable, extralarge quilt frame. (BerninaUSA.com; MSRP $12,999 to $16,999)
Video- and Wi-Fi-enabled
The Spiegel Limited Edition 60609 sewing machine was designed to offer a camera- and Wi-Fi-enabled product at an affordable price, according to the fashion retailer. It offers 350 built-in stitches with more than 1,000 stitch variations, three fonts for numbers and letters, a USB charging port, and a device holder with adjustable hook to hold a smartphone or tablet securely. With the onboard Stitch Cam and integrated Wi-Fi station, users can record the sewing area and view it on their phone or tablet screen when rested in the holder. It's a short step to upload the video instantly or view online tutorials and use the Spiegel Social Sewing app. Spiegel also offers premium stitches and digital patterns for purchase on iTunes and Google Play. (Spiegel.com; MSRP $297)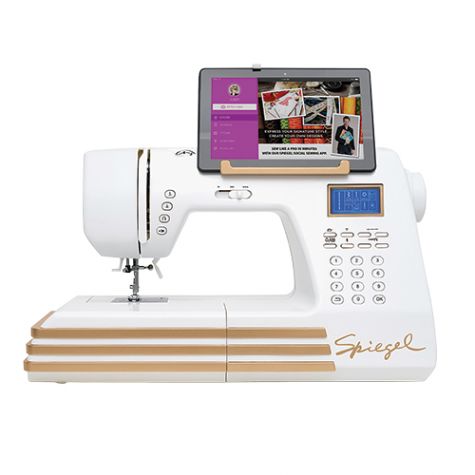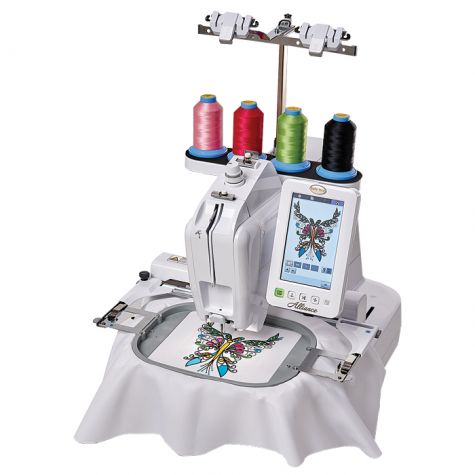 Embroidery in tight spots
The Baby Lock Alliance single-needle, free-arm embroidery machine sports a narrow arm and specially designed small hoops and frame holder for easy embroidering in tight quarters and on three-dimensional items. Not only does it nimbly handle small spaces, according to the manufacturer, the Alliance delivers flexibility with an extension table that creates an 8-inch-square embroidery area. Six hoops in varying sizes are included. The machine offers 125 built-in designs and 25 fonts, and embroiders at 1,000 stitches per minute. Other features include a 7-inch LCD touch screen, Needle Beam laser light point for precise needle alignment, upper-thread-breakage sensors, and a low-thread indicator.
(BabyLock.com; MSRP $6,999)
Adaptable sewing and embroidery
The Husqvarna Viking Designer Jade 35 offers features to appeal to users looking for an entry-level sewing and embroidery machine. It incorporates a built-in assistant that provides automatic settings and troubleshooting guidance. Included is a free download of introductory-level PC embroidery software, containing 72 adaptable designs, 10 fonts, and the ability to create new fonts. In addition, the Designer Jade 35 features a nearly 8-inch-wide sewing area, automatic thread cutter, and a speed of 700 stitches per minute. (HusqvarnaViking.com; MSRP $1,799)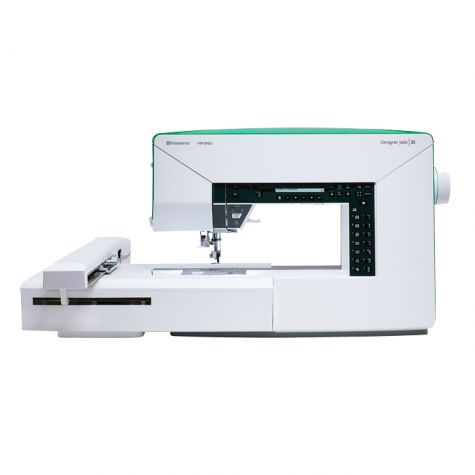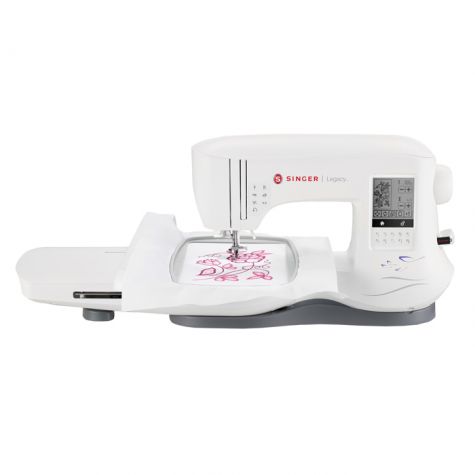 From sewing to embroidery and back
With 250 built-in stitches, 200 embroidery designs, six alphabet options, and sewing and embroidery speeds of 800 and 700 stitches per minute, respectively, the Singer Legacy offers a balance of entry-level and advanced features. The sewing and embroidery machine sports a sleek look with sculpted lines, a nearly 8-inch-wide sewing area, and a 10-1/4-inch by 6-inch embroidery space. Large and small embroidery hoops are included. Other features include automatic thread tension, an automatic needle threader, 14 automatic buttonholes, free embroidery design software, and a USB stick and port for embroidery design updates. (SingerCo.com; MSRP $1,600)
Custom stitch creation
The Janome Skyline S7 offers features for the garment sewer and casual quilter alike. Both users will appreciate the machine's AccuFeed Flex Layered Fabric Feeding System. Among 240 built-in stitches are 11 customizable, one-step buttonholes and 7 alphabets up to 9 mm wide. Users also can create their own stitches on a computer and upload them to the Skyline S7 using its USB port. The S7 has a top-loading bobbin, removable extension table, automatic presser foot lift, thread cutter, automatic locking stitch, memorized needle up/down and start/stop buttons, automatic thread tension, variable zigzag for free-motion quilting, and it comes with 12 snap-on presser feet. (Janome.com; MSRP $2,999)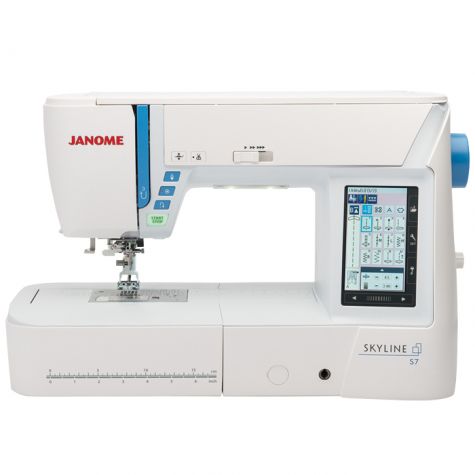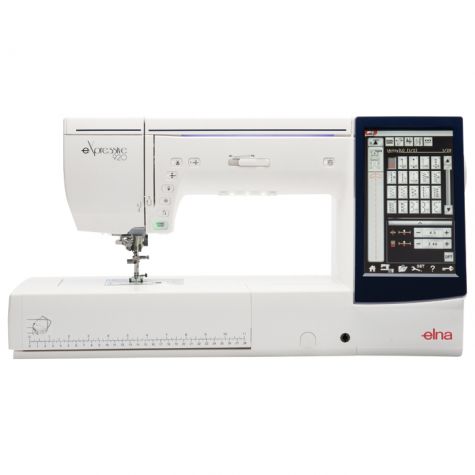 All-in-one technology
The Elna eXpressive 920 is a new top-of-the-line sewing, quilting, and embroidery machine. It boasts 350 built-in embroidery stitches, 400 sewing and quilting stitches, 10 monogramming fonts, 9-mm maximum stitch width, and an embroidery speed of 1,000 stitches per minute. The machine offers a maximum embroidery hoop size of roughly 9-1/8 inches by 11-3/4 inches, and about an 11-inch-by-4-3/4-inch sewing area. Free-motion quilting through bulky materials is easier with the height-adjustable presser foot; the machine also memorizes the foot-height setting for future use. Five LED lamps illuminate the work area for enhanced visibility. The eXpressive 920's one-step needle plate converter enables easy switching of needle plates, and the enhanced straight-stitch plate makes it possible to shift the needle slightly for scant 1/4-inch-wide seam allowances. (ElnaUSA.com; MSRP $9,999)
Do you own any of these machines? If so, which ones? What features do you look for when shopping for a sewing machine?