Fashions from the 88th Annual Academy Awards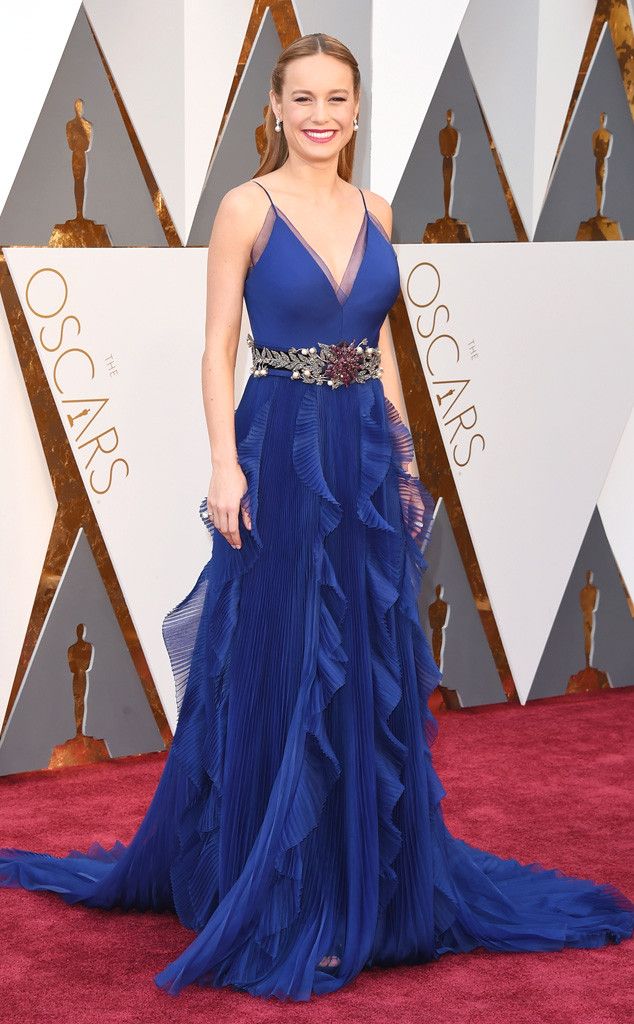 The Red Carpet at the 2016 Oscars
Much to our surprise, the 88th Annual Academy Awards attendees opted for garments that were tasteful and uncontroversial. There weren't many questionable trends (such as extreme plunging necklines or barely-there gowns). Of course, this doesn't mean that every gown was a winner (for example, Heidi Klum's lavender Marchesa gown.) This year, we asked our editors to select and share three interesting looks. The selections were based on a myriad of details: garment construction, color, fit, embellishment, silhouette and more. Without further ado, here are our favorite looks from the 2016 Oscars. 
Top 9 Oscar Looks Chosen by Threads Editors
Sarah McFarland, Threads Editor
1. The royal blue Gucci gown worn by Brie Larson, best actress winner.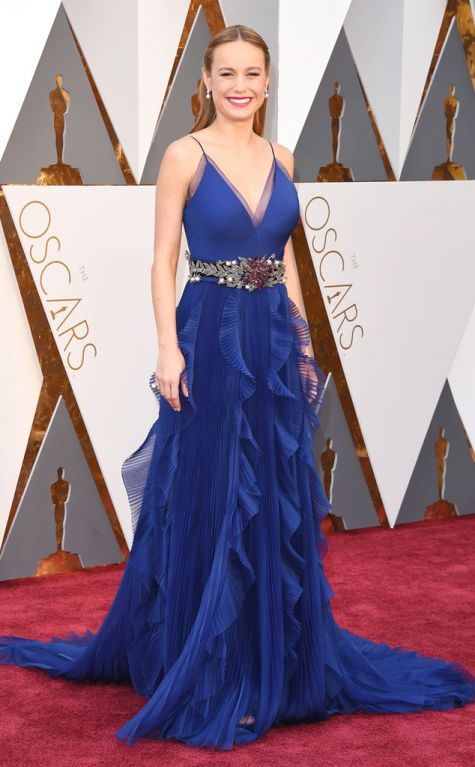 Brie collaborated for months with Gucci's talented new designer, Alessandro Michele, to design this dress. I thought the result was stunning and perfect for her, with a wonderful balance between the body-skimming fit of the bodice and the soft volume in the pleated and ruffled skirt. I wouldn't have thought of the embroidered and pearl-beaded belt, but it works, and the dress would not have been as successful without it. Fun fact: Alessandro Michele was Jared Leto's plus-one for the show. Jared brought Alessandro so that the designer could see his first Oscar dress on the red carpet in person.
2. Lady Gaga's white strapless jumpsuit with overskirt, designed by Brandon Maxwell. 
The designer used to be Lady Gaga's stylist, and he's a close friend who knows her well. There's always got to be a twist with any look she wears, and in this case it was a 1950s/'60s hostess gown takeoff, with a long, open skirt over pants. I thought that the sculptural touches and volume were beautifully balanced by the matte white silk crepe fabric choice. Lady Gaga made very careful decisions with her beauty look and jewelry as well. It was definitely an ensemble fit for the occasion, put together by a celebrity who well knows the power of a simple, striking look – on occasion! Who can forget some of the surreal looks Lady Gaga has worn in the past, but this look invoked old-Hollywood glamour.
3. The embellished, strapless Armani Privé gown worn by Naomi Watts.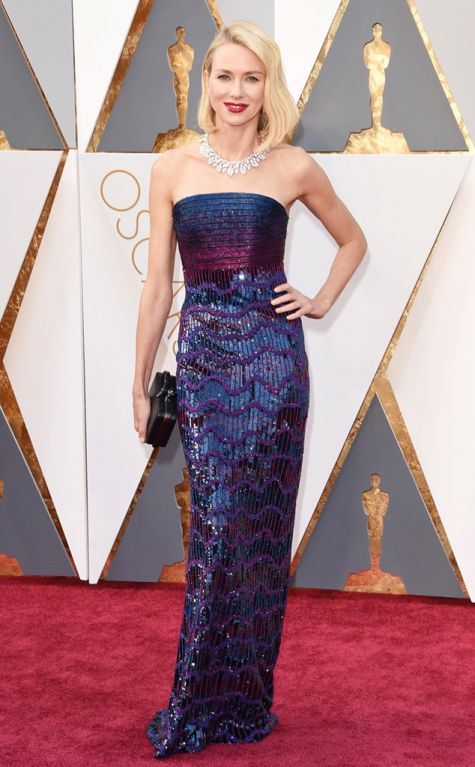 I thought the colors in this dress were magnificent, hues of purple, magenta, royal blue, and navy. I've studied some close-up images online, and I think that the top is lame, folded and stitched in horizontal tucks. Somehow this sparkling, patterned, multicolored dress doesn't go over the top, and in my opinion the secret is the slim silhouette. It fit Naomi like a glove. I would love to know more about the fabrics, notions and techniques used on this dress.
Stephani Miller, Threads Special Projects Editor
1. Priyanka Chopra in Zuhair Murad.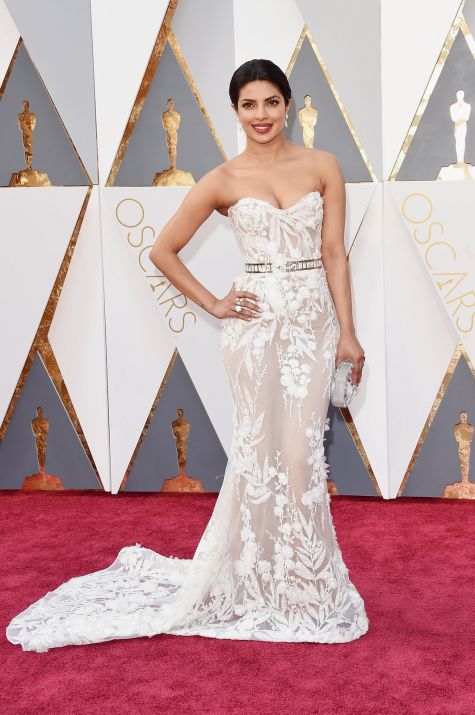 This is one of my favorite evening-wear designers, and Priyanka's sheer white dress is very becoming on her (although a more substantial lining might have been beneficial). I love how the sheer fabric is combined with heavy, monochromatic encrustations of what appear to be embroidery, beading, and sequins in a pattern of foliage and blossoms. The "cage"-effect belt with what looks like a gate hook for a clasp is an interesting aesthetic complement. The overall effect is lovely, glamorous, and sexy.
2. Olivia Munn in Stella McCartney.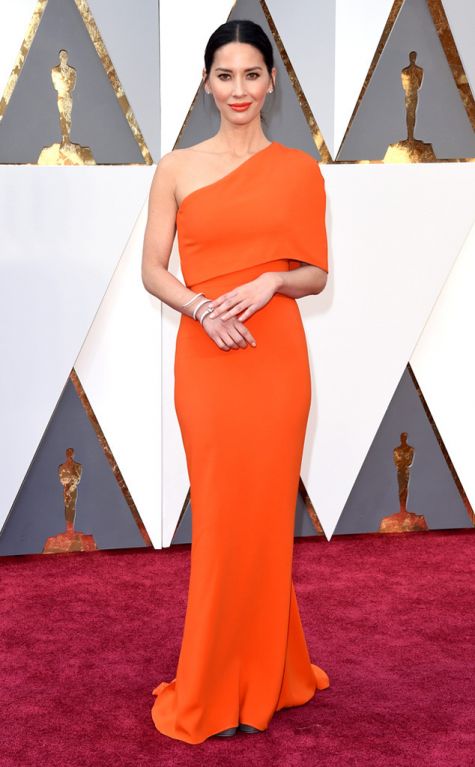 Orange is a difficult color, but Olivia really pulls off this strong candy-orange dress. It's very flattering to her coloring, and it's definitely not safe or boring. There's not a bit of sparkle to this dress. It may seem a bit dull for the Oscars, but with the one-shoulder capelet effect, snug trumpet silhouette, and sweeping train, it's a sleek, bold look in keeping with the evening's overall restrained feeling. Matte dresses like this put me in mind of fondant icing, and this is certainly a stunningly simple confection.
3. Jennifer Garner in Versace.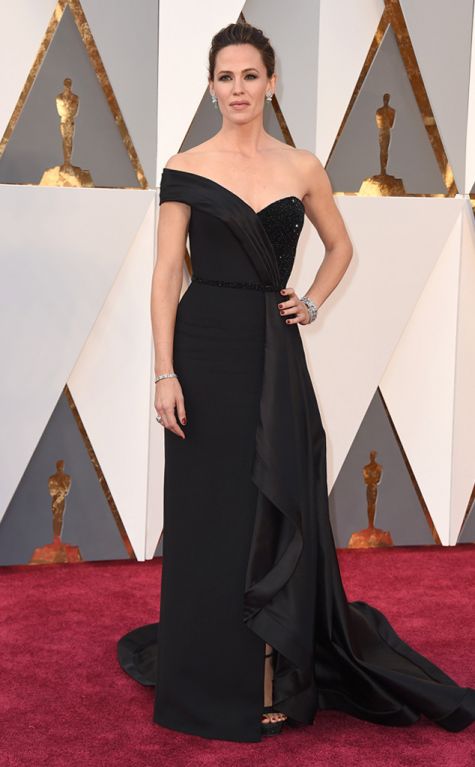 This black single off-shoulder, asymmetrical gown with contrasting bodice effect walks the line between classic and cutting edge. I love the mix of materials in a monochrome palette: satin, matte, and sparkly beading. The pleated satin flows in a beautiful waterfall from shoulder to the hip and drapes elegantly to the floor. The beaded belt encircling her waist ties it all together.
Carol Fresia, Threads Technical Editor
1. Saoirse Ronan in custom Calvin Klein.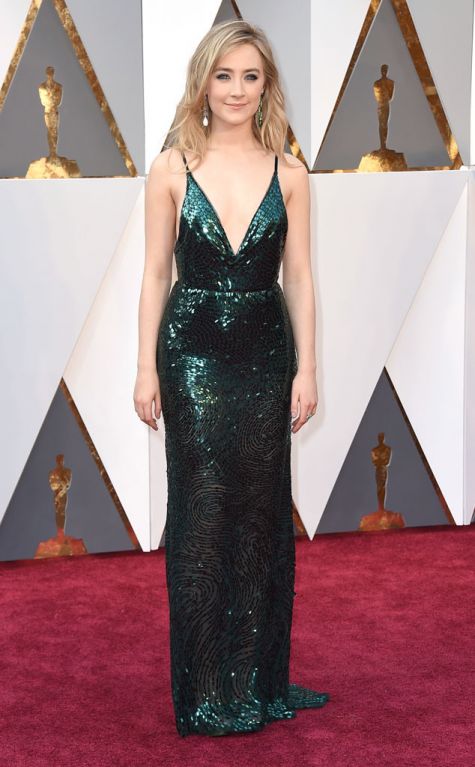 Wow! Perfect proportions, perfect green hue for her coloring, for her heritage, and for the movie she was nominated for. I loved the rectangular sequins, the neckline (not too low or too wide, like so many red-carpet dresses this season), and the amazing low back. The mismatched earrings are probably not to everyone's taste, but I liked them, and her hair and makeup were stunning. Saoirse wore green in 2008 when she was nominated at the age of 13, but what a difference!
2. Cate Blanchett in Armani Prive.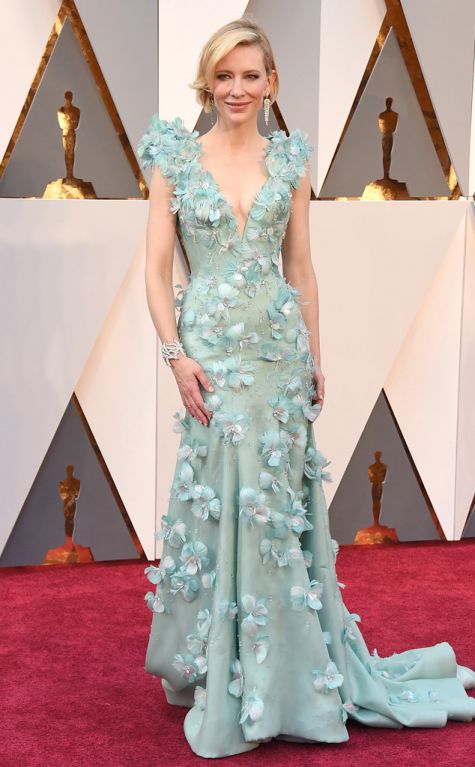 My initial reaction to this look was mixed: Cate looked fabulous, but the dress seemed to have a few too many feather flowers. And yet…you can't deny she looks beautiful, chic, and as glamorous and enchanting as you'd want to be for the Oscars. The mint green color is wonderful with her pale coloring, and her jewelry, by Tiffany, continues the feathery theme beautifully.
3. Daisy Ridley in Chanel.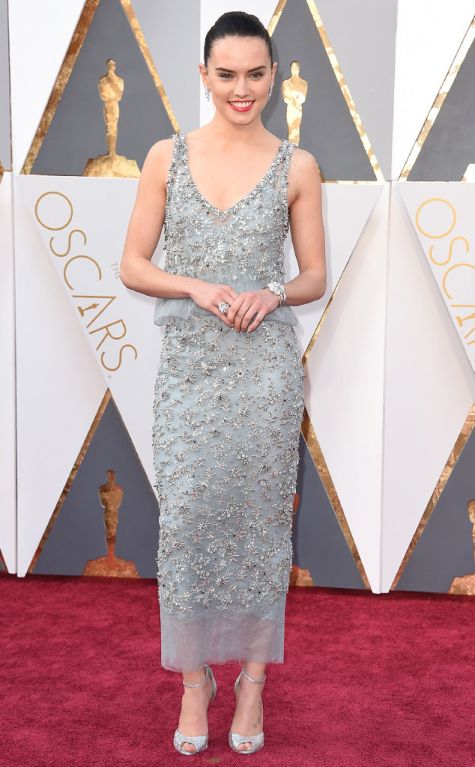 This sparkly, ankle-length dress probably doesn't look as fancy as one might expect for the Oscars, but I thought it suited Daisy perfectly. The gray-blue color and the lovely embellishment elevated a rather simple, 1920s-inspired silhouette. I didn't even mind the slightly odd peplum effect at the waist, which was echoed in the sheer band at the hemline. The jewels, too, were gorgeous. Like Saoirse's dress, this one combines glamour and a sense of power with youthfulness.
3 Men's Oscar Looks We Applaud
While the starlets wore some beautiful gowns, there were three actors who donned some great tuxes; two with interesting details. 
Kevin Hart in Dolce & Gabbana, shown with his fiancee Eniko Parrish.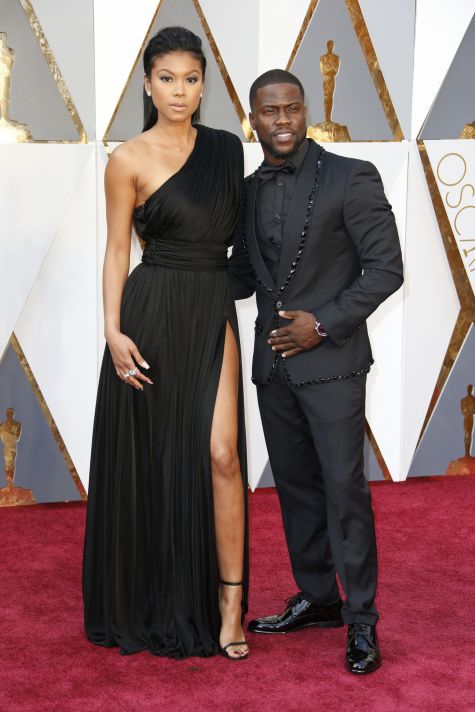 Academy Award presenter and funny man Kevin Hart opted for a jewel-studded tux by D&G. 
Eddie Redmayne in Alexander McQueen.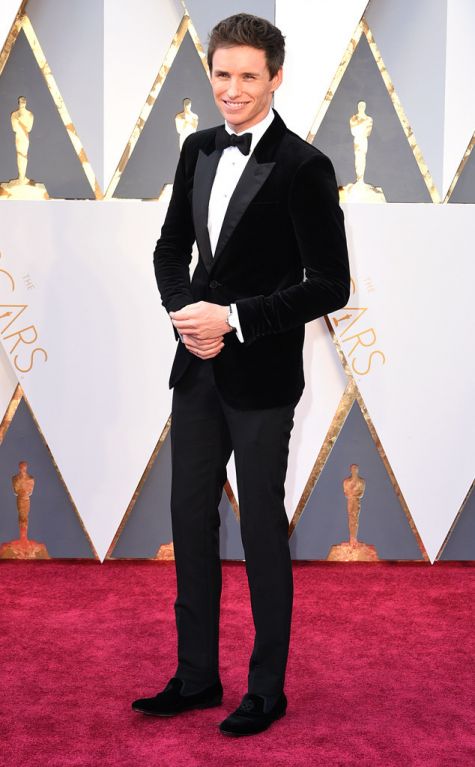 2015 Oscar winner Eddie Redmayne looked dapper in this velvet tux with peaked lapel by Alexander McQueen. Also worth noting, the scale of the bowtie was quite complementary to the jacket. 
Former Oscar winner Jared Leto in a Gucci suit with red piping.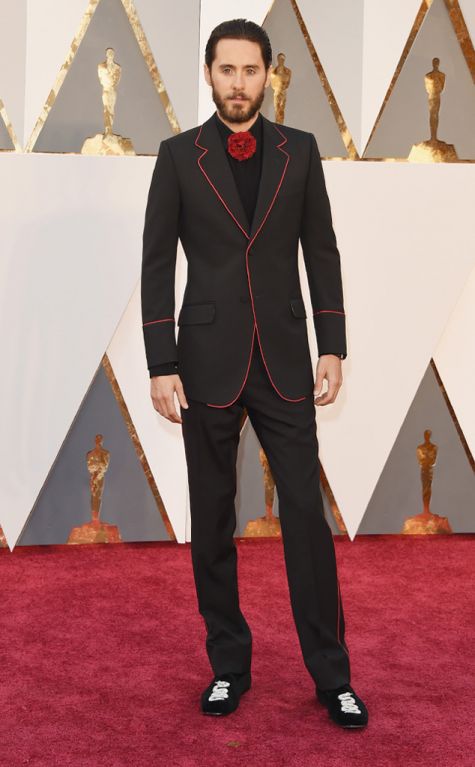 While we aren't crazy about the shoe-suit combination, Jared Leto certainly knows how to make waves on the red carpet. He ditched the classic bow tie and opted for a fun floral pin. 
What were your favorite looks from the this year's Oscars? Who got it right, and who missed the mark? Were there any details and embellishments that you would love to incorporate in your sewing projects? Were you surprised or underwhelmed by any of the trends?