How to Embroider Garments Like Penn & Fletcher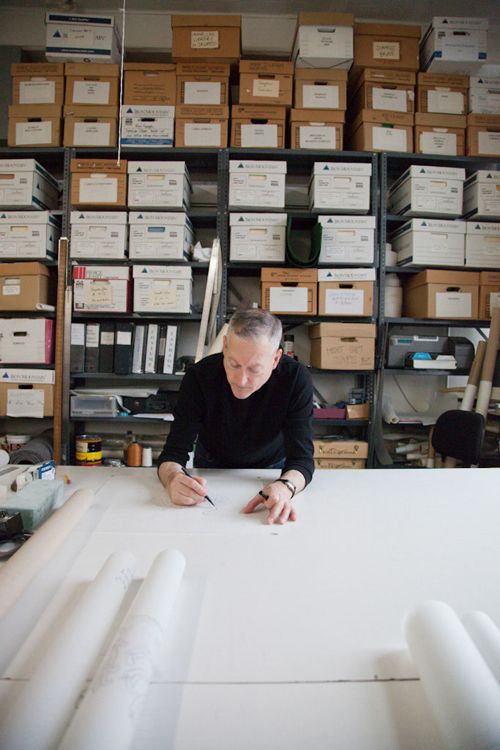 Readers learned about Penn & Fletcher in Threads #167. Here's more of the story behind this embroidery house.
On a rainy day in December, contributing editor Kenneth D. King and Senior Technical Editor Judith Neukam paid a visit to Penn & Fletcher with photographer Rob Berezowski. Art Department chief Andrew Marlay demonstrated the various ways of marking fabric for embroidery. Some of the images we didn't have room to include in the published article are s­­­­­­­hown below.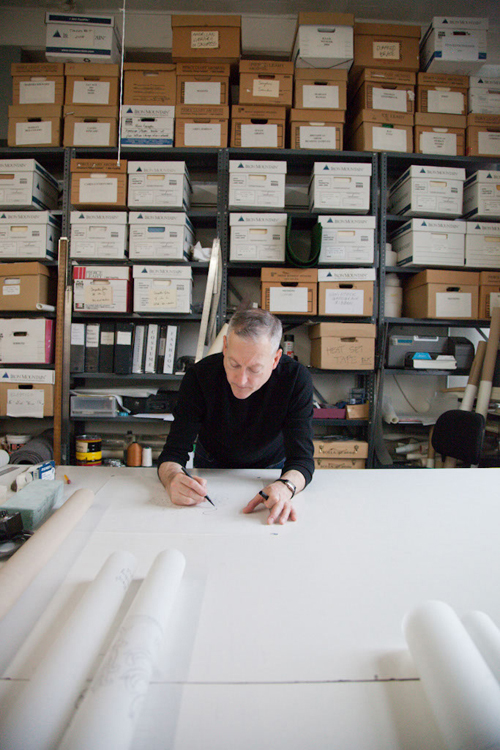 First, Andrew creates a design on heavy tracing paper. He starts with pencil so he can erase if needed. When he's satisfied with the design, he traces over it with permanent ink.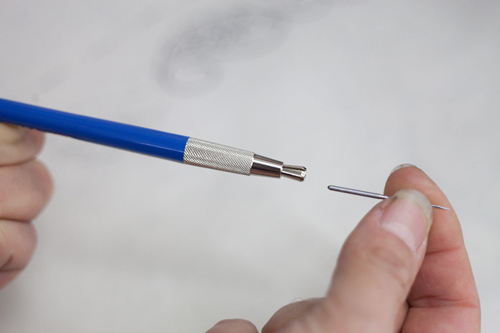 Sometimes he loads a mechanical pencil with a sewing machine needle to hand-perforate. This is also done on a padded felt surface, and again, weights hold the paper in place.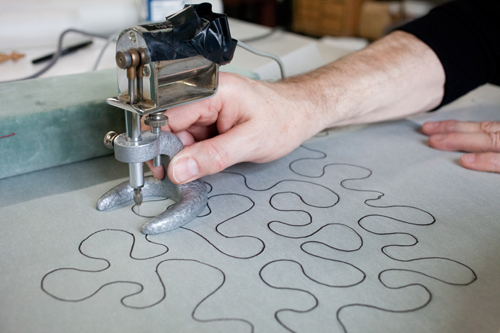 The paper is weighted down on a padded felt surface and the design is perforated, as shown here, with a hand-held mechanical perforator.
Penn & Fletcher satisfies clients' needs with custom designs, masterpieces from the archives, and from the company's extensive collection of vintage designs. Many of the designs in this collection are already perforated and ready to transfer or "stamp", decades after their origin.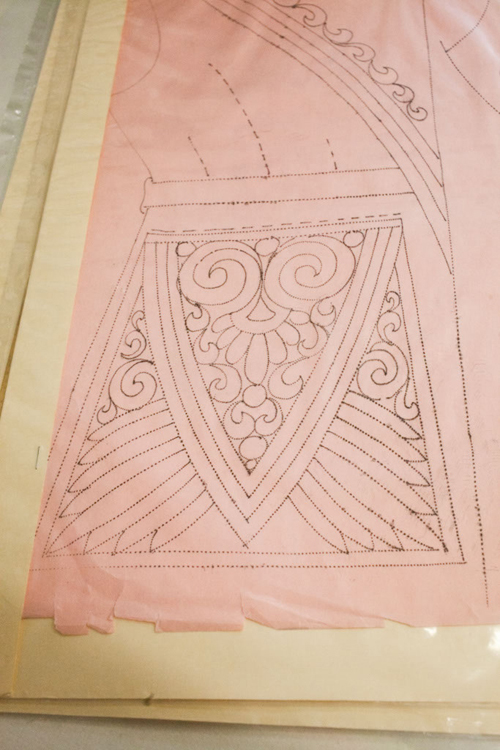 This is a dress front.
Punched-sleeve designs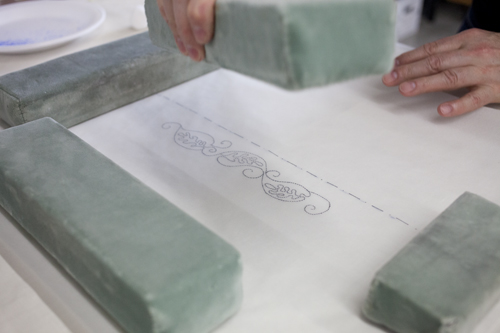 After the design is perforated, Andrew anchors it to the fabric with heavy weights, keeping the fabric and paper taut.
He uses an ultraviolet (UV) wax product to mark the fabric.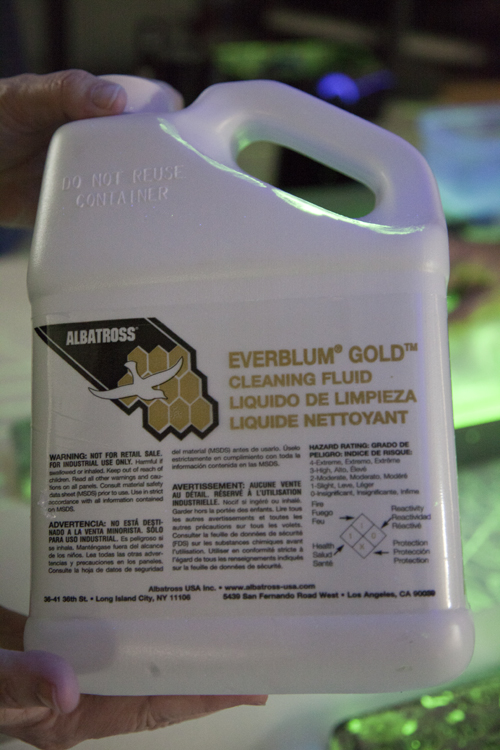 It must be dissolved from the solid form to a liquid with a cleaning solvent that is compatible with the perforated vellum used for the design.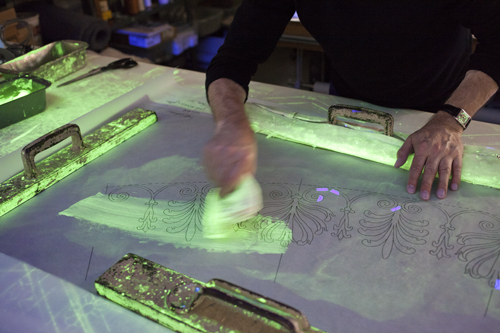 When he has liquefied the wax, it is spread over the paper, wiped off, the paper pattern is removed and the "stamping" is left to dry.
After the fabric is stamped, it is stabilized on the wrong side with a removable backing such as "burnable buckram", and is now ready to embroider. On the machine, embroidery artisan Matilda Morillo works under a black light to see the markings while she guides the embroidery machine with one hand from under the table on a two-thread version of a Bonnaz feed machine.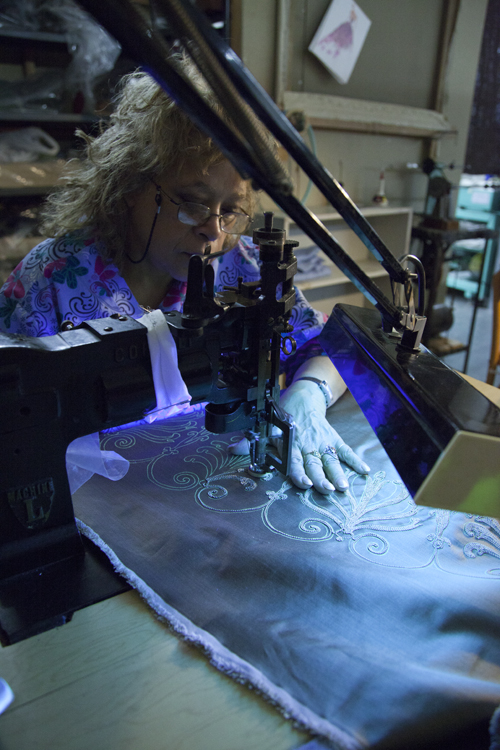 In this case, the piece is a large, round table cover with an embroidered border.
Here is the finished border.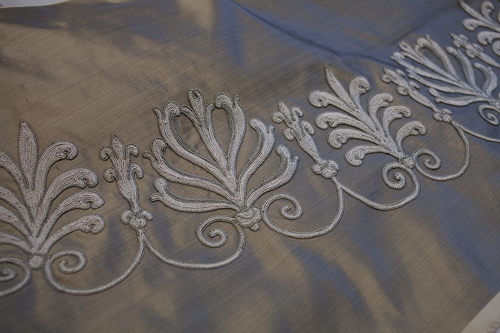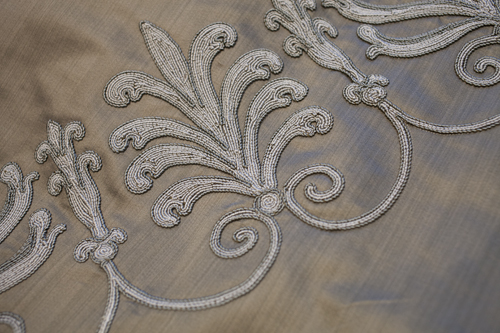 Penn & Fletcher has enough specialty antique and vintage machines to start a museum.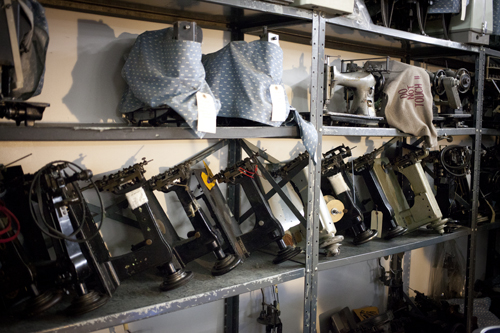 This is a comparison of the original and the re-created embroidery for a suite of embroidered furniture at Marble House, the Newport summer home of Mrs. Cornelius Vanderbilt II.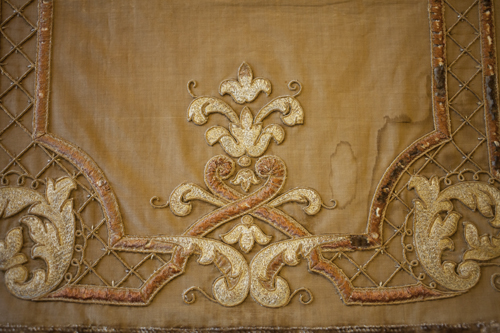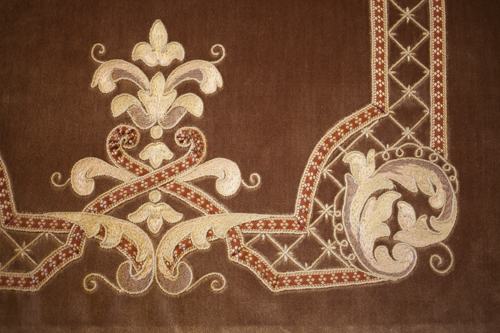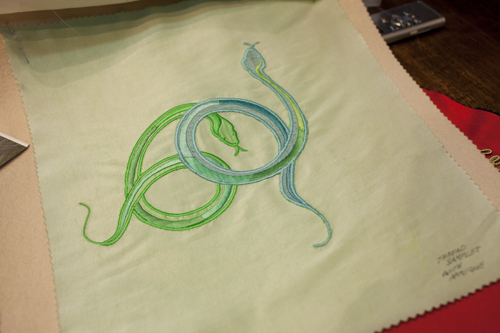 This is a motif from the snake dress worn in Bram Stoker's Dracula.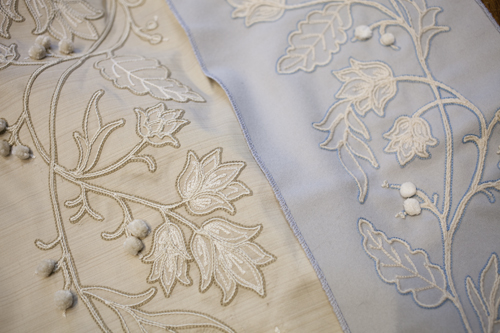 An artful example of straight stitching combined with couching.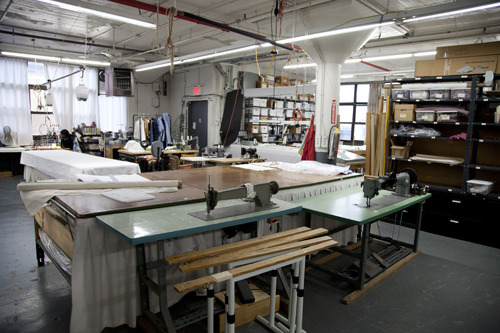 The studio is a large, open space flooded with natural light.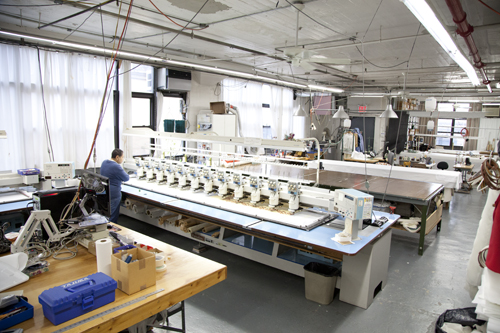 It takes room to house a 12-head embroidery machine.

The whole company has a family feeling and that might be because there are three permanent feline residents-all siblings-and each has an extra toe on each paw. The cats make themselves at home and are honored on each year's Christmas card.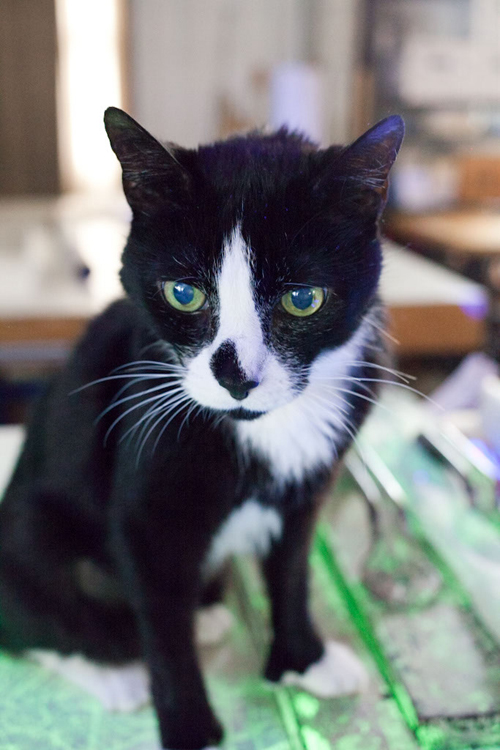 This one watched as Andrew demonstrated.  
Passing along the knowledge.
Founder Ernie Smith plans to share his craft by offering a series of classes in different types of embroidery. These classes will be taught on-site in the Penn & Fletcher atelier in Long Island City, New York. For more information on the classes, call Penn & Fletcher at (212)-239-6868. 
Do you plan on taking a class at Penn & Fletcher?
photos: Rob Berezowski